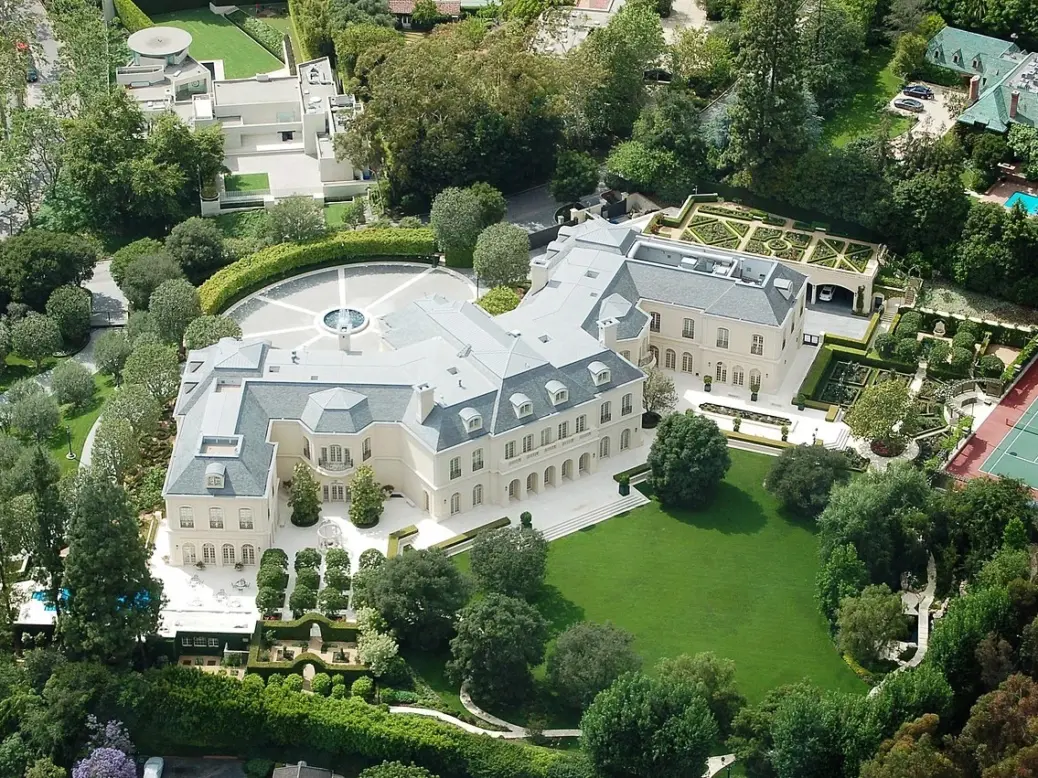 New York City and London remain the twin centres of the global ultra-prime property market. But the locations of the seven most expensive houses in the US reflect the spread of wealth across the country, with mega-mansions worth $150 million available in affluent enclaves in Florida and California, as well as the Big Apple. 
Despite a projected decline in numbers, the US still has more UHNWs – individuals with a net worth upwards of $30 million – than any other country, driving demand for the most exclusive homes in the most exclusive neighbourhoods. According to a recent report by Altara, six of the top 10 cities worldwide by UHNW residential footprint investment can be found in the US (including New York, Miami and Los Angeles), alongside global hubs like London, Hong Kong, Beijing and Singapore.
This is supported by a new report released by Henley & Partners, which found the US is home to more centi-millionaires (individuals with a net worth of $100 million or more) than any other country in the world, accounting for 38 per cent of the global population.
[See also: The 2023 Spear's Property Indices]
While the spike in interest rates has brought house prices down internationally, properties at the very top of the market are still being bought and sold. In the US, wealthy buyers continue to invest in high-value acquisitions, despite an overall decline in property prices. Privacy, space and pioneering luxury are always in demand. 
So where are the most expensive houses in the US? Spear's lists some of the multi-million dollar properties, either on the market or recently bought.
220 Central Park South, New York City, New York: $240 million
In a city known for its multi-million dollar real estate deals, there is one that looms over all others: the 2019 sale of four floors in America's most expensive residential building, 220 Central Park South, which became the most expensive property sold in US history. 
Kenneth Griffin, the CEO and founder of Citadel, a hedge fund firm that manages more than $60 billion in assets, spent just shy of $240 million on the record-breaking acquisition, four years after first agreeing to the purchase. 
[See also: Global super-prime property market falls back as Dubai soars]
At the time the sale was completed, the four floors were empty and unfinished, and it wasn't known how the 24,000 sq ft space would be configured. However, there was speculation that the 'pied-à-terre' would be modelled as a triplex with double-height ceilings. (The number of bedrooms, bathrooms and other key details have not been made public.)
One fact is certain: Griffin is in the most esteemed company. Neighbours at 220 Central Park South – which boasts another entry on Spear's list of the most expensive houses in the US – include musician Sting, real estate developer David Mandelbaum and hedge fund manager Daniel Och.
Square footage: 24,000
Bedrooms: Not specified
Sold for: $240 million
Michael Eisner's Mansion, Malibu, California: $225 million
Sun, sea – and serious star power. It is of little surprise one of the most expensive houses in the US is situated in the ever-captivating coastal city of Malibu, California, where everyone from Paris Hilton to Sergey Brin has put down roots. 
Comprising nine separate properties dotted across five acres of land with panoramic views over the Pacific, the cliffside estate stands out even among its impressive neighbours. The 25,000 sq ft main house boasts plenty of character despite its gargantuan proportions: vaulted ceilings, exposed beams and double-height arched windows combine to create a breezy, beachy idyll flooded with light.
There is the prerequisite gym, swimming pool and home cinema, but one of the more unusual features is the private lift that takes residents and guests down to the oceanfront cabana below. 
[See also: High five: How to holiday without leaving home]
It is the private kingdom of Michael Eisner, the former CEO of the Walt Disney Co., who first bought a parcel of land on the estate in the 1990s. In the decades since, Eisner and his wife have bought up adjacent lots to create the beachfront behemoth seen today. 
Such luxury in prime location comes at a price: the Malibu mansion was listed for $225 million in 2022. 
Square footage of main house: 25,000
Bedrooms: 16
Sold for: $195 million
Tarpon Island, Palm Beach: $218 million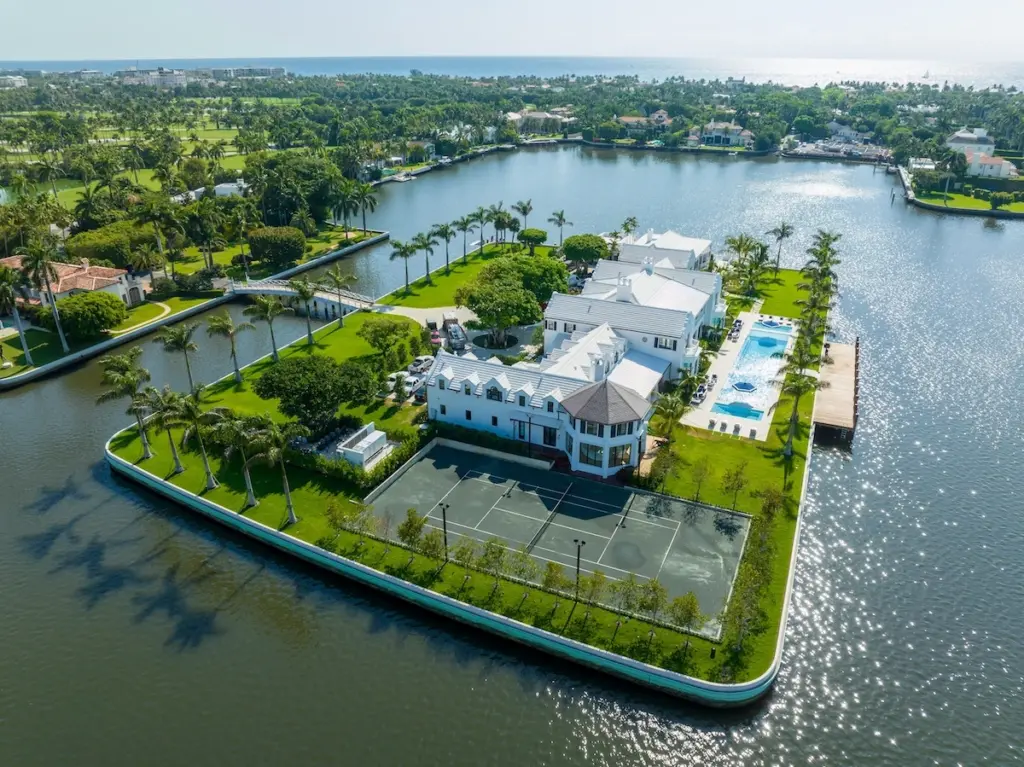 UHNWs are spoiled for properties in Palm Beach. But there is only one private island. 
Tarpon Island was bought in 2021 by Florida-based developer Todd Michael Glaser, who remodelled the original 1930s British Colonial-style mansion to create an 11-bedroom oasis in one of the wealthiest regions of the US. 
A status symbol with serious look-at-me appeal, the property boasts two pools, two private docks, a 1,300 ft stretch of beachfront, a five-car garage and a floodlit tennis court, giving homeowners little reason to leave the tranquillity of this self-contained compound with leisure at the forefront of its design. 
[See also: Inside Waldorf Astoria New York's luxury residences]
Inside, there are amenities that have become standard fare for such high-end houses, including a gym, wine cellar and spa. In total, the living space stretches out across 22,000 sq ft. 
Glaser and his partners bought the property for $85 million in 2021 but the extensive work has driven up the asking price, which was listed as $218 million in December 2022.
Square footage: 21,406
Bedrooms: 11
Asking price: $218 million
The Penthouse at Central Park Tower, New York City, New York: $195 million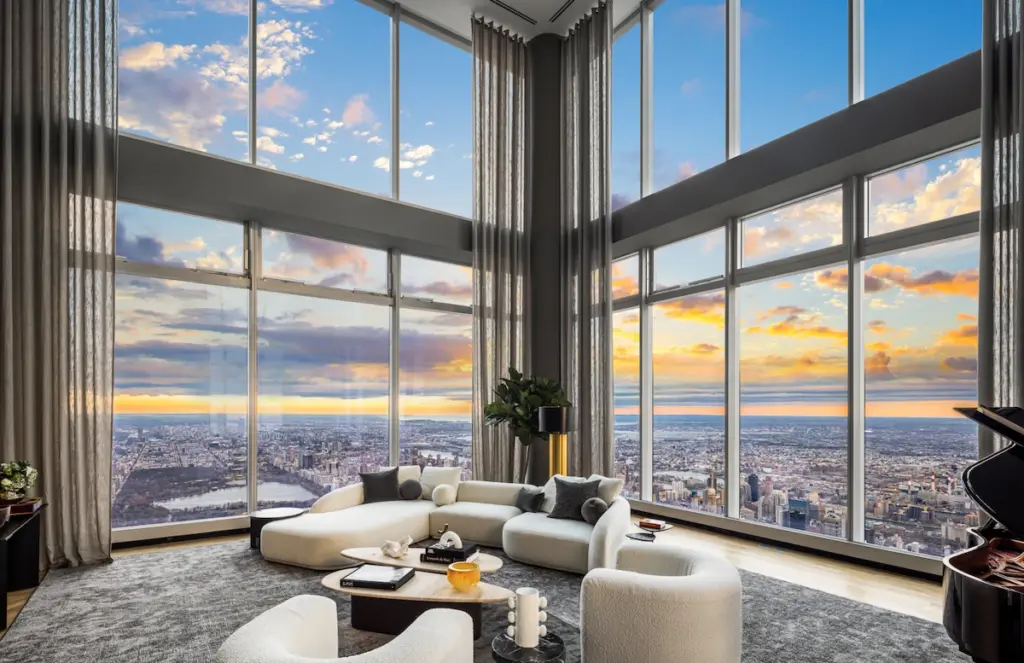 A cloud-skimming triplex offering the pinnacle of luxury living, this palatial penthouse lays claim to the title of being the highest residence in the world. It is the jewel in the crown of Central Park Tower, the world's tallest residential building. 
Occupying 17,000 sq ft of living space in one of the most luxurious properties on Manhattan's 'Billionaires' Row', it is easy to see why this is one of the most expensive houses in the US. 
Seven bedrooms, eight bathrooms and 1,433 sq ft of outdoor space, which provides the perfect vantage point from which to survey the ever-lasting magnificence of Central Park and the lights of Midtown and Downtown beyond. Modern-day Gatsbys will no doubt delight in the 2,000 sq ft private ballroom and 1,500 grand salon. 
[See also: Up-and-coming Somerset is stealing the Cotswolds' thunder]
The building, designed by Adrian Smith + Gordon Gill Architecture, asserts itself as a dominating presence in the Big Apple. Yet there hasn't been the interest in the flagship property that the developers might have hoped – the price has been dropped from $250 million to $195 million.
Square footage: 17,545 internal, 1,433 external
Bedrooms: 7
Asking price: $195 million
Penthouse 73 at 220 Central Park South, New York City, New York: $188 million
A second entry to the list for 220 Central Park South was added in January 2022, when a sprawling duplex owned by billionaire investor Daniel Och, founder, chairman and former CEO of Och-Ziff Capital Management, was sold for $188 million. It was more than double the $92.7 million paid for the unit.
[See also: HNW news: Agatha Christie's retreat set to make a killing and is bigger always better in wealth management?]
Known as Penthouse 73, the four-bedroom apartment offers almost 10,000 sq ft of living space and views over Central Park. All properties in 220 Central Park South have access to the building's extensive facilities, including a golf simulator, library and private dining rooms. 
Square footage: 9,800
Bedrooms: 4
Sold for: $190 million
Manalapan estate, Palm Beach, Florida: $173 million
Records were set in the Sunshine State in 2022 when Larry Ellison, the co-founder of Oracle with an estimated net worth of $93.7 billion, purchased an estate in Manalapan, an affluent suburb of Palm Beach, for $173 million. 
Formerly owned by the Ziff family, the property was most recently owned by Netscape co-founder Jim Clark, who purchased the estate for $94 million in 2021. It changed hands just over a year later. 
[See also: Mauricio Umansky: The new titan of luxury property]
Connected by a series of tunnels, the compound offers a '12–bedroom main house, two four-bedroom beachfront cottages, a seven-bedroom Mango House, a staff house and recreational amenities, including a swimming pool, golf area, tennis court and half-basketball court,' according to The Real Deal.
Square footage: 63,000
Bedrooms: 30
Sold for: $173 million 
Spelling Manor, Los Angeles, California: $155 million
The legacy of the late super-producer Aaron Spelling lives on through his canon of pop TV successes (Charmed, Dynasty, Charlie's Angels, Beverly Hills, 90210) and through his real estate. 
Spelling Manor, also known simply as 'The Manor' was built by Spelling on the site of Bill Crosby's former Los Angeles home. The 56,000 sq ft Mapleton Drive property (1,500sq ft bigger than the White House) was inspired by French chateaux, and offers 123 rooms, 14 bedrooms and 27 bathrooms. 
Spelling and his family added some peculiar additions to the house, such as multiple gift-wrapping rooms, a flower-cutting room, a room solely dedicated to Spelling's wife Candy's doll collection and a massive walk-in closet. 
[See also: Knightsbridge Gardens: Discover the UK's first super-prime rentals]
The quirky additions continued after it was bought in 2011 by Formula One heiress Petra Ecclestone, who oversaw the installation of a beauty salon, a nightclub and a two-lane bowling alley. Due to its secluded and private position, there is space for a 100-car garage, a resort-like spa and pool and English gardens. 
Ecclestone, who paid $85 million for the property, first listed it for $200 million in 2016. The price was reduced several times before it was acquired by an unnamed Saudi Arabian buyer for $120 million in 2019. At the time it marked the most expensive residential sale in LA County history, according to AD Pro. 
The Manor was put on the market for $165 million in February 2022 and re-listed in January 2023 for $155 million. Although this marks a $10 million drop, it is still one of the most expensive houses in the US. 
Square footage: 56,000
Bedrooms: 14
Listed for: $155 million