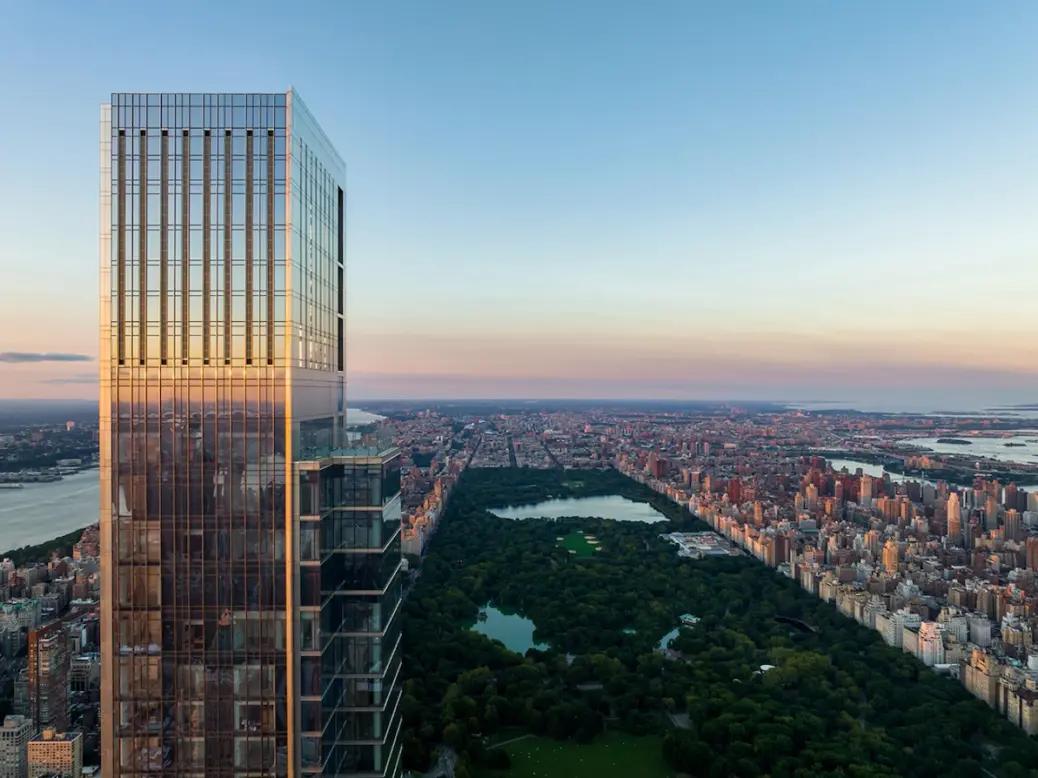 Despite slowing sales amid steep rises in interest rates that have affected even the upper tiers of the property market, there is still demand for some of the most expensive houses in the world.
While the spike in rates has brought house prices down internationally, properties at the very top of the market are still being bought and sold. 
The luxury real estate market around the world has seen some impressive sales in recent years, from palatial mansions in London to huge estates in Dubai. 
In the US where property prices have steadily declined, wealthy buyers are continuing to buy up high-value acquisitions, with privacy and space a luxury always in demand with UHNW individuals.
In the wake of the Covid pandemic, ultra-high-net-worth individuals have an even greater desire to purchase expansive homes with opulent features that allow them security and peace.
The continued popularity of super-prime properties can be put down partly to the vast estates being considered little towns in their own right. HNW individuals can take advantage of all the amenities without having to walk out of the house, as Trevor Abrahmsohn, Glentree International founder and director told Spear's.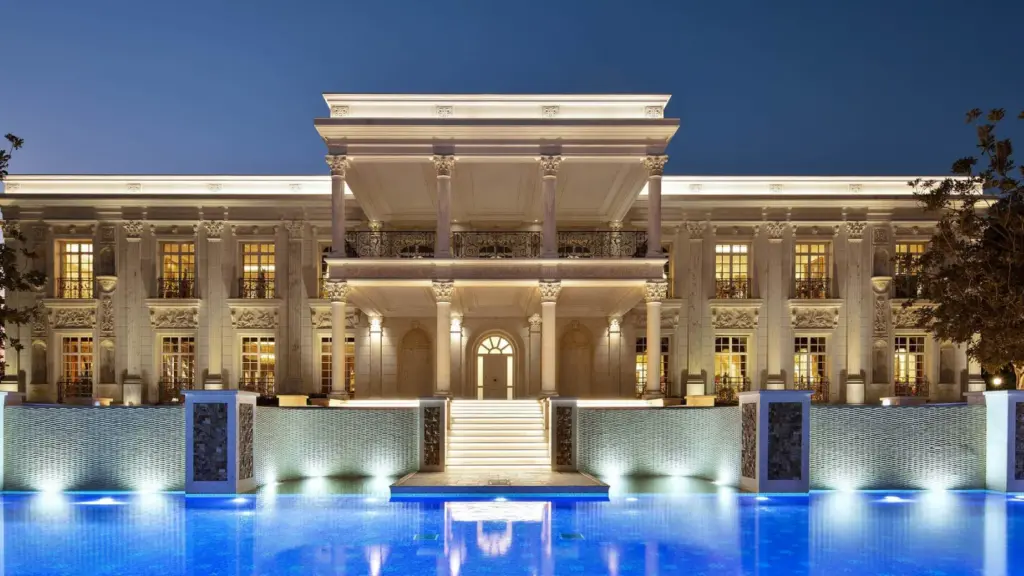 Abrahmsohn told Spear's: 'The top of the property market doesn't exist. Will it ever max out? These properties are subject to the general market and recessions, but as Mark Twain said: "They're not building any more land".'
Below Spear's lists the most expensive houses either on the market or recently bought. Some of the properties on the list have sold while others are currently for sale with close to record-breaking asking prices. 
What are the most expensive houses in the world?
The Holme, London – $310 million (£250 million)
Nestled inside London's picturesque Regent's Park, The Holme is officially the most expensive house in the UK (although unofficially it may have been knocked off the top spot by another London property – see below). 
Built in 1818, this three-storey mansion includes a spacious basement and four acres of land. The 40-bedroom property overlooks the park's lake offering expansive views across this green lung of north London.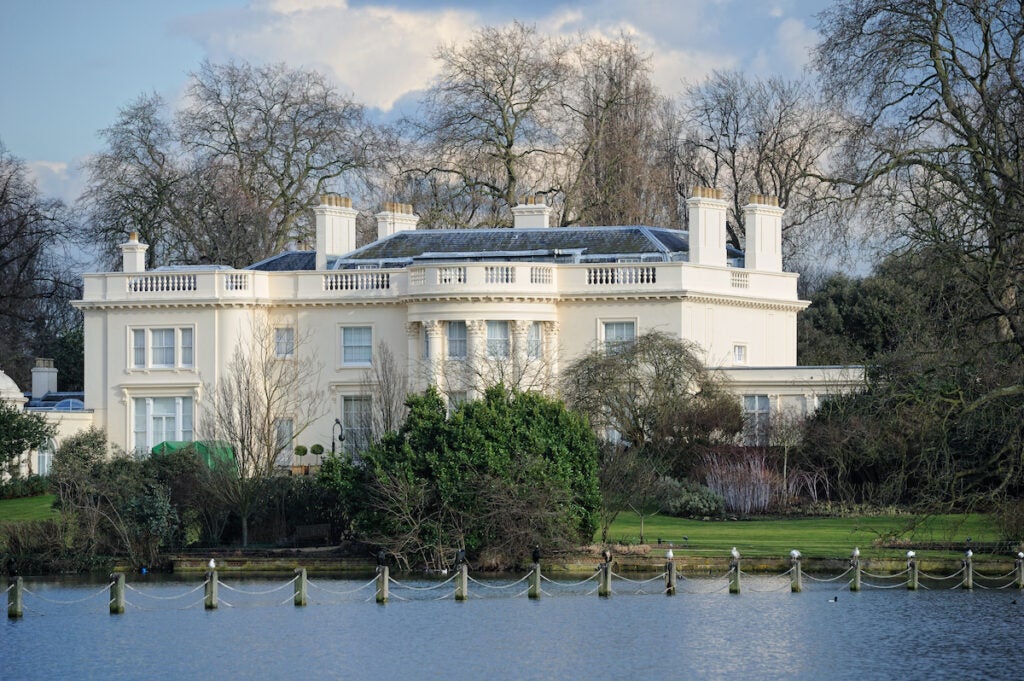 'If you want a definition of Western civilisation in a single view, then here it is,' architectural critic Ian Nairn said of The Holme. 
King Henry VIII stole the land The Holme now stands on from the Church during his reign. It was later stolen by Oliver Cromwell from King Charles II, who needed the cash to fund his military campaigns.
Despite the long history of the estate, The Holme itself only dates back to 1806. Architect John Nash (who landscaped Regent's Park) planned to build 26 homes in the royal park but failed due to lack of funds. He was bailed out by developer Decimus Burton who scooped up The Holme – one of just eight that were built. 
Prince Abdullah bin Khalid bin Sultan al-Saud, a member of the Saudi royal family, is one of the property's beneficial owners. 
The house was listed in March 2023 for £250 million and has not been sold yet according to public records. 
Square footage: 60,000
Bedrooms: 40
Asking price: $310 million / £250 million
West Creek Ranch, Colorado – $279 million
The 8,700-acre West Creek Ranch, with an asking price of $279 million, has been described as 'one of the most significant listings in the American West'.
A luxury resort and spa, called Gateways Canyon, is just one of the many features of this opulent mansion that boasts more than 22,000 square feet of indoor living space, eight bedrooms and eight bathrooms across four stories.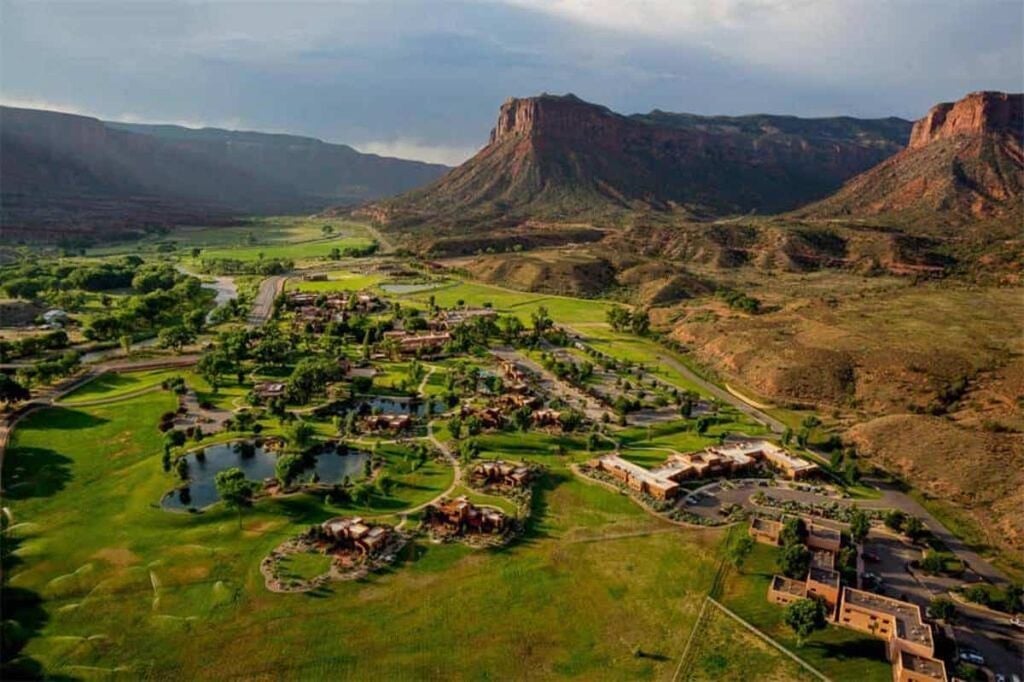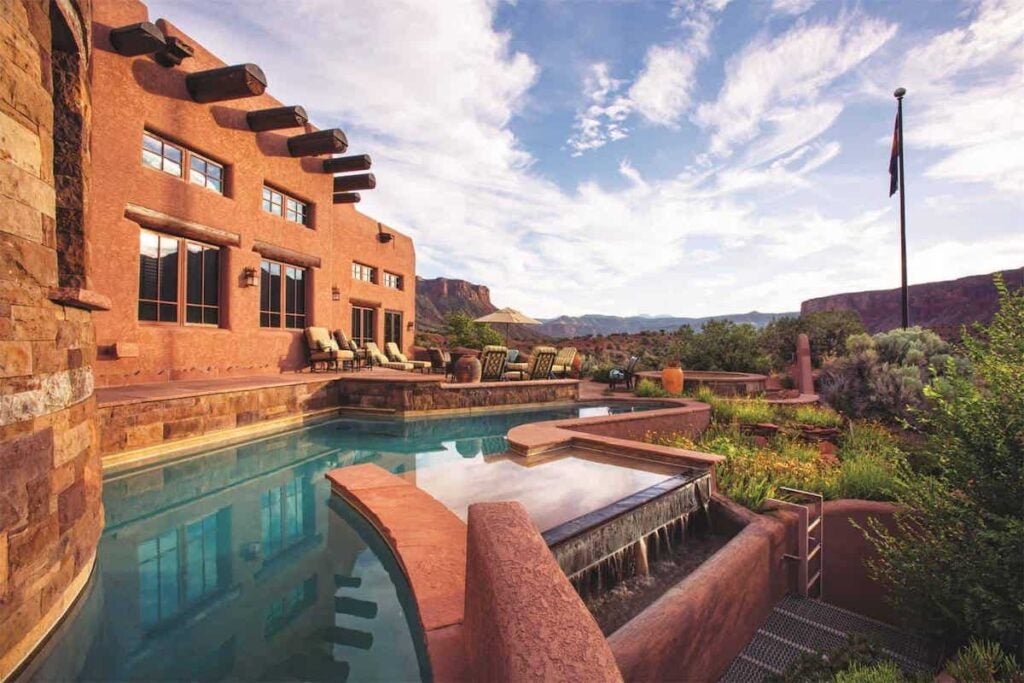 The house is owned by John Hendricks, the founder of Discovery Channel, and the property was initially listed in 2017 by LIV Sotheby's International Realty for $149 million. 
Then, in 2019, Hendricks decided to include his Gateways Canyon Resort & Spa and all his local holdings, upping the price to $279 million. 
That $279 million price tag includes the Gateway Colorado Auto Museum (complete with 50 vintage cars), a helipad, a five-car garage and a private observatory. 
While no longer listed for sale, it is unclear whether anyone bought the impressive ranch. 
Square footage: 22,000
Bedrooms: 8
Asking price: $279 million
The Penthouse at Central Park Tower, New York – $195 million (reduced from $250 million)
This three-story apartment on the uppermost floors of one of NYC's Billionaires' Row's most iconic and prestigious buildings offers breathtaking panoramic views of Central Park and the Big Apple's skyline.
On the market for a year, the asking price has recently been cut by 22% to $195 million, according to agents Serhant's listing.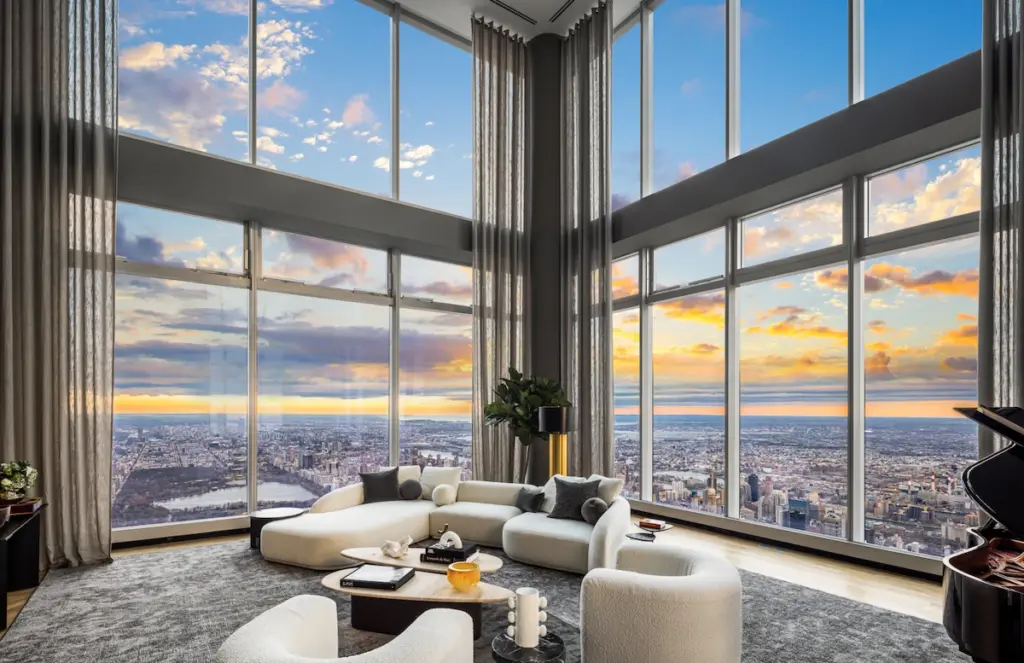 The Adrian Smith + Gordon Gill-designed Central Park Tower was built in 2019 and, at 472.4 metres (550 feet) is the world's tallest residential structure.
The Penthouse at Central Park Tower is one of the most coveted and exclusive properties in New York City designed to provide the utmost luxury and comfort to its residents.
With seven bedrooms, eight bathrooms, over 17,000 square feet of living space, and a spectacular view, The Penthouse is one of the most expensive properties in the US. The apartment features 30-foot tall ceilings, floor-to-ceiling windows and two chef-equipped kitchens. There is also a sculptural design spiral staircase that runs through the three floors. 
Gary Barnett, who is behind the construction of Central Park Tower via his company Extell, revealed that the upper floor contains a private ballroom with unobstructed views of New York's Central Park and the Hudson and East Rivers from the 1,433-square-foot terrace. 
Square footage: 17,545 internal, 1,433 external
Bedrooms: 7
Asking price: $195 million
2–8a Rutland Gate, London – a reported $260 million (£210 million)
Despite needing an estimated $250 million (£200 million) to renovate this neglected property, 2–8a Rutland Gate was rumoured to have sold for a record-breaking figure earlier this year.
Until 2000, 2–8a Rutland Gate was four 19th-century terrace houses before they were knocked through and turned into a 45-bedroom, 62,000-square-foot regal property in the heart of Knightsbridge, London, with views over Hyde Park. 
The property was said to have been put up for sale with an asking price of £300 million (more than double the £140m paid in 2011 by Russian banker Andrey Borodin for Park Place near Henley, previously Britain's most expensive house) in 2012, but it remained unsold and was later valued at £140 million in early 2015.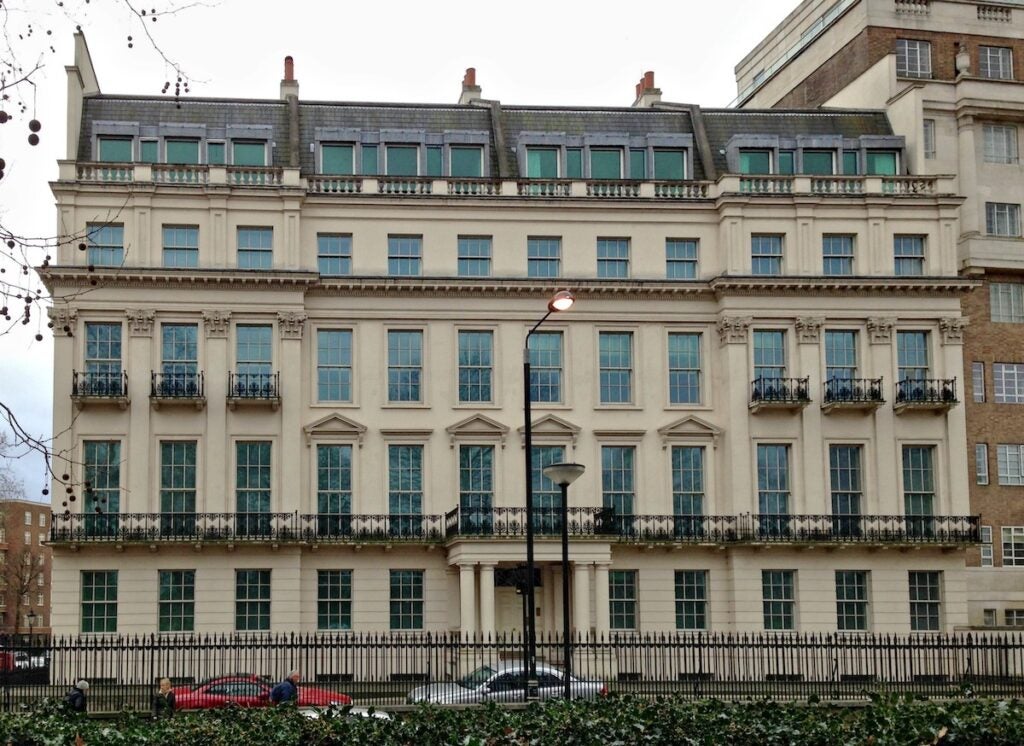 This mansion has had several owners, including former Lebanese prime minister Rafic Hariri and, after his assassination in 2005, Saudi Crown Prince Sultan Abdulaziz Al Saud, who owned the property until his death in 2011. 
The property was abandoned for more than a decade before being bought by Chinese billionaire businessman CK Cheung sometime in 2020 for $260 million (£210 million)
He submitted plans to completely renovate it to the Westminster Council in 2021, and a consultation was launched.
In February 2023 the house was reportedly bought by 36-year-old Antiguan entrepreneur Mohannad Al Marar, or rather a company owned by him, according to public records, for over £300 million. According to HM Land Registry, the house was last sold on 21 April 2020, but if the rumours were true, 2-8a Rutland Gate would be the most expensive home ever sold in the UK's history.
Square footage: 62,000
Bedrooms: 45
Sold for: $260 million
Villa Les Cèdres, French Riviera – $221 million
Villa Les Cèdres, located in the south of France, has everything a king needs – quite literally, as it was built in 1830 for the King of Belgium. 
The property features an Olympic-sized swimming pool, a wood-panelled library with over 3,000 books, an Amazonian-lily-pad-filled pond, an original bronze statue of the goddess Athena and a private ballroom with a crystal chandelier. with panoramic views of the Mediterranean Sea.
The immense garden surrounding the villa includes numerous olive trees – 20 years after it was built, it was turned into an olive tree farm by the mayor of Villefranche-sur-Mer. 
This Cap Ferrat mansion originally went on the market in 2017 with an asking price of 350 million euros ($410 million) – if it had sold for that it would have been the most expensive home for sale in the world.
Instead, Villa Les Cèdres was bought for $221 million by billionaire Rinat Akhmetov, Ukraine's richest man, in 2019, and was managed by Davide Campari-Milano S.p.A of the Campari Group. 
Square footage: 18,000
Bedrooms: 14
Sold for: $221 million
Palm Beach's 10 Tarpon Way, Florida – $218 million
As the name suggests, this is not only a property, but a property which stands on an island. 
The man-made Tarpon Island spans two acres on the waterfront of Palm Beach's Billionaires' Row – and is Palm Beach's only private island. 
In 2021, Todd Micheal Glaser, a developer from Florida, bought the land for $85 million and decided to significantly expand and renovate the 1930s estate on the island. 
Originally designed by Howard Major, recent renovations added two pools, a five-car garage and a tennis court.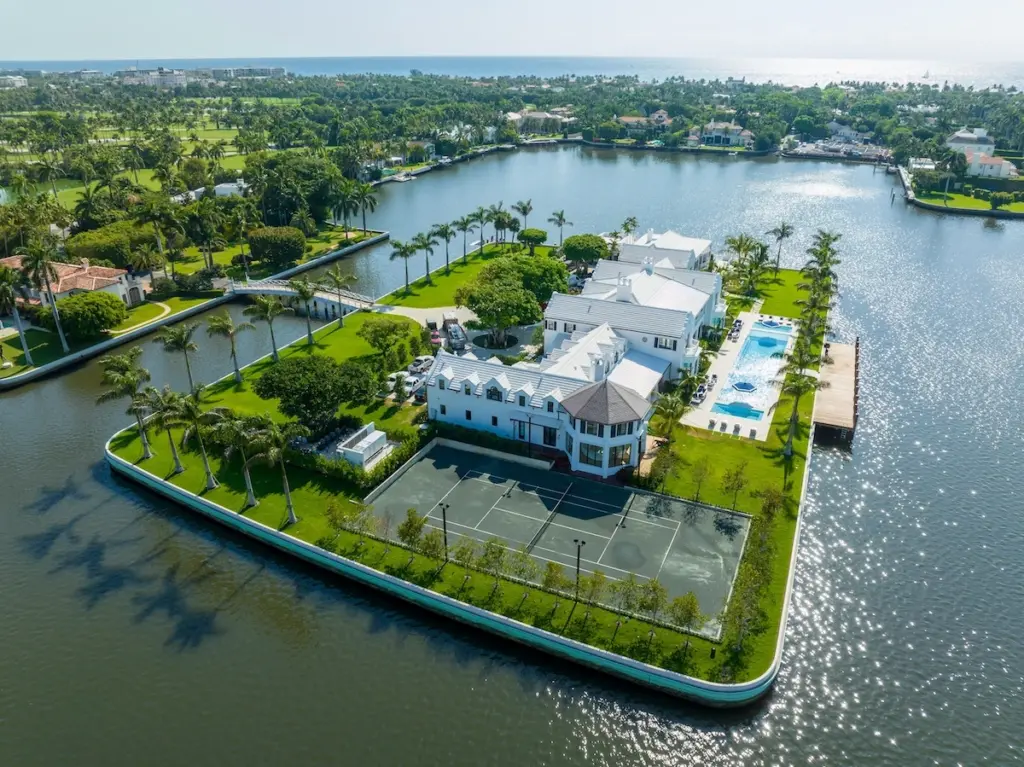 Under Glaser's ownership, the mansion has doubled in square footage reaching almost 22,000 square feet, and includes 11 bedrooms, 15 bathrooms and seven half-baths, alongside an external house for guests. 
Inside the pad, one can find a spa with a steam room and sauna, a wine cellar, and a gym with a weight room, a cardio room, a wet bar and its own fireplace. 
Its external charms are not in short supply either, with 1,300 feet of waterfront, a cold plunge, a fully lit tennis court and two private docks.
Square footage: 21,406
Bedrooms: 11
Asking price: $218 million
Sloane House, London – $215 million (£170 million)
In July 2022, Petra Ecclestone, Formula One heiress and her husband Sam Palmer announced that they had put their Chelsea property Sloane House on sale off-market for $215 million (£170 million) during an Architectural Digest project inside the couple's palatial residence. 
Ecclestone bought Sloane House in 2010 with her former partner James Stunt and completely renovated it, adding a spa in the basement and two upper levels. At that time, the heiress paid around $76 million for the property that she 'pretty much demolished and rebuilt' – significantly increasing the asking price.  
She built up and down – The floor plan now stretches to 20,000 square feet, with an entrance adorned by a custom-made gold bar and a 150,000-piece crystal chandelier made of bronze and gold details.
Speaking of details, there is one key and recurring one around the property: the panther, Ecclestone's favourite animal. Throughout the residence, small decorations and panther-shaped sofas adorn the property. However, the spotlight is stolen by the five-metre-long fish tank containing 64 different types of tropical fish. 
The new basement, for instance, now includes an indoor swimming pool, a gym, a spa, a hammam, a salon, a kid's playhouse, squash courts, and a screening room.
Square footage: 20,000
Bedrooms: 8
Asking price: $215 million
The Marble Palace, Dubai – $204 million
In June 2023, Luxhabitat Sotheby's International Realty listed The Marble Palace in Dubai for sale for $204 million. 
The Marble Palace is not a regular luxury mansion, but a proper regal residence. 
As the name suggests, The Marble Palace is the epitome of opulence and lavishness, a Renaissance- and Versailles-style palace that takes inspiration from the Belle Époque architecture in Paris.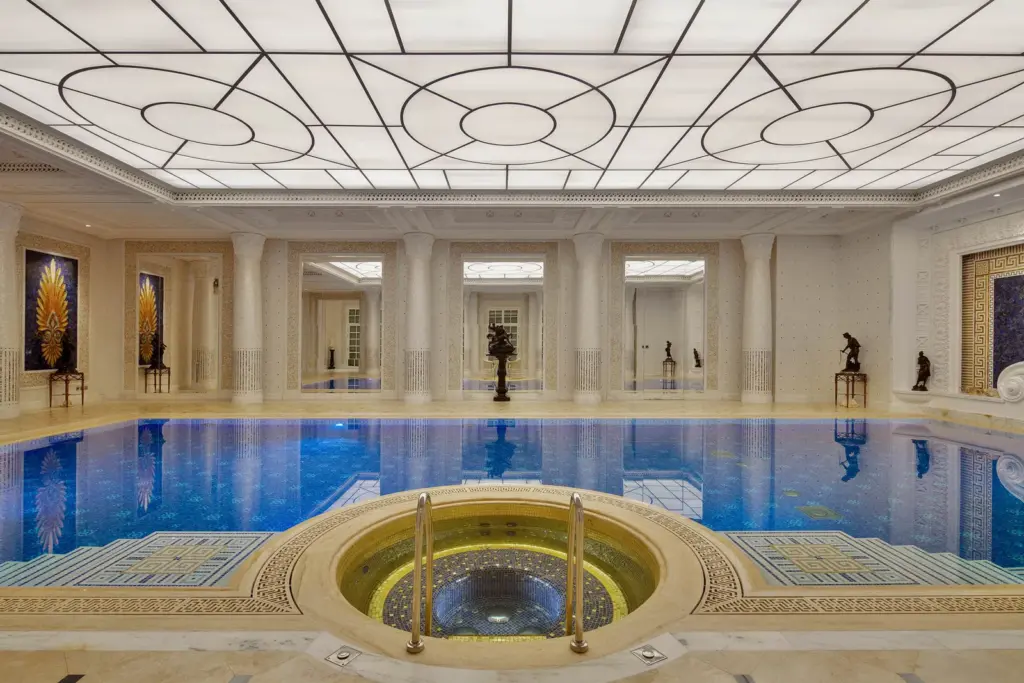 The 70,000 square feet of living space – with an extra 60,000 square feet of built-up space – include marble sculptures and gilded statuaries. It is perhaps no surprise that it took over 12 years to be built.
Alongside the structural details, the Palace also includes 70,000 sheets of gold leaf applied over the course of nine months and accompanies almost $30 million worth of Italian marble. There are 160 Corinthian columns and houses five bedrooms, 19 bathrooms and 12 staff rooms. 
CEO of Luxhabitat Sotheby's International Realty George Azar said: 'The Palace's grandiose design is the culmination of a rigorous 12-year research and analysis of royal palaces and residences, which entailed frequent trips to Europe. Such meticulous attention to detail is evident throughout the property, and it testifies to the unwavering dedication of everyone involved in making this project a resounding success.'
With a private bank vault, a small lake with a pavilion and an 80,000-gallon coral reef aquarium, one thing is certain: it definitely stands out in the prestigious Emirates Hill Dubai neighbourhood. 
Square footage: 70,000 + 60,000
Bedrooms: 5
Asking price: $204 million
Malibu estate, California – $225 million
This property's Hollywood personality is fitting since the seller is former Walt Disney Co CEO Michael Eisner. 
The estate was first purchased by Eisner and his wife in the 1990s and, since then, they have been adding extra lots and houses to the project. 
Today, it includes five different areas which were completed in 2020 with architect Robert AM Stern at the helm. 
The nine houses are connected via stone pathways, gardens and courtyards. The main mansion, alongside the guest homes, has access to an oceanfront cabana. 
Overall, there are 16 bedrooms, 28 bathrooms, a movie theatre, a pool, and an underground tunnel. The former covers 25,000 square feet, with internal vaulted ceilings, exposed beams and rustic arched windows that offer unobstructed views of the Pacific Ocean. 
The aesthetic reflects the French Riviera, with terracotta roofs, pastel colours, elegant stonework and neat landscaping. 
The listing is no longer available and the property may have been purchased through a private sale. 
Square footage: 25,000
Bedrooms: 16
Sold for: $225 million
Palm Jumeirah Villa, Dubai – $163 million
In October 2022, India's second-richest man, Mukesh Ambani, extended his real estate portfolio by purchasing the villa on Palm Jumeirah positioned on the Dubai waterfront for $163 million. The billionaire industrialist bought the beach-side mansion from Mohammed Al-Shaya, a Kuwaiti businessman.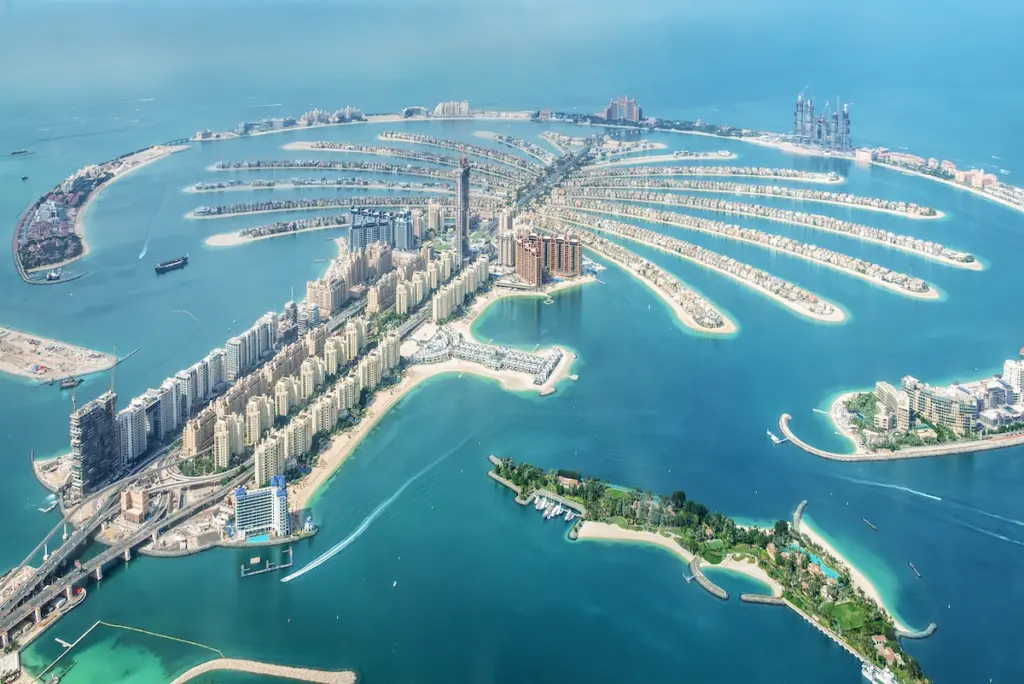 The Palm Jumeirah Villa was Ambani's second purchase of an ultra-luxury property along the beachfront in a few months. In August 2022, Ambani's company Reliance Industries bought a beachfront villa in Dubai for $80 million as a gift to Ambani's son Anant. 
The exterior of the Palm Jumeirah Villa is completely white, resembling a smaller White House, and it spans over 33,000 square feet. In addition, it also features seven-star spa facilities, including a hair salon and a gym.  
But these two purchases pale into significance compared to Ambani's Mumbai residence.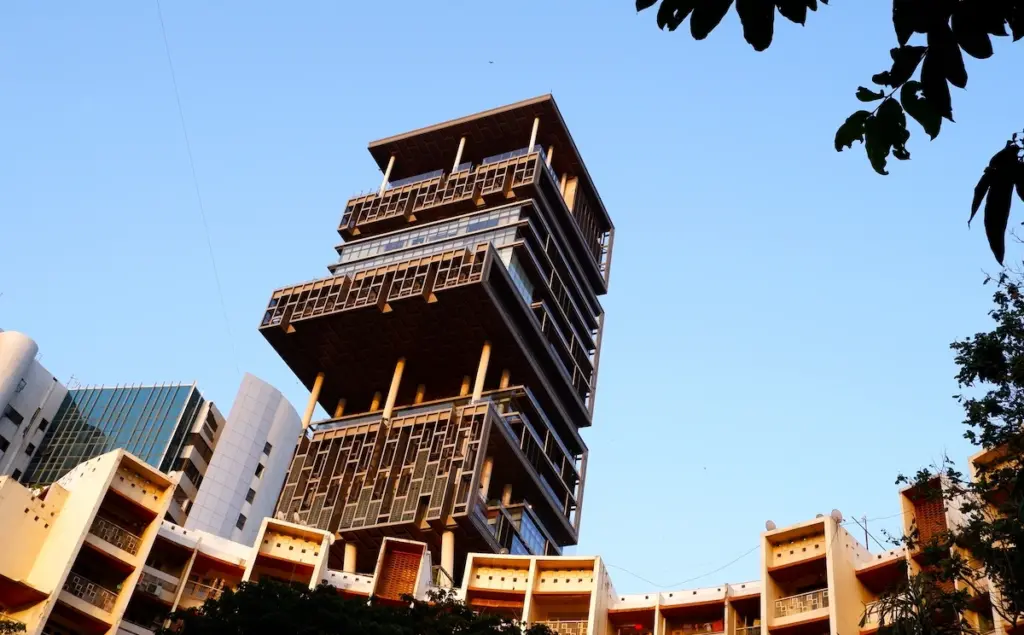 Mukesh Ambani, who according to Forbes has a net worth of $88.3 billion, also owns Antilia in Mumbai which cost a reported $1 – $2 billion to build. The avant-garde 27-storey property was designed by prestigious Chicago-based architects Perkins and Will and built by Australian-based construction company Leighton Holdings. 
Square footage: 33,000
Bedrooms: 10
Sold for: $163 million
Related Article: 10 oldest houses in the world
[See also: 10 oldest houses in the world]