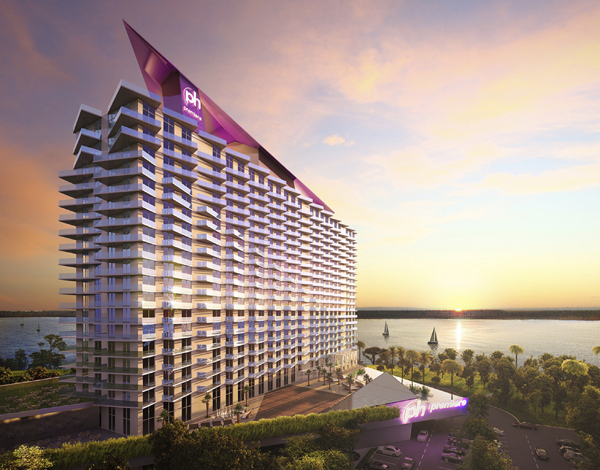 Pre-sales active for new property poised to become the first luxury branded condominium opportunity in Orlando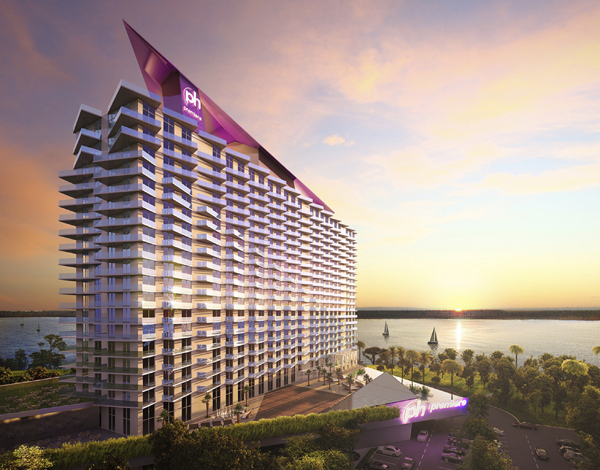 The South Florida contagion has spread north courtesy of ph Premiere' Hotel & Spa Orlando, a proposed new luxury condominium-hotel development set in the world's largest visitor destination. As the first major branded development of its kind in the popular market of Orlando, which draws more than 59 million visitors each year, the planned ph Premiere' Hotel & Spa Orlando has launched pre-sales in conjunction with Miami's highly regarded Fortune International Group.
Located on a 14-acre site overlooking more than 400 acres of spring-fed lake, the 21-story waterfront oasis will perfectly pair the urbane style of New York with the breathtaking luxury of Miami and will present elegance with innovation through contemporary design, world-class amenities and fine dining – all within close proximity to the area's key attractions.
Slated for completion and a grand opening in 2018, ph Premiere' Hotel & Spa Orlando will be operated by luxury hotelier Hampshire Hotels. The 436 luxuriously appointed unit formats will include studio, deluxe studio, one and two bedroom suites – pricing from $290,000 to $867,500, – and three to four bedroom penthouses – pricing from $1,165000 to $1,875,000, all fully furnished. Construction of ph Premiere' Hotel & Spa Orlando will begin after successful attainment of sales goals.
With the commencement of this pre-development offer, Orlando emerges as a stark competitor to Miami for domestic and international buyers seeking real estate purchase and investment opportunities. While both cities boast hotel occupancy rate of more than 80 percent, Orlando's annual visitor rate exceeds Miami by roughly 45 million.
Smith Travel Research reports that 2,695 rooms in hotels built around condominiums are expected to be opened by 2016 in Miami, and 5,000 more rooms are under development – while the 436 residences at ph Premiere' Hotel & Spa Orlando stand alone in a market four times larger.
'The time has come for Orlando to know world-class luxury, style and entertainment all within one resort, and we are honored to be a driving force in this collaboration of visionaries,' said Edgardo Defortuna, President, CEO and Founder, Fortune International Group.
Within each unit, guests will find a chic colour palette of elegant neutrals – including ivory, champagne and caramel – accentuated by custom woven carpets, porcelain wood plank details and plush accent runners to create a tranquil and relaxing environment in a modern and sophisticated fashion.
Contemporary furnishings – including sofas, benches and seating – will be upholstered with custom, luxe fabrics. The spacious bathrooms will resemble in-room spas with frameless shower areas and frosted enclosures for oversized luxury showers. Kitchens will include European style slab stone countertops with under-mounted zero-edge stainless steel sinks, along with European appliances including induction cooktops and an in-wall electric oven and microwave.
Operating at the highest standard of service, in-room amenities will include 24- hour room service, in-room couple's massages, twice daily housekeeping, and pet friendly suites to provide guests with maximum leisure. Additionally, 'Healthy Suites' will include purified water, state-of- the art filtration systems, and non-allergenic materials.
Onsite amenities abound for families, couples and the single traveller. With full access to Lake Bryan, guests will enjoy boating, sailing, jet and water skiing all on one of Orlando's most breathtaking bodies of water. The main pool – which will feature a floating movie theatre and kids splash zone – will bring the spirit of Miami Beach to Orlando with its sandy deck spanning more than 35,000 square feet.
Guests unaccompanied by children will enjoy a visit to the rooftop pool where they will find peaceful cabanas and a specialty restaurant providing a taste of fusion cuisine along with alcoholic beverages served upon request.
The property's 1,500-square-foot fitness facility will offer weight training, yoga and pilates for guests to maintain their fitness regimens during their time away from home. Personal trainers will also be available upon request. A 6,000-square-foot spa will be a sanctuary for guests' relaxation, offering an infrared sauna, whirlpool, steam room, wet and dry massage treatment rooms, Hamam bath and body treatments, manicure/pedicure services, waxing services and facials.
Four signature dining options – including roof top fine dining, a three-a-day restaurant, lobby bar and an indoor/outdoor poolside lounge – will be available onsite. Function spaces totaling 22,000 square feet will include three ballrooms and two boardrooms for events and meetings.
The project visionary and developer, Lorenzo Fragala, CEO and Founder of New York-based Azzurra Development, LLC, has recruited an all-star team that is committed to establishing ph Premiere' Hotel & Spa Orlando as the leading lifestyle resort in Orlando. Azzurra Development is a real estate development firm consisting of renowned executives who have developed commercial and residential developments, including luxury hotels and resorts worldwide.
Arquitectonia, a Miami-based architecture firm and recipient of multiple American Institute of Architects awards, has been retained to create the property's unique geometric design, while New York-based Meyer Davis Studio Inc. has been appointed to lead the interior design process. ph Premiere Hotel & Spa Orlando will become one of six brands within the D'but Hotel Group, the collection of luxury hotels overseen by Hampshire Hotels, which also markets sister brands Augustus Hotels, Dream Hotels, Time Hotels, Unscripted Hotels and Night Hotels.
Miami-based Fortune International Group, a division of Fortune International Realty, will be the exclusive sales firm for the property.
Pre-sales are active. For more information, visit www.phPremiereCondoHotel.com or contact a Fortune International Group real estate professional at 1-800-2Orlando.
Website https://phpremierecondohotel.com
Contact https://phpremierecondohotel.com/contact-us/
001 407 520 5926
Orlando Sales Gallery
Fortune International Group
13780 International Dr.
Orlando, FL 32821
About Azzurra Development LLC:
CEO Lorenzo Fragala, leads the development team for ph Premiere. Cumulatively, the team has over a century of experience creating commercial and residential developments, including luxury hotels and resorts worldwide. With keen insight gained over decades living and working around the world, Mr. Fragala intuitively identifies strong real estate markets and unique opportunities. His latest pursuit is to fulfill the necessity and unmet demand for an innovative development that would offer first class luxury living and accommodations in Orlando.
Mr. Fragala has assembled a deeply experienced and respected luxury development team to conceive and execute the development of this luxury development to a world class standard.
About Fortune International Group:
The name Fortune International Group is synonymous with excellence and an unwavering commitment to quality and customer service in the world of luxury real estate. Visionary founder Edgardo Defortuna has set new industry standards ever since the company's founding in 1983. Fortune is a recognized leader in both the development and sales and marketing of South Florida luxury real estate with a portfolio that includes residential, mixed-use, condo-hotel and office-condo projects.
The company's developments include Jade Residences at Brickell Bay; 1200 Brickell; The Bridgewater; Artech; Le Meridian Sunny Isles Beach; Jade Beach and Jade Ocean. In collaboration with The Related Group, Fortune International Group is developing Hyde Resort & Residences Hollywood Beach. Fortune is also the exclusive sales firm for some of the most prominent projects in South Florida today, such as Midtown Miami, 1 Hotel & Homes South Beach, NINE at Mary Brickell Village, SLS Lux & Paraiso Bay, among numerous others.
Fortune International Group has 13 offices around the world, with nearly 1,000 associates. Its international broker network reaches legions of prospective buyers from South Florida to Buenos Aires, Hong Kong to Sao Paolo, Manhattan to Paris.
Fortune International Group's strength derives from the company's ability to define a market and its needs with all forces that shape the industry. For more information, please visit fortuneintlgroup.com