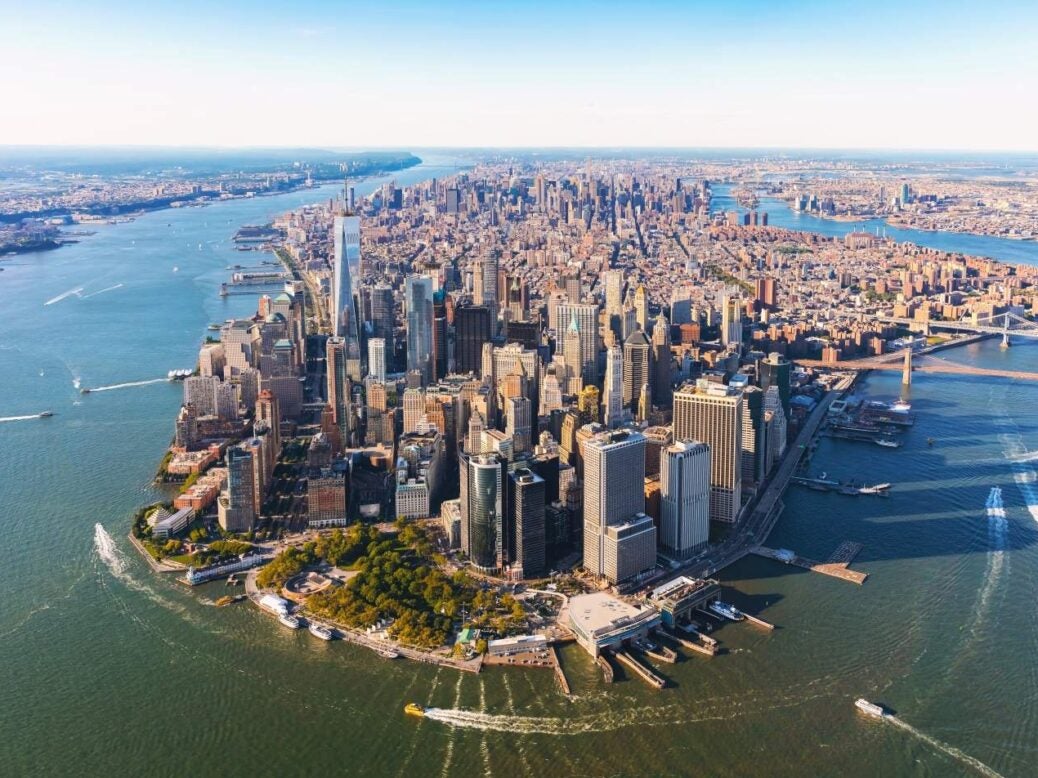 The heart of New York is undergoing a regeneration with a new generation of buyers in mind, writes Catherine Moye
Manhattan has long been regarded as the apogee of status addresses as well as of soaring architectural skylines. Now New York has come out on top in every category of Knight Frank's 2018 Wealth Report, sweeping the board for wealth (annual household earnings exceed $250,000), average private investment in 2016-17, lifestyle (with visitors spending $17 billion), and likely future GDP.
'The resilience of a city is not just down to how many rich people like it there but how successful they are at generating new wealth through economic activity,' explains Liam Bailey, the report's author. 'New York has been very successful at not only remaining strong in financial services but in attracting a lot of new technology jobs, with lots of companies coming from the west coast. Its future score is driven by that.'
And it's not just the sweatshirt and sneakers-wearing Masters of the Tech Universe that are putting the bite back into the Big Apple after a dolorous decade that saw the luxury residential property market fall by up to 30 per cent after the 2008 crash. The slow but sure transformation of a long-abandoned freight line into the High Line, an elevated linear park snaking along Manhattan's West Side, has been like waking Sleeping Beauty from her slumbers.
Now Hudson Yards, a 28-acre revitalisation project at the heart of the High Line featuring new subway stops, restaurants and public space, will extend Manhattan's midtown district westwards towards the Hudson river. Along with office and retail space, 16 skyscrapers incorporating 4,000 new residences, some already built and others available off-plan, are scheduled to be completed by 2024.
This multi-billion-dollar public-private initiative has already had a transformational effect, according to Jason Mansfield, Knight Frank's US sales manager.
'It's difficult to overstate how much the High Line and now Hudson Yards have changed west Manhattan, both from the real estate perspective and quality of life,' he says. 'Before, there was nothing there other than a few old warehouses that would host the odd art gallery opening. Now there are all these exciting new opportunities and new buildings that are very much in keeping with the taste and lifestyle preferences of young HNW professionals.'
Their preferences mean virgin white, light-filled condominiums with wraparound windows affording panoramic city views, and whose only overtly showy details are the communal amenities. For example, at 125 Greenwich Street, a new residential skyscraper of 273 residences by leading architect Rafael Viñoly, there is a 'crowning triplex' of amenities on the top three floors – prime territory that is normally reserved for über-expensive penthouses. Thus, even the humble owner of a lowly ground-floor studio apartment can decamp 820 feet into the sky to dine, work out in the gym, swim, or just relax in the residents' lounge and enjoy the views (prices range from $1,275,000 to $5,600,000).
This reflects not a mere style shift but a total 'youthquake' in what the modern generation is prepared to put up with when acquiring Manhattan property. As Kirk Henckels, vice-chairman of luxury real estate agent Stribling & Associates and co-author of the 2017 book Life at the Top: New York's Most Exceptional Apartment Buildings, explains, 'Cooperatives were the original form of home ownership in Manhattan, and around 70 per cent of homes, especially in the most exclusive areas such as Park and Fifth Avenue, are set up that way. When you buy an apartment in a co-op building, you are not actually buying real property. You are in fact, buying shares of the corporation.'
Crucially, in order to buy into the cooperative you have to apply to the building's board of directors. They decide whether or not to approve you. And among other things, you have
to provide your complete financial statements for their scrutiny.
'This whole process is a real turn-off, as well as a complete anathema to the younger generation,' says Henckels. Having not grown up at a time when fawning and scraping to one's supposed social superiors was de rigueur if you wanted to get on in life, they regard being expected to as an affront and a form of discrimination.
Consequently, venerable residences such as the Dakota that were once regarded as breathtakingly soigné now command less per square foot than stylish and popular new condominiums. Likewise, upscale townhouses with traditional architectural features are also less sought-after than condominiums due to their lack of amenities, meaning high payroll costs for live-in staff and so on.
'Traditionally, all the old money used to be on Fifth and Park Avenue, plus Central Park West, and the best schools and beautiful architecture still tends to be on the Upper East Side,' says Henckels. 'But the children who grew up in those luxury homes are mostly moving downtown.'
The lure of Manhattan is its arrow-sharp buildings that all seem to be pointing out the way to the top. Today's movers and shakers would rather network sky-high in communal and convivial anonymity than ride an oak-panelled elevator trying to avoid the gaze of a snooty septuagenarian who has been privy to their intimate financial and personal details.
This article first appeared in the May/June edition of Spear's magazine. Buy your copy or subscribe here