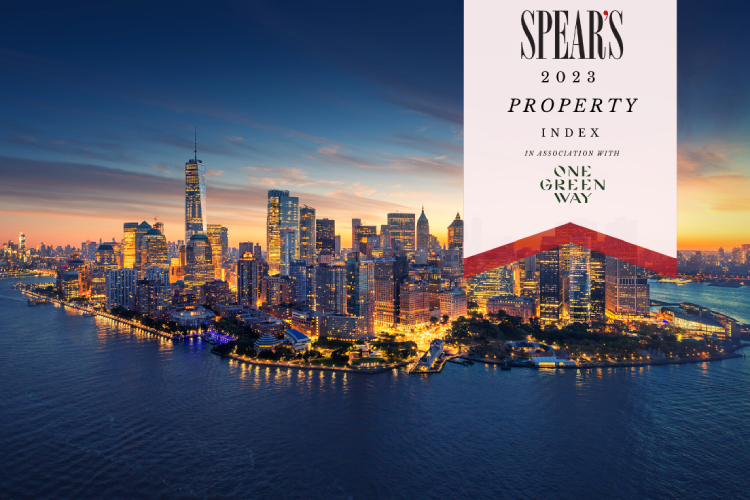 Welcome to the Spear's Property Index in association with One Green Way — our guide to the best advisers to buy, sell, manage and invest in super-prime property in London, the UK and beyond. 
Whether you're looking for a first-class buying agent to help you secure the Mayfair home of your dreams discreetly off-market, or looking for advice on how to build up a burgeoning property investment portfolio, the Spear's index covers a wide range of advisers — and has grown substantially in 2023, introducing a host of specialists in the Dubai and Middle East markets for the first time. 
We have some of the leading figures in property law and specialists dealing with the intricacies of landed estates, country specialists, and agents who operate within the rarefied markets of Monaco, Switzerland, and even further afield. 
As ever, our rankings are divided into different sub-categories:
France and Monaco property agents
Property investment, finance, management & private office services
The Spear's property adviser survey
Read on to see who has risen in this year's rankings – and which industry players have joined our guide for the first time.
Who has risen in our rankings? 
Now considered to be one of the top operators in the country, Aylesford's Andrew Langton takes a seat at the Top Flight table in recognition of his storied five-decades-plus career at the helm of the London market. His firm, which he founded in 1966, is one of the very few London real estate firm's entrusted with finding homes for British billionaires, Middle Eastern royalty and Chinese industrialists.
Adam Buxton moves up from recommended to top recommended in recognition of the country specialist's success in the Cotswolds, Oxfordshire and Gloucestershire. He founded his own company Buxton after leaving Middleton in 2020, and prides himself on having always lived in the countryside and understanding rural ways of life. Another part of his success, he tells Spear's, is that 'people aren't as tied to London as they used to be', because of fibre optic technology and faster broadband speeds.
Beauchamp Estates' managing director Jeremy Gee leaps up to top recommended, in recognition of his efforts heading the firm's sales arm, and the close relationships he has built up over the past 30 years (his ascent comes with glowing approval from the firm's founder Gary Hersham). Meanwhile Ben Dickinson of ME Developments rises upwards given the high sales volumes achieved as sales director. The firm counts the Qatari Al Thani family as investors and premiership footballers as clients. 
Dubai advisers 
This year, a strong focus for the Spear's Research Unit has been to help HNWs find the best advisers operating in the Middle Eastern market. We've assembled a group of the region's leading property lawyers, investment specialists and buying and selling agents. 
In the world of selling, Chris Boswell, who first moved to Dubai in 2006 after his brother established a real estate showroom, has worked on deals across the city in addition to selling homes in New York, Paris and London. 
Meanwhile, Chris Whitehead of Sothebys Realty and Andrew Cummings of Knight Frank both join our rankings. Whitehead, who serves as the firm's managing director, most recently completed the sale of all the homes in Ajman's new Seaside Hills development, while Cummings has led Knight Frank's concerted push in the region, and has overseen sales in some of the city's most expensive developments.
Adam Wilson, a valuation specialist at Chestertons, has more than fifteen years of experience in valuing properties in the Middle East, while Knight Frank's Imran Hussain heads the firm's valuation efforts across the region.
When it comes to property lawyers, Hadef Partners' Ashraf Sayed last year acted on the sale of a $163 million home, which he says was 'one of the most expensive villas sold globally in 2022.' Taylor Wessing's Jerry Parks, who began his career in Dubai in 1997, is well versed in supporting HNWs and prominent figures in the worlds of entertainment and sport. 
Prime Central London
The super-prime market in the capital shows no signs of slowing down as prices climb ever higher. We've added quite a few operators helping HNWs to discern the best deals on (and off) the market.
Garrington partner James Rawes, who has been with the firm since 2006, can help buyers find prime homes in neighbourhoods both north and south of the Thames, including popular suburbs for HNWs like Richmond, where Rawes lives himself. 
Joining our ranks from Savills are Noel De Keyzer, who heads the firm's busy Knightsbridge office and first joined in 1989, and Richard Gutteridge, who co-heads the firm's prime Central London offering and oversees the Sloane Street office. 
From Maskells, we feature the boutique property agency's managing director Jamie Hope, who has been with the firm for the past decade, during which time he has seen the Walton Street outfit go on a 'transformational journey.' And Jennifer Foort, founder of Location London Property, joins our rankings in recognition of her pan-European approach to helping HNW clients find the properties of their dreams, looking across Italy, Switzerland and France.
Meanwhile, from Knight Frank, Matthew Armstrong enters our rankings. He heads the firm's sales in the Belgravia office, and is said to have an encyclopaedic knowledge of the area. 
Sophie Panizzo, who runs boutique firm Argentum, can advise on property purchases in West London but also has experience helping clients with home purchases in Portugal, which has become a popular choice for HNWs in recent years given its 'golden visa' regime. 
Property lawyers
We've also added London property lawyers who have been making waves at some of the leading firms in the private client world – on the back of some glowing personal submissions and peer recommendations. Joining our rankings are Boodle Hatfield's Shaima Jillood, who often helps Middle Eastern clients to understand the UK property market, and has around two decades of experience. Meanwhile, Bethan Owen, who heads Kingsley Napley's real estate practice, and looks after a wide mix of private clients, trusts and corporate institutions, joins our rankings. 
Withers' Partner Edward Jarron joins given his wide experience supporting charities, family offices and business executives with property sales and acquisitions and for his in-depth experience in landed estates, as does Mischon de Reya's Dee Aylward, who is featured in recognition of her excellent reputation among HNW clients and her close work with the firm's tax and immigration teams to more effectively help clients structure their assets.
Country specialists
Perth-based property agent Jonathan Henson of Savills can help HNW clients based in the countryside with a range of specialised rural projects around renewable energy, resources and estate management. Joining the firm in 1989, he has risen to oversee the firm's rural, energy and projects division, and also sits as a Savills UK board director. 
At Knight Frank, buyers can work with Will Matthews, the firm's head of farms and estates, who specialises in sales of high value estates across the UK, or with James Carter-Brown, who heads its residential building consultancy practice, on projects across the UK — whether they are new-builds or historic, listed properties.
To explore all the Spear's indices, and to use our find-an-adviser tool to identify the private client adviser who is right for your specific requirements, go to the Spear's 500 website.
To receive relevant research updates from Spear's – and thereby give you and your firm the best chance of being included in future Spear's indices – please register here.
If you are an adviser featured in the index and would like to update your profile or provide additional information, please email rasika.sittamparam@spearswms.com.
Image: Shutterstock