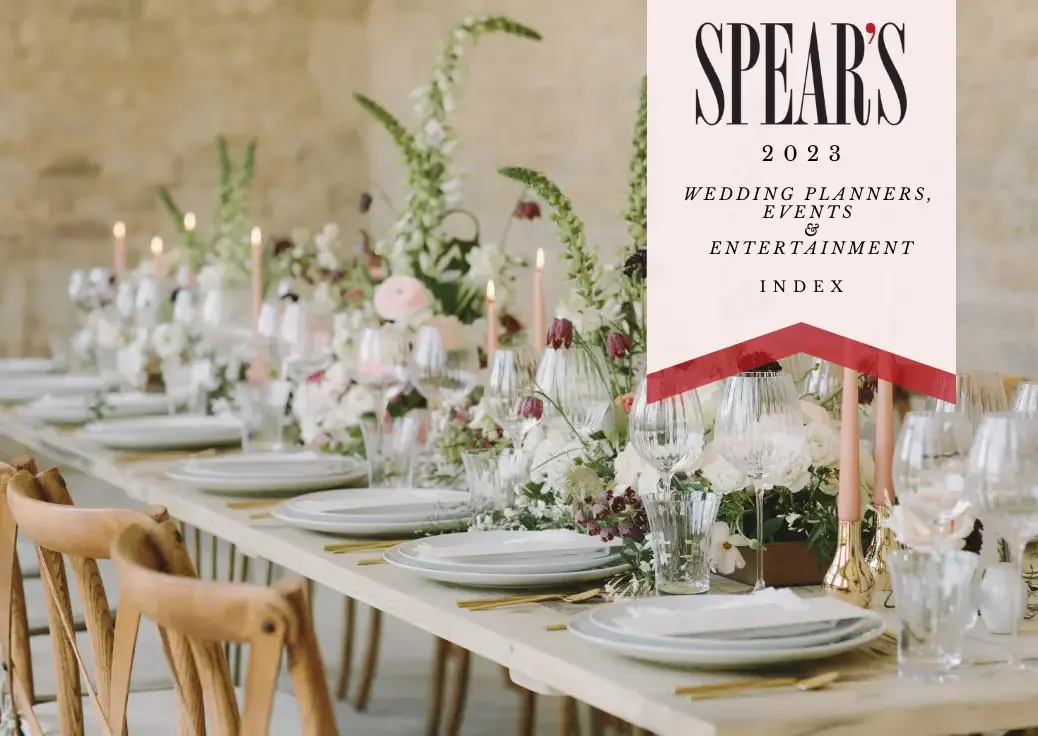 Part of the Spear's Lifestyle Indices
According to the The Telegraph, the average cost of a wedding is £21,403. When it comes to the luxury wedding sector, that figure is blown out of the water with clients spending up to £60 million on their big day.
From sourcing the best floral arrangements to organising Michelin-starred food and beverage, the top wedding planners cater to only the most discerning clients. Take Colin Cowie, resident event planner to Hollywood's A-listers, or Alex Fitzgibbons whose clients include senior members of the British royal family.
Planning events at such a level is no easy feat — even for the professionals — but having the right wedding planner by your side can be half the battle.
If the secret to a happy marriage is finding the right partner, then the secret to a happy wedding might just be finding the right wedding planner.
[See also: Inside the world of billionaire wedding planning]
Sarah Haywood
'[Our weddings] are not what most people think of as a wedding. The scale of them, the detail of them and the sheer number of people involved in them,' says award-winning British wedding planner, Sarah Haywood. 'The expectation is huge and we want to deliver on that expectation.' 
The pressure is certainly turned up for Haywood who has organised weddings for pop stars, royalty and Fortune 500 CEOs. While she is unable to divulge to Spear's the identity of her legendary clients (due to numerous NDAs) she does reveal that at the top end, she has seen couples spend up to £60 million on their big day.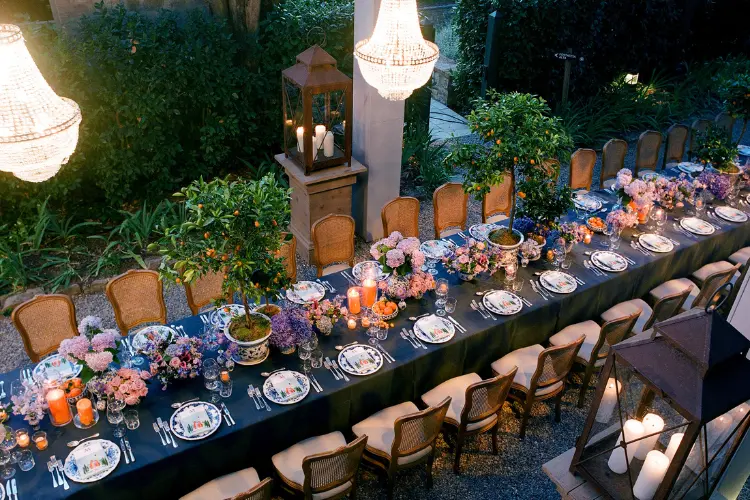 With big price tags come big expectations and Haywood is committed to delivering first-class client service. She sums up her approach neatly: 'if you've got to elevate the ordinary everyday, it's got to be extraordinary.' 
She is passionate about championing sustainability in the luxury wedding sector, an industry that is ironically considered to be decidedly unsustainable. But according to Haywood, it doesn't have to be as complex as people might think. 'Pretty much everything can be recycled or upcycled,' she says. 'From flowers to food, we try to educate our clients on what's in season and what's grown locally.' 
[See also: Sarah Haywood's full profile on the Spear's 500]
Colin Cowie
Known ubiquitously as 'Mr Wedding', Colin Cowie is renowned for his extraordinary events. His first step into the celebrity wedding industry was ironically thanks to Hugh Hefner who at the time, was engaged to playmate Kimberley Conrad. 'I got to design the wedding of the world's most famous bachelor,' Cowie tells Spear's. 
Since then, he has designed events for everyone from Oprah to Tom Cruise. He most recently organised the nuptials of Jennifer Lopez to Ben Affleck and the Emir of Qatar to his bride. One might be surprised to learn that the novelty hasn't yet worn off for Cowie. 'I'm as excited today as I was 37 years ago when I first started.'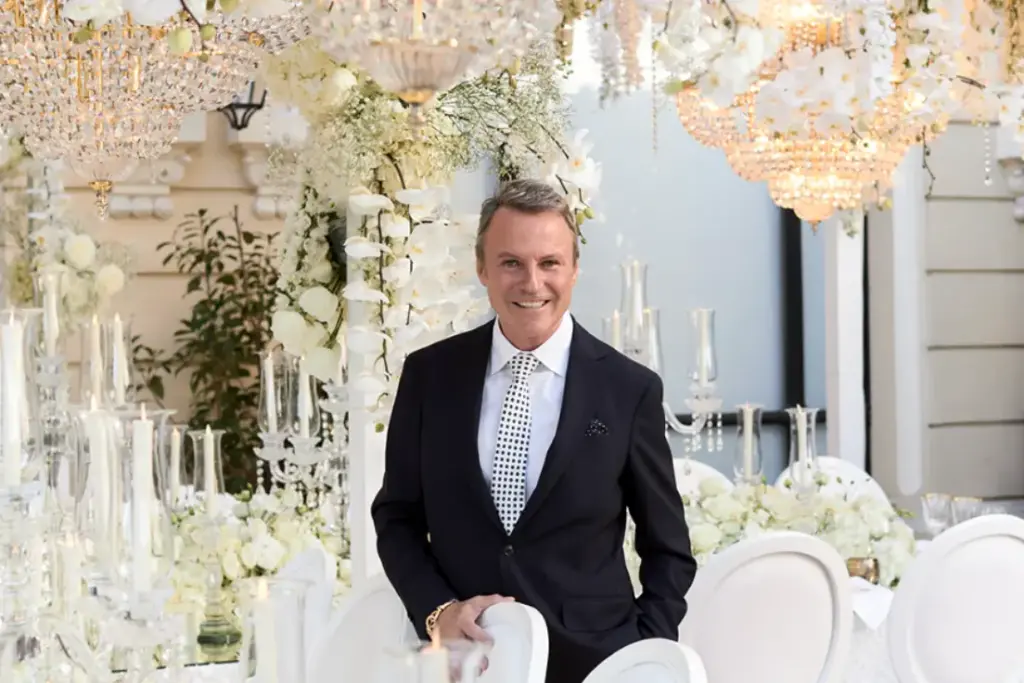 Simultaneously, he sees his work as a large responsibility on his shoulders. 'When you do it at the scale we do it, it really is a grand production. There's no take two,' he says. 'Other than an air traffic controller, I think we probably have the second-most stressful job in the world.'
[See also: Colin Cowie's full profile on the Spear's 500]
Alex Fitzgibbons
Fait Accompli is one of the world's most renowned event planning companies and it's for good reason. The firm, founded in 1987, counts the Prince and Princess of Wales and the Duke and Duchess of Sussex among its esteemed clients. It is even rumoured to have been a favourite of the late Princess Diana. Little is known about the firm but Spear's secured an exclusive interview with Fait Accompli's chairman, Alex Fitzgibbons. 
'We don't do any PR, we don't do any marketing, we don't have Instagram,' Fitzgibbons says when speaking of his firm's strong stance on anonymity and discretion. 'That probably means we're better suited to some clients than others.'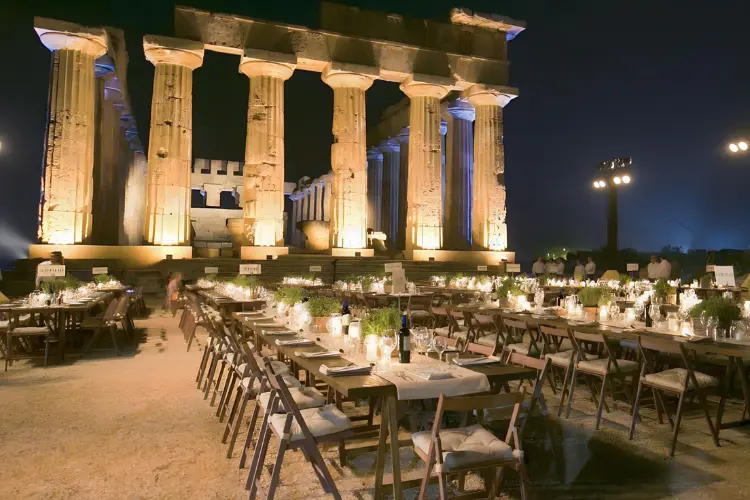 He notes that once these clients enter Fait Accompli's fold, they tend to be loyal regardless of strong competitors in the market. 'During [the company's] time, we've had some families and clients who we've been in the full life cycle with. The parent's wedding, the children's christenings, birthday celebrations, children's birthdays and unfortunately a memorial service or two.' 
What makes these clients so loyal? For Fitzgibbons, it's as simple as the 'personal connection'. 'What's a really important job for us to do is to find out what it is for our clients that's most important for them to focus on and spend their budget on.' 
[See also: Alex Fitzgibbons's full profile on the Spear's 500]
Nicole Braghin & Arianna Grijalba
Nicole Braghin and Arianna Grijalba of Plan Design Events made headlines when it was revealed that they had been chosen to plan the wedding of Brooklyn Beckham and Nicola Peltz. Things quickly turned sour after Nicola's billionaire father, Nelson Peltz, filed a $159,000 lawsuit against the wedding planners claiming that they lacked the capability to plan an event of such magnitude. But Spear's isn't so sure…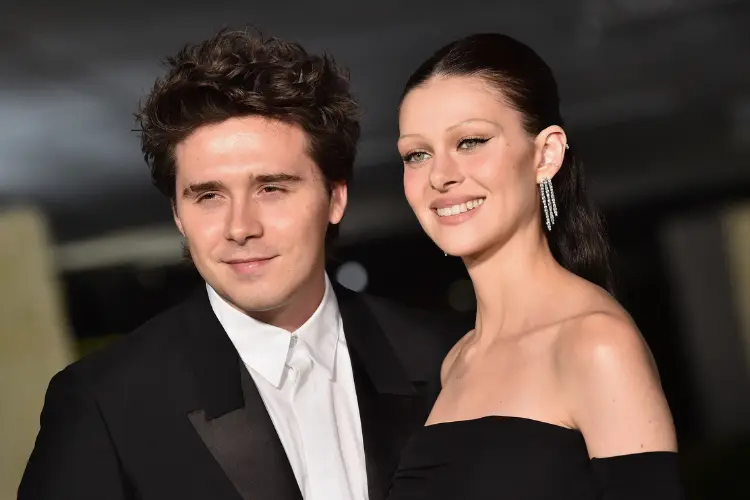 Braghin and Grijalba joined forces after merging their respective event planning companies. Since then, the pair have been at the helm of a host of multi-million dollar events ranging from weddings and bar mitzvahs to corporate events. In the case of the latter, clients include Dior, Yves Saint Laurent, Saks Fifth Avenue and Roberto Cavalli. 
The Miami-based pair are passionate about the quality of service they provide. 'We don't do cookie cutter. Everything is catered to that client and to that event,' Braghin says. 
Grijalba is in agreement. 'Whenever we plan every detail, we think about you,' she says. 'We become your family and you become family to us.'
[See also: Nicole Braghin's full profile on the Spear's 500]
Julia Dowling
'Our focus isn't just designing weddings and events; it's about orchestrating and designing unforgettable moments and memorable experiences,' says Julia Dowling, founder of Snapdragon. The firm, established in 2010, has achieved considerable success having organised events for UHNWs, celebrities and C-suite executives. 
When asked about the success of the company, Dowling tells Spear's that 'success, in the Snapdragon chronicles, isn't measured by the grandeur of an event, but by the emotions it ignites'.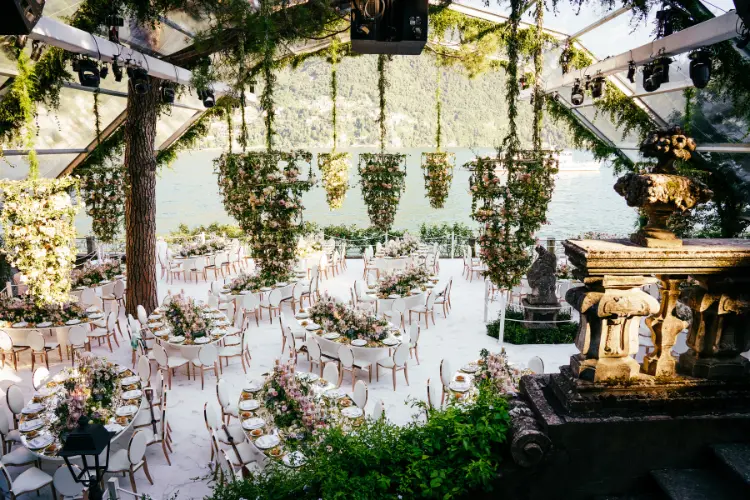 'Grandeur' however is what has also attracted clients to Snapdragon, a firm whose approach has been marked by a tasteful and understated elegance intertwined with an appreciation for luxury. Particular extravagances that Dowling's clients have indulged in include 'custom drone displays choreographed to bespoke compositions' and chartering private jets to whisk guests to a surprise location while offsetting the flights with a 'specially commissioned carbon offset project'. 
How much does an affair of this scale cost? 'Many millions of pounds,' Dowling says — although she's careful to avoid mentioning the names of any clients who've spent such high sums, in keeping with the company's commitment to discretion.
What she does reveal is that the 'the realm of luxury weddings consistently flirts with the extraordinary.' It seems only appropriate that at Snapdragon, the bar for 'extraordinary' is raised high.
[See also: Julia Dowling's full profile on the Spear's 500]
Mark Niemierko
Mark Niemierko had been working in the film and TV industry when he stumbled upon his love for wedding planning. 'I was in the right place at the right time,' he tells Spear's. 'I was in a place where I could cement my name.'
One wedding that he recalls fondly took place on the back lawns of Cliveden House. 'There was an orchestra and it was a full five-day event,' he reminisces. Niemierko is particularly beloved by celebrities. He was responsible for planning the weddings of James Corden and Rochelle & Marvin Humes.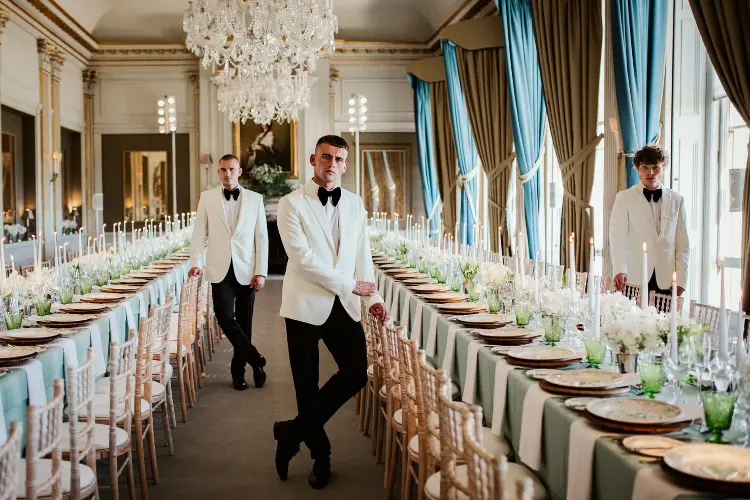 But with such a client book comes an influx of requests from couples wanting the 'Niemierko wedding' — something that's not always possible in order for Niemierko to work as closely as he'd like with clients. 'We only plan five weddings a year,' he says. 
Niemierko's successful approach speaks for itself. 'I tell all my clients: "if after a month of working for you, I don't have your trust, fire me."'
[See also: Mark Niemierko's full profile on the Spear's 500]
Jessie Westwood
Jessie Westwood is honest about the necessity of a wedding planner when organising your big day. 'The truth is that it's entirely possible to plan and design a wedding without a planner on your team.' But she's quick to add that 'it's an infinitely more relaxing, fun and enjoyable process with one.' 
Westwood established her event design business, Studio Sorores, in 2010 after a career in PR and marketing. She now leads a small team at her firm's Cotswolds headquarters planning and designing events across the world. It's no easy feat and her team claims to 'put in well over 1000 hours for every wedding [they] plan.'
Her passion for her work has proved popular with her discerning clients, all of whom are inspired by Studio Sorores' fundamental mission: 'We strive to always evoke true luxury in a thoroughly modern and tangible way.'
[See also: Jessie Westwood's full profile on the Spears 500]
Chenai Bukutu
'My style of weddings is generally opulent but not ostentatious,' says Chenai Bukutu of ByChenai. 'It's about a quiet elegance.' 
Bukutu entered the luxury wedding sector in 2017 following a career that was firmly embedded in the corporate world. She tells Spear's that she had long been inspired by the work of fellow acclaimed wedding planners, Colin Cowie and Sarah Haywood, and sought to make the jump into an industry that 'spoke to [her] passions.'
'I've always had the hostess with the most personality and my focus from the beginning was to work with very interesting people.' Those 'interesting people' now include celebrities, HNWs and tech entrepreneurs.
She believes that her corporate background has proven useful in building relationships with her UHNW clients. 'You're in the relationship business at the end of the day,' she says. 'I can speak their language.' 
How much do her UHNW clients spend on their weddings? Bukutu's unable to give a clear figure, simply by virtue of its enormity. 'The sky's the limit.'
[See also: Chenai Bukutu's full profile on Spear's 500]
Emma Gold
Emma Gold's professional career started in advertising and graphic design. She took a U-turn when she realised her passion for event planning and went on to work at MTV. It was here that she began planning global events that attracted media attention — one of which includes the first ever European Music Awards. 'I did things I'd never done before and pushed boundaries,' she reminisces. 
Her entrepreneurial spirit quickly took over and in 1997 she founded her event planning firm, GSP Events. While planning a diverse array of events ranging from award shows and corporate events to parties and weddings, it was the latter that began to gain traction much to her pleasure.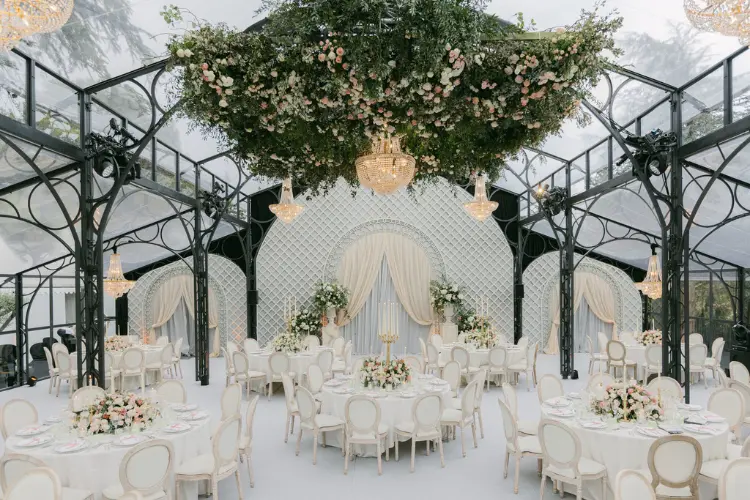 'At the heart of it, weddings have always been my real passion,' Gold says. Focusing specifically on destination and high-end weddings, she has worked 'on the highest tips of mountains to private islands to châteaus in the middle of nowhere.' 
Her firm's focus is on avoiding uniformity and creating unique weddings that are suited to each client's own taste, style and budget. Gold's objective has always been clear, she tells Spear's. 'From the rustic to the romantic, we want to know what [our clients] want and what [their] style is.' 
[See also: Emma Gold's full profile on Spears500.com]
Alice Wilkes
Alice Wilkes stands firm on her company's mission statement: 'An Alice Wilkes Design wedding is sophisticated, luxurious and design-led — the perfect union of style with uncompromising attention to detail.' 
Having began her career in the world of luxury fashion, Wilkes became accustomed to catering to clients who expect the finer things in life. She established her eponymous event planning firm in 2019 and hasn't looked back since. Now her clients comprise royalty and celebrities who demand everything from 'private intimate celebrations to multi-million pound weekend-long weddings.'
While boasting an impressive portfolio of work, she cautions prospective clients from expecting her to reproduce the exact same results in future. 'It's imperative that my clients know that no two weddings will ever be the same with me,' she has previously said to the press. 'I ensure this happens by including very personal touches and being inspired by each couple.'
[See also: Alice Wilkes's full profile on Spears500.com]
Katrina Otter
'Classic' and 'timeless' are the two words Katrina Otter uses when describing her style of weddings.
Known for her countryside weddings, she primarily works with couples who want to avoid the rigidity of London city weddings. Most of her clients opt for stately homes or even their own country homes as the location for their big day. 
'I have that similarity with my couples,' Cambridge-based Otter remarks. 'I tend to attract couples who have an idyllic country garden look and feel in their minds. They're looking for a certain aesthetic that I live and breathe daily.'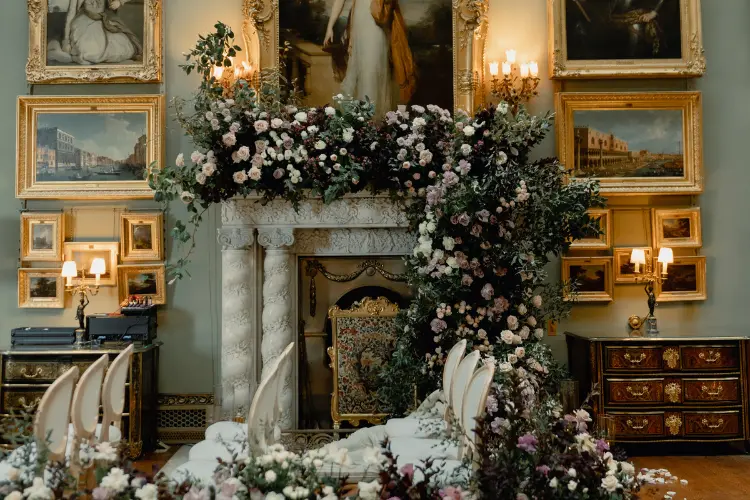 That's not to say that clients never request weddings in the city. She tells Spear's that across her portfolio of work, one of her favourite weddings took place at London's Natural History Museum. 
What her clients do mostly avoid is the typical hotel wedding. 'Often they're quite prescribed,' she says. 'A lot of my couples come to me because they want flexibility. They don't want to be told what they can and can't do.'
[See also: Katrina Otter's full profile on Spears 500]
Explore the full Spear's Weddings Planners, Events & Entertainment Index