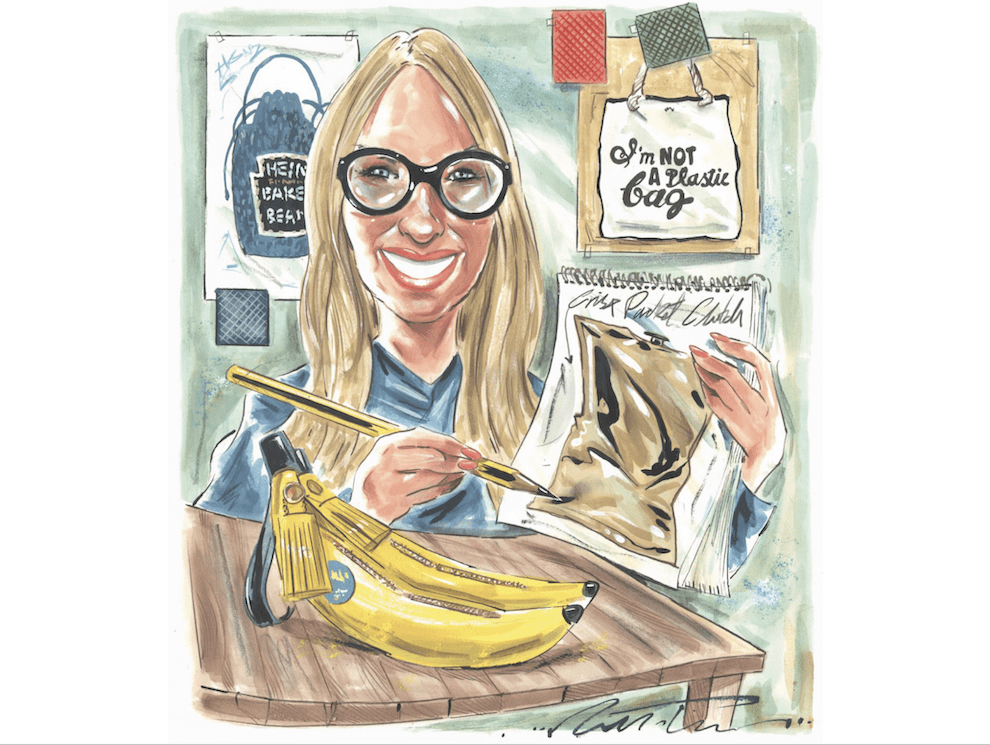 Fashion designer Anya Hindmarch on her love of sleep and singing, her feminist hero and a golden Vegas memory. Interview by Tanya Ghahremani
How much is an ounce of gold?
Well, a troy ounce is £1,401.97. And obviously I know that because I knew the question was coming.
What do you consider your greatest achievement?
Having five more or less normal children, I think. Hopefully also running a business and being kind. That sounds a rather boring one, but I think that's quite a nice one.
Which person, living or dead, do you most admire?
Marmite, I know, but Margaret Thatcher. Because I started in my business with the backdrop of Thatcherism, and it was so inspiring having a woman who was both strong enough to stand up to men, but also still embraced her feminine side. I just watched what she did in the UK – and it's a very a particular view, this – but it was amazing for business. So she would be my girl hero.
Where is your favourite place in the world?
At my kitchen table, honestly. I'm happiest there. I love that mixture of friends and kids and dogs and people coming through, and the debates and the arguments and the family dramas. And it's just lovely. It's just where it all happens, really.
What's your most prized possession?
A ring that I have from when we went with the family to Lake Powell in the States. We stopped and spent a night in Las Vegas. And Vegas is not my favourite place, but the children, unbeknownst to [my husband and me], arranged for us to get married again, in the Elvis chapel. So we had to buy a ring in five minutes. And it was a total piss-take, the whole thing, but it was just very sweet… so it's a $15 ring, but I still wear it today.
Do you live to work or work to live?
Well, my husband would say I live to work, and that's probably true. I love what I do, so it doesn't really feel like work, to be honest. It feels like a game of chess, because it's exciting. The stakes can be quite high, and it's a bit of a drug in a way. It's great fun. You never quite know what's going to happen.
What does the perfect weekend look like to you?
A lot of time in my bed. I need sleep. And it's really about recovery. So for me, that's not dressing up, not going out. Often it involves a roast chicken.
What talent would you most like to have?
I love to sing, which is something I did since I was a child, and I would like to be a lot better at that. I can't cook at all, so it would be quite useful if I could cook. And I'd like the talent or the ability to need less sleep, because I could get so much more done.
Why did you decide to open your collection of pop-up galleries and stores, The Village?
I think the world is a digital world, not such a bricks-and-mortar world any more. If there is a reason for retail to exist, there has to be experience, there has to be fun, there has to be something you can't get online.
What was the inspiration behind writing your book?
I think it's funny. You get to 50 – I'm now 53 – and you realise that you know more than you think. And I think that for me as a woman, a mother, a stepmother, a woman in business, and also in the creative sector, there's an awful lot of doubt. And no one's terribly honest about it. So, I wanted just to say the bits that have tripped me up, in terms of doubt, and how I've got around them. So, it's a really open and honest book, written as if to a friend or my daughter.
What drives you?
I love growing a business. I love the team – for me, a company is the people whose company you keep. And I love challenging fashion, and using the platform of fashion to affect change. That's what interests me.
If in Doubt, Wash Your Hair: A Manual for Life by Anya Hindmarch is out now, published by Bloomsbury (£9.99)
Image: Russ Tudor