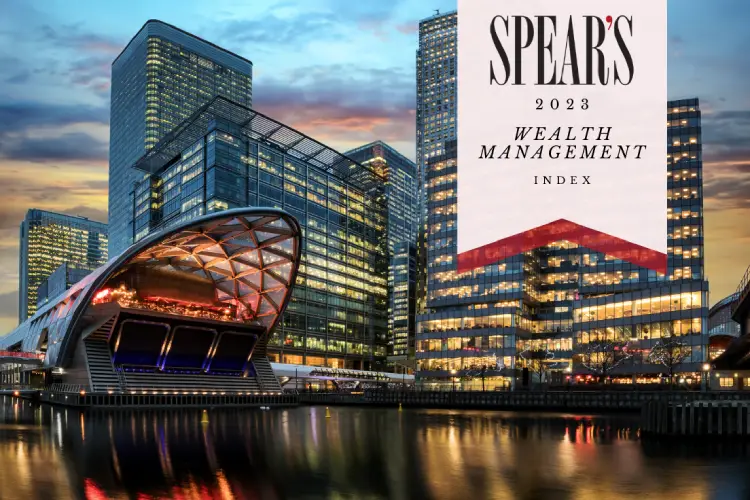 The Spear's Wealth Management Index is an indispensable resource for high-net-worth individuals in search of expert advice on wealth management and family office services
Click the links below to discover the 2023 Spear's ranking of leading wealth managers and family office service providers. We also present the findings from our survey of top wealth managers on the forces affecting their clients' wealth, the global economy and their own industry in the last twelve months.
As the Spear's 500 continues to evolve, it's now easier than ever for international UHNWs to find expert advice using our 'find an adviser' tool. For the first time, advisers from different regions are listed and ranked together, then separated out into their own indices for greater clarity. HNWs and UHNWs can easily access wealth specialists working across  Jersey, Guernsey, Hong Kong, Singapore, Liechtenstein, Luxembourg and Switzerland – and can also filter advisers based on their individual specialisms and Spear's ranking. 
We've also added a collection of the best wealth managers serving clients in the Middle East for the first time – including experts working with the region's royal families and most prominent UHNWs. 
Who has risen in our rankings? 
Arvella's Bruno de Kegel ascends to Top Recommended, in recognition of his success building an ESG-friendly wealth management outfit that sits across London and Paris. 
Joining him is Goldman Sachs's Pedro Dias Ferreira, who has made great strides at the private bank since he joined from Barclays in 2021 – managing 'a very large amount of money' and consistently 'thinking of others' as his top priority, according to one Spear's insider. 
Goldman director Nick Morris too becomes a Top Recommended adviser, reflecting his continued growth at the firm over the past three years. 'My approach is not for everyone; I will challenge you where I think appropriate and will be candid if I am not the solution to your problem,' Morris tells Spear's. Still, it's an approach that has bore fruit for his UHNW client base of business executives and wealthy families. 
Meanwhile, Mirabaud veteran wealth manager Etienne D'Arenberg retires from our rankings this year – capping off a quarter century at the apex of the private client world. D'Arenberg continues to ply his trade as chairman of Praesidium's advisory board. 
New faces and rising stars
The Good Ancestor Movement's Stephanie Brobbey joins our rankings as a Top Recommended adviser, reflecting the strength of her consulting practice encouraging HNWs to use their wealth for the social good and her place at the forefront of the 'progressive' wave of wealth management. She founded the movement in 2021 after a successful career as a private wealth lawyer at Goodman Derrick. 
Suntera Global's Katie Bonfrer also becomes a recommended adviser – working closely with her clients' tax and legal advisers to ensure smooth succession and philanthropic planning. Julius Baer's Ryan Perry also enters our guide – an adviser who takes pride in the 'assurance' long term support can give his UHNW clients.
Swaati Osborne, US head of wealth planning at LGT, enters our echelons as a recommended HNW wealth manager. Osborne has over 15 years of experience and says she endeavours to 'provide a holistic service to help grow [her clients'] wealth'. She was promoted to the role at the beginning of 2023 after joining the firm as a wealth planner in 2019. 
Ruffer's highly-personable Sabine Remnant becomes a rising star given her success in building relationships at the wealth manager – helping to find the best match between individual clients' objectives and the firm's offering. Saranac Partners' Tom Spencer also becomes a rising star, offering strategic advice for a range of UHNWs. He tells Spear's that the opportunity to support entrepreneurial clients over extended periods on building businesses and exit planning is one of the most enjoyable parts of his role. 
Wealth Managers in the Middle East
Across the Spear's 500, 2023 has seen the Spear's Research Unit focus its sights on the leading lights of the Middle East's private client world. Supporting UHNWs across Dubai, Riyadh and Doha, our selection of wealth managers each have extensive client books and are adept at supporting families and individuals with international needs.
Tara Smyth of JP Morgan joins our rankings as top recommended, cementing her status as a 20-year veteran of the bank, heading up its Middle Eastern and Turkey coverage from Geneva. Typically, her UHNW clients have assets surpassing $25 million. Her colleague Tim Champagne, a Kuwait and Dubai specialist, also joins us.
Meanwhile, Andrew De Palma, also based in Geneva, acts as a key adviser for Deutsche Bank when it comes to the firm's EMEA clients, supporting some of the leading families and UHNWs in Qatar on a wide array of wealth management needs.
CdR Capital's Nour Tassabehji, meanwhile, is spearheading the firm's ambitions to expand out of the UAE across the Middle East. Recently, the senior executive officer has picked up on greater activity by European family offices in the region.
Spear's publishes annual rankings of the top private client advisers and service providers to HNWs. These are drawn up on the basis of peer nominations, client feedback, telephone and face-to-face interviews, data supplied by firms, as well as information gathered by the Spear's editorial and research teams.
To explore all the Spear's indices, and to use our find-an-adviser tool to identify the private client adviser who is right for your specific requirements, go to the Spear's 500 website.
To receive relevant research updates from Spear's – and thereby give you and your firm the best chance of being included in future Spear's indices – please register here.
If you are an adviser featured in the index and would like to update your profile or provide additional information, please email rasika.sittamparam@spearswms.com.