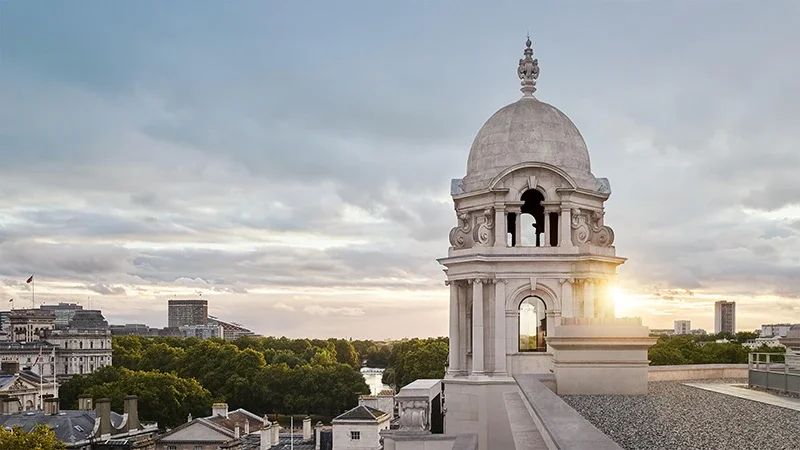 Stay ahead of the curve with the UK's most exciting luxury hotel openings
Whether you're looking for a country escape, a taste of the city or an unusual adventure, the UK has a host of exciting new premium hotel openings in the pipeline.
London's highly-anticipated big-name luxury launches include the country's first ever Raffles hotel, The Peninsula London in Belgravia and the prestigious Mandarin Oriental opening in Mayfair.
Outside the capital, fresh travel adventures include glamorous new treehouse stays in Gloucestershire and high-end 'Lion Lodges' in Worcestershire.
See our top 10 picks of luxury hotel openings from across the UK…
Luxury hotel openings for big city breaks
Raffles London at the OWO (spring 2023)
One of the most hotly anticipated luxury hotel openings of the year is undoubtedly Raffles London at the OWO. It will feature 120 rooms and suites, nine premium rum restaurants and three stylish bars, including a rooftop lounge. Michelin-starred chef Mauro Colagerco will make his London debut with three dining experiences, while an Italian all-day dining concept will be presented by high-end Milanese eaterie Paper Moon.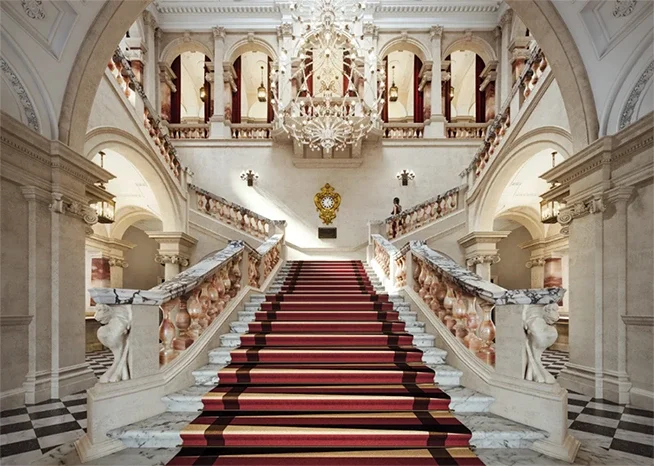 The UK's richest family, the Hindujas, bought a 250-year lease on the imposing London landmark in 2014 for a reported 1.2 billion and have spent the past eight years transforming it from dusty government office building to majestic luxury hotel. The family teamed up with the iconic Raffles brand to bring the first Raffles hotel to the UK.
Boasting 14-foot ceilings and an abundance of natural light, the interiors have been overseen by world-famous French architect and designer Thierry Despont to reflect the building's rich heritage. As outwardly magnificent as their interior, the rooms face London's famed Horse Guards, the blooming greenery of St James' Park and Downing Street's Victorian charm.
The OWO has its own grand ballroom, 20-metre indoor swimming pool, health club and spa led by global wellness and beauty brand Guerlain, alongside movement and nutrition experts Pillar.
From £1,100 a night.
The Peninsula London (early 2023)
Generating equal excitement this year is The Peninsula London, a 190-room luxury hotel overlooking Hyde Park Corner and the Wellington Arch in the heart of Belgravia, one of London's most prestigious neighbourhoods.
Rooms are substantial at 50-square-foot and have been designed by edgy New York architect Peter Marino. The sleek spaces will feature marble bathrooms, walk-in wardrobes and high-tech accessories, including Dyson hairdryers.
While Belgravia is home to the finest designer shops, as well as iconic London department store Harrods, The Peninsula London will offer its own one-storey shopping arcade, with nine carefully selected retail stores.
Double-Michelin star holder Claude Bosi will head up the hotel's rooftop restaurant, Brooklands, which will offer European cuisine in a setting 'inspired by the classic eras of British aviation and motorsport'.
On the hotel's ground floor, creative Chinese dishes will be served up at Canton Blue restaurant. In between dining, guests can enjoy a break in the Peninsula Spa, or a spin in the splendid ballroom, which will accommodate some of London's most dazzling events.
Mandarin Oriental Mayfair (spring 2023)
Mandarin Oriental's new Mayfair residence is the latest supremely luxe hotel to add to the acclaim of the famous brand.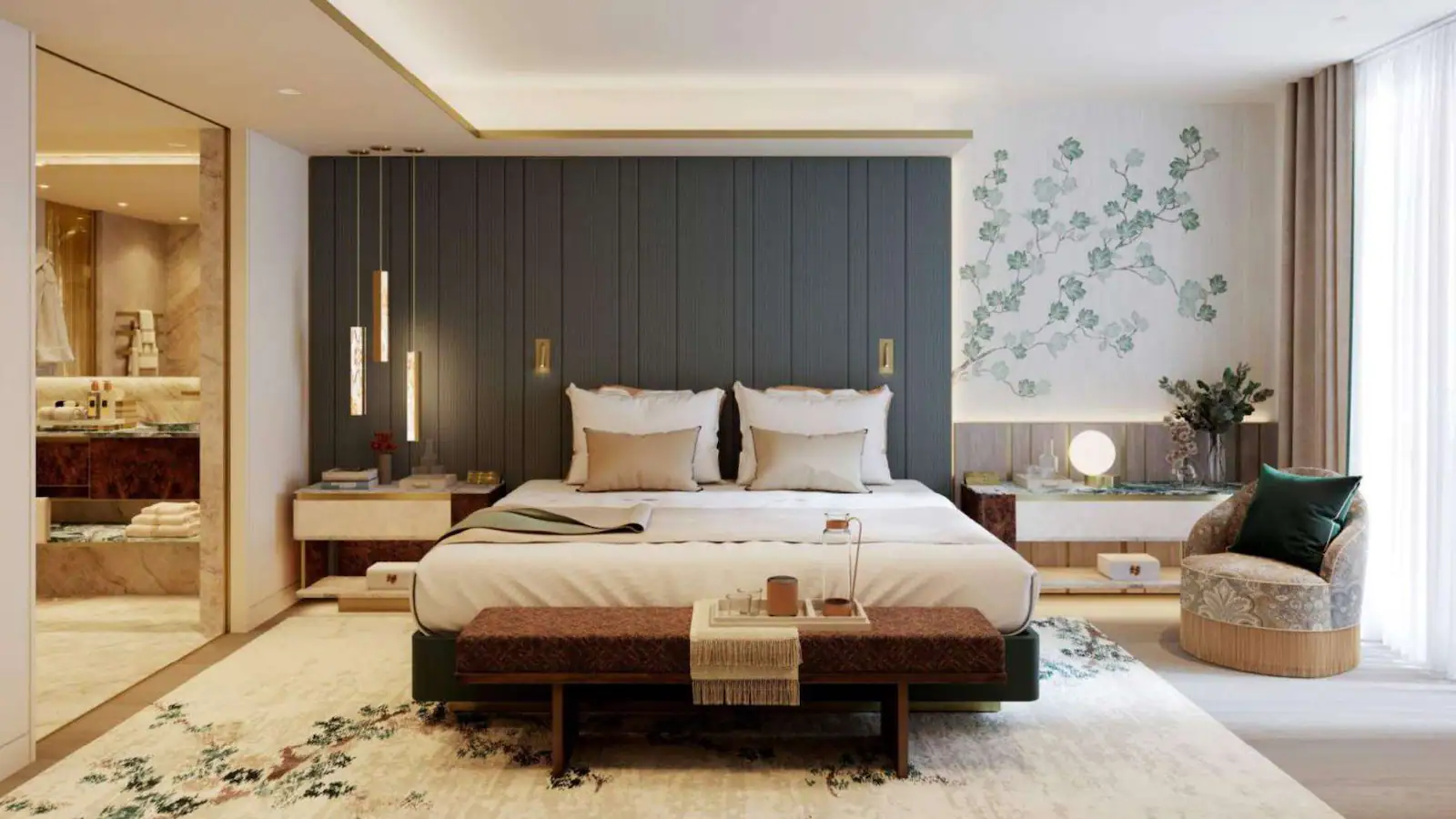 The Hanover Square property has been designed by the dynamic RSHP (formerly Rogers Stirk Harbour and Partners), the architects behind iconic London structures the 'Cheesegrater' and the Millennium Dome buildings, as well as Paris' Pompidou Centre.
Though official interior design details are currently under wraps, we have it on good authority that the work of a Tokyo-based designer will leave guests in awe.
The world-renowned Michelin starred chef Akira Back will offer modern Japanese cuisine that also draws inspiration from his Korean heritage. Then there's the spa, which features a 25-metre indoor swimming pool, sauna, vitality pool and a variety of premium wellness treatments.
The BoTree (July 2023)
Sandwiched between Marylebone and Mayfair and only a step away from Oxford Street, The BoTree brings a rare slice of tranquility to the busy streets of London.
Interiors-wise, the hotel lives up to its name with muted tones of forest green, flashes of burnt orange and fresh vegetation decorating walls throughout.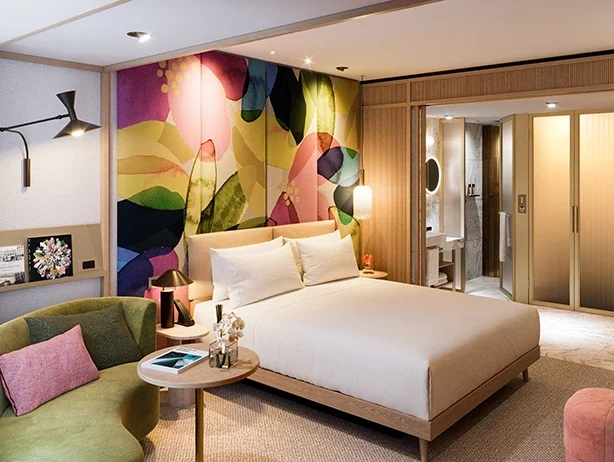 All rooms provide king size beds, while luxury suites come with private balconies and include a bar with a cocktail station for guests to create their favourite tipples. The coveted Presidential Suite, which covers an impressive 3770 square feet, has its own private elevator, lobby and outdoor terrace.
Stylish rooms are met with equally swish bars and restaurants, including a rooftop setting to soak up city views. Health-focused guests can make use of the fitness centre, while a live music club and screening room will rival the plethora of entertainment options on offer in Mayfair.
100 Princes St, Edinburgh (August 2023)
Opening this August, 100 Princes St celebrates Scottish heritage through its iconic address – the former townhouse of Scottish politician Sir John Clark of Penicuik – and respectful restoration.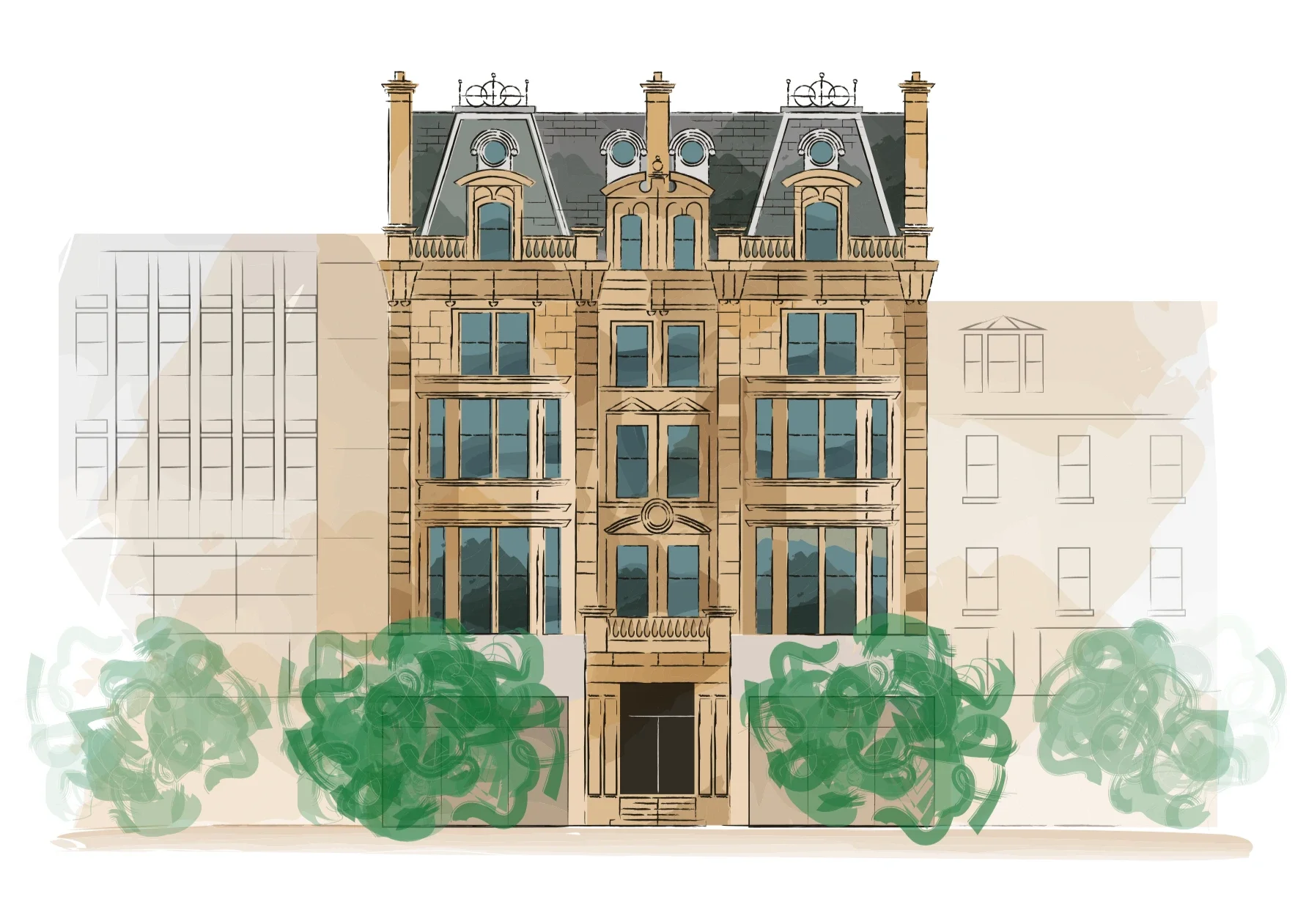 Designed by the trusted Toni Tollman, Philippe Bonino and Brian Brennan, the three have focused on the historic charm of the original building in a similar fashion to their successful work on the famed Ashford Castle in Ireland. Alexander McQueen-inspired interiors are complemented by furnishings sourced from local artisans, including custom-made tartan designed by Araminta Campbell.
Guests can expects a flawless 'whatever, whenever' service approach along with an array of highlights including a fine wine wall boasting over 200 bottles sourced from the family-owned vineyard Bouchard Finlayson. As well as wines, premium Scottish whiskies can be enjoyed along with sensational views of Edinburgh Castle. Rooms priced from £330 per night.
Regional boutique luxury hotel openings
New Holgate hotel in York (March 2023)
Yorkshire businessman Nick Bradley has paid £2 million for York's historic Holgate Bridge Guesthouse with a plan to transform the Grade II-listed terrace property into a lavish boutique hotel.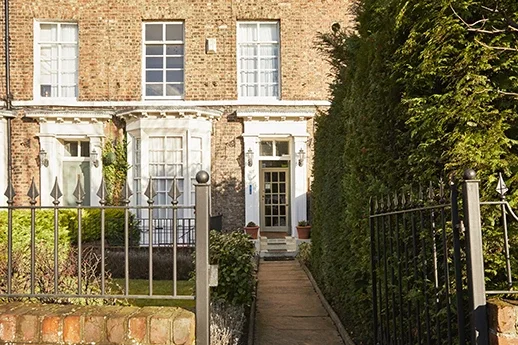 Scheduled to open in March, the hotel will offer 11 rooms, including luxury suites and duplex family suites with amenities including gaming stations and hot chocolate machines.
A private dining restaurant will focus on British classics using ingredients sourced from an abundance of local providers.
Styled by Harrogate-based interior designers Studio Two, the hotel is located in a popular suburb just a few minutes' walk from the nearest train station and 10 minutes' drive from the historic city centre.
Wildes in Chester (summer 2023)
An 1892 Grade-II listed building designed by architect Thomas Lockwood in the heart of Chester has undergone a £5 million development to become the five-star boutique hotel Wildes.
 

View this post on Instagram

 
A rooftop vitality swimming pool, premium spa and fine dining restaurant X by Harry Guy will cater to just a handful of guests.
A sympathetic reimagining of the Victorian building will see period features such as imposing fireplaces, mosaic tile flooring and expansive windows in a spacious modern setting.
Luxury hotel openings for countryside breaks
Barnsdale Lodge in Rutland (March 2023)
Hot on the heels of scooping the Sunday Times Hotel of the Year 2023 award for its Retreat at Elcot Park, the Signet collection has snapped up Barnsdale Lodge in Oakham, Rutland.
 

View this post on Instagram

 
Redevelopment of the site will see the 18th century country home offer 46 luxury bedrooms nestled in 30 acres of tranquil greenery, neighbouring the popular Rutland Waters.
As well as an abundance of tranquil countryside, guests can enjoy the hotel's rural setting in situ from the new conservatory, courtyard garden or over a game of croquet.
Described as 'relaxed boutique', the country hotel allows guests to bring well-behaved dogs and will offer hearty dine-in options at its 1760 brasserie, named after the year the original hunting lodge was built.
Elmore Court, Gloucestershire (May 2023)
The historic luxury wedding venue in the heart of the Cotswolds is offering visitors the chance to get back to nature and experience the greenery of Gloucestershire in the great outdoors – with a premium edge.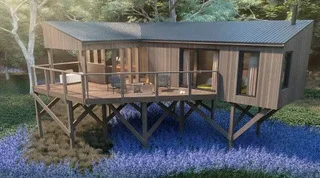 Elmore is opening six Scandinavian-inspired treehouses with king-size beds, cosy wood burners and the chance for outdoor bathing with a deck-based tub teetering above 250 acres of rewinding landscape.
Even the stylish kitchen is technically outdoors, but comes with an optional cover for rainy days.
In addition to curating an escape that seamlessly blends with its environment, there's a chance to enjoy seasonal dining options offering local produce and made using renewable energy, to truly inhibit nature without disrupting its course.
From £350 per night.
Luxury adventure hotel openings
Safari Lodges, Worcestershire (July 2023)
A visit to West Midland Safari Park guarantees adventure, but how about throwing in some high end accommodation and… lions?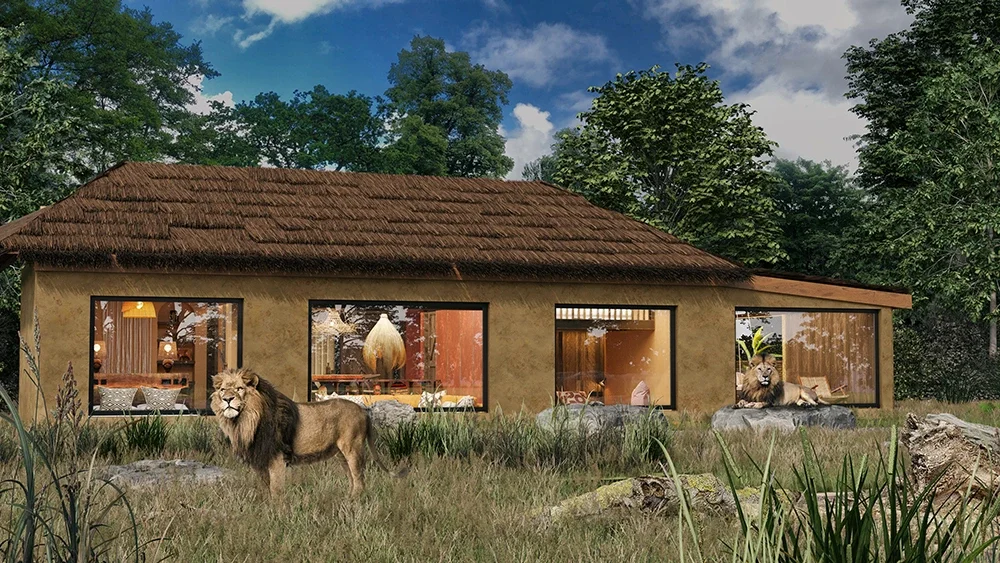 This summer the park is unveiling luxury 'Lion Lodges' with floor-to-ceiling windows overlooking the park's jungle kings in their leafy habitat.
Curl up on a plush corner sofa in natural wood surroundings to enjoy the immersive experience with up to five guests. Feeling brave? Private garden areas allow visitors to get up close – but not too close – to the majestic animals. Packages include, breakfast, dinner and admission to the park.
From £790 per night, based on two guests.
Images: supplied. Prices included where available.
More from Spear's
The man who's changing the face of Canary Wharf