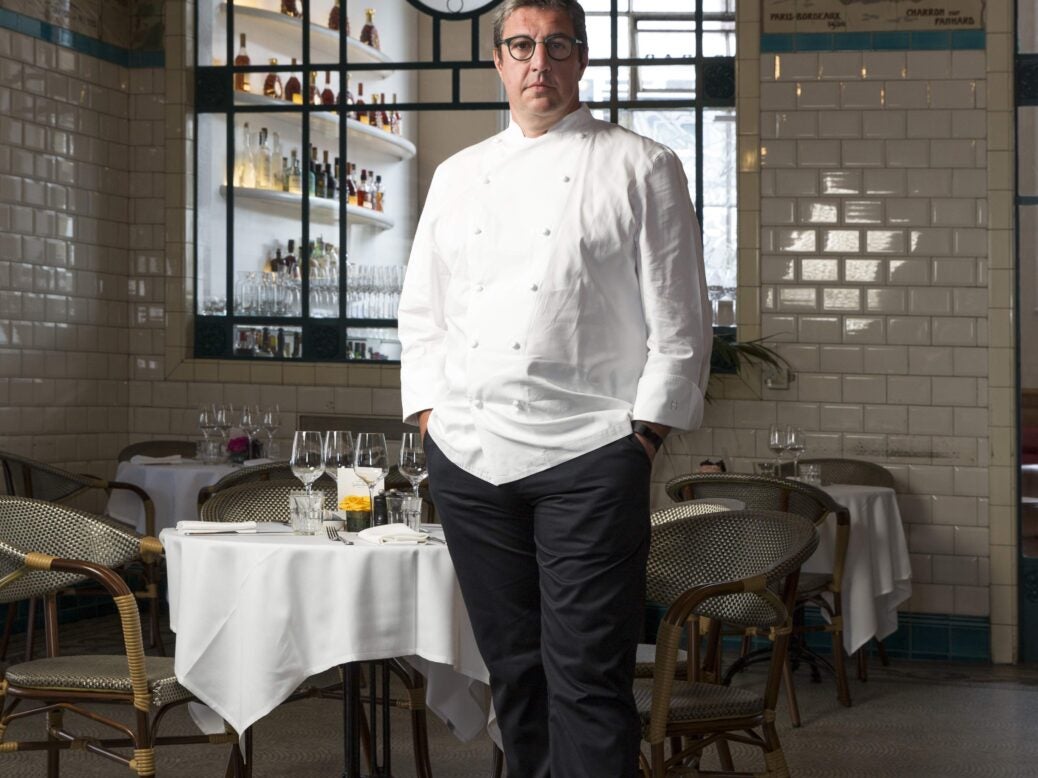 In the former UK headquarters of the famous French tyre company, Claude Bosi is plotting his return
Like so many in the restaurant business, Claude Bosi looked to 2020 with cheerful enthusiasm. His latest project, taking the helm at Sir Terence Conran's restaurant Bibendum, was chugging along nicely. The 48-year-old French chef had done a deal three years previously for an equal share in the restaurant's business with the great titan of design. Reviews had been good.
Bosi had begun to take further control of the menu. Steeped in 1980s food history, it had retained some of the classic dishes of founding chef Simon Hopkinson, food that celebrated the best of gutsy French bourgeois cooking.
And now Bosi was jettisoning them as, in his words, 'they no longer fitted what we were doing'. (Although roast chicken remains and some Hopkinson classics, such as steak au poivre, can still be ordered in the downstairs Oyster Bar.) He had also revealed the identity of an exciting new recruit.
For a couple of years, seasoned restaurant observers had wondered where, if anywhere, the former and long-standing maître d' of the Waterside Inn, Diego Masciaga, would fetch up.
After 30 years of service to the Roux brothers' famous three-star Michelin establishment in Bray, many wondered if he would ever beam at customers at the front of a restaurant again. And if so, which lucky establishment would hire this megastar of the hospitality world; a man who lectures on service?
The answer was Bibendum. And earlier this year Masciaga was once again welcoming customers into a restaurant, doing what his new boss calls 'that amazing thing of always making guests feel happier leaving than when they arrived. He's just brilliant,' Bosi continues, 'a real breath of fresh air. He understands the importance of the customer. There's no point in cooking great food if you don't give great service.'
***
Conran, Bosi and Masciaga had formed a culinary triumvirate to be reckoned with. And Bosi was focusing on the plan he had agreed with Conran, to make Bibendum – a stained-glassed London landmark commissioned by the Michelin Tyre Company as its British headquarters in 1909 – a destination restaurant.
Locals flocked in, as did the businesspeople and tourists who are so crucial for a restaurant's bottom line. Then the plague arrived. Ironically, reflects Bosi, 'Just after Chinese New Year… bookings suddenly began to drop.'
Lockdown then ensued, and now he won't open until at least September.
'I want to see how other places do,' he says, 'and then I think we should have a good run-up to Christmas. But it is the next quarter, from January 2021, that worries me.'
Meanwhile, the Oyster Bar on the ground floor is open and Bosi is gently warming up the locals for a reopening. 'It is fortunate because I have always thought and believed that no matter how significant business guests or tourists are, you must never forget to care for your neighbourhood clientele. It was something I learnt when I had my first job as a head chef,' he says.
That role was bestowed upon him in 1999 at Overton Grange, a country house hotel in Ludlow. And it was a seminal moment when he began to cook his own food.
'I was putting new dishes on the menu like foie gras and liquorice and pigeons with lentils and coconut – which was quite different from the hotel's original dishes such as melon and raspberries as a starter – and guests showed their approval, by coming back!'
Indeed, he speaks joyously of a guest who has been a loyal customer for 20 years after first dining with his parents at Bosi's restaurant Hibiscus when he was just six years old. Hibiscus was the first restaurant that was Bosi's very own.
Initially it was in Ludlow too, but after opening in 2000 he eventually moved it to London in 2007 – where he regained his two Michelin stars in 2009. He closed it in 2016, and then found himself negotiating with a cigarchomping Conran.
The idea came from Conran, who emailed suggesting a meeting. 'I had never met him, but I think we were very similar,' says Bosi. 'He likes people who work hard, and while he has a reputation as a dragon we got on and quickly agreed a deal.'
***
Today Bosi is facing a challenge he thought he had left behind in the late Nineties. 'For the first time in my life I am scared to open because I'm not in control. And Bibendum is in a big building. It's a magnificent place and the dining room is one of the most beautiful in London, especially on a sunny day.
But the overhead is huge and it's very expensive to run.' Bosi will stagger the opening times, avoiding lunch service in the week, and will hope for other revenue from the pub, the Church Inn, that he co-owns with his brother Cedric in Ludlow.
'I love pubs. I love the atmosphere,' says this Frenchman from Lyon, whose accent remains undiminished after 23 years in the UK. 'In fact, some of my friends say I'm more British than them. My idea of happiness is Sunday lunch in a pub with a roast and a pint of bitter.'
This Anglophilia made a mix-up with paperwork in January this year even harder to bear when he was informed that after Brexit he couldn't stay permanently. Bosi fumed on Twitter but, happily, the issue was later resolved and he will not now be returning to France.
'I love this country,' he says. 'I love people's approach and I love how I have been given such a wonderful chance. I'm very privileged.'
Let's hope fortune favours Bosi and his unique, unusual flavour combinations return for good: those English snails with chervil, French veal sweetbread with Devon eel, his Brittany rabbit with Scottish langoustine… Vive Claude Bosi. Vive Bibendum.
This piece first appeared in issue 76 of Spear's magazine. Click here to buy and subscribe 
Photography by David Harrison
Read more
'Investing in rare and extraordinary whisky is about more than just economics'
'The Mark Hix story is by no means over…'
William Sitwell meets Olivia Burt: 'A chef with a dream and she doesn't have a restaurant'