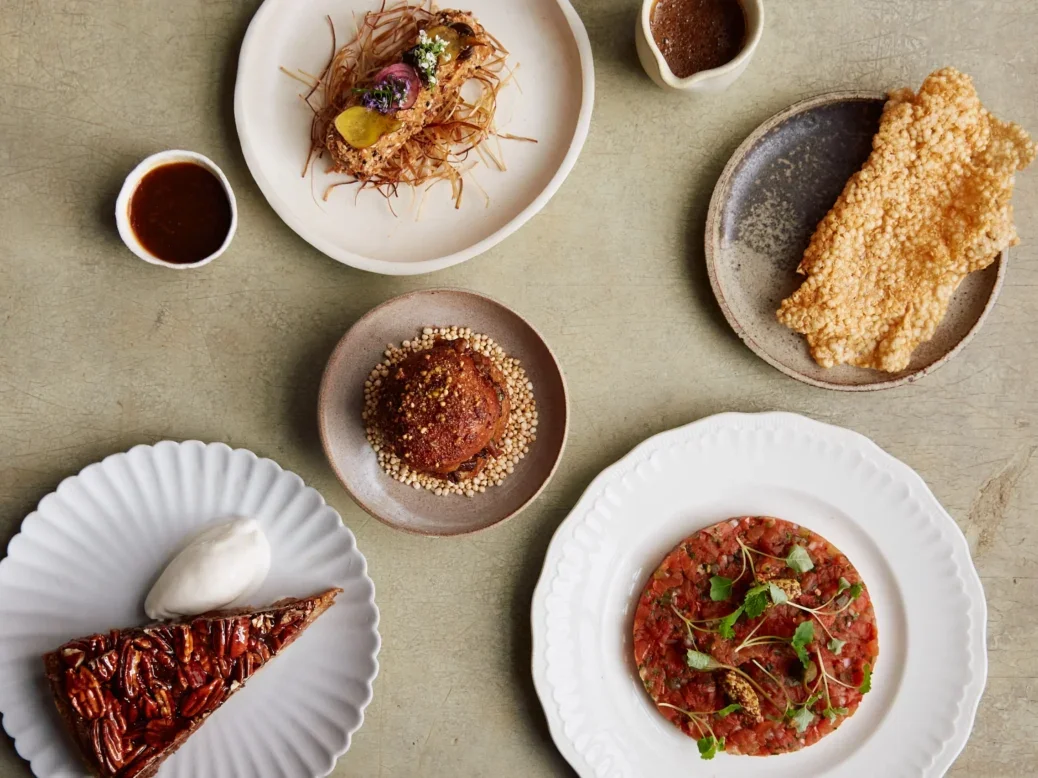 As veganism graduates from the fringes of the culinary world into the gastronomic spotlight, London's high-end restaurants are clamouring to create exceptional dishes free of meat and dairy.
Vegan à la carte and tasting menus are on the rise as plant-based eating completes its evolution from mushy mung bean stews to Michelin-star cuisine.
Leading the charge are some of Britain's best chefs who have turned their considerable talents to innovative, exquisite meat and dairy-free dishes to delight even the most committed carnivores.
Whether you're stepping up to the Veganuary challenge or entertaining those who prefer their meals without animal products, here's where to find London's finest plant-based dishes.
London's best vegan fine dining restaurants
Gauthier Soho
One of London's finest restaurants also just happens to be vegan.
Gauthier Soho was the first Michelin-starred venue to launch a vegan tasting menu before becoming a fully vegan restaurant in 2021, with multi-award-winning chef Alexis Gauthier drawing on 25 years' experience and a foundation in classical French gastronomy to redefine fine dining without the meat.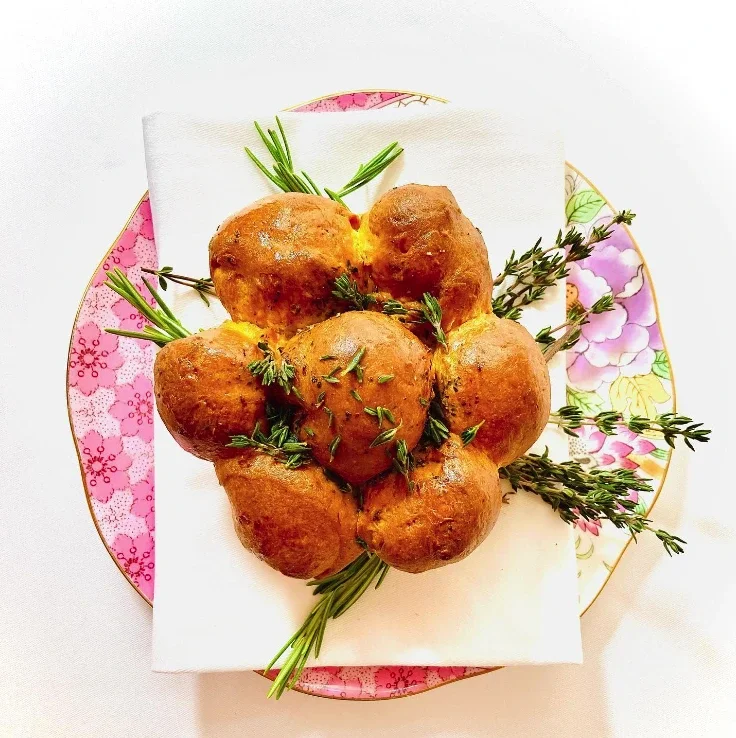 His vision is to help put plant-based food firmly on the gastronomic map, delivering what was for a long time an oxymoron, French gastronomy without using animal products. In Gauthier's words, the idea of a trained French chef being vegan 10 years ago would have been 'insane'.
The Soho townhouse restaurant claims to be the world's first primary sustainable gastronomic restaurant but Gauthier hopes not the last; meat-free fine dining is, he says, 'the future'.
The eight-course 'grand dîner' tasting menu delivers truly inventive dishes, such as the slowly-braised 'redefine meat flank' with juniper and celeriac or a crisp butternut tatin. Walnut and cashew 'fromage' takes you into a dessert course of pear ice.
The tasting menu is available Tuesday – Saturday from 7.30pm, and also on Saturday at 12-1pm, is £95 a person
The five course 'petit dîner' tasting menu is available Tuesday – Saturday at 5pm at
£55 a head.
Fallow
With a menu that includes 45-day dry-aged ex-dairy cows, Fallow in St James's might not be the most obvious place for someone eschewing meat.
But this eco-conscious venture in the new St James Market on Haymarket offers something for both the dedicated meat eater and the vegan with a menu that mixes traditional with a modern twist.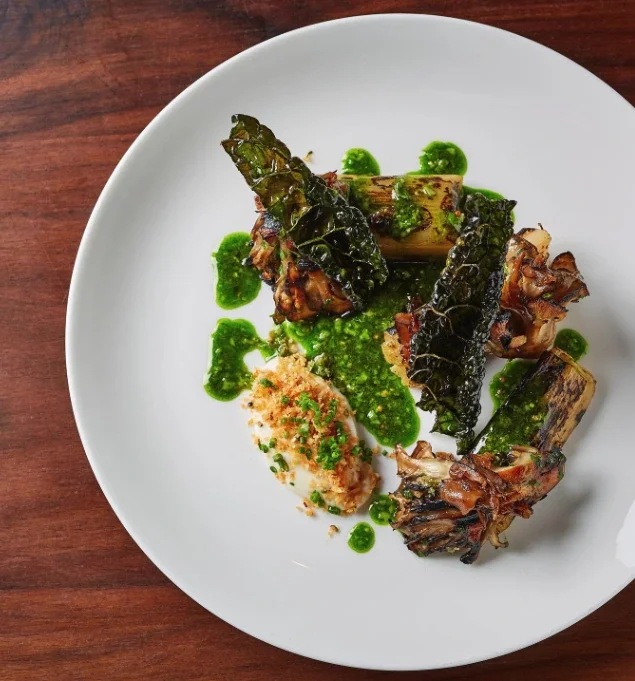 This low-waste restaurant, now a permanent fixture after beginning as a pop-up on nearby Heddon Street, offers big meaty burgers alongside creative plant-based options.
Arguably the plant-based options are the more exciting, with enlightened dishes such as confit January king cabbage, with black garlic and the mushroom parfait – made using fungi grown on the premises – taking centre stage.
Founded by chefs Jack Croft and William Murray, and career entrepreneur James Robson in 2019, Fallow has scooped several awards, including GQ's 'sustainable restaurant of the year' and the Caterer award for 'best new restaurant' and looks set to plough a deep path in 2023.
Tendril
Styled as a mostly vegan restaurant, the chef behind this Mayfair venture, Rishim Sachdeva, earned his stripes in the kitchens of – among others – Chiltern Firehouse, Almeida and The Fat Duck.
Sachdeva, once a self-proclaimed 'hardcore carnivore', launched Tendril in 2019 after being inspired by his own conversion to plant-based eating during a Veganuary challenge.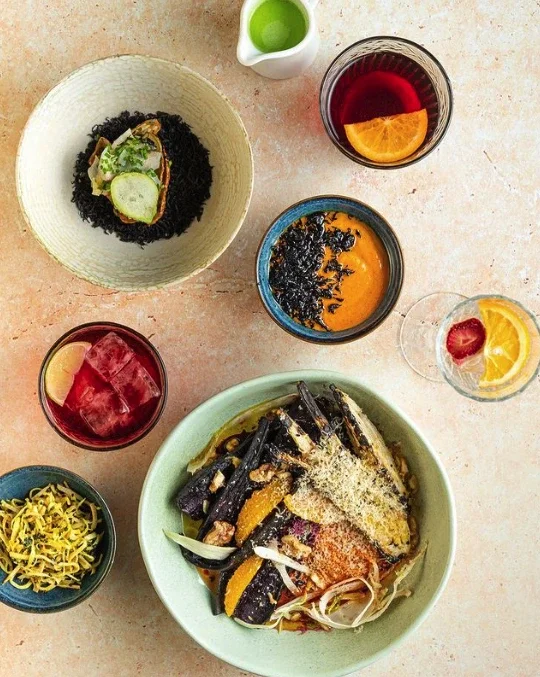 The result is a menu of inventive plant-based dishes, that fuses together Sachdeva's experience of French gastronomy and Indian cooking, with a 'plant-first' approach that brings out the star in the humble vegetable (Sachdeva is not a fan of meat substitutes).
There is both an a la carte menu and a 'Discovery' tasting menu, and while largely vegan, several dishes do contain cheese.
The chipotle mushroom, BBQ leeks and peanut glaze has become something of a signature dish while the deeply enjoyable sticky toffee pudding with bay leaf custard and miso toffee sauce is a must for those with a sweet tooth.
Malibu Kitchen at The Ned
This Californian-inspired restaurant at The Ned in the heart of the City brings a little sunshine to the Square Mile with its fresh, wholesome dishes.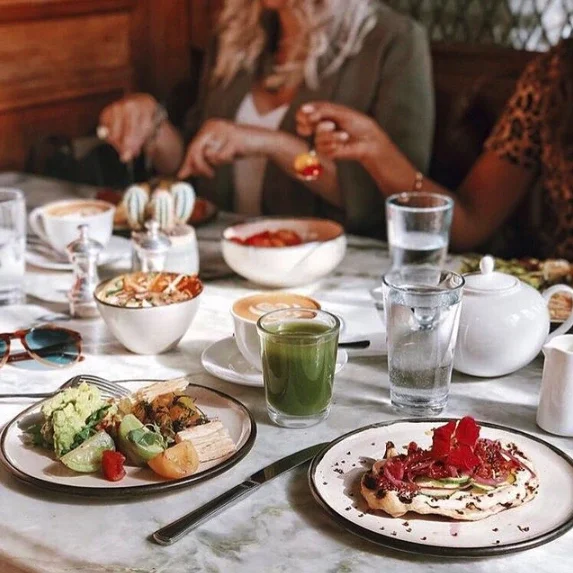 While not strictly vegan, there's plenty of choice for those who want plant-based options, with quinoa and courgette flatbread, beetroot tartare, and lentil dhal with grilled plantain, pomegranate and coconut, forming a mouth-watering cornerstone.
There's also a burger (meat and non-meat) for those who prefer their American-inspired food with a side of fries.
Pollen St Social
Jason Atherton's Mayfair restaurant bills itself as Michelin-star dining in a comfortable and relaxed environment serving smart, thoughtful modern dishes without the food ego.
The multi-award-winning Atherton, who started out working alongside greats including Pierre Koffmann, Marco Pierre White, Nico Ladenis and Ferran Adria at el Bulli, puts indigenous ingredients at the heart of his creations.
A seasonal four-course or tasting menu is available as both vegan and vegetarian and run alongside the 'regular' options. A stand-out savoury dish is the restaurant's version of 'French Onion Soup' – a baked roscoff onion stuffed with Highmoor cheese and sourdough, served with onion soup and black truffle juice, which can be adapted for vegans. Innovative desserts include cold brew coffee ice cream.
Pollen Street Social is groaning with accolades. Just six months after opening in April 2011, it was awarded a Michelin star alongside 5 AA Rosettes and no.4 in The Good Food Guide's best UK restaurants. Now it's vying for the title of London's best vegan restaurant.
Pied à Terre
Founded in 1991 by London restaurant legend David Moore, Pied à Terre boasts the UK's longest-standing Michelin star.
But, this quintessential Fritzrovia stalwart never rests on its laurels, and in 2018, Moore and his team gave fresh impetus to the venture, introducing a renewed emphasis on low-food waste and sustainability, with an expanded non-meat menu making up a key part of this vision.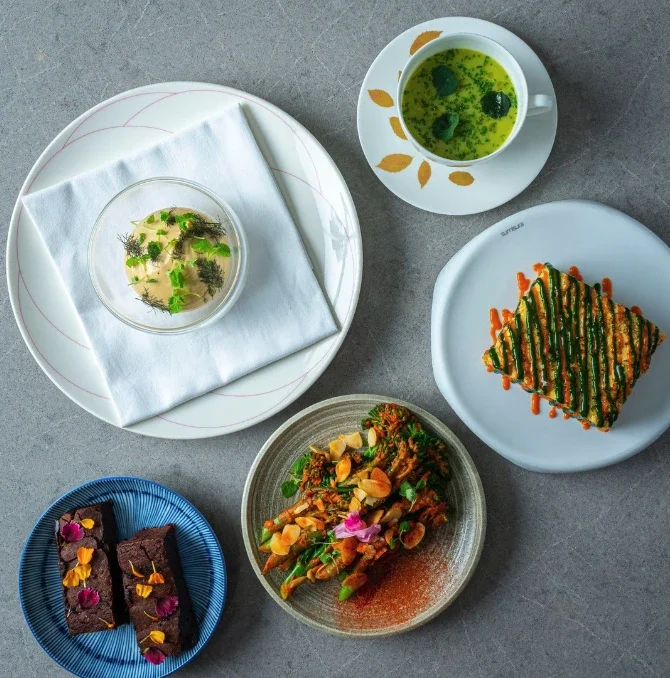 Pied à Terre's elegant plates offer a classic French approach with a Greek twist, a nod to chef Asimakis Chaniotis' heritage.
A 10-course plant-based dinner tasting menu at £120 now forms part of the Pied à Terre's daily offering alongside a la carte options and smaller lunch tasting menus at £55 (there are also regular menus to choose from).
Holy Carrot
Fun and healthy are not words you often see in the same sentence, but Holy Carrot, nestled on a quiet mews close to Harrods, aims to offer a slice of glamour with your tofu.
Founders Irina and Roman became vegan a couple of years ago and wanted to create a new experience of vegan food that put style and beauty at the heart of it, and more than a sprinkling of the 'f' word.
'When we came up with the idea to launch a vegan restaurant in Knightsbridge, we wanted to make sure that we brought an element of fun to eating vegan food,' founder Irina Linovich says.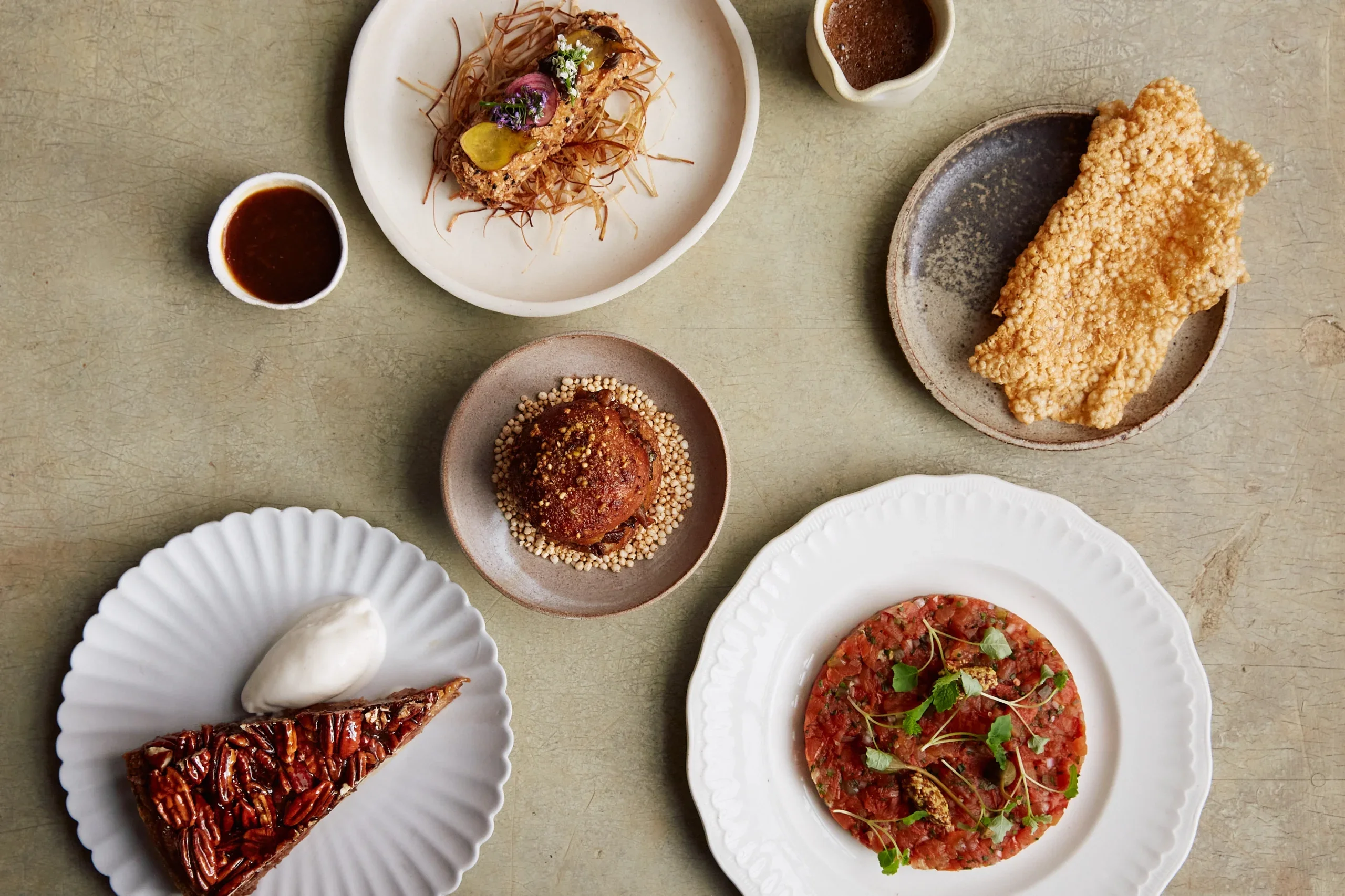 The menu fuses seasonal organic British produce with global flavours – hero dishes include the maki set, a selection of crispy and holy maki Ponzu with a spiced mayo, and Sexy Tofu, organic glazed tofu with an aubergine, red pepper and peanut sauce.
Those with a sweet tooth can choose from a selection of desserts, including the homemade candy set (£8) and a Holy Carrot cake (£8.50).
Holy Carrot has teamed up with Cowspiracy in January for a limited-edition 'meaty' menu created without using any animal products, offering 'steak tartare, 'shepherd's pie', croquettes and glazed doughnut and pecan pie for £40 per person.
Quilon
Even in the days when veganism was an outlier, curry houses offered people avoiding animal products a choice they were unlikely to find elsewhere.
With seven Michelin-starred Indian restaurants in London, curry houses, like veganism, have moved on from the culinary sidelines to become gastronomic heavyweights, with chic interiors and haute cuisine to match.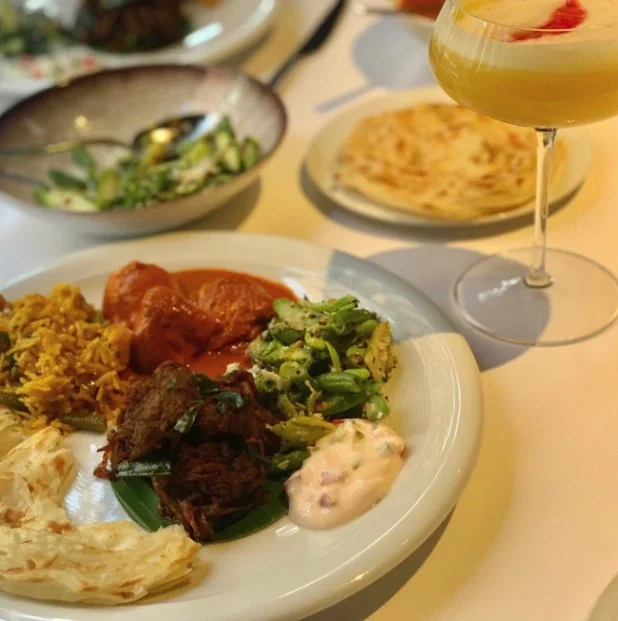 Quilon was one of the first of the new generation of Indian restaurants to be recognised by the lauded guide, earning its Michelin star in 2008 for head chef Sriram Aylur's refined south-east Indian cuisine.
Aylur serves up innovation and tradition with a focus on the freshest first-rate ingredients that produce light and subtle flavours. While seafood may be a speciality, the plant-based dishes, such as mango curry and Jackfruit biryani, vie for the top spot.
Quilon, 41 Buckingham Gate, SW1E 6AF
More from Spear's
The tastiest non-alcoholic wines on the market
Premium coffee from the most exclusive micro-producers
Seven great Japanese whiskies to enjoy