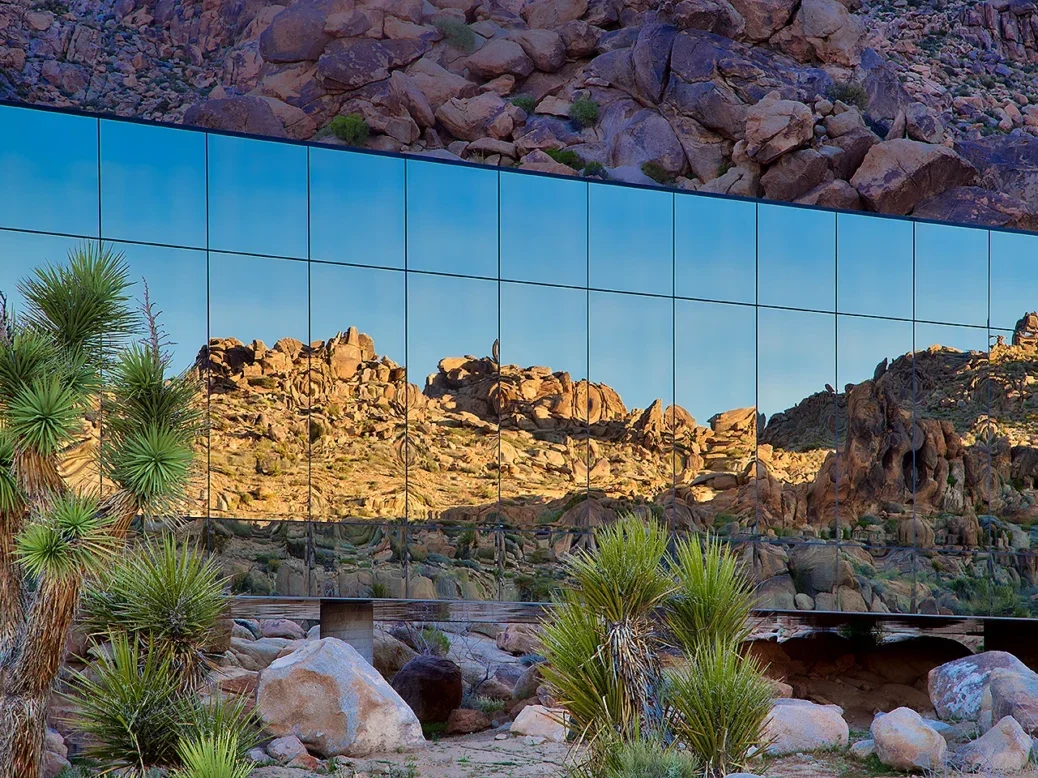 A mirrored 'fallen skyscraper' in the desert complete with 100-foot pool and 90 acres of land is one of the rarest pieces of real estate to hit the global property market
Encased in mirrors and steeped in Hollywood influence, the Invisible House in Joshua Tree, California, has gained widespread architectural acclaim for camouflaging into its dramatic arid surroundings – a true mirage in the desert.
A beloved destination of film-makers and stars including Alicia Keys, U2, Lizzo and Seth Rogan, the property has been available as one of Airbnb's most amazing rental properties.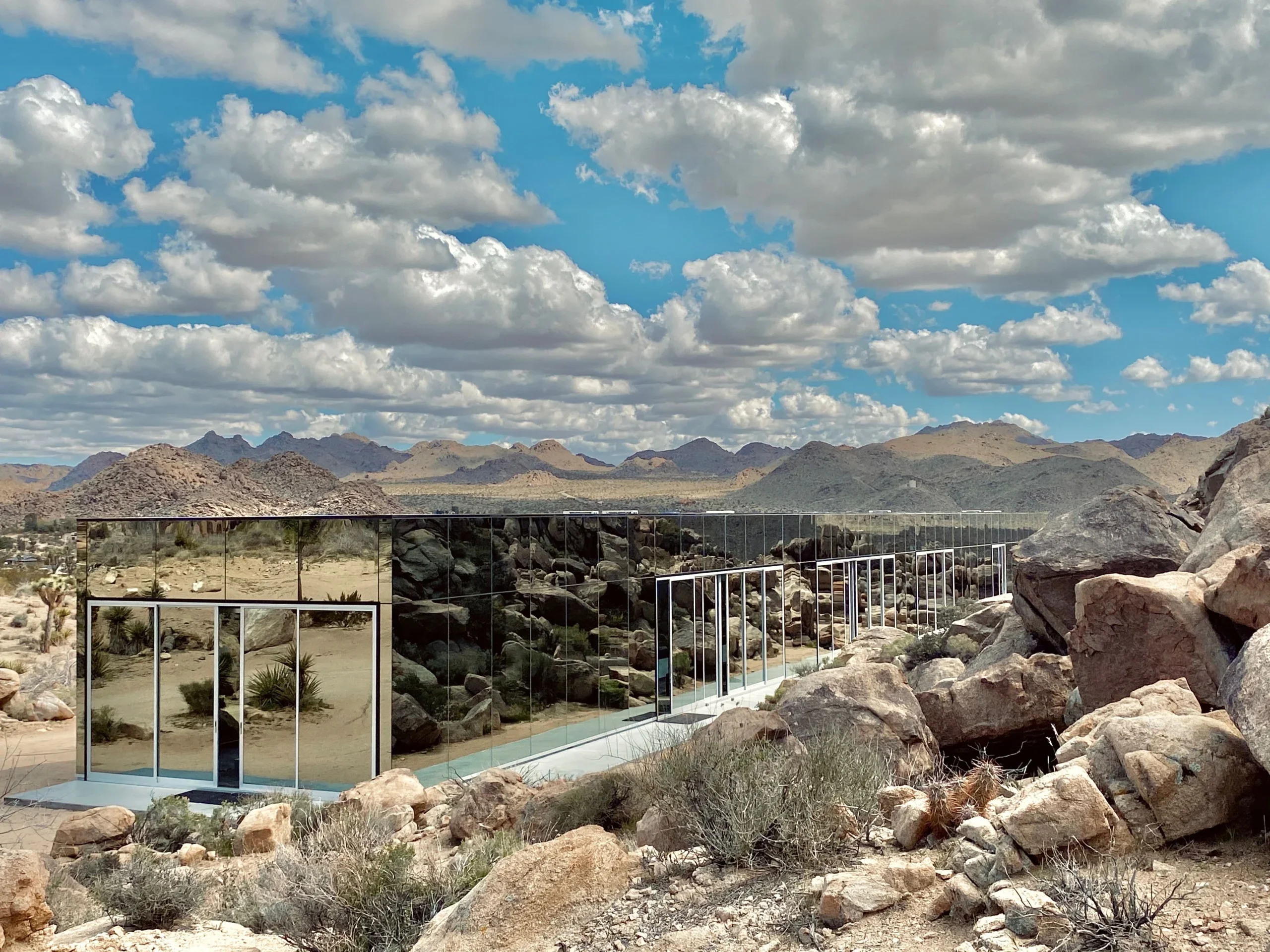 Listed at $2,500 (£2,037) per night, it comes with a recommendation from Airbnb CEO Brian Chesky, no less.
But now it's possible for a lucky homebuyer with a love of the California desert to own the unique home and its 90 acres of land for $18 million (£14.7 million).
Designed by Tomas Osinki in collaboration with indie film producer Chris Hanley (of American Psycho fame) and his actor-writer wife Roberta Hanley, the property could itself be Oscar-worthy with its theatrical reflections of the spiky plants, indigo skies and bouldering rocks surrounding it.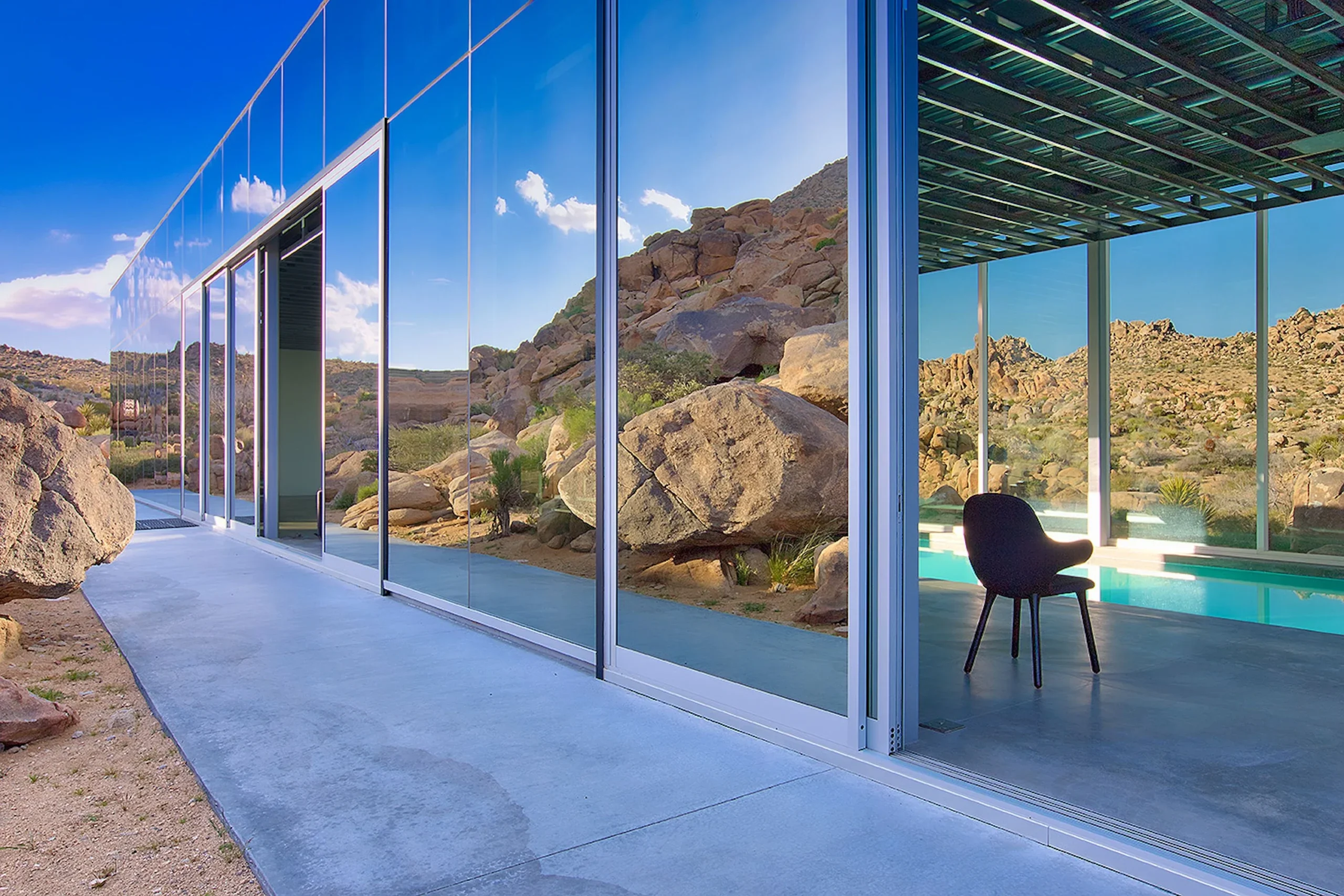 'There's a sense of detachment in creating a work of art with an ultimate goal of the world experiencing the art,' the Hanleys say.
Completed in 2019 on the largest private parcel of land within the area, homeowners can experience the limitlessness of nature in serene solitude.
A two-hour drive from bustling LA, the Invisible House neighbours the protected Joshua Tree National Park, an important habitat for the region's birds, mammals, insects, and lizards. While a sideways skyscraper may not seem the obvious architectural choice for such a natural landscape, its completely mirrored facade works to pay tribute to the area rather than intrude on it.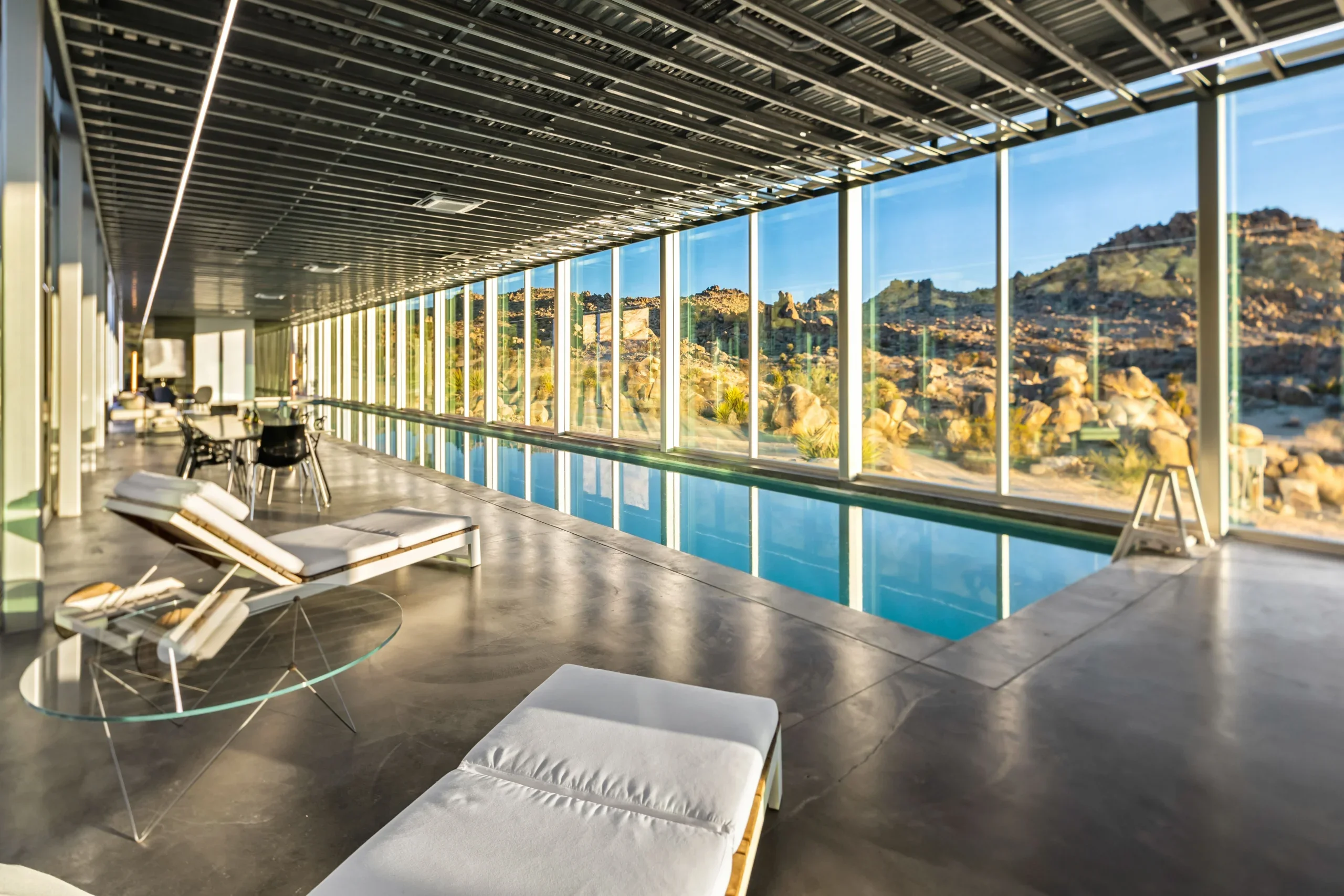 An open-plan design allows free-flowing movement to the impressive 100-foot indoor temperature-controlled pool. All three bedrooms in the house benefit from soundless sliding doors and contain their own full bathrooms.
Upholding its indoor-outdoor living design, the glass walls surrounding the pool can be opened out into the Mojave Desert sunshine – what could be better after a rejuvenating swim?
While nature is at the forefront of the home's design, inside a smooth, modern aesthetic forms with clean lines coming from naked concrete floors, steel beams and glass aplenty. Simple and pristine features that allow the stunning views to dominate.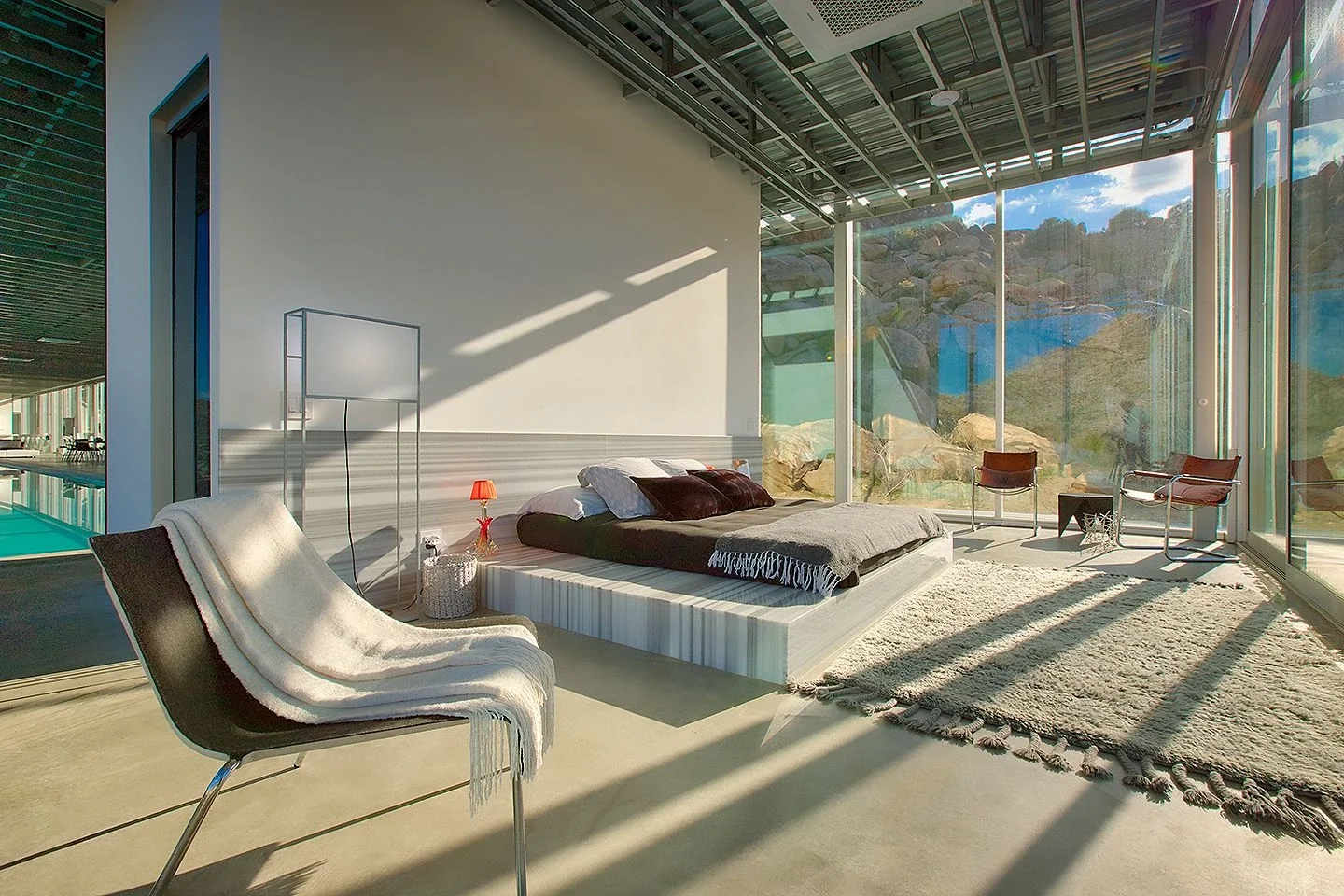 Despite being an immense architectural challenge, Invisible House has been designed with sustainability in mind. With features including an eco-friendly foam roof and clever use of solar-thermal energy, it boasts one of the smallest environmental footprints in Joshua Tree.
New homeowners can expect all furnishings, including marble and glass bedframes included with the purchase. A ready made oasis of tranquility.
The property is being listed by Aaron Kirman and Matt Adamo of AKG | Christie's International Real Estate.
Images: Brian Ashby/BriansPerspective.com
More from Spear's 
Why this could be the year to invest in contemporary art
Where to find London's best luxury vegan menus
The Peninsula London: Hyde Park Corner's beautiful and ultra-luxe new residences