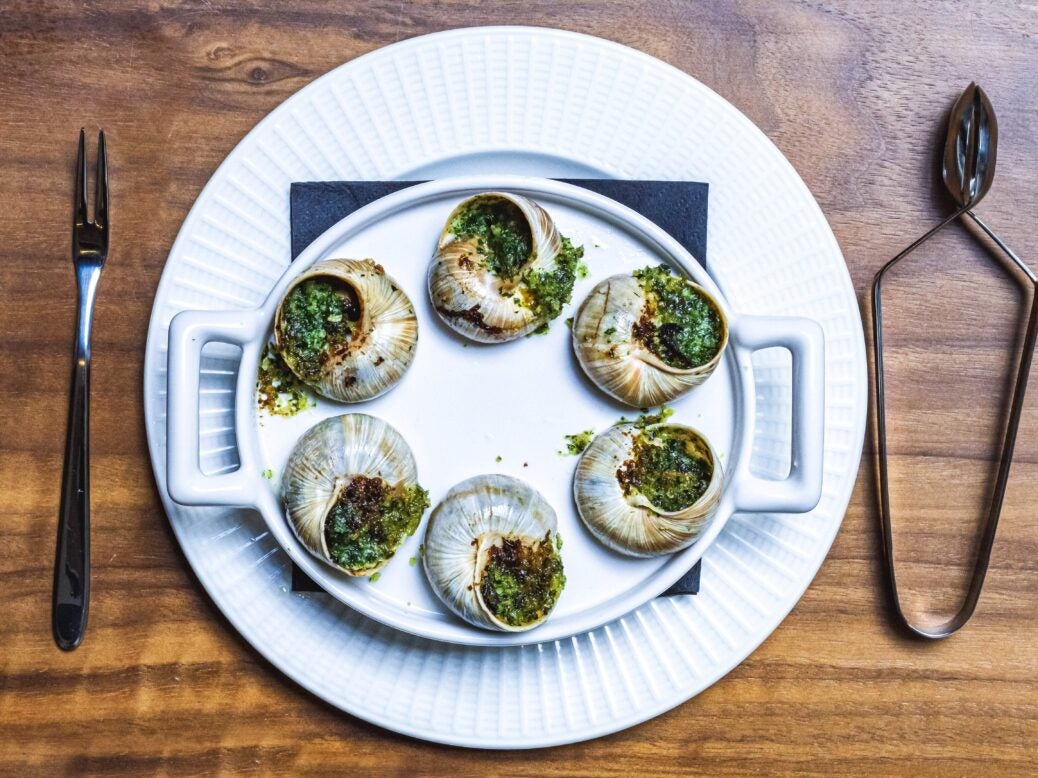 This new contemporary French Bistro will more than satisfy fine and casual diners alike, writes Arun Kakar
Bruton's Place is a gift of a street, a charming alley that is within spitting distance of Berkeley Square. Yet it feels miles away in aesthetic and atmosphere: a buzzing alley populated by drinkers and diners unfettered concerns of being steamrollered by a herd of tourists. Its appeal is bolstered further by the street being home to two excellent establishments in Bellamy's and the Guinea Grill as well as a Pizza Express to boot. What more could one ask for?
The answer, it turns out, is a contemporary French Bistro. At least that is the thinking of the brains behind Les Platanes, which opened in May. The restaurant is a team up between operations director Anton Efimov and head chef Thierry Laborde. Both are decorated in their own right: Efimov is an alum of Mari Vanna UK and Raffles Townhouse, while Laborde has cooked in esteemed kitchens such as Le Gavroche and former St James's institution L'Oranger. Amateur this duo are not.
To enter this 19th century townhouse, one must ring a doorbell (this strikes us as a little odd given its quite prominent outdoor area) before being guided into the restaurant's elegantly tiled dining room. While it is a clear throwback to the classic bistros of old with its stripes and tablecloths, Les Platanes is resoundingly modern and up-to-date. Its hi-tech wine fridges, pristine bar area, and inescapable sound system (not even the toilets are safe) keep the mood contemporary. Above all, the space is refreshingly laid back – a quality that is not so easily achieved in places of a similar pedigree, which can sometimes feel more like sitting for an exam than a meal.
Contributing to this sense are the staff, who are attentive, informed and friendly.  Thankfully the waiters are also alert to that essential quality of never hurrying a diner, whilst still ensuring that one is never left waiting. Our bread basket is never empty and neither are our glasses. Our amiable sommelier opens proceedings with a glass of delicious champagne – few greetings have felt more welcome.
To the starters. We order a trio of dishes: the Bœuf tranchè cru, blue fin tuna and, of course, some escargots.
It's the latter which takes the prize for the best of the round, served in a sumptuous parsley butter they are indulgent and delicious. The six of them are gone in a heartbeat and we make the most of the sauce that's left behind. That's not to say that the other two dishes are to be passed on. The beef, rich and subtle, comes in a spiky truffle vinaigrette while the tuna is wonderfully fresh, served with a crunchy set of pickled carrots. It's a textbook example of a classic done exceedingly well, with no frills attached. A glass of crisp white to round everything off makes for a winning match.
For the main course, I opt for the turbot, a huge slab of it, it turns out, served with an artichoke barigoule. It's a dish that makes the most of the fish's meatiness, seasoned lightly but bolstered by the tangy artichoke. It's said that turbot is a chef's dream to cook with and the dish immediately offers an ideal case study to support this: it's rich, delicate, and isn't the least bit dry – a considerable feat given its size. For all the subtlety of the turbot, the artichoke packs a tangy bite, making for a punchy one-two that comes together in a delightful contrast.
My friend, who opts for the Duck L'Orange, reports a thumbs up. It must be good, I judge – he doesn't offer me so much as a forkful. It's carried through with a rich red wine, Campuget invitation 2016. This warm, herbal number has the sort of wintery richness that suits the blustery weather outside as much as the dishes themselves.
To finish, a sublime plate of cheeses and a hefty dessert wine that is so fruity that it could probably contribute to one's five-a-day. It's topped by a simply outstanding goat's cheese. Earthy, sharp and smelling like a barnyard, its creaminess confounds its complexity. My friend's lemon tart (I can try some this time) is indulgent but airy, not saturated in those sweet and sour flavours that can often overwhelm in such a dish. Dîner sur.
So, yes, a French bistro might just find itself welcome here on these streets. Good French food done well is surprisingly difficult to find around this part of town, something that seems to have been understood by les Platanes, which doesn't abstract its dishes beyond recognition. And that in itself is refreshing. When the nuts and bolts are done this well, why play with the machinery?
Read more