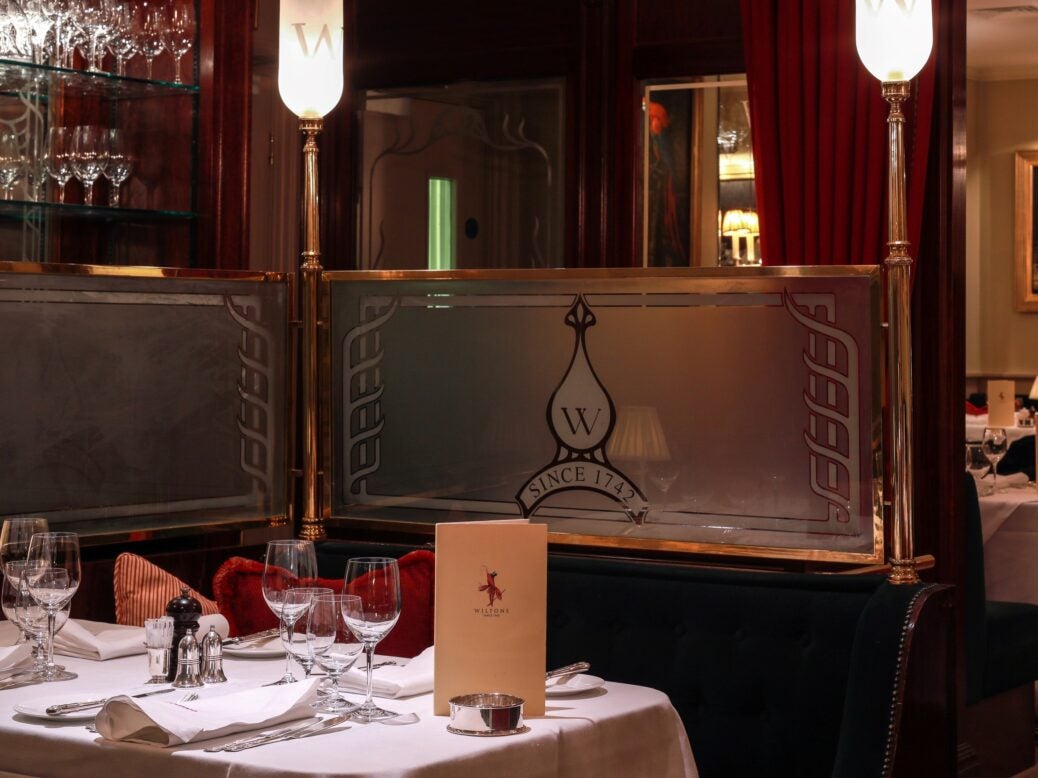 Exuding luxury and elegance, Wiltons, one of London's oldest restaurants is highly revered. Celebrating its 280th anniversary in 2022, its illustrious history includes being awarded a royal warrant by Queen Victoria for supplying the monarch with oysters and since it was established in 1742, has held over six royal warrants. Oysters are an integral part of Wiltons history and today the restaurant is known for being a bastion of British food, serving oysters, seafood, fish, in-season game, and its daily carving trolley is a firm favourite amongst its guests.
Wiltons is the epitome of fine British dining. Steeped in tradition and elegance, Wiltons, established in 1742 is located in the heart of St James's and has gained an enviable reputation for serving the finest dishes the British Isles has to offer
Synonymous with banking heritage, Wiltons was purchased by Olaf Hambro who asked for the restaurant to be "put at the end of the bill!" following a bomb that landed near St James's Church, Piccadilly in The Second World War. Shortly after his purchase, Olaf Hambro swiftly invited Jimmy Marks to join his venture as Wiltons Head Oysterman. Jimmy Marks was the well-known Oysterman at Bucks Club and within a week, he was behind the bar at Wiltons where he remained until 1976. The canny Jimmy Marks knew exactly how to keep his revered clientele happy and most certainly contributed to Wiltons achieving the world-famous status it has today. Such a buzz rippled through London's high society, it was considered a great accomplishment and compliment to gain a seat at one of the top tables. In honour of the late Jimmy Marks, Wiltons has continued the same timeless elegance and dedication to excellence and the private dining room is named the 'Jimmy Marks Room' in his honour.
This stunningly opulent room with its hand-painted frescos and beautifully curated artwork can seat up to 20 people around the beautiful mahogany table. With a dedicated entrance and small lobby, the Jimmy Marks Room is ideal for entertaining and celebrating in style. Head Chef Daniel Kent creates bespoke menus tailored to the individual requirements and celebrations using the highest quality ingredients sourced from independent suppliers and producers from across the British Isles. From the 12th of August until the 1st of February Wiltons celebrates the British game season with menus offering grouse, pheasant, partridge, and woodcock whilst resident oyster master, Tommaso Sicurro ensures the best British oysters are on offer for Wiltons esteemed clientele from September to April. Oysters are enjoyed by Wiltons' guests and were a favourite of   Queen Victoria and the restaurant received its first Royal Warrant in 1836 for supplying oysters to the monarch.
The Jimmy Marks Room is also available to hire for meetings. Daily delegate rates start from just £75pp (minimum of 10 people) and include breakfast pastries, tea, coffee, water, and a delicious three-course lunch prepared by Head Chef Daniel Kent. Why have an ordinary meeting when you can have an extraordinary meeting?! The professional and dedicated team at Wiltons is committed to turning any meeting or private dining celebration into an utterly memorable experience.
With Christmas just around the corner, the festive season isn't complete without a visit to Wiltons. Golden roasted Norfolk turkey with all the trimmings, best of British beef, in-season game, or a range of innovative vegetarian dishes have all been created by Head Chef Daniel Kent. Celebrate the most wonderful time of the year with friends, family or colleagues in the Jimmy Marks Room and create a dedicated special menu or cosy up in one of the plush banquettes and immerse yourself in the spirit of Christmas at Wiltons.
With its polished oyster bar, sumptuous banquette booths and excellent service, Wiltons is the perfect venue for a business lunch, dinner, private event, Christmas party or for celebrating a birthday and anniversary with friends and family. Fashions change, fads come and go yet elegance remains. In 2022 Wiltons celebrates its 280th anniversary. Timeless style and grace never dates, or ages and Wiltons is a testament to this.
Wiltons, 55 Jermyn Street, London, SW1Y 6LX
To make a reservation for lunch or dinner contact 020 7629 9955 or email reserve@wiltons.co.uk
For private dining reservations and meetings enquiries, please contact Danni Barnett on 020 3039 3862 danni@wiltonsholdings.com