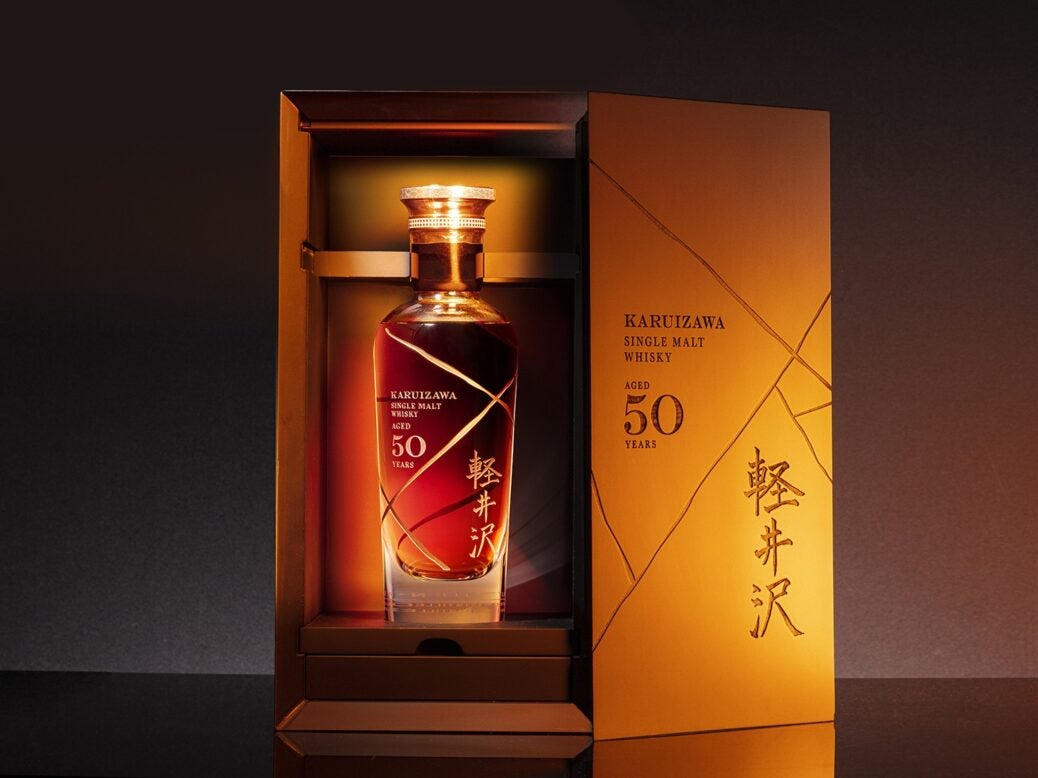 Japanese whisky has never been more desirable. Experts guide us through seven of the finest luxury bottles to buy, sip and savour
In 2003, a 12-year-old single malt, the Yamazaki, became the first Japanese whisky to win gold at the International Spirits Challenge, sparking global interest in whisky from Japan, which continues to this day.
But when it comes to choosing which luxury bottle of Japanese whisky to drink, there is no clear guidance from age statement, region or even favourite distilleries, as to what drinkers will like.
Sebastian Soh, Bar Manager of Sachi Japanese restaurant in the Pantechnicon, Belgravia, explains: 'Experimentation in the process can make all the difference; it's closer to the subtleties of wine connoisseurship,' he says.
Expert whisky writer and broadcaster Colin Hampden-White, adviser to Cask Trade, says due diligence is crucial.
'If you can't find a review on a reputable site, that speaks volumes,' says Hampden-White. 'Our trade tends not to criticise bad whiskies; we just don't write about them!'
Let the whisky tasting commence. Whether buying for a novice or connoisseur, giving as a gift or investing in your own drinks cabinet, here are seven of the best drinkable and collectible Japanese whiskies to buy now, ranging from £200 to £35,000.
Shirakawa 1958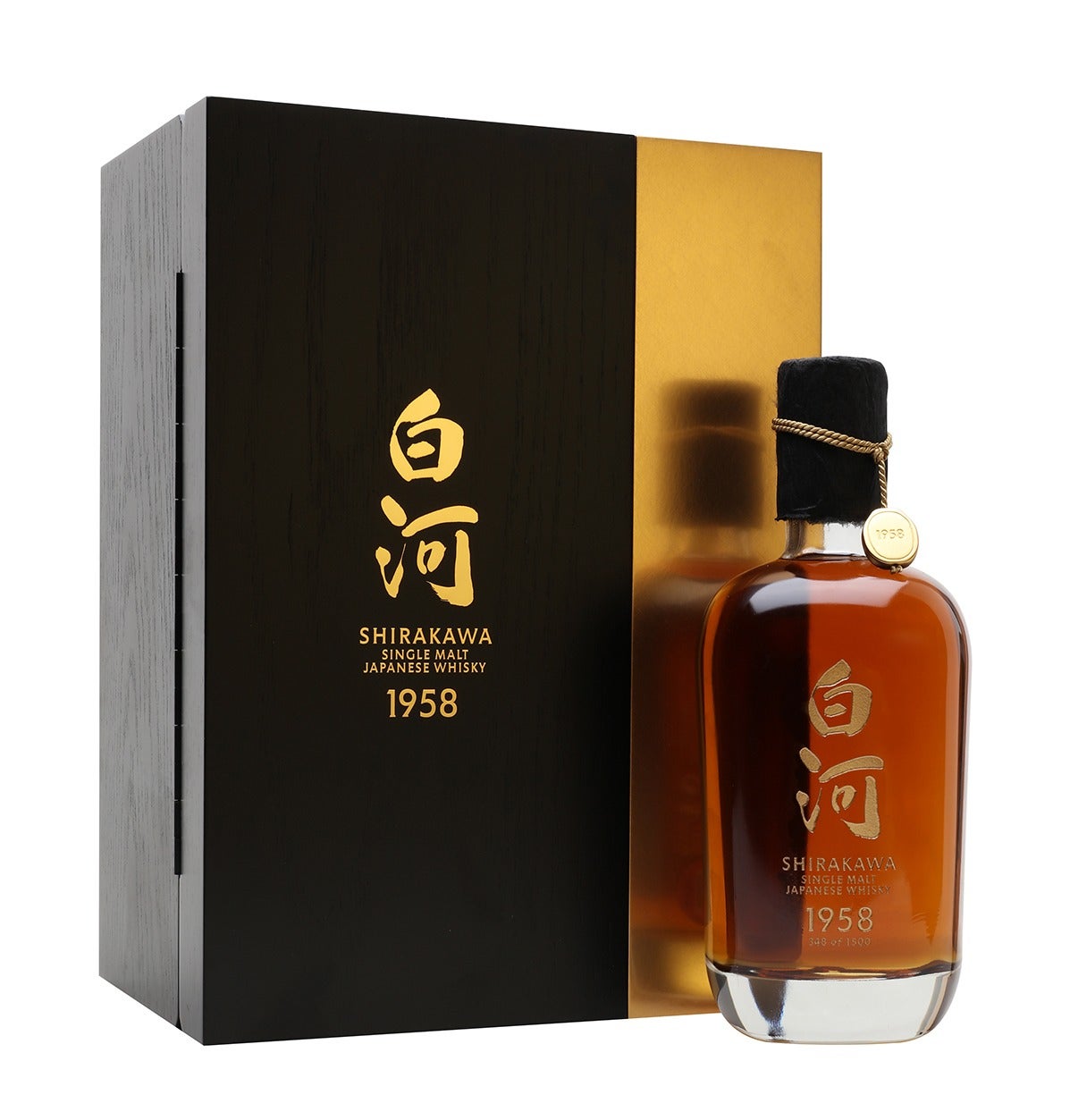 Between 1951 and 1969, Shirakawa was one of the first Japanese distilleries to produce single malts, but it was meant for blends, so after only a few years, cask-aging would be halted and the whisky would be stored in neutral containers – ceramic vats, then stainless steel tanks.
In 2019, an untouched tank of whisky distilled in 1958 was discovered. Tomatin, the Scotch distillery has distributed 1,500 bottles of the historical snapshot. But, for once, an old whisky is not about the lengthy wood effect. The Shirakawa 1958 shows off a lost style, where a remarkably long fermentation has led to a vibrant tropical cacophany of flavour notes.
Yamazaki Tsukuriwake Cask Series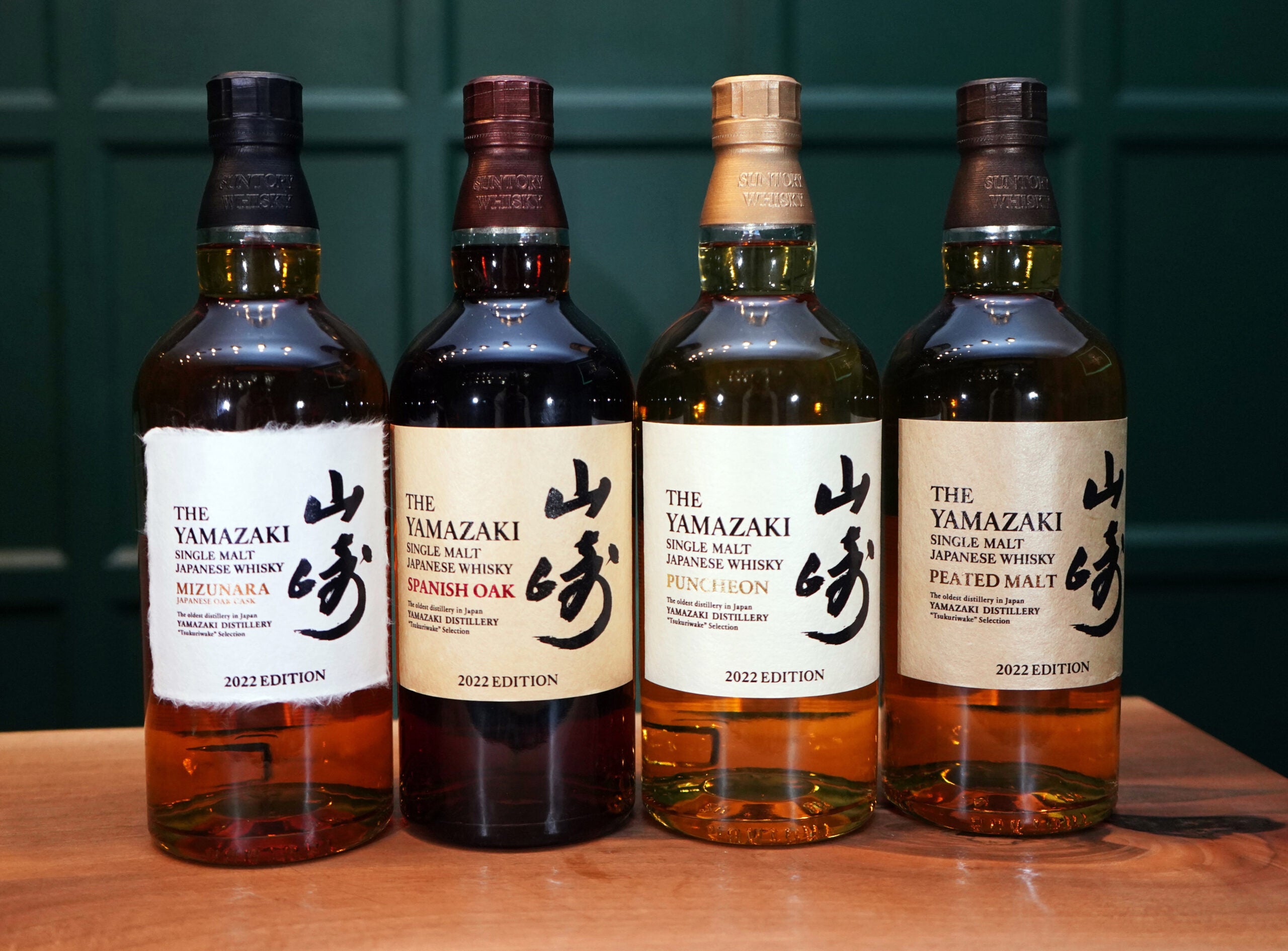 This limited-edition selection of four bottles is an education in how whiskies are made by Japan's largest distillery group, Suntory. Usually, even in their single malts, different styles of spirit are blended for subtle balance shifts.
The set breaks the components down… peated malt, aged in huge American oak puncheons, Spanish oak and native Japanese mizunara oak.
Soh says, 'As a liquid, Yamazaki is phenomenal. These different casks elevate it and demonstrate the versatility.'
Jass Patel, co-founder of Tomoka Fine + Rare at the Royal Exchange, adds, 'For me, the stand-out bottle is the mizunara – it grows for 200 years before being turned into casks. The whisky has notes of sandalwood, spice and an underlying freshness unique to this type of wood.'
Enquire about Yamazaki Tsukuriwake Cask Series, £9,000
Nikka Single Cask Malt Whisky
When it comes to Nikka, the other big player in Japanese whisky, Colin Hampden-White recommends choosing single-cask bottlings. 
There was a time when it was so scarce, restaurant bartenders were swapping it like prison contraband before it was suddenly easily available again.
Then there's the confusion of coffee drinkers on tasting the oft-misspelt Coffey grain whisky, with Coffey of course referring to the column still the liquid is produced in.
Yoichi 1988, Cask 100212 has a rich, oily mouthfeel carrying subtle smoke and maritime hints among the fruit and herbs.
Karuizawa 50 Year Old 1965 Vintage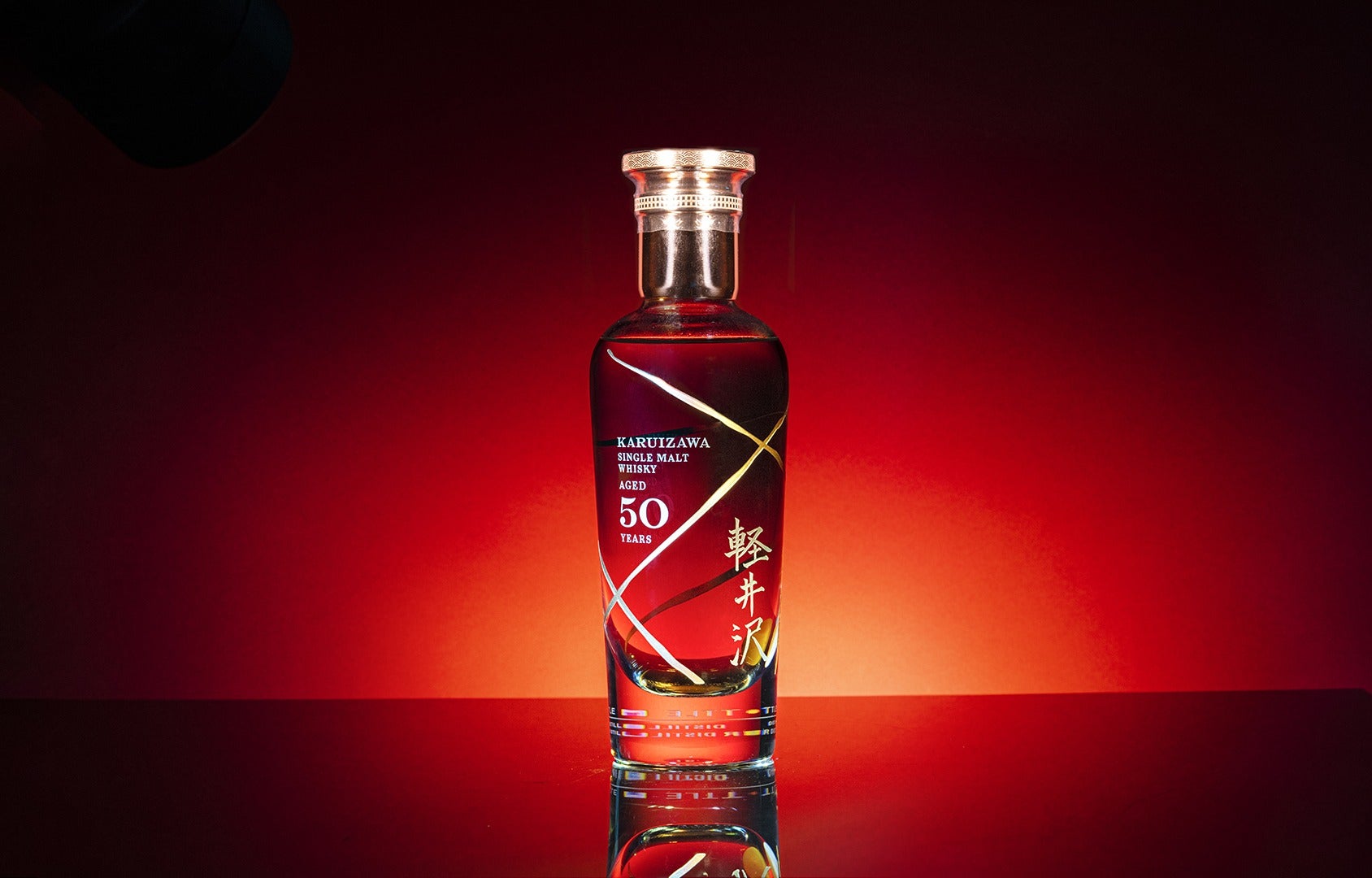 Because of its fabled silent distillery status, there is a reverence around Karuizawas, but there is sometimes excitement too, such as around a new release. Karuizawa 50 Year Old 1965 Vintage is being released drop by drop. The Whisky Exchange has 50 bottles of this liquid, which has spent half a century in a single sherry butt.
As you'd expect, it contains multitudes: complex layers of spicy fruit in a rich, dark single malt.
Shop Karuizawa 50 Year Old 1965 Vintage, £35,000
Mars Komagatake Tsunuki Aging 2020 Limited Edition
'Mars is very interesting,' says Hampden-White. 'I tasted a three-year-old peated malt that if it were a Scotch, it probably wouldn't have been very good, but somehow this was fantastic – fruity and balanced with powerful, sweet peat. That's only going to get better if aged longer.'
For rarity, it's best to go for one of the expressions with a vintage, for example Mars Komagatake Tsunuki Aging 2020 Limited Edition.
This illustrates Soh's point about doing things differently – in this instance, distilling at the Alpine Shinshu distillery but ageing at Tsunuki distillery, 1,000km closer to the tropics.
It's all orchard and citrus fruit and vanilla flavours, an apple pie and custard treat of a drink.
Shop Komagatake Tsunuki Aging 2020 Limited Edition, £210
Ichiro's Malt Hanyu Ten of Diamonds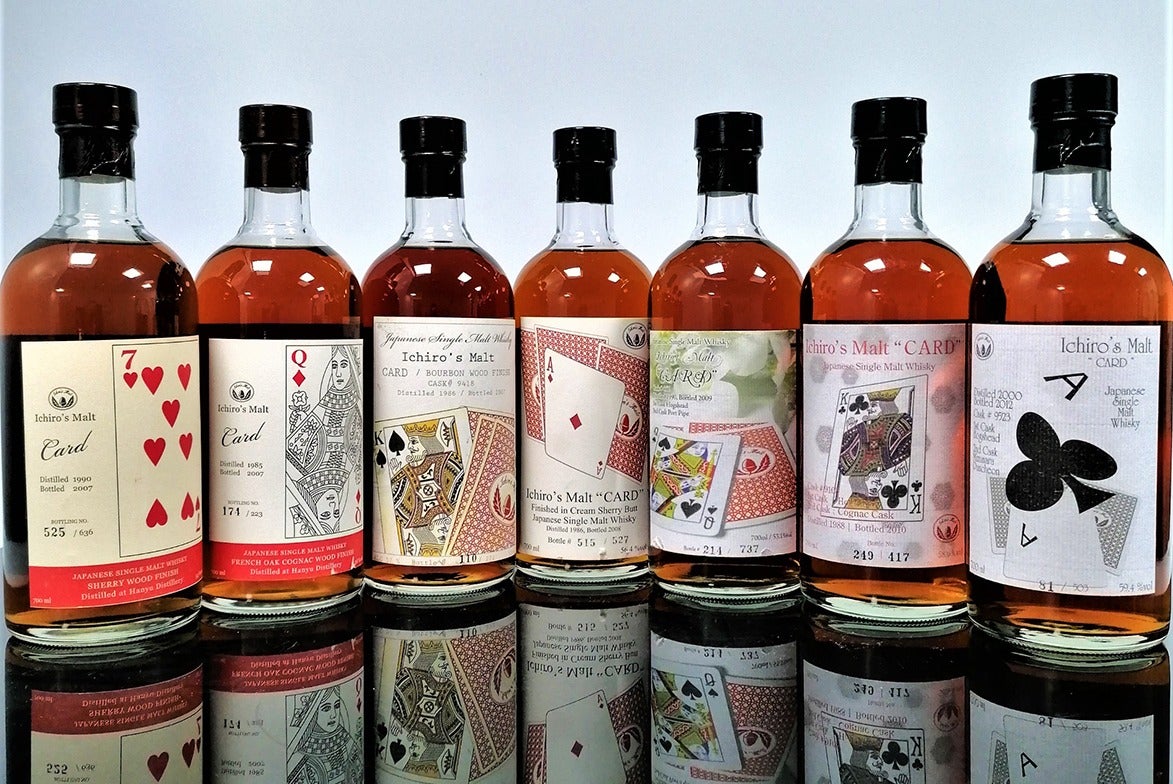 Craft distiller Ichiro Akuto's Card series comes from the now-closed distillery founded by his grandfather. It features the full deck of 52 bottlings plus two Jokers – a colour one and the more valuable monochrome version – and some reissues.
As well as royal cards and aces, diamonds tend to be popular, for the obvious luxury association, and the fact that it's a 'lucky' red colour for the Chinese market. Hedonism currently has Ichiro's Malt Hanyu Ten of Diamonds 21-Year-Old 1990 at £9,950 – less than half the price of the Nine of Diamonds, a 1985 24YO.
Shop Ichiro's Malt Hanyu Ten of Diamonds 1990, £9,950
Chichibu Intergalactic Series
The distillery was established in 2004 by Ichiro Akuto and was the first of a new generation of Japanese whisky producers to take on the big two, Suntory and Nikka.
The six editions of the Chichibu Intergalactic series are in high demand, and not only because of their fun designs, including sci-fi images of 1950s robots and manga figures, but their limited numbers and their quality.
'I tasted the first edition without being told what it was,' says Soh. 'It made my tongue dance; silky smooth with an off-dry finish.'
Only around 200 of each was bottled, but some can still be found.
Enquire about Chichibu Intergalactic (price on enquiry)
For those looking for the best bottles to drink, tasting notes can be found on Whisky Fun.
Collectors dabbling with investment should subscribe to Whisky Hunter for market research and see historic auction prices on reputable auction sites such as Whisky.Auction.
More from Spear's:
Why tequila is enjoying a global boom
Whisky pros reveal how to avoid investment scams
Luxury family ski holidays to book now