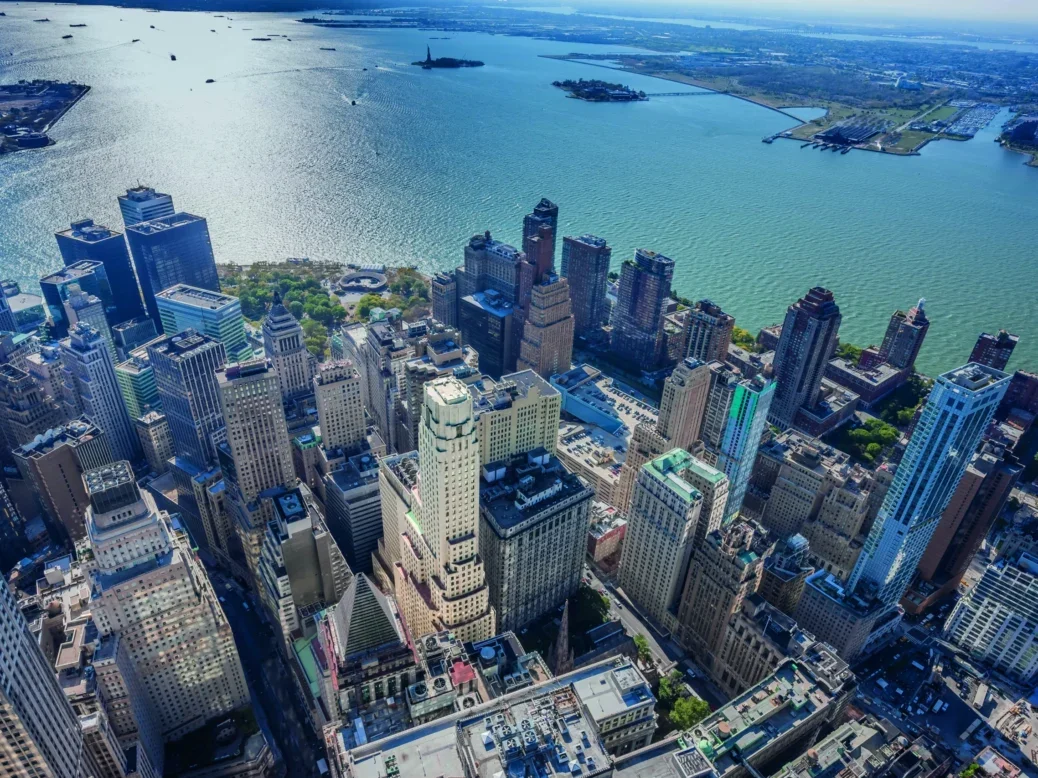 Billionaire property developer Harry Macklowe's reimagining of Wall Street's most iconic skyscraper is shaking up the financial district. Edwin Smith dons his hard hat and takes the tour
The wall that gave Wall Street its name was not really a 'wall' in the sense that we would recognise today. It was more of a berm – mud clumped up along the northern perimeter of a settlement that, back in the 17th century, was still known as New Amsterdam. Its purpose was to defend the good burghers from those who would do them harm: pirates, and the English. Beyond it was the rest of Manhattan, which was more or less wilderness. 
In the 398 years since the city was founded, things have changed. The area around Wall Street and the southern tip of Manhattan has had different names – 'Downtown', 'Lower Manhattan' (both generally thought of as 'south of 14th Street'), 'the financial district' or, the newest and certainly least attractive coinage, 'FiDi'.
As a hip and happening neighbourhood, it has also had false dawns – one, notably, in the early 2000s, which was curtailed by the aftermath of the September 11 attacks. The neighbourhood has never quite lost its reputation as somewhere to work – but not necessarily to play, or to live. There is a sense, though, according to many people – including architecture guru Thomas Mellins – that now may finally be its moment. 
Living on Wall Street
It is cold and crisp as Mellins and I walk through the streets of Lower Manhattan, craning our necks to look at the towering structures around us. He explains that part of the reason New York's financial district is changing is that many of the banks have taken the decision to reduce their headcounts in the area (which has eye-watering rents), often electing to relocate workers to boroughs, states or even continents that ease the strain on their balance sheets.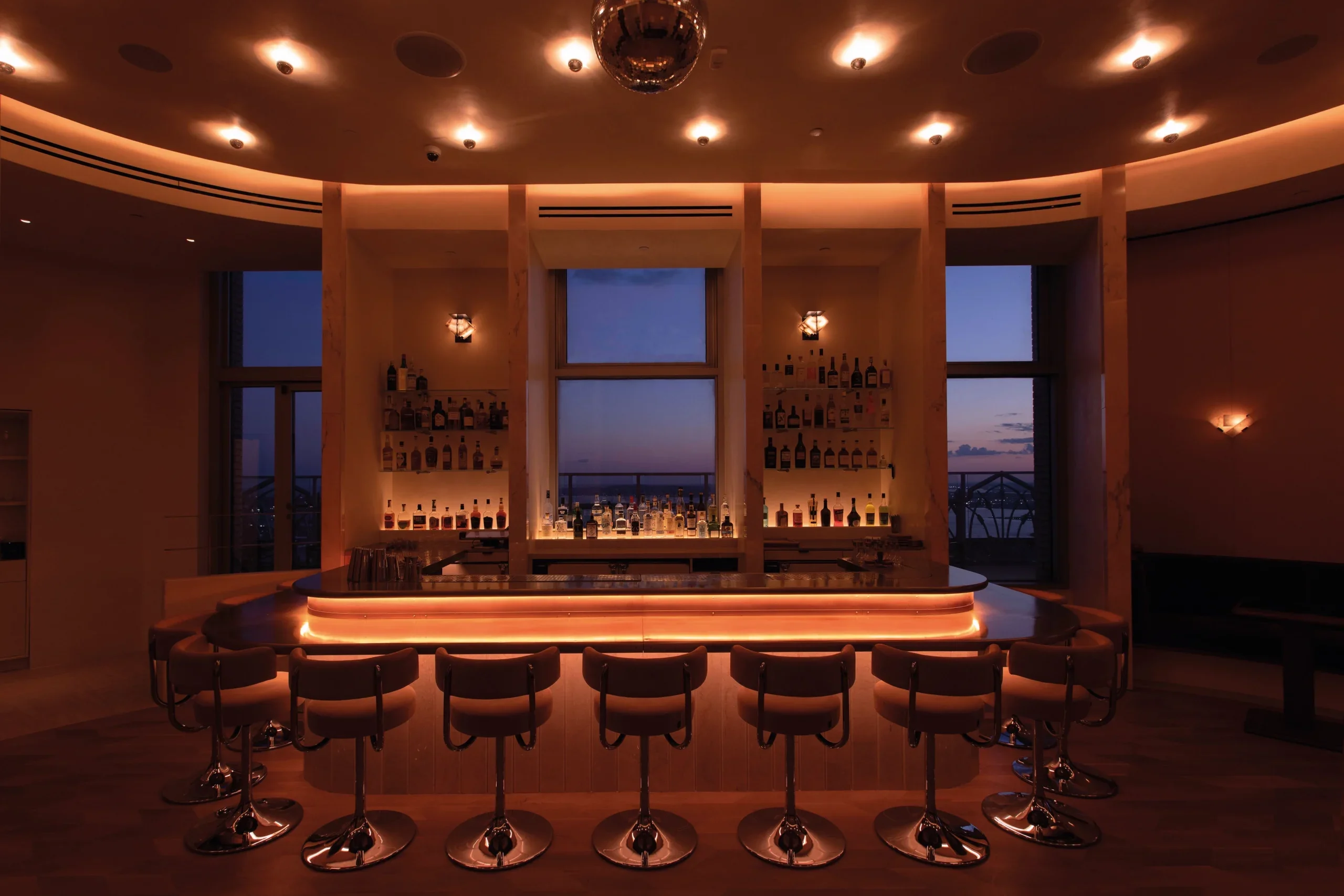 There have also been grumblings about New York's governance and tax regime, which are often contrasted with those of Florida and Texas. As recently as 2021, Goldman Sachs had just 2,000 employees in Dallas, but the bank has since doubled that figure. In June of last year, it received approval from the local council for $18 million in tax breaks that will help it build a new office tower in the city, which is expected to cost nearly half a billion dollars and house 5,000 more employees.
Goldman is not the only bank thinking along these lines. Indeed, data from the New York State Department of Labor and the US Bureau of Labor Statistics shows that New York's share of US financial sector jobs has fallen from 33 per cent in 1990 to 18 per cent in 2022. All this means that sought-after square footage once occupied by offices can be put to other uses. 
'New York has always been about money,' says Mellins, who has worked on books with Robert AM Stern and curated architecture exhibitions for the Museum of the City of New York. He walks quickly, weaving past pedestrians as he explains that this has been true even way back when the city's situation on the Hudson made it a hub for fur traders, who used it as a base to distribute their wares. And, he adds, 'skyscrapers were about money too'.
That meant that, in comparison with the finest buildings in Europe, 'they weren't given their due' as the architectural marvels that they often were. As we walk, he points out modern buildings designed by the likes of Frank Gehry and David Adjaye, but the architects who designed some of the city's earliest skyscrapers deserve recognition too.
The One place to be
Which brings me to the reason I'm here: to see the transformation of One Wall Street, the 199m-tall art deco skyscraper that was formerly the home of the Irving Trust Company and, from the late 1980s, the headquarters of the Bank of New York (later BNY Mellon).
The original 50-storey structure was built between 1929 and 1931 and was designed by Ralph Walker, who was described as 'the architect of the [20th] century' by the New York Times. A 36-storey annex to the building was constructed in the 1960s; since then, One Wall Street has occupied an entire city block.
In 2014 the building was acquired by billionaire property developer Harry Macklowe, who, with the help of Robert AM Stern Architects, has set about transforming it into one of New York's most ambitious residential developments – with 556 apartments ranging in price from a 677 sq ft studio for $1.1 million to the 13,500 sq ft penthouse for $75 million. The first 'residences', as they're called, will be occupied from February or March of 2023.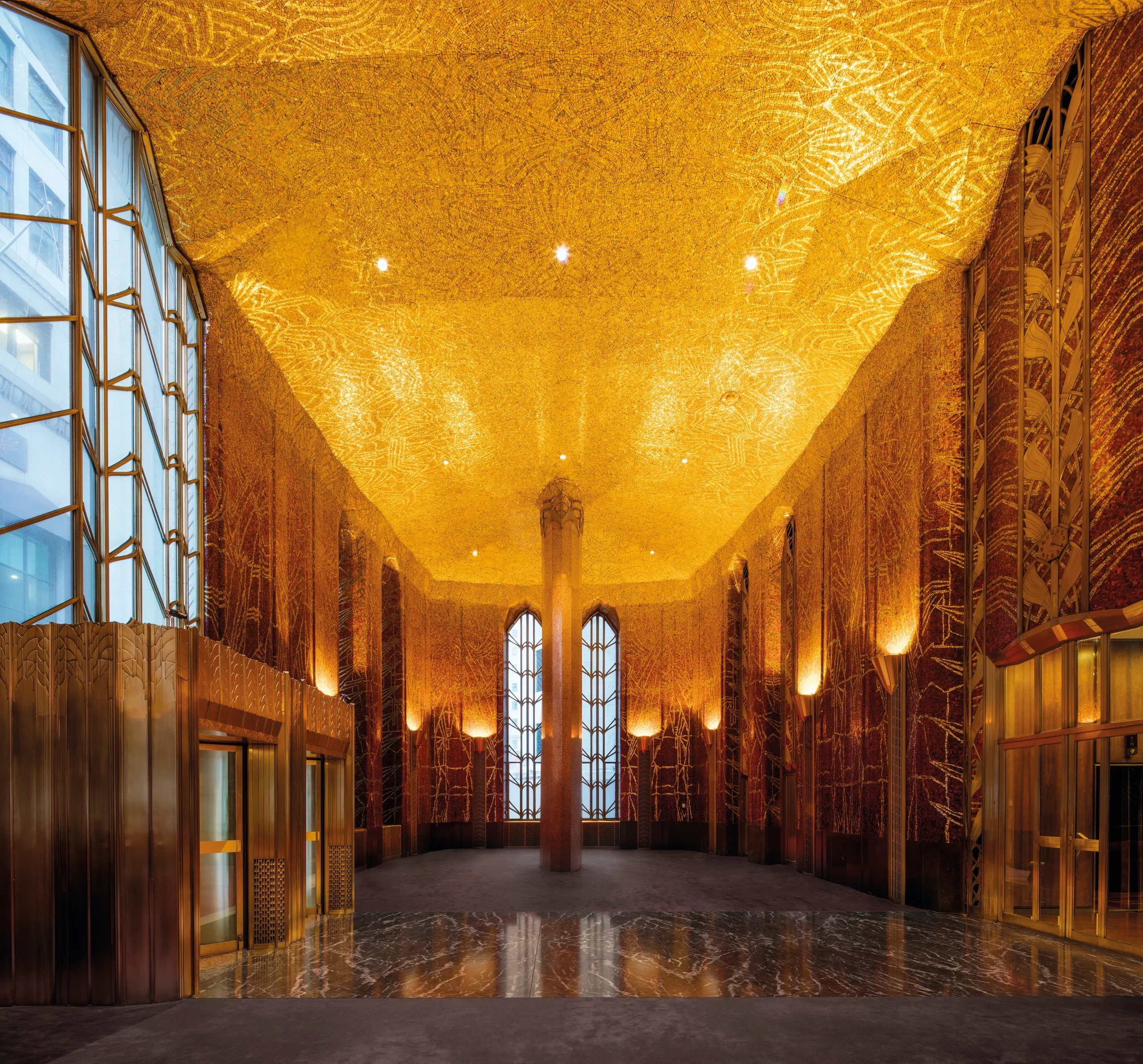 When I visit, in late 2022, the lobby that greets visitors is still the stunning 'Red Room' – a 30m-long, 11m-high lobby covered with 8,911 sq ft of intricate art deco mosaic, which will soon be converted into retail space for the French department store Printemps, expected to open in 2024. On the lower floors there is also a vast 42,000 sq ft Whole Foods Market and 75,000 sq ft of health and fitness facilities run by Life Time Fitness.  
In various stages of completion, there's also a private members' club for residents, a co-working space and – perhaps the pièce de resistance – a 75ft swimming pool on the 38th floor, with floor-to-ceiling windows and a wraparound terrace with views of the city. When it is completed, it may be one of the most spectacular swimming pools in the world.
From offices to homes
One of the trickiest things about converting office space into residential is that floor plans that work for one do not necessarily work for the other. Accordingly, the interior of One Wall Street has been remodelled, with banks of high-speed elevators moved into the core of the building so as to ensure the interiors of the apartments are never too far from a window. There is also strategic use of the space that gets no natural light: much of it has been converted into storage (which is priced at around $1,500 per square foot).
Fortunately, this eye for efficiency has not given the building a soulless, identikit feel. Far from it. On a tour with Kirk Rundhaug of Compass, the real estate firm that has been engaged by Macklowe Properties to market the apartments, I discover that the apartments are remarkably varied – ranging not just in price, but also in layout, feel and aspect.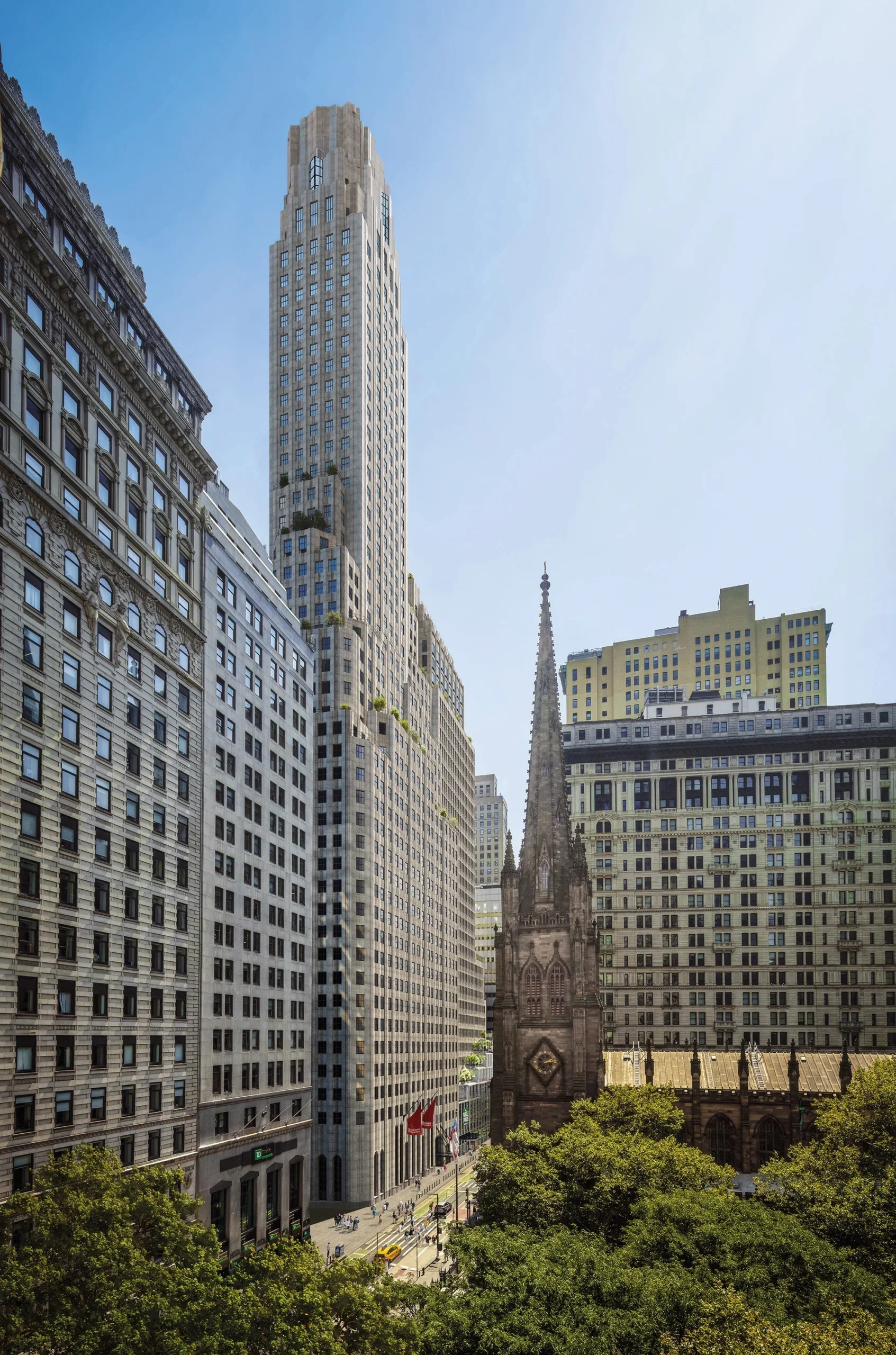 Some look out onto Trinity Church and its leafy yard. From others you can see directly into the trading floor of the New York Stock Exchange. Some, in the newer part of the building that was added in the 1960s, have floor-to-ceiling windows that wrap around the main living areas, providing views of the bustling street scene below on Broadway.
The tiered 'wedding cake' shape of the upper floors means that there are a number of spectacular private terraces attached to the pricier apartments. Some of these are sufficiently far from completion to mean that floor plans can still be amended – in some cases, to quite a large degree.
Rundhaug leads me past the workmen, power tools and dust sheets to show me a floor with two large apartments side by side. It's possible that one buyer could take them both, creating one super-pad.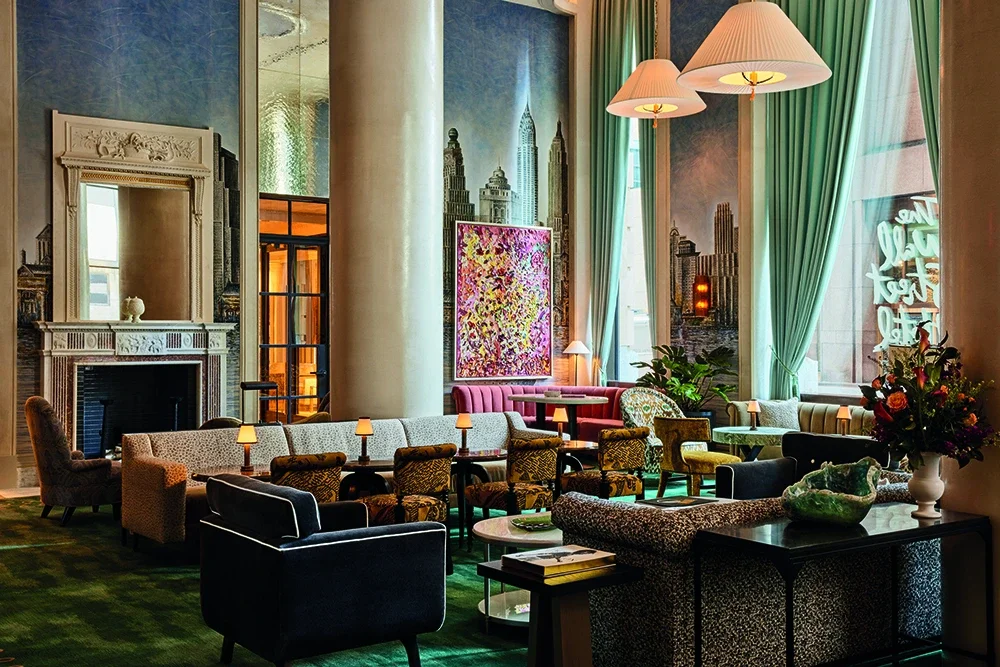 One Wall Street: sophistication and elegance
But many of the residences are already complete – including one with a subtle, thoughtful interior, designed for a family by long-time Lower Manhattan resident Elizabeth Graziolo and her firm Yellow House Architects. Another, elegantly filled with art and bespoke furniture, is by the French designer Cyril Vergniol.
The goal of this staging, of course, is to help prospective buyers of all kinds imagine themselves living here. But, when it comes to the penthouse, there is a much smaller pool of potential customers.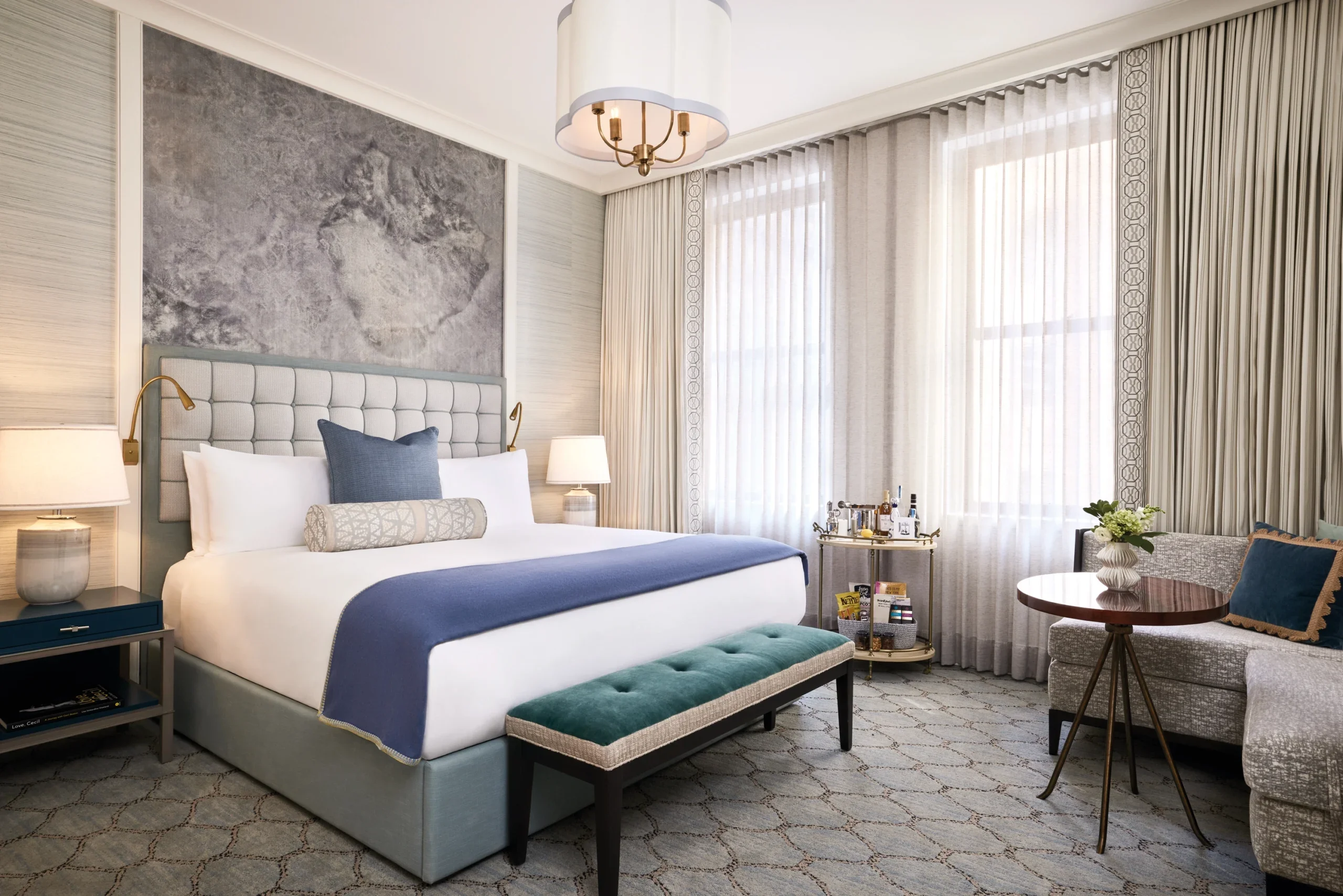 That doesn't phase Rundhaug, however, who reckons it will sell for something in the region of $75 million. When I visit, the penthouse is still a concrete shell – albeit a spectacular one – with 40ft-high ceilings and an enormous split-level terrace which provides extraordinary panoramic views of all of New York.
'I know who the buyer will be,' says Rundhaug as we wander around the cavernous, empty penthouse. He reckons it's unlikely to be someone who's also considering apartments on billionaire's row – the 'supertall' skyscrapers that punctuate the southern edge of Central Park, which remain popular with international buyers. The financial district is more likely to attract 'someone who lives here or who grew up here – who made their money in tech, crypto or marketing'.
Some sufficiently deep-pocketed individuals are interested. The architect and interior designer Peter Marino recently visited with a buyer. He is best known for his work on retail space for the likes of Chanel, Dior and Louis Vuitton, but also does private homes.
The new kids on the block
Old Wall Street is not completely gone, of course. I'm reminded of this over lunch at the Capital Grille, which exudes an 80s Trumpian ambience. As a martini arrives – garnished with three olives stuffed with blue cheese – I spot CNBC financial pundit Jim Cramer on the table next to us. But this Wall St old timer (the restaurant, not Cramer) is no longer the only kind of game in town.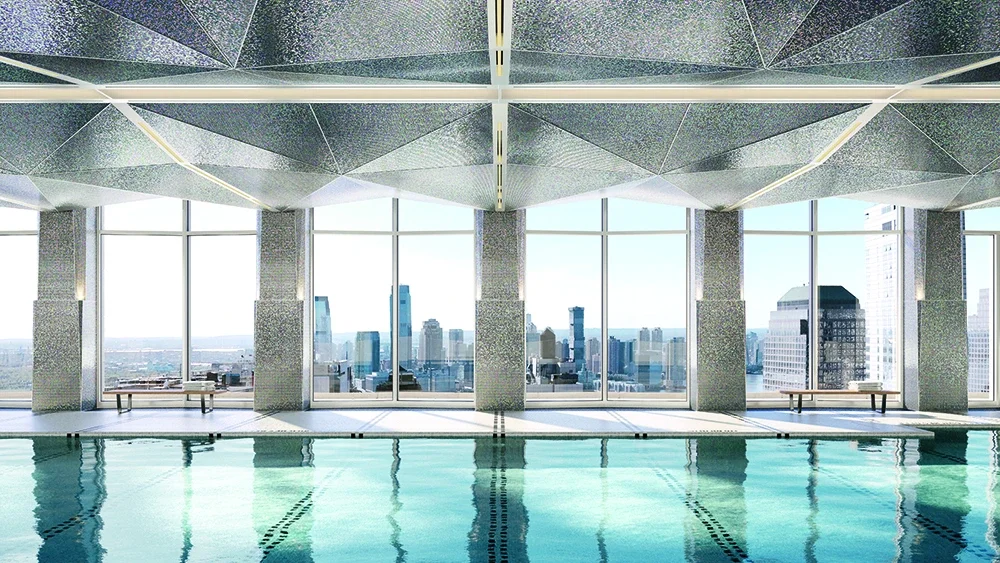 Myriad new, modern high-end hospitality venues have opened nearby. On the 64th floor of another art deco skyscraper, 70 Pine Street, is Overstory, which opened in 2021 and serves up outstanding $24 cocktails and spectacular views. In the same building are two sceney sister restaurants – Saga (opened in 2021) and Crown Shy (2019), both from chef James Kent. 
I stayed in the Wall Street Hotel, which opened in 2022. There is little more to it than the nicely appointed rooms, a smart gym, a small but beautifully designed bar and a restaurant but what there is, is done very well indeed – especially the French-inspired restaurant, La Marchande (where you should try the French onion soup dumplings).  
Jean-Georges Vongerichten opened his seafood restaurant, The Fulton, in the Seaport area in 2019 and last year launched the Tin Building almost next door – an ambitious complex of specialist food stores, cafes, delis and restaurants – all overseen (in some respect) by the man they just call 'Jean-Georges'. (Think Harrods food hall meets a Willy Wonka's Chocolate Factory of high-end delicacies.) It is perhaps a little artificial, but is certainly pleasant – and the kind of place you can imagine the young-ish, well-heeled denizens of the new-look financial district will enjoy of a lunchtime or a weekend.
As I sit at the bar with a lobster roll and a glass of chablis, I remember something Rundhaug said to me: 'New York's neighbourhoods are like the numbers on a clock.' And the financial district? Its time has finally come. 
Order your copy of The Spear's 500 2023 here.
More from Spear's:
Luxury homes in London are in high demand – inside the new kind of space race