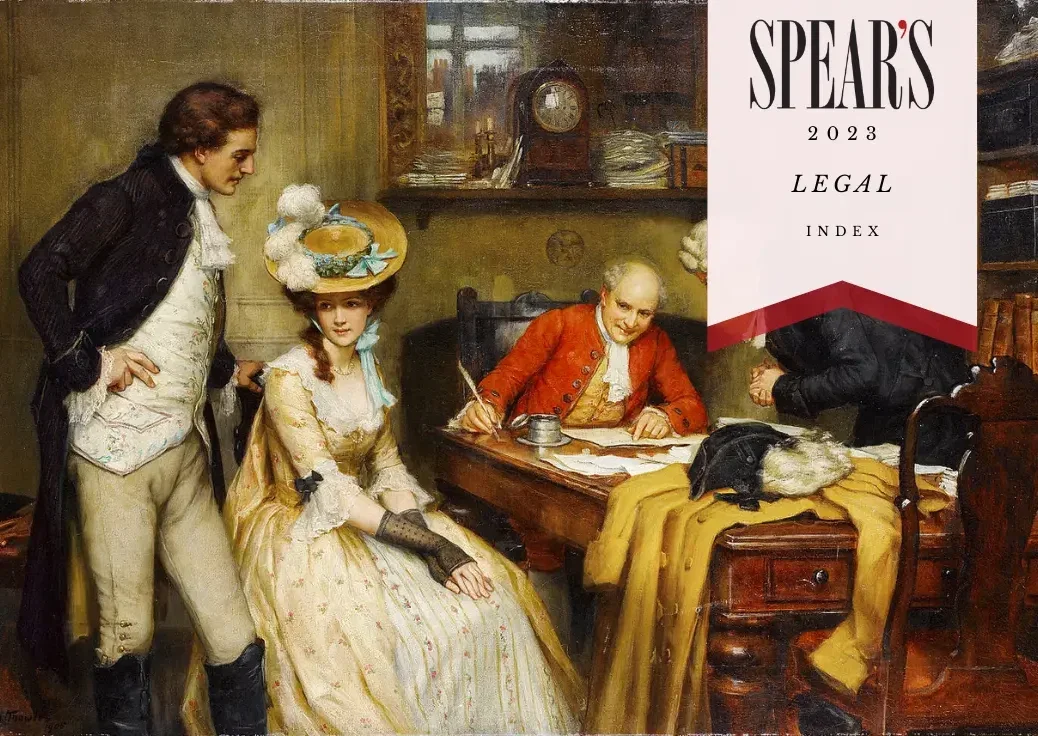 The Spear's 500 contains hundreds of lawyers, representing a huge store of knowledge on everything from property purchase and planning to divorces, trusts, reputation, tax and criminal defence. Each one of them is well equipped to advise high-net-worth individuals on the legal matters that concern them the most.
Throughout the year, the Spear's Research Unit releases updates the various sub-categories for specialisms contained within the Legal Indices, links to which you will find below. The latest instalment is centred on family law, including family solicitors and barristers, divorce consultants and litigation funding experts, who can help with finding the necessary funds for a divorce settlement or any other kind of legal action if they believe you have a good chance of a successful outcome.
The new 2023 Spear's Employment, Immigration and Art Law Indices
The latest installment of the Spear's 500 legal indices features the top individuals from employment and immigration law, hommes d'affaires, classic cars, aviation and yachts and art law.
Our employment law index is full of highly qualified people who can help with even the most complex dispute between a high net worth individual and their employer. The post they had taken might not be what was expected, or might not be rewarded in the way that was agreed. Our lawyers can help. This year, as with many of our lists, we have found the best choices in the middle east as well as Europe and the US. Rebecca Ford and Emma Higham of Clyde & Co, for example, look after some of the knottiest cases in the UAE and Qatar respectively, and Keirsten Lucas of Stephenson Harwood is an excellent choice for anyone straddling London and Dubai.
Many of our employment lawyers also have corporate clients, setting strategy and resolving individual cases from the company point of view, but all of them are committed to individual access to the law. The same can be said for our employment lawyers. The top level of employment law in any firm is going to attract the business of large companies, but everyone we feature is equally at home with private clients. Katie Newbury of Kingsley Napley, for example, is especially knowledgeable about tier 1 visas in the technology sector, and Aaron Watkins of the same firm is the first line of defence against abuse of the immigration system by governments seeking to extradite his clients illegitimately.
Adding to our store of art lawyers are Tom Christopherson, senior consultant at Canvas Art Law who helped produce the Treaury's guidelines on money laundering in the industry, and Chris Haywood, who is leading the expansion of clients for Charles Russell Speechlys in the Middle East.
The Spear's Legal Indices
Employment Lawyers
Hommes d'Affaires
Art Lawyers
Classic Car Lawyers
Immigration Lawyers
Family Lawyers
Family Lawyers in the US
Family Law Barristers
Divorce Consultancy and Support Services
Litigation Funding
Reputation Lawyers
Corporate Lawyers
Criminal Lawyers
Landed Estate Lawyers
Aviation & Yachts Lawyers
Tax Lawyers
Probate Lawyers
Contentious Trust Lawyers
Tax & Trust Barristers
Property Lawyers
To explore all the Spear's indices, and to use our find-an-adviser tool to identify the private client adviser who is right for your specific requirements, go to the Spear's 500 website.
To receive relevant research updates from Spear's – and thereby give you and your firm the best chance of being included in future Spear's indices – please register here.
If you are an adviser featured in the index and would like to update your profile or provide additional information, please email rasika.sittamparam@spearswms.com.