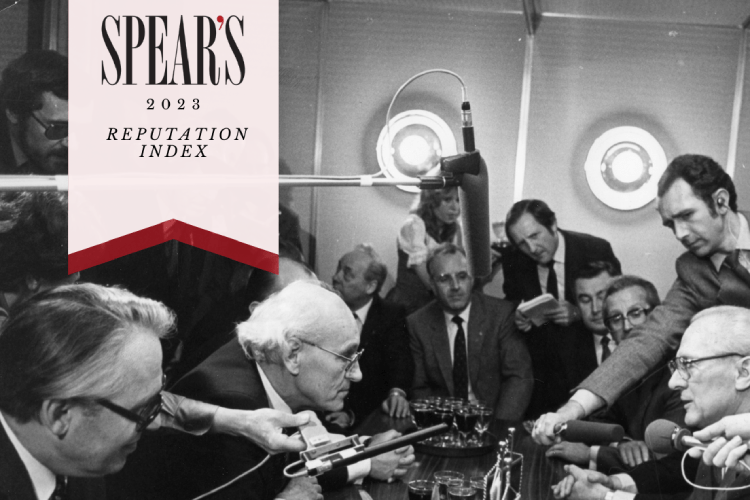 The 2023 Spear's Reputation Index features the best reputation managers and lawyers for high net worth clients. This year, several established names rise in the rankings and some impressive operators make their debut
The 2023 edition of the Spear's Reputation Index is here, and this year, it includes more names than ever before. As always, our indices of reputation managers and lawyers include our top ten, top recommended and recommended names in reputation management and law, exhaustively compiled by the Spear's Research Unit, together with some rising stars who are newer to the industry but will go on to great things.
Click below to access the rankings:
The best reputation lawyers for high-net-worth individuals
The best reputation managers for high-net-worth individuals
In an increasingly fragmented and volatile digital age, it's never been harder for HNWs to protect their privacy and monitor what's being said about them online. And, as the UK continues to face rising inflation and widening inequality, many in the public eye are worried about how their wealth is perceived.
The reputation industry is constantly evolving to meet these challenges and stay abreast of the latest risks and threats.
As ever, Spear's has profiled the best reputation managers and lawyers for HNWs. Among the rankings are specialists to help clients with a wide array of reputational issues, including A-List lawyers, crisis management gurus and libel litigators handling some of the biggest cases and stories. The index also includes a whole host of new advisers for 2023, while several standout lawyers and managers have risen up our rankings.
Who has risen in our rankings?
The biggest media law case of 2022 was the 'Wagatha Christie' trial, which saw Brabners solicitor Paul Lunt defend Coleen Rooney in the High Court against Rebekah Vardy. Lunt picked up our gong for Reputation Lawyer of the Year at the Spear's Awards in November for his 'expert' handling of the case (according to our reputation industry judges), and now joins our Top Flight reputation lawyers.
Meanwhile, former FT journalist Salamander Davoudi, who co-founded the Tancredi Group in 2015, claims a place in the Top Flight for her work advising on some of the world's most pressing crisis management briefs. And Project Associates founder David Rigg returns to the top tier as his firm continues to go from strength to strength in supporting clients globally (with a strong presence in the Middle East).
Among those moving up to Top Recommended are Farrant Group's Peter Headden, Keystone Law's Sofia Syed, and Carter Ruck's Persephone Bridgman Baker.
Rising star lawyers
Throughout the research process the Spear's Research Unit came across some highly regarded lawyers aged 35 or under who have begun to impress colleagues and clients alike. Withers' Caroline Thompson received a glowing recommendation from colleagues, including a Top Flight lawyer. At Vardags, Tessa McKeown, who is part of Alex McCready's team, also enters our rankings for the first time.
Meanwhile, Farrer & Co's Thomas Rudkin and Withers' Andrew Fremlin Key both graduate from the Rising Star designation and are now ranked as Recommended.
Incoming former journalists
It's not uncommon for experienced journalists to enter the field of reputation management. Indeed, several former 'hacks' who now ply their trade as 'flacks' are represented in our rankings.
Among them are Sarah Sands, former editor of the Today Programme and the Evening Standard, who works as an adviser at Hawthorn and is featured in our index for the first time. (Incidentally, her son, Henry Sands, who founded the SABI Strategy Group in 2015, enters our rankings in the same year.) TalkTV panellist and former OK! Magazine reporter JJ Anisiobi also makes his debut, specialising in media strategy advice for entertainment industry figures and politicians.
Reflecting the continued success of Coulson Partners – spearheaded by David Cameron's former head of communications Andy Coulson – former Daily Mail deputy editor Jon Steafel joins our rankings, as does the firm's Susan Adams, who used to be the head of policy for Rothschild's Family Office.
Maltin PR senior partner Clive Coleman, a former BBC legal correspondent who covered the Supreme Court case over the 2019 prorogation of Parliament, joins our rankings too. For years, Coleman hosted and gave legal news commentary across the BBC, while Tim Maltin, the firm's founder, has hosted Titanic documentaries for National Geographic and BBC Radio (Maltin himself has been promoted to Top Recommended for 2023).
How the reputation industry is evolving
Digitalis, which specialises in helping organisations and private clients keep one step ahead of online reputational threats using cutting edge technologies and data analytics, continues to grow, despite seeing Beatrice Giribaldi Groak leave the firm for Highgate. James Hann, a former army officer for eight years and Digitalis managing director of digital risk, is added as a Recommended adviser, as is the firm's partner Fred Duff Gordon.
Meanwhile, Theseus Risk, which specialises in 'fixated risk management', can help private clients to identify threats caused to them by individuals with obsessive behaviour or grudges, helping HNWs to understand the psychological reasons why they're being pursued. With a glowing recommendation from a Spear's Top Flight adviser, the firm's head, Philip Allen, joins our rankings.
Many HNWs are also using reputation managers to help them understand the growing political risks to their families and businesses, both within the UK and abroad. Hanover's Nick King, who previously served as a special adviser to Maria Miller and a policy adviser to Sajid Javid, joins our rankings as a recommended adviser, as does the Farrant Group's Zainab Al-Deen, who has worked within the UK and European parliaments, and as a communications director for the Conservative Party.
We've also added advisers who can help creative HNWs protect their intellectual property. Joining Simkin's specialist litigator Tom Iverson in our rankings are Lee & Thompson's Tim Fowler and Will Everitt, who specialise in ensuring music producers and artists can protect their musical works,
Spear's rankings are drawn up on the basis of peer nominations, telephone and face-to-face interviews, data supplied by firms, as well as information gathered by the Spear's editorial and research teams.
To explore all the Spear's indices, and to find the private client adviser who is right for your specific requirements, go to the Spear's 500 website. To receive relevant research updates from Spear's – and thereby give you and your firm the best chance of being included in future Spear's indices – please register here.