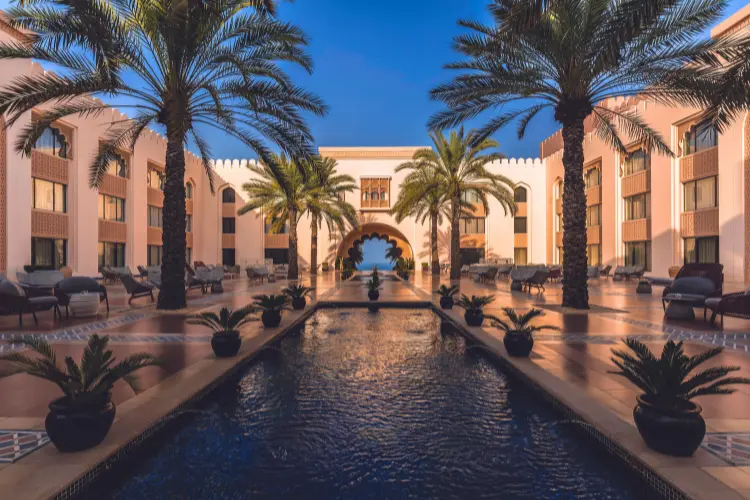 Tucked away in the clifftops of Oman, the Shangri-La Al Husn is a sanctuary for weary travellers seeking indulgence and decadence. Fittingly translating to 'the castle' in Arabic, Al Husn combines heritage and tradition with elegance and modernity in its pursuit of providing five-star service that stays true to the country's cultural values. 
The hotel, like the wider hospitality industry in Oman, has long attracted tourists residing in the Gulf but it now looks to appeal to a broader, international market and build a reputation as a luxe getaway distinct from the offerings in neighbouring UAE and Qatar. 
[See also: Hotel Review: Shangri-La Bengaluru, India]
Location
Stationed 45 minutes away from Muscat International Airport, Al Husn is a stone's throw from the city centre. But it can hardly be described as a city hotel. Situated down long meandering roads lined with date palms and frangipane trees, the hotel sits austerely on a clifftop overlooking the Gulf of Oman.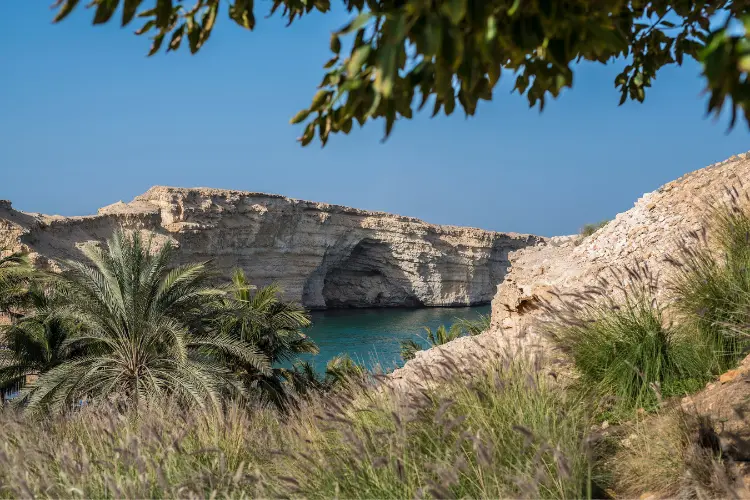 Beside the Al Husn is its sister complex, Shangri-La Barr Al Jissah which comprises two hotels: Al Waha and Al Bandar. The resort caters largely to discerning families, with Al Waha suited to families with young children while Al Bandar is ideal for families with older children.
Al Husn, which is a five-minute buggy ride from Barr Al Jissah, operates an 'adults only' policy (16 and above). For couples and families with adult children, Al Husn is an oasis of solitude and exclusivity. 
[See also: How the UAE's approach to tax is evolving]
History & Ownership
In 2006, the owner of the land the Shangri-La stands on sought to create something that reflected his passion for the heritage and culture of Oman. So he partnered with the Shangri-La to create a luxury resort that honoured and preserved Omani history and traditions.
For those familiar with the Shangri-La Group, the partnership is unsurprising. The luxury hotel chain has more than 100 properties in its portfolio, each of them is unique and pays homage to the heritage and culture in which it is operating. 
In this spirit, Al Husn describes itself as 'a fully-fledged authentic project around Omani culture and experiences'. This is evidenced upon entering the hotel which, with its classical Arabic architecture, rich colours and water features, exudes grandeur.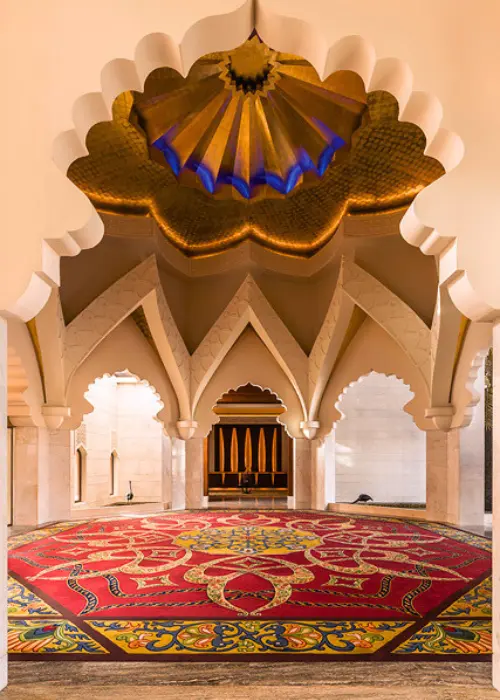 Rooms & Suites
The rooms, like the rest of the hotel, are equally as luxurious. The hotel boasts 180 rooms and suites, most of which have sea views and are claimed to be among 'the most spacious in Oman'. When Spear's pays a visit, I am welcomed into a panoramic sea view room overlooking the Gulf of Oman and the hotel's private beach. 
With a king-size bed (kitted with body contouring technology), a marble-clad bathroom, and a walk-in wardrobe, the rooms have been thoughtfully designed to meet every requirement. For added comfort, the room offers a complimentary mini bar and a dedicated butler service on request.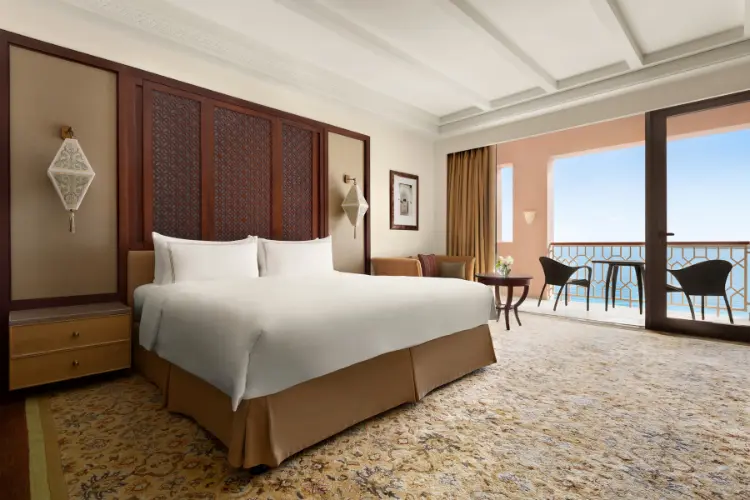 For guests looking for the ultimate luxury experience, the hotel's royal suite is appropriately fit for a king – it has even welcomed royalty… and Ed Sheeran, I'm told. The suite is accessible via a private lift and has its own lounge, 12-seater dining room and private wellness facilities that include a whirlpool bathtub overlooking the ocean.
Dining
With four restaurants on site, dining options are not in short supply at the Al Husn. These include a beach bar, a poolside eatery and an elegant Mediterranean fine dining spot. But the standout is Indian restaurant, Aangan by Rohit Ghai. 
London-based Rohit Ghai is renowned for his 'innovative' take on traditional Indian cuisine. He has made his mark across the world — from London with his Mayfair restaurant, Manthan, to Morocco where his restaurant, Rivayat, can be found at the Oberoi Hotel in Marrakech. 
Menu standouts at the Aangan include Aloo Tikki, a crispy spicy potato cake served alongside a tamarind sauce and mint chutney; Rogan Josh, slow-cooked lamb shank curry; and a delightful Moilee which is aubergine simmered in coconut milk and curry leaves.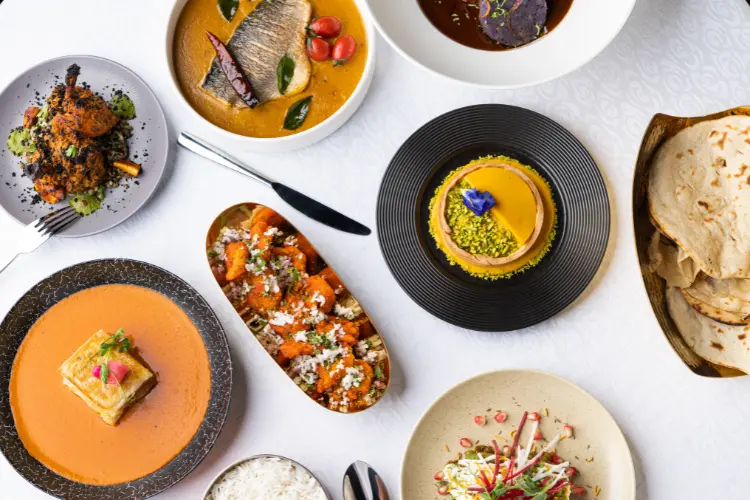 Guests staying at Al Husn also have free rein at Shangri-La Barr Al Jissah where there are nine other dining options ranging from South-East Asian cuisine at Chow Mee to Bait Al Bahr which serves traditional Omani fare. 
[See also: These are the best restaurants and fine dining experiences in Monaco]
Amenities
The Shangri-La Barr Al Jissah's amenities are similarly available to guests at the Al Husn. These include a health club, water sports and diving centre, lazy river, private marina, and a spa. For nature lovers, the hotel is also home to a turtle sanctuary with guests afforded the chance to attend hatching events. If that's not enough, dolphin and whale watching tours are also available.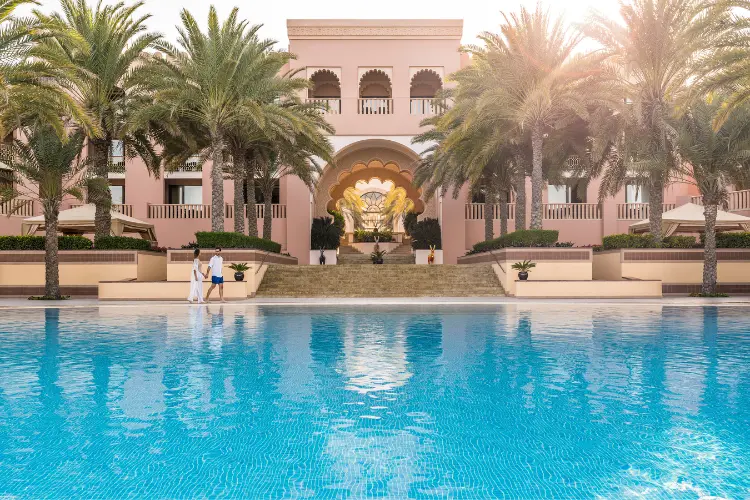 However, in keeping with the Al Husn's emphasis on exclusivity, its own facilities are not accessible to those staying at Barr Al Jissah. One particular highlight is Al-Husn's Luban Spa which describes itself as 'the ultimate spa retreat' offering treatments involving frankincense, or 'luban' as it is translated to in Arabic.  
Frankincense, which was once considered to be more valuable than gold, is a significant part of Omani culture. It continues to be grown in Oman today and is shipped across the world where it is used as perfume and incense. In its mission to offer 'authentic experiences', the Shangri-La has its very own frankincense garden alongside a frankincense sommelier.
[See also: 'Billionaires' Bay' is bringing sustainable luxury to the British Virgin Islands]
Tourism in Oman
For as long as the Middle East has been a thriving tourism destination, it's the UAE that has enthralled the modern traveller. Dominating headlines and Instagram feeds, the spotlight on Dubai has seemed to have eclipsed everything else the region has to offer. 
Now Oman, and the Shangri-La Group, hope to share that spotlight while appealing to a new breed of tourist: a conscious traveller looking for timeless luxury melded with history and culture. So far, it appears to be on its way to success. 
A representative from Oman Air, the country's flagship airline, tells Spear's Oman/London is one of their most popular routes. This demand has seen the airline make significant advancements in expanding its offerings, and the quality of its business and first class cabins are among the most comfortable in the skies, as Spear's discovered.
As Oman embarks on its quest to redefine itself as a tourism hotspot — albeit in ways that are considerably more sympathetic than its Gulf competitors — luxury brands, such as Jumeirah and Ritz Carlton, are getting in on the action.
How will the Shangri-La keep pace? That remains to be seen but as of now, its 'grande dame' status seems untouchable.
More information:
Price: Current starting rate is £392 per night.
Address: P.O. Box 644, Muscat 100, Oman
Email for reservations: slmh@shangri-la.com
Website: Shangri-La Al Husn, Oman