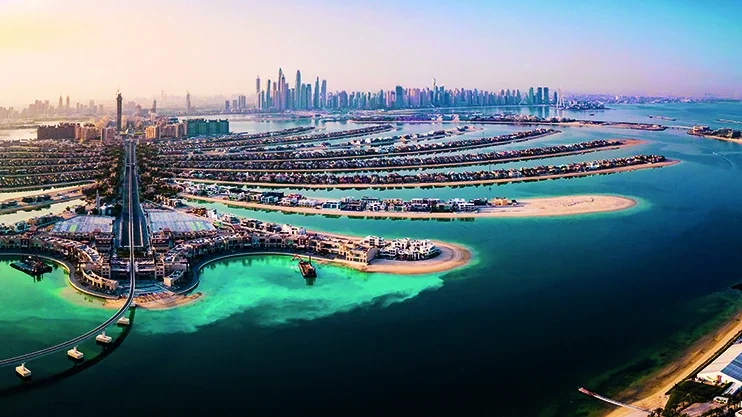 Chris Boswell has been selling property in Dubai for the past two decades and has never seen anything like it. 'It has just exploded. There's no other word for it. Demand and prices for high-end property are absolutely unprecedented.'
It's 6pm, and as the sun sets over Dubai Marina, Boswell shows me around a $40 million villa on the Palm Jumeirah.
The 11,000 sq ft home sits on a 19,000 sq ft plot and is a mini resort with two swimming pools, outdoor kitchen, fire pit and multiple terraces that lead down to the beach.
'This is as good as it gets for a signature villa on the Palm,' he says.
'Covid Casablanca' no more
The latest figures confirm that the Dubai real estate market has not been as strong for almost a decade (2014 remains the peak).
Analysis by Knight Frank shows that prime residential values grew by 29 per cent in the third quarter of 2022 alone. The price of villas in prime locations, notably the Palm Jumeirah, Jumeirah Bay and Emirates Hills, has doubled in the past two years.
Sales of ultra-prime homes – those above $10 million – have also hit a fresh high, with 152 sales in the first nine months of 2022, eclipsing 2021's previous all-time high of 93.
India's second-richest man recently smashed his earlier record for the city's most expensive residential real estate deal.
Mukesh Ambani, head of Reliance Industries, bought a Palm Jumeirah mansion in October for $163 million from the family of Kuwaiti tycoon Mohammed Alshaya.
Ambani's latest purchase is a short stroll from the $80 million home, also on the Palm, that he bought a few months earlier.
He might have got a bargain or two. The price of high-end Dubai properties will rise 13.5 per cent in 2023, Knight Frank predicts, putting the city state at the top of its ranking of prime residential price growth worldwide.
It is a remarkable turnaround for an emirate that was dismissed as 'Covid Casablanca' two years ago after it opened up to unvaccinated travellers too early, leading to a surge of new coronavirus cases.
Post-pandemic boom town
What's driving the boom? 'First it was the pandemic, and now it's uncertainty across the world,' says Boswell, who runs his own boutique estate agency.
What he means is after Dubai shrugged off the Covid superspreader tag by using the second-fastest vaccine rollout in the world to drive down infection levels, it opened fastest and fullest to travellers.
'When most other locations were still closed, Dubai was open and people flocked here for holidays, many for the first time,' Boswell recalls.
Many liked what they saw and decided to invest.
'It was like a gold rush. Every day I'd go on viewings with three or four different people. Every day I used to wake up and wish there were two of me.'
An oasis of safety
Since then, the war in Ukraine, tensions over Brexit and recession in many Western countries have encouraged a second wave of immigrants to buy into the desert dream in search of safety and security.
'People want to know they and their families will be safe from a return of Covid, political conflict and recession,' says Boswell. 'It's very secure and stable here with very strong leadership and a growing economy thanks to high oil prices and strong inward investment.' (Critics might replace 'strong' leadership for 'autocratic', of course.)
Andrew Cummings, head of prime residential for Knight Frank in Dubai, agrees, arguing that Dubai is now a mature investment market.
'People always talk about no income tax when they talk of Dubai, but in some ways that financial motive is a bit outdated.
'It's the overall lifestyle here that is the real draw these days. Dubai has the best security, schools, transport, medical care, restaurants, hotels – and most of the year the best weather.'
Russian cash welcome in Dubai
The world's elite is certainly tempted, if the latest figures from analysts New World Wealth are anything to go by.
The United Arab Emirates (of which Dubai is one sheikhdom) attracted a net inflow of 4,000 millionaires in 2022 – more than any country globally and a 208 per cent increase on 2019.
It's small wonder that cash buyers account for 80 per cent of property sales – and that Dubai's prime property index leapt sharply last year.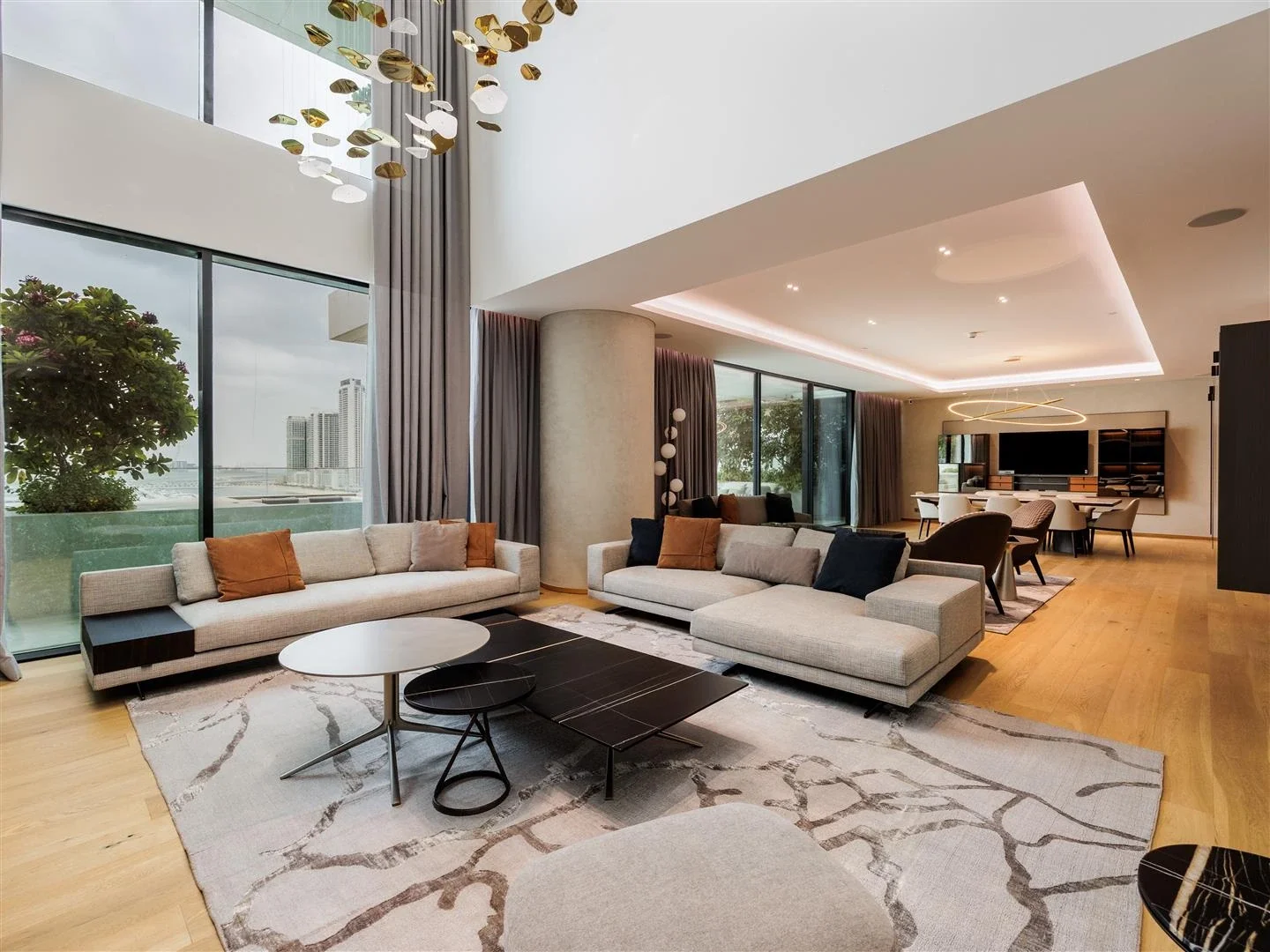 Russians are the largest and wealthiest group of new arrivals and are now the leading property buyers by value by nationality, surpassing Indian, British and Italian investors.
The UAE has not imposed sanctions on Moscow following the invasion of Ukraine. The Russian central bank bans citizens from exiting the country with more than $10,000 in ]foreign currency, but Dubai is a crypto trading hub, which makes it possible for a buyer to send an intermediary a payment for a property in cryptocurrency. The intermediary converts it into cash and then passes that on to the seller.
Estate agents may be welcoming the influx of tainted Russian cash, but many locals are less than impressed. They have nicknamed the Russians who are snapping up villas 'villa-ins'.
Business culture over local culture
Dubai is also attracting the non-Russian rich in unprecedented numbers because the city state is rolling out the red carpet for them, in an effort to cement its advantage over Singapore and rival regional business hubs, notably Doha and Riyadh.
Dubai's entry rules are generous – new arrivals get a three-month visa and those who invest in a local business or property can qualify for a visa of up to 10 years. 
For the first time, Sheikh Mohammed bin Rashid al Maktoum, the emirate's ruler, has begun offering high-profile arrivals citizenship.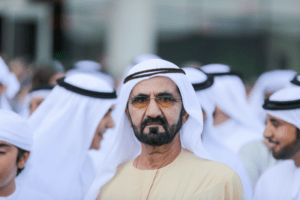 The government has even switched the working week from the Middle East's standard Sunday-Thursday to the global norm of Monday-Friday.
'This is the most business-friendly city on earth,' says storied investor Mark Mobius, who moved from Singapore to Dubai two years ago.
The new policies to attract talent and cash are paying dividends. The UAE will have become one of the world's fastest-growing economies in 2022 at around 6.5 per cent, according to IMF projections.
'See no evil, hear no evil'
The question many monied refugees are asking is: will they be allowed to stay in their new homes?
Not necessarily.
The more they move, the more the super-rich attract attention and the more governments and regulators begin to scrutinise how they acquired their wealth and the visa schemes they exploit to flit from safe haven to safe haven.
Dubai attracts the rich thanks to its policy of trying to remain politically neutral and not asking too many awkward questions about the source of newcomers' wealth. But its 'see no evil, hear no evil' business model may not prove quite so easy to pursue in future. 
The Financial Action Task Force (FATF), a global financial crime watchdog, recently put the UAE on a 'grey list' of states that it argues do not do enough to counter 'dirty money' flows. Dubai now faces increased monitoring of inward investment.
Dirty money a cause for concern
Members of the European Parliament are urging that the UAE be included on its list of countries that pose significant threats to the financial system because, Danish MEP Kira Marie Peter-Hansen argues, the country is a safe haven for criminals.
Wily anti-Putin campaigner Bill Browder is calling for the UAE to be blacklisted over its failures to enforce sanctions against Moscow.
Russians who have been sanctioned by Western states have moved to Dubai. The UAE government insists it 'takes its role in protecting the integrity of the global financial system extremely seriously'.
When will the bubble burst?
There's another cloud on the horizon. The sharp rise in property prices is sparking fears of a bubble that will soon burst.
Dubai investors know more about boom and bust than those in most real estate markets – property values plunged by 50 per cent after the global financial crisis. 
Boswell dismisses parallels with 2008. 'That was a very different situation. That problem started in America and created a tidal wave which affected everybody.' 
He adds that back in 2008 the Dubai market was largely dominated by speculators and those who wanted a holiday home to use for a few weeks a year and rent out, 'but now most buyers are end users who are much less likely to cut and run when times are tough'.
That should help him to sell that $40 million villa before any downturn.
Top image: Getty
Order your copy of The Spear's 500 2023 here.
More from Spear's:
Wealth boom sparks private banking rush to UAE
The best Middle East property advisers to high-net-worth individuals
These are the global cities where prime property prices are set to grow