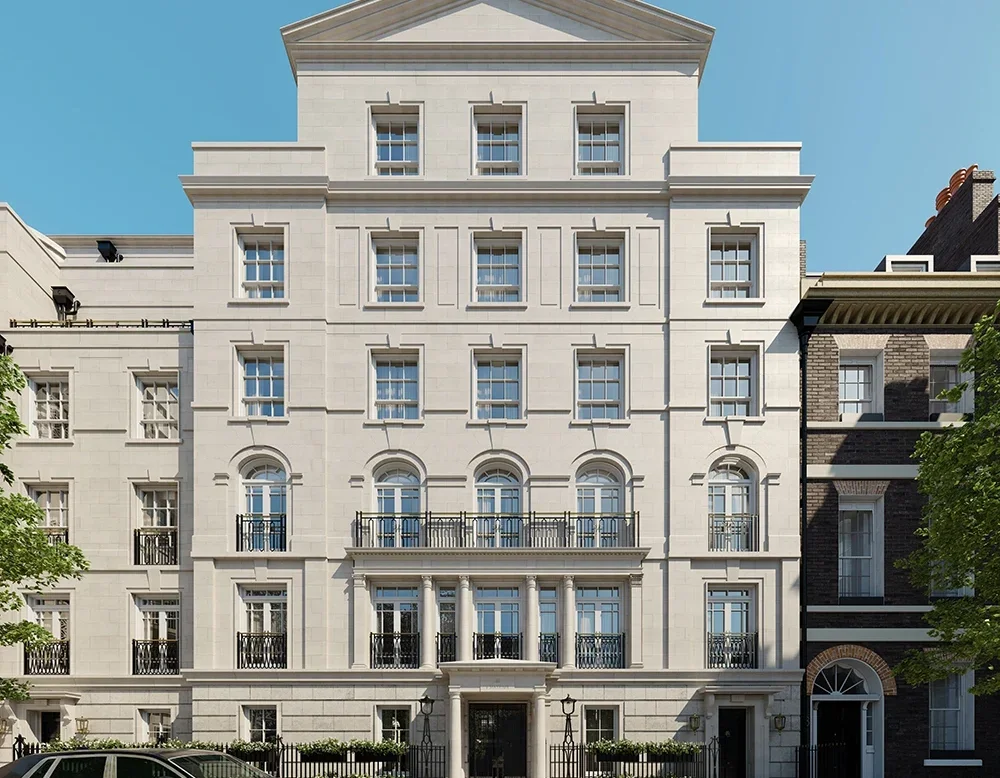 Sales of luxury residential properties over $25 million in London are still far above pre-pandemic levels, new figures show
London is now neck and neck with New York when it comes to sales of 'ultra-prime' properties, despite instability in the housing market and introduction of new transparency regulations.
Knight Frank's newly released 2023 Wealth Report examines key data across 10 global property markets in 2022.
Its findings show that when it comes to 'super-prime' properties – those worth $10 million or more – there were 1,392 residential sales totalling a combined value of $26.3 billion.
This is a decline compared to the record-breaking 2,076 sales of 2021, but is still 50 per cent higher than the 2019 total.
The most recent figures on the rarer ultra-prime category shows 241 properties of $25 million or more sold in 2022, with a combined total of $9.8 billion.
New York vs. London in ultra-prime property
New York holds onto the super-prime top spot, with 244 sales of $10 million-plus properties in 2022. However, the Big Apple's ultra-prime sales have fallen by 36 per cent, Knight Frank's figures show.
Meanwhile ultra-prime sales in London shot up by 25 per cent – its highest level since 2014 – bringing it neck and neck with New York.
Los Angeles also saw strong levels of super and ultra-prime sales, while Geneva and Paris both saw their super-prime sales grow compared to 2021.
'Despite rising economic headwinds and growing uncertainty, the world's wealthy have been committing to luxury residential property, with London and New York the standout cities in demand for ultra-prime sales,' says Liam Bailey, global head of research at Knight Frank. 
Talk of recession has had little effect in dampening the ultra-prime market, with 44 per cent of transactions happening in the second half of the year.
In the UK especially, there were fears that high-value sales could be impacted by economic turbulence, a wobbling property market and the introduction of the UK's register of overseas entities, which requires transparency on property ownership.
But in fact, Bailey says, it appears the opposite is true. 
'For the majority, that market transparency can be an attraction, serving to bolster the UK's reputation for strong governance.'
Global prime residential property
However, 2023 is likely to bring a move towards normalisation, Knight Frank cautions.
While China's return to the market and low inventory will continue to bolster the high-value market, ongoing interest rate changes and currency fluctuations may well see market slowdown in some regions
Across the broader prime market, London is anticipated to fare worse. Dubai, on the other hand, is predicted to lead in price growth, riding on the back of a year of explosive development, with a 44 per cent boost in sales for the city.
Dubai's rapidly growing popularity is coupled with its relatively low prime property price, in comparison to other key markets. Prime property in the City of Gold still averages around $9,500 per square metre, while London and New York are both around $30,000.
Image: 1 Mayfair
More from Spear's
Knight Frank Wealth Report: Fine art tops luxury investment index index 2023
These are the global cities where prime property prices are set to grow
World's billionaire population has fallen, new figures show