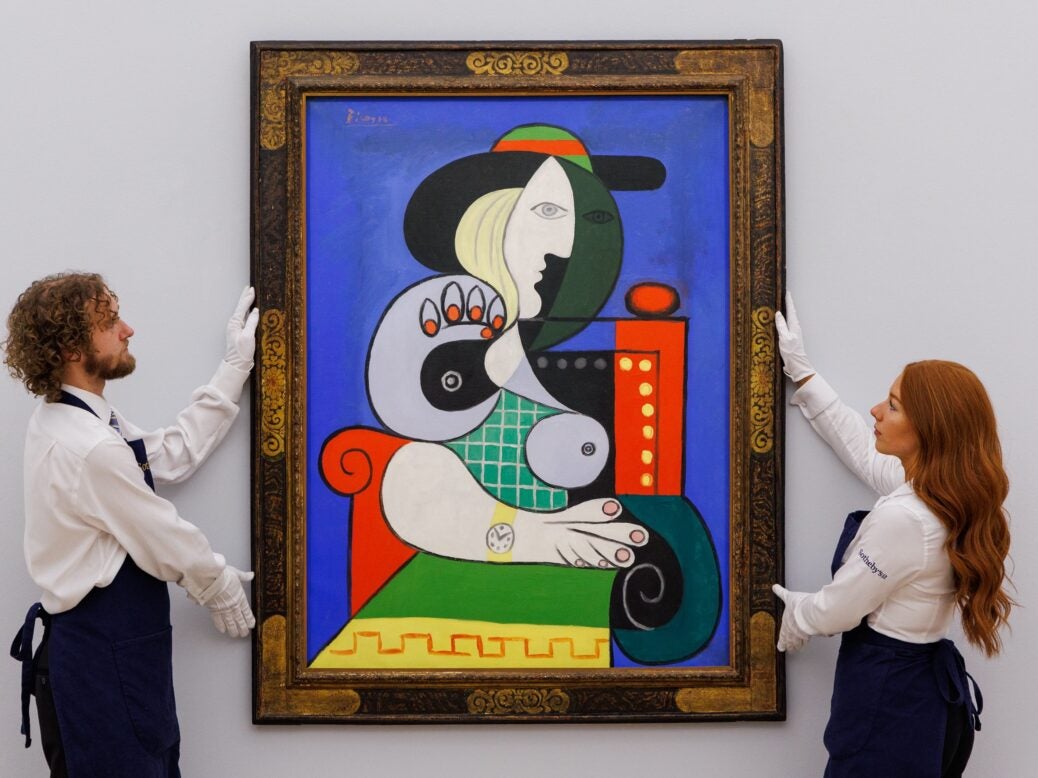 Picasso's Femme à la montre, a vivid portrait of his muse and lover Marie-Thérèse Walter, has sold for $139.4 million, breaking the 2023 art auction record, at Sotheby's New York.
The painting is now the second most expensive piece by the artist ever sold. Les femmes d'Alger sold for $179.4m in 2015.
[See also: Strong art market paints uplifting picture for luxury investments, Knight Frank data shows]
Hailed as a 'masterpiece' and a 'trophy' acquisition, the portrait defined the collection of the late, great American art patron and collector Emily Fisher Landau, who died earlier this year. It was painted in 1932 – a key period in Picasso's personal and professional life. (Indeed, the year was so influential that in 2017-18 the Tate Modern and Musée national Picasso-Paris collaborated on the twin exhibitions 'Picasso 1932'.)
The combination of the piece, time period and provenance is a 'dream combination' from a value perspective, explains Julia Bell, the founding director of Parapluie. Femme à la montre whcih had an estimate over $120 million, was showcased in the UAE and Hong Kong before its London unveiling and will travel to Paris, Taipei and Los Angeles before the auction on 8 November.
Picasso's masterpiece was one of about 120 artworks owned by Emily Fisher Landau, one of the greatest art collectors of the 20th century, sold on Wednesday evening. The Fisher Landau sale, which kicked off the glittering New York autumn auction season, established a new high of $406.4 million.
Picasso's Femme à la montre: a jewel in the crown
Brooke Lampley, Sotheby's Global Chairman, Head of Global Fine Art said: 'One of Emily Fisher Landau's first major purchases, Femme à la Montre is Picasso's Mona Lisa. Painted 1932, when he is preparing for his major retrospective, there's a feeling that he is literally painting his legacy, looking back at the past and reflecting on his own place in art history. The works from this moment are magnum opi meant to represent him at his apogee, which is just what this painting does.'
'Important works from key periods of an artist's oeuvre are always highly sought after, but the added value of the work being part of such a preeminent collection such as Landau's gives it exceptional rarity,' Bell says. 'It clearly had incredible symbolic value to Landau, and hung over her mantlepiece in her home for years,' Bell. 'So you're not just buying a piece of art history, but also into a rich collecting history that you the buyer now becomes indelibly linked to, that is incredibly desirable and coveted by an art collector.'
[See also: Why the Great Wealth Transfer will be a dangerous time for global capitalism]
Thomas Boyd-Bowman, Head of Evening Sales, impressionists and modern art, at Sotheby's London, agrees that Picasso's Femme à la montre, which was on show at the New Bond Street gallery from 7-11 October, represents a 'trophy' to be won. 'It is a masterpiece,' he says. 'That is a much overused word but this is truly a masterpiece and as such, appeals to the most powerful, the most connoisseurial, of collectors. It defines the greatness of Emily Fisher Landau's collection and would therefore define the greatness of any collection of which it is part.' 
Picasso's most important muse
Executed on a grand scale, Femme à la montre is one of a number of works by the artist that feature Walter, who is 'probably Picasso's most important muse, and certainly his most commercially celebrated muse', says Boyd-Bowman. The pair began a relationship when Walter was just a teenager and the artist was living with his first wife, Olga Khokhlova.
[See also: Monaco Yacht Show: Meet SP80, the boat set to break the world sailing speed record]
Boyd-Bowman draws attention to the importance of the watch worn by Walter. (Femme à la montre translates to 'woman with watch'.) The bold splash of the yellow strap depicted on her wrist in the foreground of the painting stands out even among the 'vivid, rich primary colours' that bring the intense portrait to life. Boyd-Bowman explains the wristwatch is both a 'symbol of modernity' and is a reflection of a concept that has fascinated artists for centuries: the depiction of time.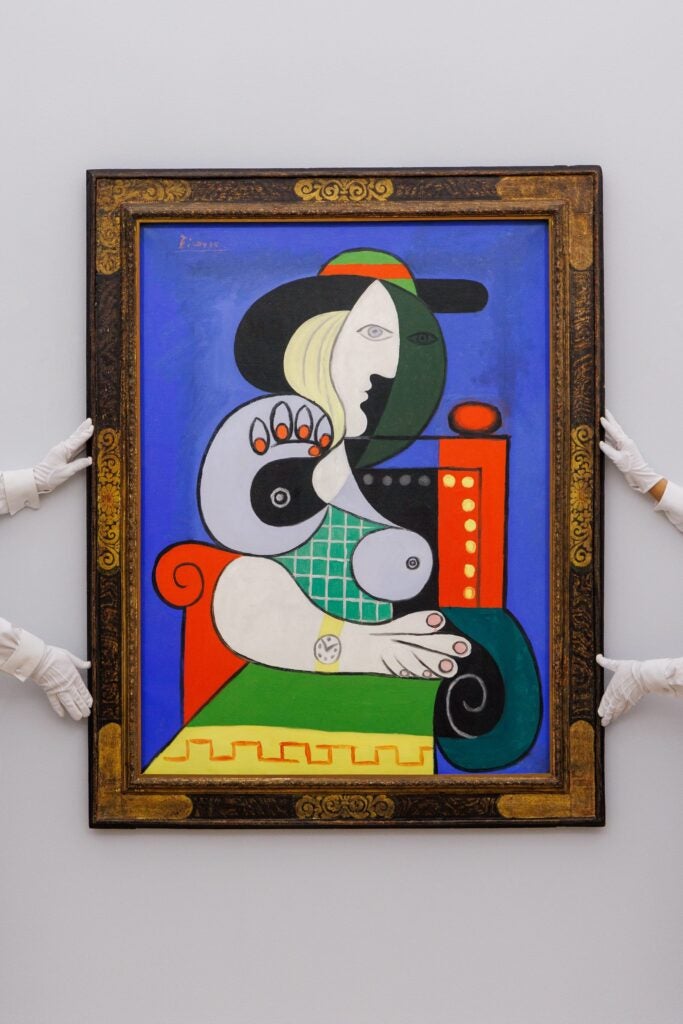 Emerging markets
Femme à la Montre was the star lot in Sotheby's New York's 8 November sale, The Emily Fisher Landau Collection: An Era Defined. Bell notes that the US is strong for works by Picasso but speculates that there could be particular demand from collectors in the UAE, which is seeing rapid growth as an art market centre. The 'first-class provenance' of the piece means it 'should hold its own' at auction despite speculation that the bullish market could be on the turn – and a downwards trend in turnovers at auction houses this year. 
[See also: Why the Rolls-Royce Spectre is the best electric car ever made]
Thomas Reinshagen, an independent art broker who was previously a senior director at Sotheby's in Zurich, notes Picasso has proved 'to be a sustainable inflation-hedge and solid investment over the past decades, independent of the level of prices paid'. He adds, 'Both the rarity and freshness to the market are certainly important drivers of a potential very high price for this masterpiece.'
The importance of ownership
There is a precedent for artworks previously owned by preeminent collectors exceeding presale expectations at auction – and The Fisher Landau Collection was no exception, with sales totalling $406.4 million – making it the most valuable sale devoted to a female collector in auction history.
Bell notes, 'We saw that in the two-part sale of the Macklowe collection at Sotheby's in 2022, and in 2018 with the Rockefeller estate. Both exceptional collections built by exceptional collectors and buyers are attracted to those, they're seen as solid works to purchase.'
[See also: Farewell, Le Gavroche: the end of an era as the Mayfair stalwart prepares to close for good]
Emily Fisher Landau, a well-known figure in the art world whom Boyd-Bowman observes 'stands toe to toe with the other major collectors of her era', died in March aged 102. She had curated one of America's premier collections of contemporary art. Her daughter, Candia Fisher, pledged hundreds of pieces from her collection – which included works by Mark Rothko, Franz Kline, Henri Matisse and Georgia O'Keeffe – to the Whitney Museum in New York, where Landau was a trustee.
Picasso's Femme à la montre will be displayed at Sotheby's London from 7-11 October. The Emily Fisher Landau Collection: An Era Defined will take place at Sotheby's New York on 8 November 2023 at 6pm EST. Click here for more information.
---
Discover more with Spear's