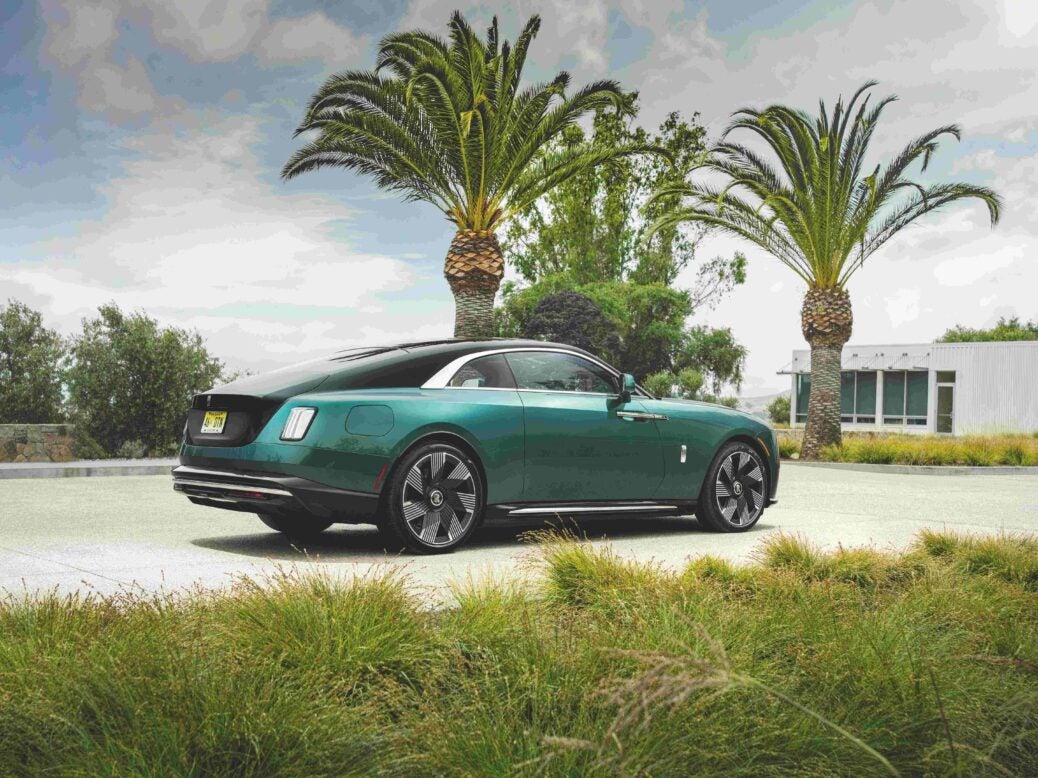 Twenty years ago I flew to California to meet the man with the toughest job in British industry. Tony Gott, an engineer from Stoke-on-Trent, was relaunching the most famous car ever made: the Rolls-Royce Phantom.
Starved of investment for years, Rolls had been overtaken by Mercedes-Benz in the luxury car market. Sales had slumped from 1,000 a year to a few hundred and the car had become more of an 'I have mucho money' spiv-mobile than the ultimate way of driving from A to B. Remember Jimmy Tarbuck's 'Roller' with the COM1C number plate?
[See also: Revving up in style: Concours on London's Savile Row returns for 2023 ]
'My job is to get back to the original, pure vision of engineering excellence, craftsmanship, understated elegance and longevity,' Gott told me when I finally got behind the wheel of his Phantom VII in 2003 in Santa Barbara. That car was hailed as the greatest Rolls-Royce ever made and perhaps the greatest car ever made. British design and engineering smarts, combined with German cash, tech and management (BMW bought the ailing brand in 1998), had saved the day. Just.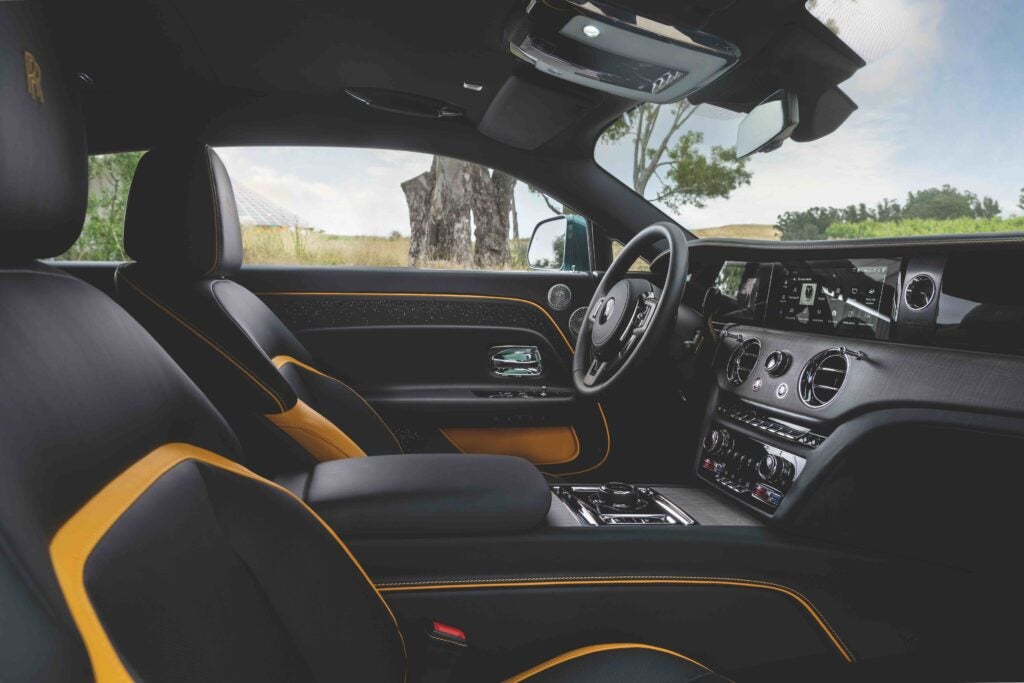 California dreaming
I returned to California this summer to meet Gott's successor, Torsten Müller-Ötvös, and found that everything has changed and nothing has changed. Müller-Ötvös had invited me to drive the first all-electric Rolls-Royce. The marque's date with the future is rather overdue. In 1900 co-founder Charles Rolls predicted cars would be battery-powered 'when fixed charging stations can be arranged'. Better biblically late than never.
[See also: Are Vladislav Doronin's plans for the Aman hotel chain in keeping with its low-key luxury origins?]
Like Gott's Phantom, Spectre redefines Rolls-Royce for a new era. It is not just the greatest coupe ever made, it is the best electric car ever made. Müller-Ötvös could have opted to use the new drivetrain to create an entirely new design. Since EVs have no large engine at the front that needs to be air-cooled (just small electric motors on each wheel) designers are tempted to move the windscreen forward and reduce the size of the grille, as Jaguar did with its I-Pace.
Long, wide and handsome
But design is about creating visual emotion, and there is nothing more thrillingly Rolls-Royce than a long bonnet, with a Pantheon grille topped by the Spirit of Ecstasy flying lady mascot. Yes, it's absurdly un-aerodynamic, not to mention wildly ostentatious during a time of economic crisis and war, but that is what a Rolls-Royce is supposed to be. Its owners care not a jot for the ordinary rhythms of daily life. They just want the best, most luxurious car in the world and they don't care if it costs £500,000 to get it (most Spectres will cost at least that when bespoke features are added).
As Müller-Ötvös told me: 'Over the last years I've seen quite an appetite to flaunt some money – to showcase and enjoy life. Covid changed how people see things – they saw how quickly life can end. That made them think, "Wow, I better live now".'
Spectre makes a huge statement, and not just because it is huge: nearly 18 feet long and seven feet wide, weighing almost three tonnes, rolling on 23-inch wheels. It has the same imposing prow as a Phantom and flanks that look as big as cliffs. The sinuous bonnet, 'shoulder' line beneath the windows and lower 'waft line' just above the door sills flow from front to rear, creating the silhouette of a boat as much as a car. The windscreen and windows are so small they could be on a fighter jet. The snarky front split headlights offset the classic elegance of the backlit grille. The tapered and chamfered tail lamps are minimal, in keeping with all rear decoration on Rolls-Royces.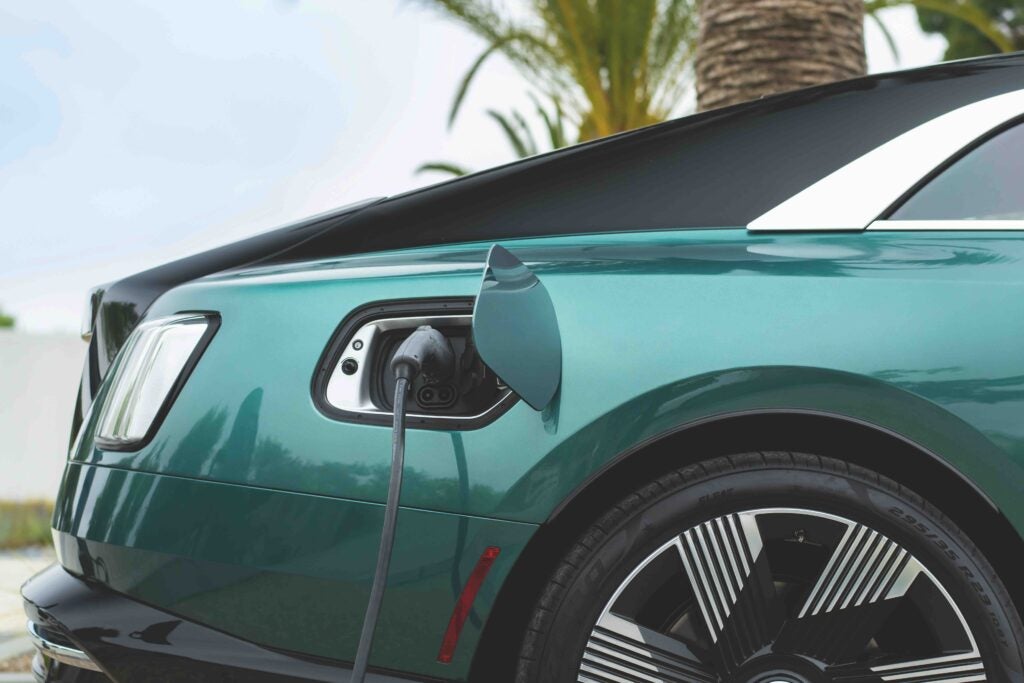 Old-school grandeur
Many manufacturers use electrification as an excuse to turn the cabins of their cars into spaceships. Rolls-Royce remains resolutely analogue, sticking to fields of leather and a forest of timber, a normal-sized touch screen, metal organ stop vents, and rotary knobs. The new indicator noise is said to be a combination of 'the clink of ice cubes in whisky tumblers and the ping of metal from the car's air vents'. This car may be bought by tech geek gazillionaires, but it does not want to become one.
The best thing about any Rolls-Royce is the way it drives. It should not handle like any other car. In fact, you shouldn't feel that you are driving at all; it should be more like sailing on land. The raw, uninterrupted power that gear-free electric motors offer can create whiplash-fast acceleration – not very Rolls. So director of engineering Dr Mihiar Ayoubi has built a few milliseconds of delay into the Spectre's acceleration. When you press the 'gas' pedal it feels just like the usual V12 engine is winding itself up for a fast – but smooth – rush to the horizon.
Purists say they miss the 6.75-litre petrol motor. I think they're making it up as you couldn't hear it anyway. Silence is Rolls-Royce's ultimate luxury. Besides, when you want to 'proceed with purpose' in Rolls-Royce parlance, the 430kW electric motors propel the car from 0 to 62mph in 4.5 seconds. The low centre of gravity, active air suspension with electromechanical anti-roll bars, and all-wheel steering mean you can hurl your way around corners with almost alarming ease. I know this because I raced up and down Mount St Helena in Napa Valley. Many times.
Not everything is just so. The 300-odd-mile range could be better, but I guess Rolls' buyers have no anxiety at all – not even range anxiety. The regenerative braking, if you choose to activate it, interrupts the 'land yacht' ride. The front windscreen side pillars are so chunky that visibility can feel tight. Oddest of all for the best car in the world, Spectre doesn't come with the fastest charger on the market – it's 400V, not 800V. Even the Kia EV6 has 800V. A fast charge to 80 per cent takes more than half an hour.
But I suspect most buyers will forgive the car these sins because, overall, it will make them feel like I did when I got out of the Phantom VII in 2003. I wanted to get straight back in again and drive it 'til dawn.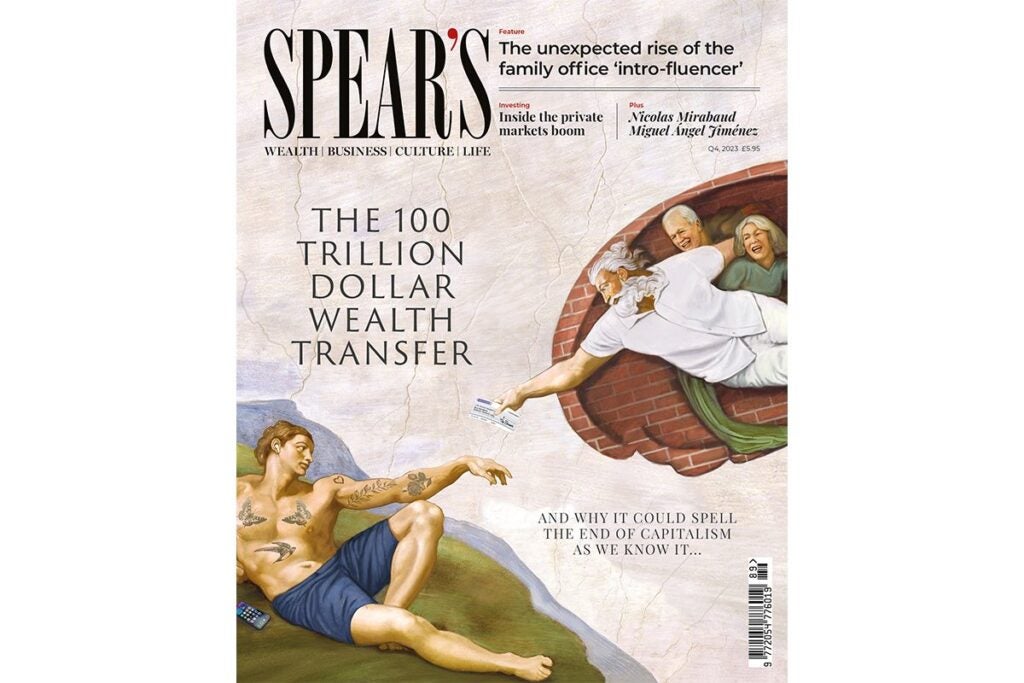 This column first appeared in issue 89 of Spear's, available now. Click here to buy a copy and subscribe