The Spear's Awards 2023 School of the Year, presented in association with Thuso, was awarded to the British School of Brussels.
The school triumphed over an impressive shortlist featuring British private school stalwarts Benenden, Brighton College, Charterhouse, Sevenoaks School and Wycombe Abbey, as well as international power-players Dulwich College (Singapore) and Pembroke House, in Kenya.
School of the Year was one of 18 categories recognised at the awards ceremony, which unfolded in glamorous fashion at The Landmark London.
Read on to discover what made the British School of Brussels special and learn more about the finalists.
School of the Year Winner
The British School of Brussels
[See also: why the British School of Brussels is top of the class]
No two educations are the same at the British School of Brussels, with students able to study for the International Baccalaureate (IB), A levels and BTECs.
The school is rightly proud of its consistently outstanding academic results, having recorded a 100 per cent pass rate in IB results for three years running, with a 38-point average across that timeframe.
Around 50 per cent of all students achieved A-A grades in A Levels in 2022 – no mean feat given it is a non-selective school and English is a second language for many students. BSB is a truly international school, with more than 70 nationalities represented and 90 per cent of students from hailing outside Belgium.
The school welcomed more than 50 Ukrainian students after they were forced to flee the conflict in their country in 2022.
BSB says it aims to 'develop confident, caring, and courageous students who engage actively, ethically, and purposefully with the world around us'.
School of the Year finalists
Benenden School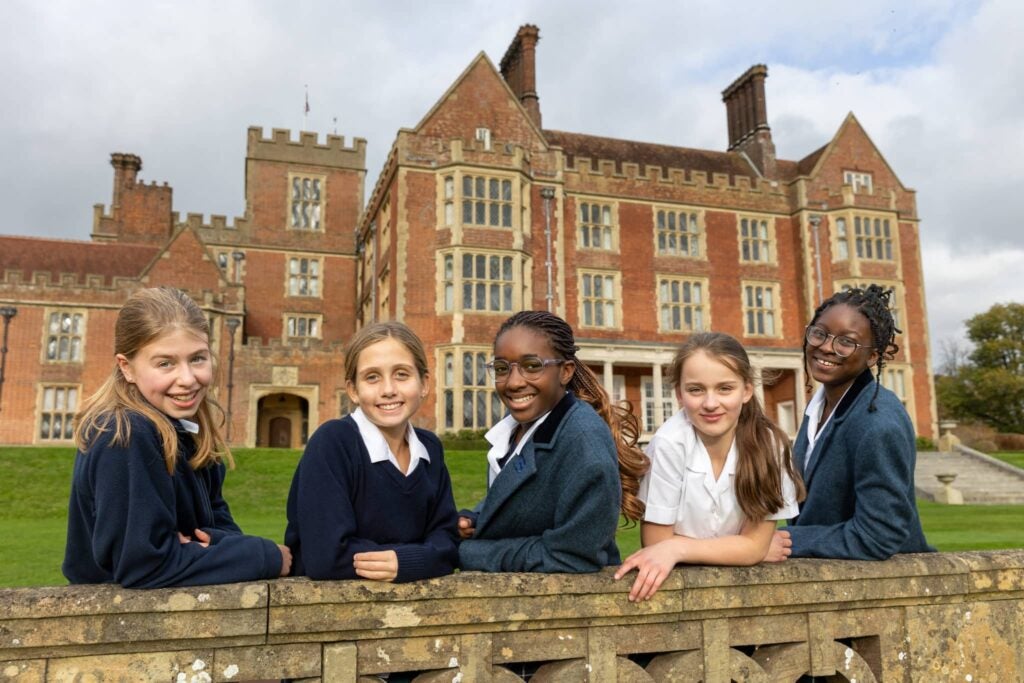 Under the leadership of Samantha Price, Benenden has further cemented its place at the forefront of British girls' education.
The boarding school for girls aged 11 – 18 has created its own 'International Baccalaureate hybrid' curriculum for Years 7 and 8, and offers over 25 subjects at A level. A popular Dragons Den-style challenge in the 6th Form gives students a taste of skills required in the workplace. 
[See also: Eton's new provost: how will Sir Nicholas Coleridge shape the school?]
The school expanded its curriculum this year with the introduction of Electives Programme that encourages 'learning for the love of learning' through subjects such as The Science of Happiness and British Sign Language.
Benenden's holistic approach ensures that, while academic success is important, the school strives to give pupils a more rounded education.
The Scholars' Programme now allows students to pursue innovative passion projects, while the Diploma, the basis of the Lower School curriculum, has a greater focus on practical skills for the future at the heart of every subject.
Students' welfare is integral to the school, with weekend wellbeing days featuring relaxing and reflective activities and a range of physical fitness sessions forming a key part of the school week.
Brighton College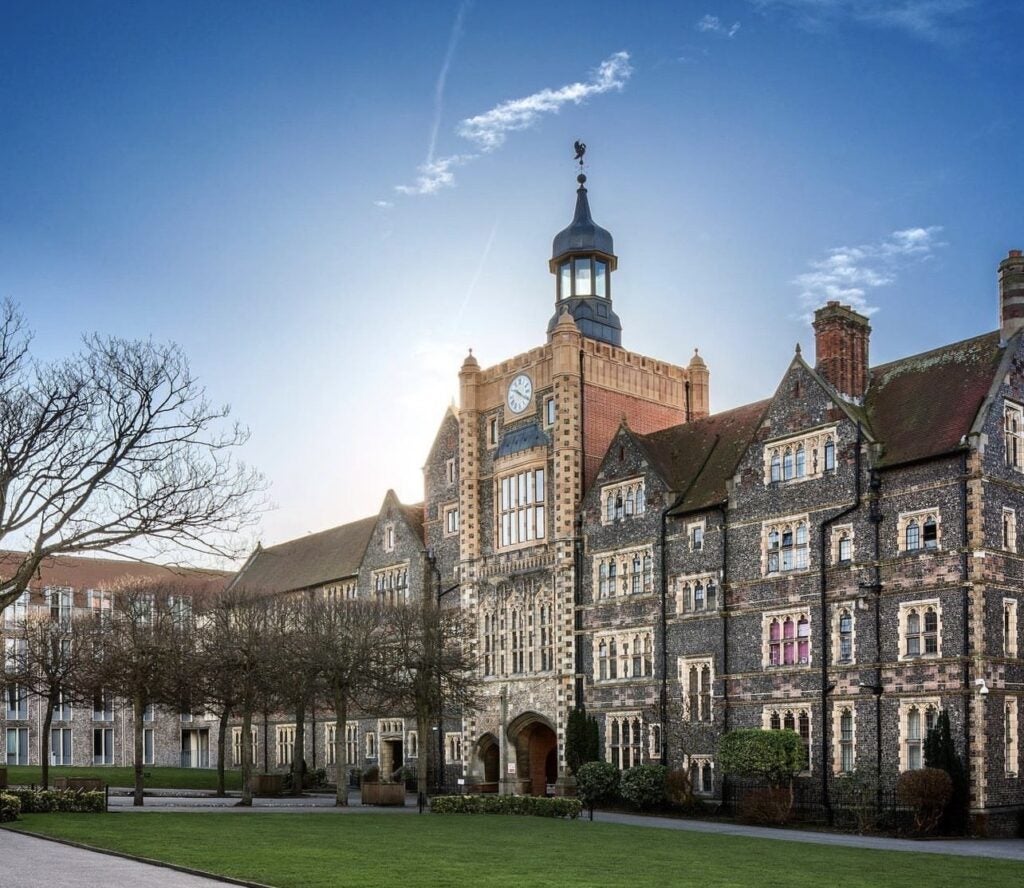 Excellence is at the heart of Brighton College, with 98 per cent of students achieving A-B at A level in 2022. The school also excelled at GCSE level, with 94 per cent of pupils gaining 9-7/A-A.
A co-educational boarding and day public school for boys and girls aged 3 to 18, Brighton College pupils go on to study at the world's top universities, supported by a dedicated team, with students able to take advantage of several bespoke programmes that prepare for university entrance tests and interviews.
[See also: Should you send your child to an elite boarding school?]
The school prides itself not just on its academic success but also on being a community established on kindness and nurturing. The school has weekly mindfulness and yoga classes, meditation workshops and the Brighton Five-A-Day programme to encourage a proactive approach to health. There is an on-site health centre, open 24/7 for all members of the school community.
Charterhouse
An independent boarding and day school for for boys and girls aged 13 to 18, Charterhouse's outstanding academic courses provide students with the option of completing the IB Diploma Programme or A level, ensuring an education that will fit the student's needs and equip them for their best future.
While the school's excellent academic records speaks for itself, it recognises that this is not all that matters for university and beyond, and offers students a greater number of co-curricular, cultural and well-being programmes than ever before.
Every element of a Charterhouse education focuses on the whole person, giving each student a 'toolkit' of knowledge, skills and values to enable them to thrive in life.
Students enjoy one of the best campuses in the country, with 17 grass sports pitches, three Astroturf pitches, an athletics stadium, a sports centre, 24 tennis courts and a nine‑hole golf course, not to mention beautiful lawns and gardens.
The £2.85 million 'Hub' is slated to open soon and will be the home of Charterhouse's courses in transferable skills, the world of work, personal development and financial/commercial literacy.
Dulwich College (Singapore)
With links to one of the UK's most respected independent schools, Dulwich College (Singapore) has shown outstanding excellence over the past year with an impressive average IBDP score of 38.9; the school ranks 15th globally among schools exclusively delivering the International Baccalaureate diploma.
Dulwich College (Singapore) became the first school to adopt the compassionate systems framework, an MIT-developed educational reform project that nurtures compassion, empathy and kindness in students and also equips them with deep thinking skills for their adult lives. They now share the project with other schools.
It was also the first international school group to produce an Environmental, Social, and Governance (ESG) Report, highlighting its sustainability efforts.
Pembroke House School
Standing in the heart of the Rift Valley in Kenya, Pembroke House stands apart, not only for its remarkable geographical location but for its legendary 'Pembroke Spirit'. Pembroke House pupils are 'curious, show rigour and grit, voice their own opinions and place the community at the heart of the school', the school says.
A British co-educational boarding school of around 200 pupils aged six months to 13 years, Pembroke House gives the benefit of a truly 'outdoor' education. There is the 140-acre campus where pupils build shacks and ride ponies, and camping trips to the Maasai Mara. With one of the greatest national parks on their doorsteps, it is perhaps not surprising that wildlife conservation is at the forefront of their learning.
For almost 100 years, the school has been educating children not just from within Kenya but increasingly further afield. There are now 28 different nationalities on its books and an almost equal gender split.
Sevenoaks School
Standing on a 100-acre campus in Kent, Sevenoaks is a world-leading IB school that encourages students to combine their knowledge, passions and philanthropic values.
The 600-year-old school doesn't rest on its traditions. In 2023, new initiatives were introduced to support happiness and life satisfaction; mental and physical health; meaning and purpose; character and virtue; and close social relationships.
The IB Diploma Programme draws families from all over the world – there are 70 nationalities represented at the school – while the history, location and day student body ensure that the school remains firmly grounded in the local community.
Sevenoaks, a co-educational private school, is committed to making the school more accessible through free and assisted places.
Wycombe Abbey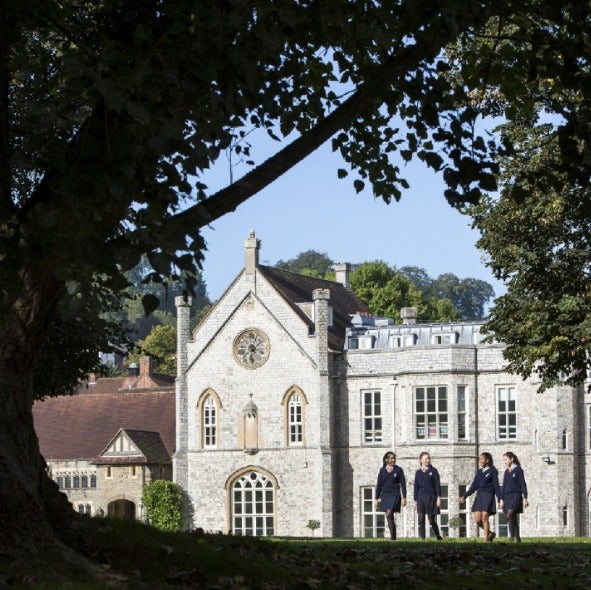 Wycombe Abbey, a boarding school for girls aged 11-18, has more than 125 years' experience educating young women. Built on 170 acres of parkland, the school was founded by pioneering Cambridge graduate, Miss Dove and more than a century later it maintains its reputation for academic excellence and fostering curiosity, innovation and a delight in learning. 
[See also: Lessons from Rosenberg, the most expensive school in the world]
While renowned for its academic excellence and outstanding results, Wycombe Abbey's co-curricular programme puts as much emphasis on activities outside the classroom as within. The school embraces the full boarding ethos, which, the school says, gives girls space to carve out a unique learning path.
Its approach to boarding is sympathetic to the needs of today's families and girls have the opportunity to go home regularly, while parents are actively involved in school events and activities.
For a comprehensive list of the world's top private schools, visit the Spear's 500.
The Spear's Awards are the premier awards event for the world of private wealth. Having been established more than a decade ago, they recognise entrepreneurs, philanthropists and leading figures from the private client industry, in fields from wealth management and private banking to law, property, tax and more.

Previous award winners include telecoms entrepreneur Strive Masiyiwa; Sir Richard Branson; Peter Lürssen of superyacht builder Lürssen; Travelex founder and philanthropist Sir Lloyd Dorfman; Goldman Sachs Private Wealth Management team; high-profile family lawyer Catherine Bedford; and the key lawyer behind the 'Wagatha Christie' case, Paul Lunt.

This year's awards received hundreds of submissions, which were assessed by the Spear's Research Unit and by a carefully selected judging panel of industry experts.
The 2023 Spear's Awards are presented in association with:
St. James's Place Private Clients
With drinks provided by: Blackeye Gin
To find our more about The Spear's Awards, click here.