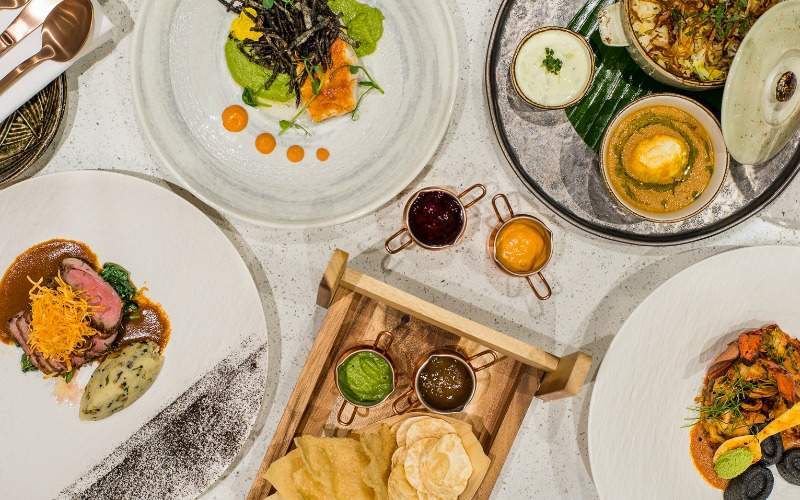 A restaurant in Marylebone takes Rasika Sittamparam on a nostalgic journey through South Indian dishes, à la haute cuisine
On the former site of Galvin Bistrot de Luxe on Baker Street, Ooty has emerged to sing the praises of the hinterlands of London's Indian cuisine. Forget the Vindaloos, the Kurmas and the Tikka Masalas of India's north, and step into the territories of sharply spiced, sweet, tangy and coconutty curries and rice crepes of the south.
I stepped into the pleasantly green and pink décor with glee, as I'd never seen South Indian food served in fine dining style. I'd been to the increasingly popular Hoppers before, but the vibes were much clubbier.
I couldn't imagine bringing my parents of South Indian descent there – but the understated charm and lounge music of Ooty brought a sense of relief. Mum and Dad would like a genteel evening here one day – the green banquettes, pink chairs and the garden-themed wallpaper are gently pleasing touches.
The décor and name of Ooty is inspired by a highland hill town of the same name located in the Indian state of Tamil Nadu, where the weather is perpetually pleasant and spring-like. The East India Company captured the territory and turned it into a landscape with mesmerising gardens and tea plantations at the end of the 18th century. Here, they escaped the equatorial heat, and strolled through the terraced botanical garden – a playground and home away from home for the first Governor-General of India and several others.
The sun had finally set on the British Empire, but debut restaurateurs Pooja Nayak and Aseela Goenka didn't want memories of the hilltop to vanish. It was their idea to bring Ooty into London's restaurant scene, hitherto dominated by the kings of North Indian cooking.
The restaurant doesn't only feature the main dining room, but has a colonial-style bar downstairs serving delicious cocktails (try their version of pina colada with a dash of chilli) and the Ooty Station, another more casual bar with a range of street food-style snacks you can enjoy with cricket playing on two screens.
I had a bite of the soft steamed rice patty (idli), covered in the most tantalisingly tomatoey, sweet, sour and spicy sauce here. I had to mentally apologise to my grandma in heaven as the dish was actually better than her rendition, which she routinely made for breakfast during my childhood.
I recognised the Michelin-credentials of the food and wondered about who made them. Back in the dining room, I was reminded by the general manager that Manmeet Singh Bali is at Ooty's helm, a former right-hand man to Vineet Bhatia at his former Michelin-starred restaurants VBL and Rasoi in Chelsea. I instantly remembered my trip to VBL Chelsea last year and the theatrics of its fusion-Indian cuisine. Think spirals of bright-orange sauce on broken plates, edible foil and crackers with a deep purple hue.
At Ooty, Manmeet shows off the tricks he's learnt from Bhatia (who's been described as 'the Gandhi of British Indian cuisine' to me), but in a more refined and authentic way. The Tellicherry soft shell crab fry from Kerala combined memories of the sea with the flavours of sun-soaked tomatoes, with notes of sweet coconut cream throughout.
One plate was not enough, but the wine I was given to wash it down with cheered me instantly. It was wine made with both grapes and mango – an unusually pleasant concoction with the right amount of dryness to neutralise a fishy palette. The manager whispered to me that other restaurants were pestering him for introductions to its Pune-based producer. I wanted to know more, but alas, two other dishes arrived.
The kori gassi is a dish from Mangalore, a city in the state of Karnataka, not too far from Ooty. The steaming hot chicken curry, with coconut flakes, is paired with string hoppers – spongy white noodle-like clusters made from rice flour. Each mouthful built up to three distinctive levels of flavours. The curry at first tasted flatly of the base spices such as cumin and coriander, but morphed into a savoury, creamy and sweet concoction. The finale was a peppery emulsion, with lingering flavours of peripheral spices and chicken jus.
What was more outstanding was the presentation of the Tellicherry pepper duck which arrived, dusted with squid-ink-like powder, an extremely delicious puddle of savoury, peppery, curry made with toddy (palm liquour), buttery upma (vermicelli grains) dotted with cumin and olives, chilli potato curls and a tender slice of duck resting on a bed of spinach. It was heaven on a plate, and my second large glass of the mysterious mango wine was its perfect match.
There were more delicious things to reach out for on the menu, but I resorted to end it all on a sweet note before it became overwhelming. I opted for rice pudding topped with a slice of caramelised pineapple. This slice was a little difficult to chew on, but the rest of the dish was quickly consumed. Notes of smoked cardamom from the pudding base and black sesame from the accompanying ice cream was satisfyingly washed down with Lapsang Suchong tea. I instantly wished I could be teleported to India's Ooty, as I stepped back into the realms of London's Baker Street.
Rasika Sittamparam is senior researcher at Spear's
Read more: