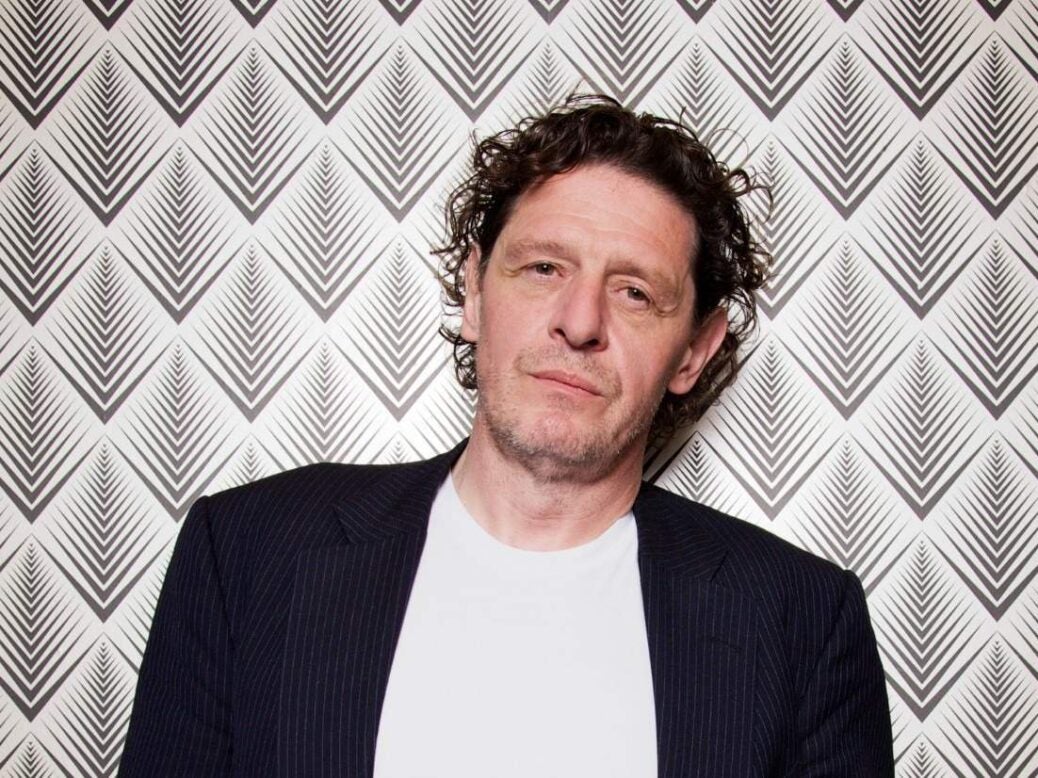 While Marco Pierre White's former life becomes a Hollywood movie, the man himself tells us he has found happiness away from it all, writes William Sitwell
It was in 1995 that Marco Pierre White cemented his reputation as a serious chef. There were always the stories about him. Ever since his restaurant Harveys opened by Wandsworth Common in 1987, news of his antics had found their way into the newspapers.
He was the fiery cook who slung out customers he didn't appreciate. There were tales of a brutal regime in the kitchen, of imperfect cheese trolleys flung against the wall, of chefs complaining of the heat finding Marco slashing holes in their chefs' whites for some economic air conditioning.
Chefs were dispatched as often as the menu changed, and there was White himself. The brooding, long-haired, moody, fag-in-mouth rock star himself. But for serious aficionados of gastronomy, what was important was the decision, in January 1995, by Michelin to award White a third star.
At 33 years of age, he became not just the first British chef to receive such an accolade, but also the youngest ever. The working-class boy from Leeds had achieved his dream. In his late teens he had taken a job at the St George Hotel in Harrogate. When he wasn't peeling potatoes, he was cleaning shoes.
Passing through the hotel lounge, he had spotted an intriguing little red book. With no senior member of staff lurking, he picked it up and had a peek. He leafed through the pages, looking in wonder at descriptions of restaurants that seemed to exist in a different world.
The best ones had stars, accolades that were few and far between. It lit a fire in the young man's heart and that evening he peeled those vegetables with a little more determination than usual. Soon he became overwhelmed with a burning sense of ambition. 'Money was not a concern,' he once told me. 'My success would be measured in stars.'
Uncle Albert
Having gained work at a respectable West Yorkshire restaurant – the Box Tree in Ilkley – he soon made the journey to London. He found out where the office of Le Gavroche was. Albert Roux seemed impressed by this young man.
'Report here on Tuesday,' he told him. And his journey towards the Michelin dream continued. In fact he once told Roux: 'If I don't get three stars, I'll throw myself in the Thames.' When, 15 years later, he reached his goal, he was sanguine.
'To win a star was rare. Two win two stars was rarer. To be told I'd won three stars… it was the end of my race.' He held those stars for five years and then, in November 1999, he put a call through to Michelin and told them he was stopping cooking. 'Please don't put me in your next guide.' That day, he went from chef to restaurateur, and in the ensuing years he has opened restaurants across the UK and overseas.
He now has 80 in this country and recently collaborated with his one-time mentor, Pierre Koffmann, to open a bistro in Bath. Meanwhile, the media has given him no end of coverage, with tales of his personal life – marriages not 100 per cent successful – and the wild antics of his offspring.
Today White has left the city life and is in the countryside, where he owns a hotel a few miles from Bath, the Rudloe Arms. And he avoids the press. 'I'm not seen in public. I don't go to parties, or gatherings or premieres,' he tells me. 'I have learnt that privacy is freedom. I live in the middle of a field. I spend my days with blacksmiths and thatchers and craftsmen who can build a dry-stone wall. And this is the first interview I have given in a very long time.' And so he lives in the 14-acre grounds of his hotel and he has pigs, sheep and Aberdeen Angus cattle.
He goes to bed late and gets up early. Very early. 'I was up at quarter to four this morning,' he says. 'My day will normally start between 2 and 4am, and at that time of day I usually call the restaurant I have in Singapore [the English House, set in 19th-century splendour in the neighbourhood of Robertson Quay]. We discuss the previous day's takings.' At 6.30am he'll meet his head chef of Rudloe and chat about menus. 'We produce all our own sausages and bacon,' he explains. 'We gather apples and pears. Every day is a new day and we do something new.'
Then he spends the mornings on plans for the estate. New fences, paths through the woods, walls, the thatching of outbuildings. 'My decision-making processes these days are slow,' he says. 'That way I make fewer mistakes. 'When I was young, before the idea of being a chef came into my mind, I dreamed of being a gamekeeper or a river keeper,' he says.
So being in the countryside settles him – as does being near Bath, which he says is his favourite city. 'Maybe it's my Italian roots,' he jokes (his mother was Italian). White is also just 15 minutes' drive from the new Bath bistro, Koffmann and Mr White's at the Abbey Hotel. 'We go back nearly 35 years,' he says of Koffmann. 'In 1984 I went for an interview with him. He told me there were no interviews. I said I'd work for nothing, so he gave me a job! I worked for three weeks for free and then he put me on the wage roll at La Tante Claire.'
Two Pierres
Koffmann taught the young Marco 'simplicity. He was very calm, very quiet and very intelligent,' he says. He was also taught the art of cooking by plate, which he then finessed at Harveys, the extraordinary art – theatre even – of every chef working to create an individual plate; the manic art of making sauces from scratch for each dish. Very far from the ubiquitous tasting menus of today.
'Too many chefs these days are just turning out canapes,' he says. 'The waiter brings some little nibbles. He tells you what it is, tells you how to eat it, and then three minutes later comes back to ask you how it was. I don't want to have dinner with the waiter! 'Most smart restaurants these days serve tepid or lukewarm underseasoned food, they give you no choice, and it's all overrated.'
As White ponders the modern food scene, he is also looking seriously at his own life. Ridley Scott is lined up to direct a biopic featuring Russell Crowe, whom White has visited at his farm outside Sydney. 'He's set to play the third Marco, with maybe Michael Fassbender as the second,' he says.
On one visit, White was asked to draw a plan of his Harveys kitchen, presumably for a set design. It's a promising project. But while it rumbles on, he will stay rooted to Rudloe. 'I love the British climate. I like the emotional impact of feeling wind and rain on my face.' He pauses and looks up at me.
'You know, William, I've never been happier in my life.'
This article originally appeared in issue 66 of Spear's magazine. Click here to buy. 
READ MORE
ANALYSIS: Wealth managers react as eurozone 'recession' looms
Switzerland: Stuck in the middle with EU.
Lloyd Dorfman on UHNWs: 'You don't see a huge number giving'