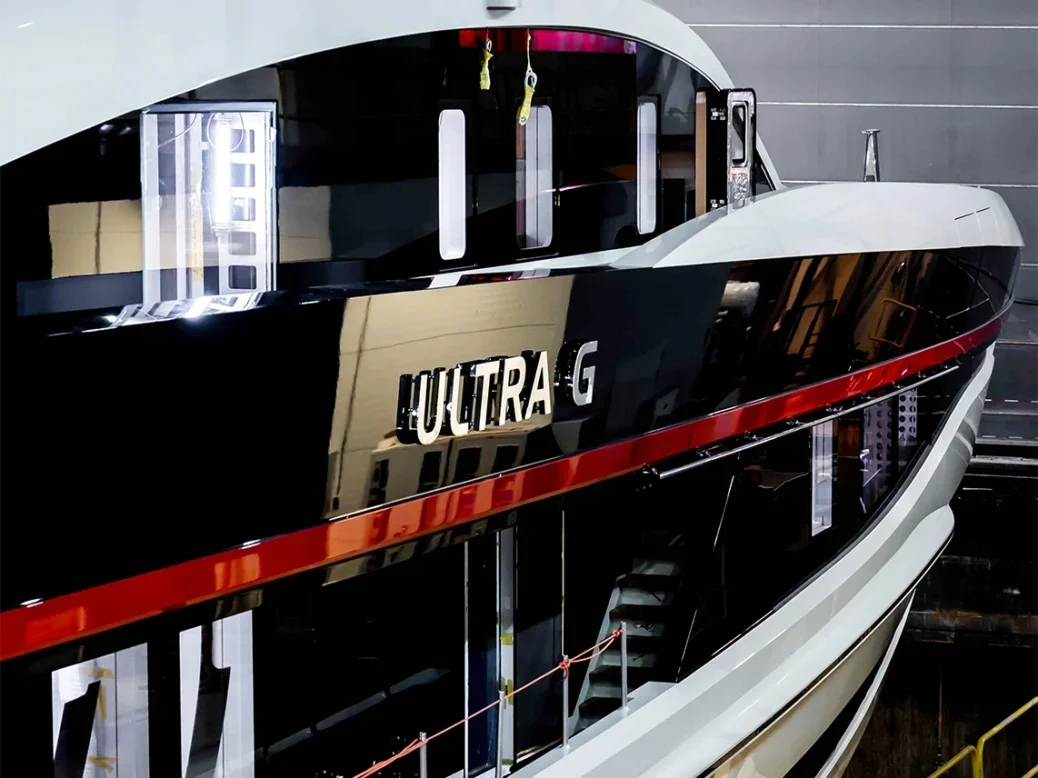 Superyacht maker Heesen has unveiled the Ultra G – the shipbuilder's most powerful creation yet 
An otherwise unremarkable city one hour's drive from Amsterdam, Oss isn't typically spoken about in the same breath as Monaco or Cannes.
Yet for much of the past 40 years, this Dutch city has developed a strong connection to the luxury destinations of the French riviera and beyond.
Since 1978, it has been the home of Heesen Yachts: a shipbuilding company that has produced many of the world's most extravagant – and fastest – superyachts.
Heesen has now unveiled its latest creation, billed at its most powerful yet – and christened, as of last month, Ultra G.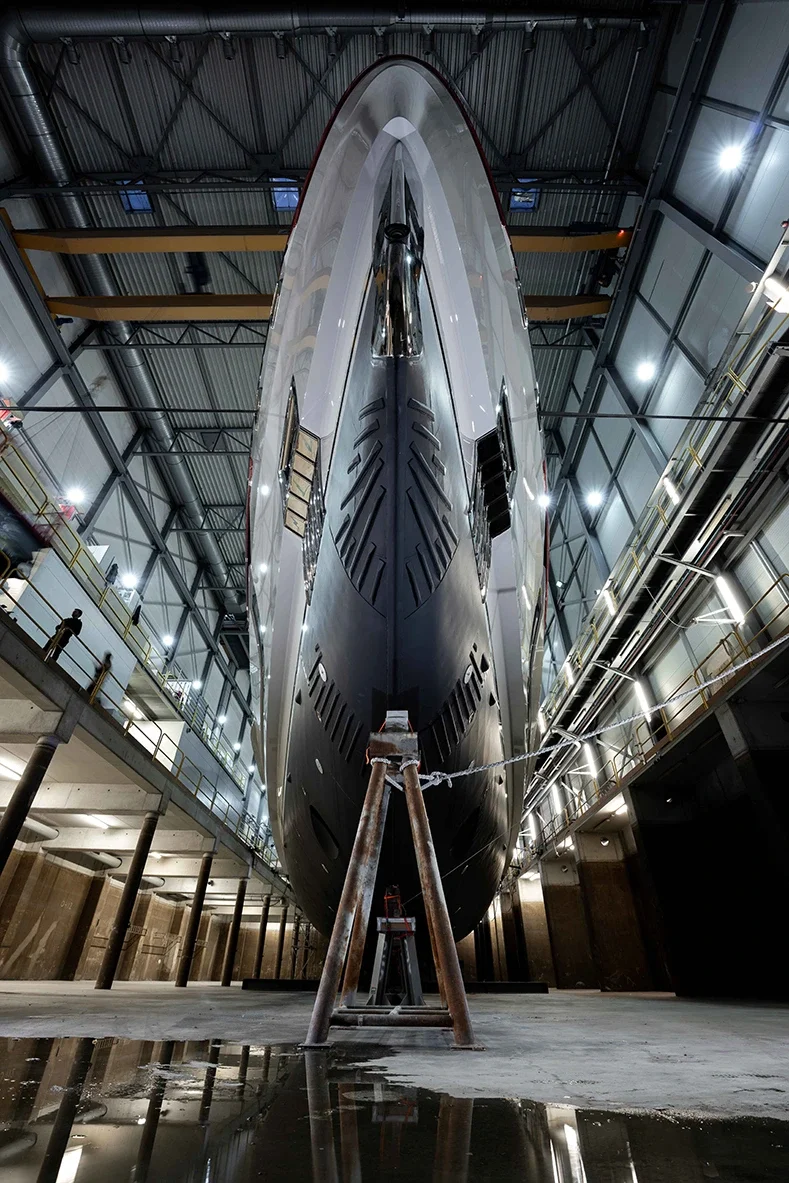 'Ultra G's thunder will come from 22,000 horsepower generated by four MTU 20V 4000 engines,' says Heesen engineer Ronald van Rossum.
'Thanks to her lightweight aluminium Fast Displacement Hull Form, complete with course fins and interceptor trim plates, Ultra G will reach an extraordinary top speed of 37 knots in light load conditions.'
For all its fearsome power, though, the 67-metre yacht takes the environment seriously – having been built in line with the IMO's new Tier III standards.
Ultra G: Wine, dogs and walk-in wardrobes
Outside of the engine room, the focus is on delivering the ultimate luxury experience in line with the tastes of Ultra G's UHNW buyer.
'We cater to clients who want to save time without compromising on quality,' says Heesen's chief executive, Arthur Brouwer.
'Our buyers are typically UHNWs who desire a unique yacht that is the true expression of their personality and lifestyle.'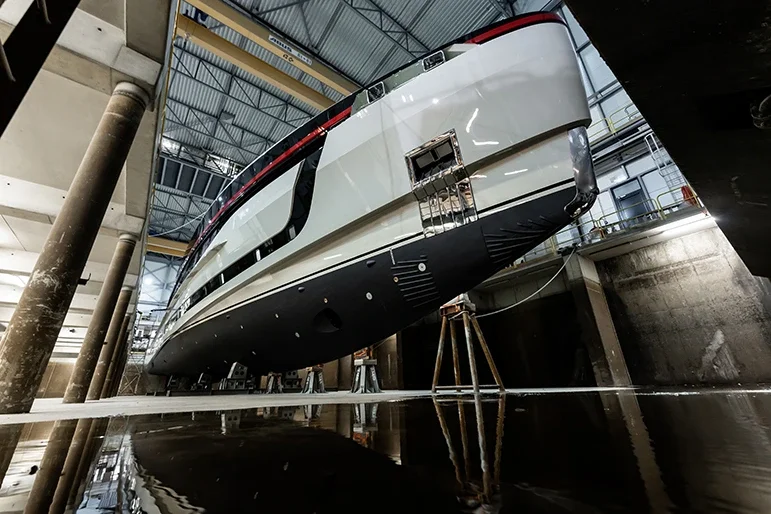 While Heesen maintains tight-lipped about its clients, Brouwer points out one unique feature that may provide a clue (or at least rule out some names).
The interior layout of the superyacht has been designed to be as dog-friendly as possible, with hi-tech features intended to ensure maximum comfort for canine passengers.
Perhaps the most novel is the custom-built 'relief area': a self-flushing area of the side deck finished with synthetic grass, and complete with sensors, cameras and sprinklers.
Elsewhere, the yacht boasts all the perks that have become synonymous with this most exclusive of luxury assets.
Features include a jacuzzi, a spacious walk-in wardrobe, and a large bathroom with a central oval bath and separate shower stall.
Meanwhile a custom wine fridge, with discrete sections at different temperatures, sits pride of place in the main saloon.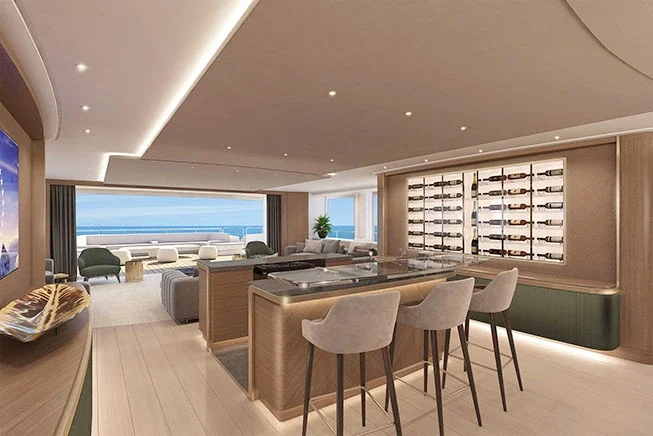 Ultra G isn't the Heesen first superyacht to push the boundaries of what's possible at sea.
At the 2017 Monaco YachtShow, the company unveiled Home: the world's first superyacht equipped for silent cruising.
The 49.8 metre vessel uses a hybrid diesel and electrical engine capable of cruising at just 50 decibels (about as loud as a domestic refrigerator).
Last year's Monaco Yacht Show saw the launch of Lusine, a 60-metre vessel featuring exterior lines by Omega Architects (who also partnered on Ultra G).
The ultra-prime vessel – which features a helipad – is estimated to be in the top 5 per cent of yachts in the world by overall length.
She boasts some eight bedrooms, capable of accommodating 16 guests, as well as living quarters for 14 crew members.
The superyacht is reportedly owned by Sheikh Ahmed bin Saeed Al Maktoum – a senior member of Dubai's royal family and the chief executive of Emirates Group.
Are superyachts on course for 2023?
Heesen's chief executive, Arthur Brower, tells Spear's that the company currently has 15 yachts under construction – four of which will be launched in 2023.
Like other shipbuilders, the company will have been encouraged by recent signs that the superyacht industry has exited the pandemic era in rude health.
According to industry specialists Superyacht Times, more vessels were purchased in 2021 than any other year since the financial crash of 2008.
 

View this post on Instagram

 
The latest data shows that 226 yachts over 30 metres were sold last year – a 27 per cent drop on the record breaking year of 2021.
'The results for 2022 still make it into the top five of sales years,' says Ralph Dazert, head of intelligence for Superyacht Times.
Market-watchers say the industry has been a beneficiary of the pandemic wealth boom – as surging asset prices have boosted the net worth of UHNWs and HNWs.
Do Russian buyers still dominate superyachts?
In early 2022, however, the superyacht industry was unwittingly thrust into the spotlight – with the seizure of some vessels following Russia's invasion of Ukraine.
It isn't the industry's only link to Russia. Until spring 2022, Heesen itself was owned by Vagit Alekperov – the Russian oil magnate currently subject to EU sanctions.
Alekperov has since transferred his ownership to an independent Dutch foundation.
But while the image of the superyacht-dwelling oligarch may have cemented itself in the public information, data from the specialist trade publication suggests a more nuanced picture.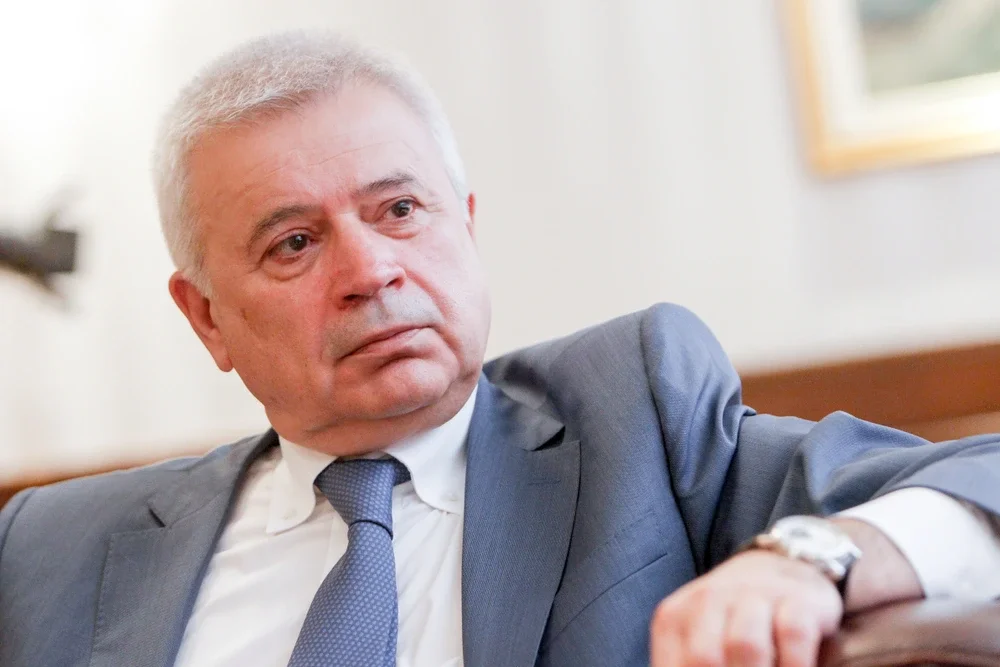 As of the end of December 2021, Russian nationals owned 9 per cent of all superyachts.
US and Canadian nationals make up the single largest group of owners, with around one quarter of all superyachts.
The picture changes, though, when ownership is restricted to the very largest yachts – i.e. those more than 80 metres long.
For those ultra-prime yachts, Russian owners are the second largest nationality (after Gulf nationals) – owning around one in five vessels.
So what might the future hold for superyacht sales?
'For 2023, we see a number of factors which could dampen sales,' says Ralph Dazert.
'As well as the tougher economic outlook, you have an absence of Russian buyers and long delays at shipyards.'
'Despite that, we are still counting on some 150 new yacht sales for 2023, despite the aforementioned challenges.'
In the Heesen shipyard, the intricate and heavy work will continue. Expect to see the results at a yacht show before long.
Ultra G images / Heesen
Order your copy of The Spear's 500 2023 here.
More from Spear's