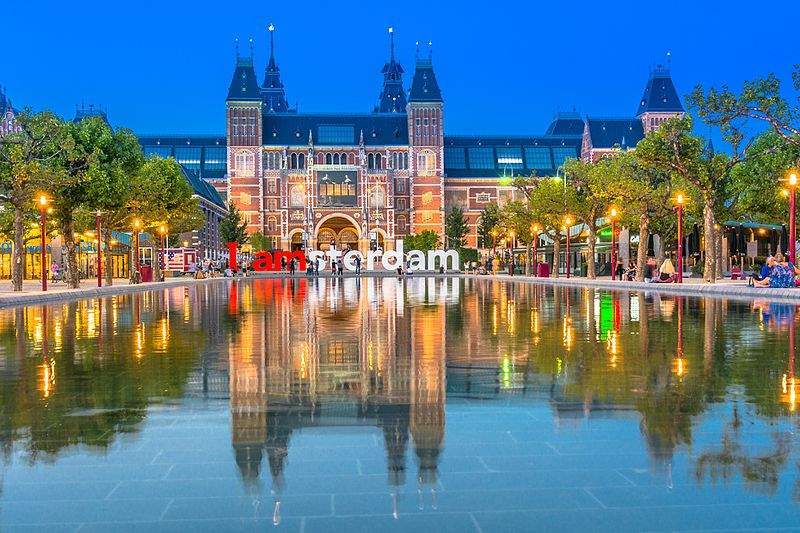 The Dutch city of canals is basking in freedom and benefiting from Brexit, writes Christopher Jackson
'If I were called in to construct a religion I should make use of water.' So wrote Philip Larkin, and one suspects he would have liked Amsterdam. Here the cold canals of the north do all the work Venetian canals do, but the water is clearer, and its effects unexpected.
And they're more accessible than ever: Eurostar now runs to Amsterdam Centraal – a three-hour clip from St Pancras, which disgorges you in this city of liberality, and tortured history of tulip speculation. Nearby you'll find the Kimpton de Witt, with its vaguely aquatic appearance, its interiors stylishly construed throughout in a becalming blue. Our room was high up, in a sort of luxurious attic.
There was a little lounge off the bed area – and an en suite bathroom, with a deep bath. The following morning, after a slap-up breakfast supervised by kindly bohemian staff, we ventured out to wend the streets. It could be argued that the city is at a zenith. And it's banking – at least in part – which is moving it forward now: this place of long-limbed cyclists and intermittent waft of cannabis is an overlooked beneficiary of Brexit. Competitive in the fintech and high-frequency trading spaces (the London Stock Exchange Group is applying for a licence here), it scored another coup in 2017 when it won the relocation of the European Medicines Agency.
Liberality is Amsterdam's strength: of the centres vying for London's place as a European financial capital, it's arguably the most fun. One walks amid the suspicion that anxiety is not the done thing here. It's also a city of athletic types. One notes, for instance, the no-hands skill of the cyclists: every native is a veritable Chris Hoy.
Amsterdam opens up on to the question of freedom: just how much of it should we have? Answers can be found in its great art museums. The presence of the canals – here, and in Vermeer's Delft – has created, you feel, a city of noticers, and the cold climate a tendency towards introspection. In the Rijksmuseum can be found many Rembrandts, including his great Self Portrait as the Apostle Paul (1661): it contains the rigorous selfexamination which comes to an artist surrounded by his own reflection.
In The Wardens of Amsterdam (1662), the dominant note is immediacy: the warden at the head of the table rises to greet the viewer with instant recognition. Amsterdam is therefore a protestant city, with little of the nicety of ancient history impinging. Ancient Rome never made it here; instead everything feels fresh – able constantly to renew itself.
But it's no secret that freedom can mean excess. Perhaps it can even create the danger of tearing oneself apart. An example is Vincent van Gogh, whose works show how a mind untrammelled – and unfettered by central control – can be burdened by a certain excess of clarity. A case in point is his Almond Blossom (1890). We can see in the startling clear-sightedness of this work – the blossom picked out minutely against infinite blue – what could be gained by freedom from the European tradition.
With its Japanese influence and its singularity of vision, it's hard to imagine such an independent art ever having come to life had Holland not broken free from the orbit of Rome.
So in Amsterdam, you inhabit the joy of small differences. It's there in the creamy beer; in the wonky and characterful townhouses that mesmerised Monet; and on the windless canals which remind you, as Larkin knew well, of the universal benedictions of water.
Eurostar operates a direct service from London St Pancras International. The fastest London-Rotterdam journey time is 3hr 1min and Amsterdam is 3hr 41min
Christopher Jackson is deputy editor of Spear's