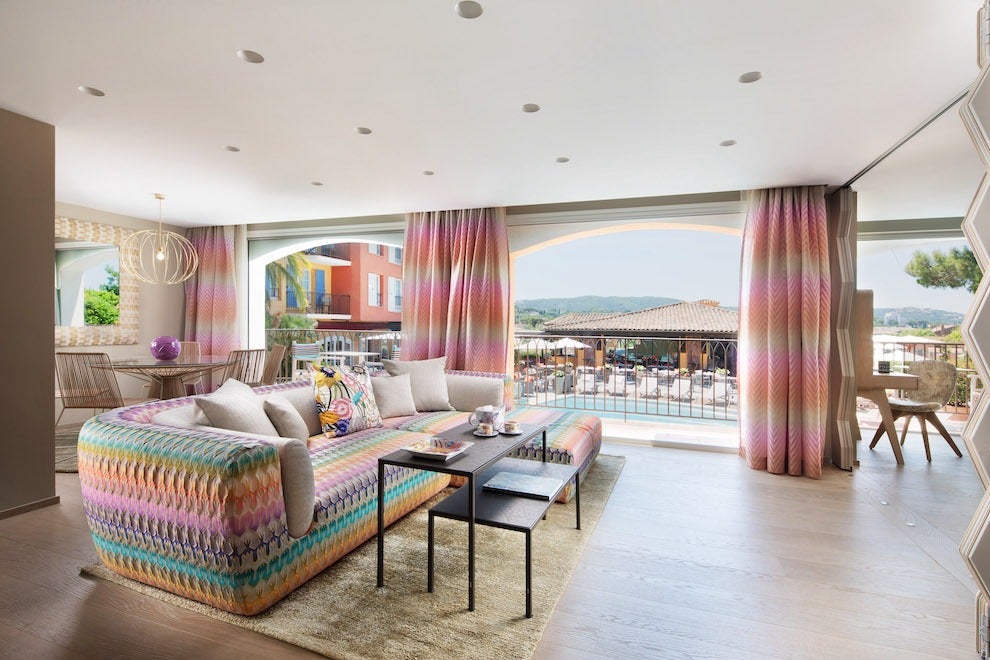 Hotel Byblos was built in the 1960s to woo Brigitte Bardot and, in 1971, played host to Mick and Bianca Jagger's wedding reception. In all the time since, it's never stopped swinging, writes Edwin Smith
By the pool, an Englishman with a northern accent and an expensive watch is reading a book called I am a Drug Lord. Not far from him, seated at a table, an impeccably turned-out French lady d'un certain age is joined for a late lunch by her bichon frise. A young Russian woman manoeuvres her sunlounger into the precise spot that, later, will capture the last rays of early evening sun.
These, for today at least, are the denizens of the 'village within a village' that is Hotel Byblos – a jewel in St Tropez's crown. They are in good company. Since the hotel was established in 1967 by Lebanese billionaire Jean-Prosper Gay-Para, anyone who's anyone has stayed here.
According to legend, Gay-Para opened Byblos in a bid to woo Brigitte Bardot, whose 1956 film And God Created Woman was filmed in the town. In this endeavour he found himself in competition with the German playboy Gunter Sachs, who is said to have used a helicopter to have thousands of red rose petals scattered over Bardot's family home in La Madrague on the Côte d'Azur.
Ultimately Gay-Para's charm offensive ended in defeat, but ever since Byblos opened its doors, it has attracted boldface names – from Grace Kelly to Jack Nicholson, Cher and Elton John. In 1971, Mick and Bianca Jagger even had their wedding reception here.
These days, Byblos is under the aegis of Antoine Chevanne, CEO of the family-run Groupe Floirat. The interiors are overseen by his mother, and are beautiful. There are works of art throughout – from an exquisite tiled staircase designed by a student of Picasso, to paintings (many of which are for sale) that are hung all around and a dedicated gallery space which displays serious pieces, including sculpture by Jeff Koons.
Almost everything in the hotel is branded with the Byblos logo – from cutlery to salt shakers, cushions to backgammon sets, candles to stationery. It could easily be de trop, but the quality of each item is such that the effect is one of extraordinary attention to detail.
There can be no doubt which is the standout of the 91 rooms and suites: the Missoni suite is filled with rainbow-hued sofas, curtains, pottery, bed linen, cushions, robes and towels. Little wonder they used it to film the TV show Riviera with Julia Stiles and Poppy Delevingne.
The best thing about the suite, however, may be its location within the hotel. Its vast panoramic window and suntrap balcony both look directly out over the pool, which itself is in the central courtyard. The balcony is like a stage in the middle of an arena. One of the hotel staff tells me, not without a hint of pride, how one group of guests were having such a good time in the suite they decided to put on a show and dive off the balcony and into the pool. Sir Mick would approve.
The food at Byblos is never less than excellent. The poolside restaurant, Arcadia, might be the best of all the options, with its Asian-inspired ceviches among the finest dishes. It is the work of executive chef Nicola Canuti. But do not ignore the hot new joint downstairs, Cucina Byblos, masterminded by Alain Ducasse. When the weather is good – which it always is at Byblos, since it is in St Tropez and closed during the colder months – Cucina serves its Italian-inspired fare under trees with lights hanging from their branches.
In 2019, Byblos also opened a beach club on Pampelonne Beach, which is a 10-minute air-conditioned navette ride from the hotel. Beautifully designed by François Frossard, who also redesigned the hotel's legendary nightclub Les Caves du Roy, it is the most aesthetically pleasing and comfortable spot on the long beach. Given a strict ban on plastic and local environmental regulations, the entire wooden structure is packed up during low season, leaving barely a trace.
But on the late summer's day when Spear's visited, it was in full swing – with Byblos guests moving from daybeds on the water's edge to linen-clad tables. Nearly every one seemed to be equipped with a magnum of rosé. Again, you imagine, Sir Mick would approve.