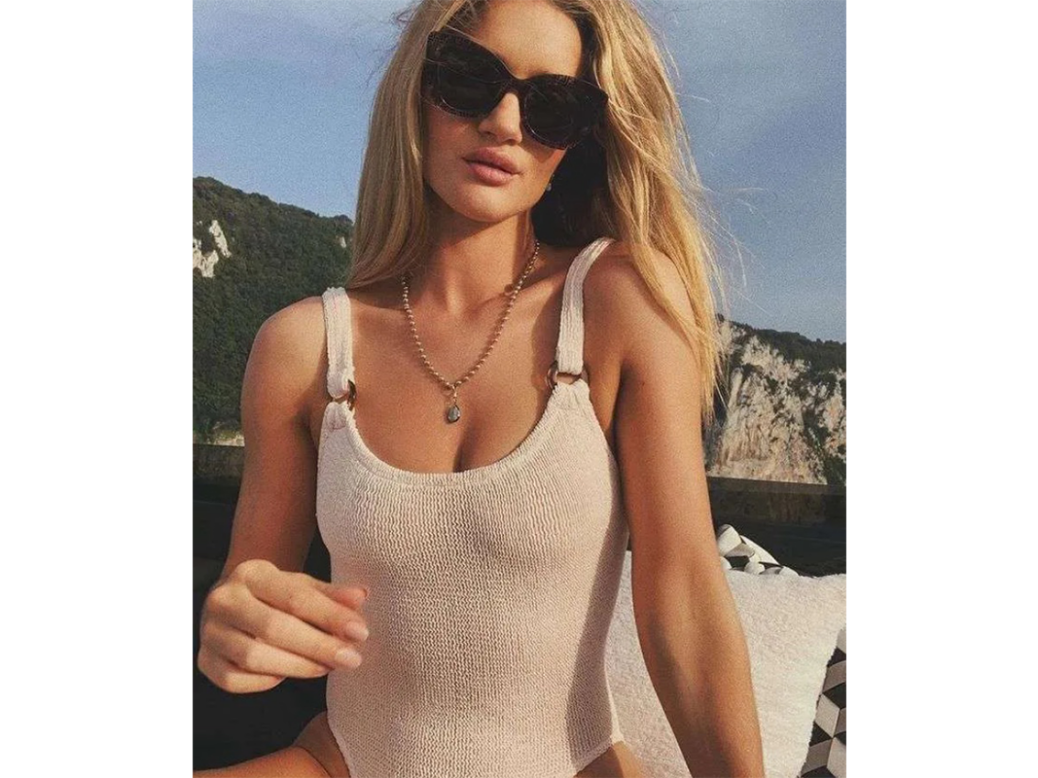 Sure, a diamond is for ever. But the world has shifted seismically in the 76 years since advertising copywriter Frances Gerety coined the greatest marketing slogan in history (for a De Beers campaign). Women's lifestyles, wardrobes and spending power have evolved – and so have the contents of their jewellery boxes.
[See also: Family office investors favouring 'passion assets' in volatile times]
Where once jewellery was almost entirely symbolic and sentimental, now it's a marker of personal style just as much as wealth. And while, in this very magazine, the esteemed Nicholas Foulkes may have decreed that 'stealth wealth is over' (Spear's 88), discretion has become more important than ever in certain circles. And that requires a new take on diamonds.
Next gen, new rules
'In the last 15 years there has been a growing market for people who want to wear jewellery in a different way from their mothers or grandmothers,' says Jessica McCormack, who spearheaded the move towards dressed-down diamond jewellery with the antique-inspired designs she sells from her townhouse on Carlos Place in Mayfair. 'They've realised that diamonds don't have to be flashy.'
[See also: Is the Rolls-Royce Spectre the best electric car ever made?]
The New Zealand-born creative, who will open a new Chelsea boutique in November, says she was not 'classically trained'. That plays into her approach: antique diamonds are strung casually on to her solid-gold Ball 'n' Chain necklaces, or slipped on to hoops in her bestselling Gypset earrings. Gemstones are extracted from stately platinum thrones and encased instead in her signature blackened and yellow gold. 'I love that mix of old and new, masculine and feminine – that's when the magic hits,' she says.
Day-to-night diamonds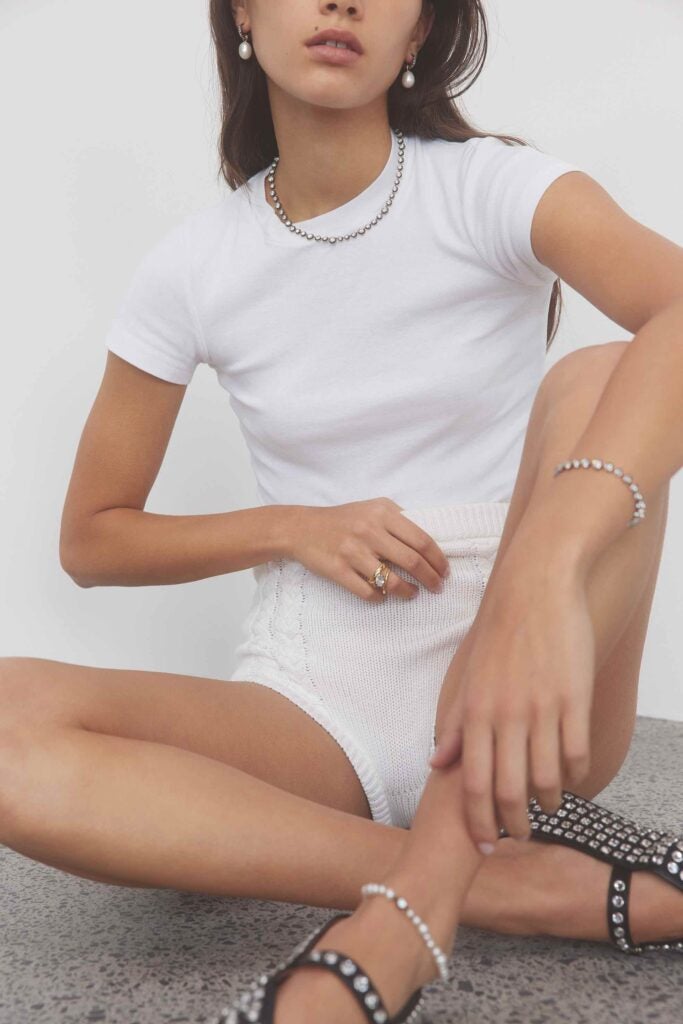 In her advertising campaigns and on her Instagram feed, these diamonds are layered up to high heaven, but the considerable carat weight is tempered by a background of jeans and T-shirts. It reflects the off-duty uniform of her celebrity clients – including Rosie Huntington-Whiteley, who wears McCormack's designs with swimsuits and sweatshirts alike, and Zoë Kravitz, who styles them with everything from red-carpet dresses to tank tops and flip-flops. When it feels like we're teetering on the edge of apocalypse, what's the point in saving diamonds for 'best'?
[See also: The enduring power of the signet ring]
'I love the idea that you can wake up, hit the gym, drop the kids at school, have a board meeting, go for dinner and dance on the tables without changing your jewellery,' McCormack explains, adding that her designs are 'female oriented – if a man is buying it, it's because a woman has told him to'.
Stealth wealth's high priestess, Gwyneth Paltrow, practically invented the new rules of diamonds. This is a woman who wears a diamond tennis necklace to go hiking, who piles on tens of thousands of pounds' worth of jewellery while 'WFH' and strips almost all of it off for a red-carpet appearance.
Because while a $90 T-shirt plus stacks of diamonds equals low-key luxe, couture gown plus stacks of diamonds whiffs too much of Dynasty-era Joan Collins to feel relevant now.
Reign supreme on the red carpet
'Our customers see fine jewellery as part of their everyday life rather than saving it for special occasions,' says Tanika Wisdom, fine jewellery buyer at Matchesfashion.com, which also targets self-purchasers. 'Clients accessorise with diamonds the same way they would a handbag or shoes.' She lists LA designer Anita Ko as the go-to for quietly luxurious fine jewellery, alongside Yvonne Leon, Melissa Kaye and Shay, whose £52,000, four-carat diamond tennis bracelet is styled online with a fluffy Loewe jumper.
[See also: The independent watchmakers you need to know about]
When it comes to red-carpet dressing, the goal is to make even a townhouse-worth of diamonds appear effortless. Jennifer Lopez paired Fernando Jorge's 20-carat diamond hoop earrings with a sequinned Brunello Cucinelli bralette; Cate Blanchett accessorised a casual oatmeal linen co-ord with a Louis Vuitton high jewellery ear cuff; Emily Ratajkowski rocked mismatching Ana Khouri ear cuffs at the Met Gala.
These pieces share streamlined silhouettes and an offbeat sensibility that whispers rather than shouts their five-figure price tags. Because while Big Diamonds are back, they have a distinctly different flavour from the brash bling beloved by Noughties footballers and their WAGs – one that complements athleisure and New Balance trainers more than bodycon and Louboutins.
Big Diamonds are back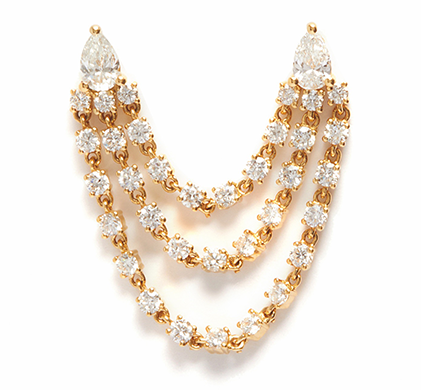 There's more to the shift than aesthetics, of course. Modern settings mean mammoth diamonds fly under the radar. 'We're not downplaying diamonds by making them smaller or less valuable – they're still precious and dazzling, just worn in a way that's for the wearer rather than the observer,' says McCormack, whose tricks include tilting a solitaire diamond by a few degrees, or stringing an heirloom stone on to one of the aforementioned Ball 'n' Chain necklaces. 'Nobody would clock that it's a 10-carat diamond worth half a million.'
[See also: Bleu Royal 17.61 carat diamond to go on sale for first time in 50 years]
Kate Baxter, founder of The Cut, who specialises in helping couples source design-led engagement rings, agrees. 'It's easier to get away with a bigger diamond when the setting looks more contemporary,' she says, namechecking McCormack alongside Hannah Martin, Jessie Thomas and Rachel Boston for their discreet yet distinctive styles. 'They're changing the way an engagement ring looks; moving away from a three-carat solitaire diamond teetering on a skinny band, which has never been particularly practical.' Now, such stones sit flush to the finger, bezel-set in wide gold bands. 'It allows people to wear bigger diamonds in a more casual way.'
Time for a redesign?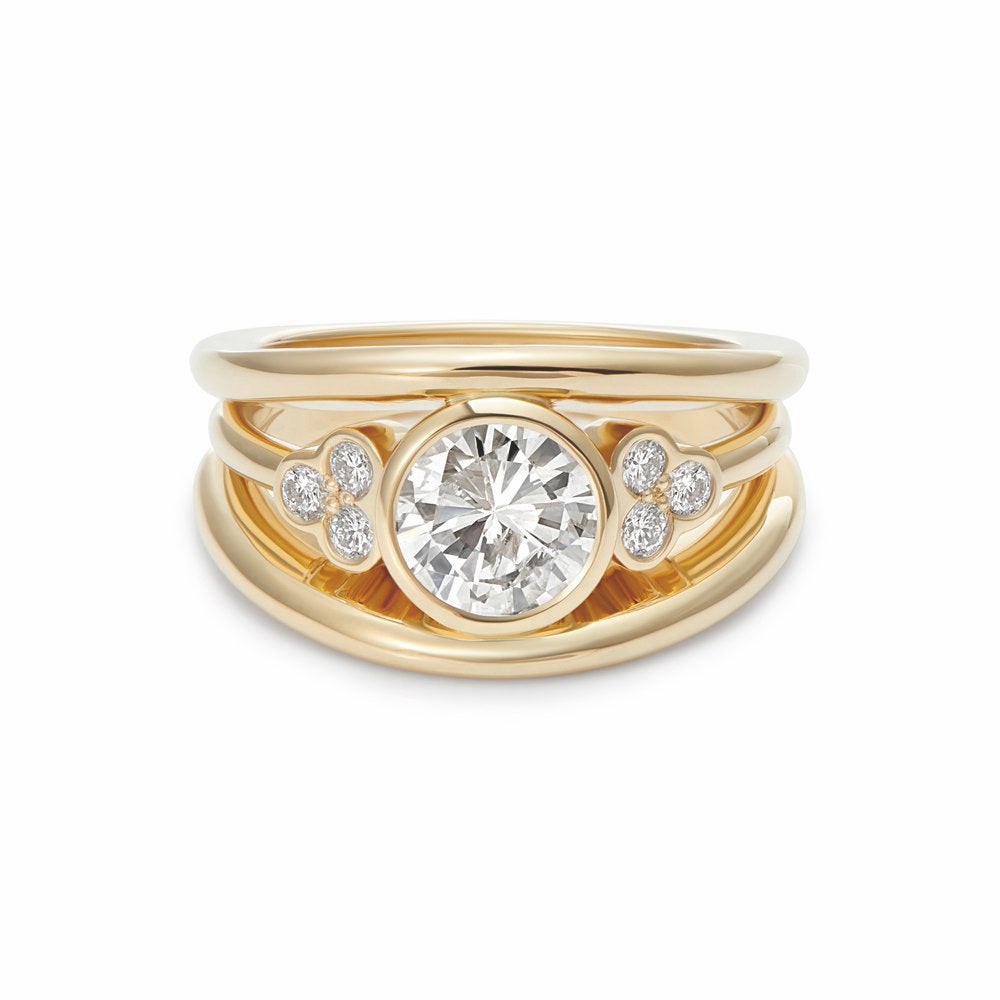 There's no need to despair if your taste in jewellery has moved on while your taste in spouse has not. Many independent jewellers specialise in transforming dated designs while maintaining their inherent sentimentality. 
'I loved my engagement ring when I first got it, but now I'm drawn to things that are simpler and more low-key,' says Sally Swadling, head of PR for Firmdale Hotels, who turned to jeweller Georgina Boyce to redesign the platinum engagement ring with which her husband proposed in 2011. She swapped to yellow gold and had the setting lowered. 'It's more modern and practical, and it feels much more me,' she says.
[See also: 'Exceptionally rare' Park Lane mansion with record-breaking potential comes to market for £42.5 million]
Another of Boyce's clients, Katie Webster, had her traditional three-stone engagement ring transformed into a chunky, Etruscan-style yellow gold ring. 'It's more in keeping with my lifestyle and the jewellery I wear now,' Webster says. 'I was quite traditional in my twenties – I used to love pearls and really coveted a little blue box. Now I'm in my forties, I feel more confident and self-assured in my style. I like jewellery that packs a punch.'
And if the ring has outlasted the relationship? 'We'll burn some sage to get rid of the bad juju and turn it into something fun,' says McCormack, who says her mission is to rescue precious stones from safes and turn them into pieces women will adore and eventually pass on. 
'Diamonds are really expensive, sentimental and important, so reworking them into something that you can wear every day feels like the right thing to do.'
This story first appeared in issue 89 of Spear's, available now. Click here to buy a copy and subscribe