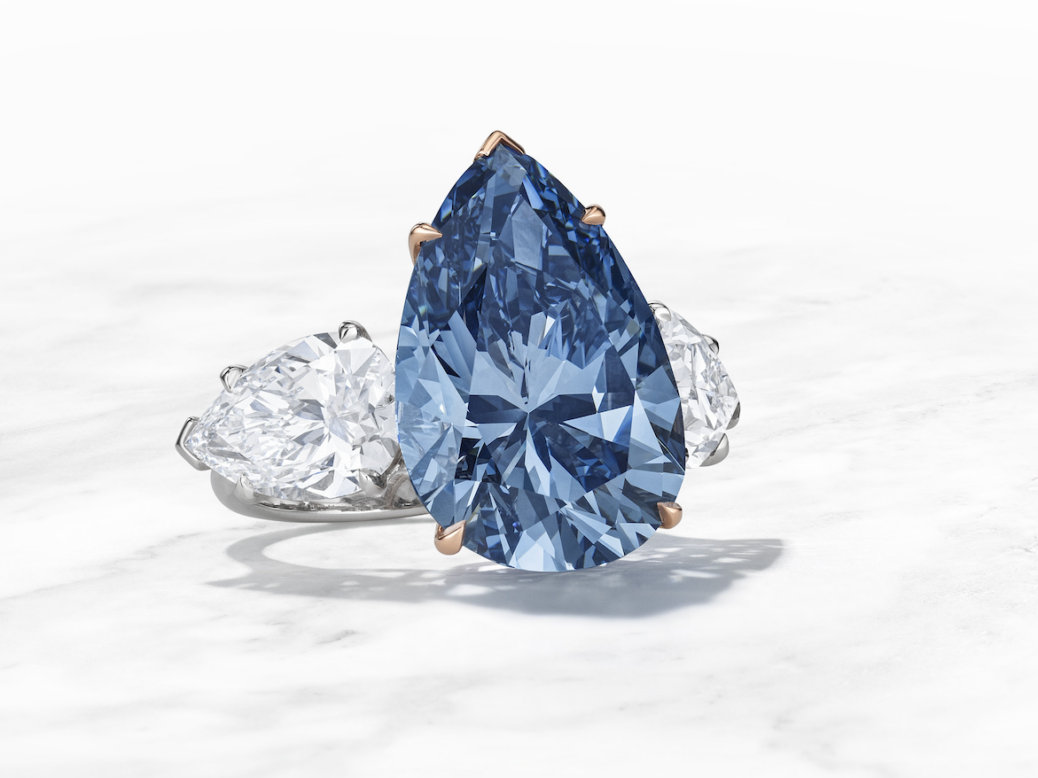 The Bleu Royal, one of the rarest diamonds in the world, has become the most expensive jewel sold at auction in 2023.
The 17.6-carat diamond ring was sold at Christie's Geneva for slightly over $44 million after seven minutes of bidding, although this was shy of the $50 million upper estimate set prior to the auction.
[See also: The enduring legacy of Coco Chanel]
It marked the first time the jewel had come up for auction after 40 years in a private collection. It has now entered another private collection.
Magic of the Bleu Royal
The Bleu Royal is the largest internally flawless fancy vivid blue diamond ever put up for auction. Set in a ring, the gem represents a unique opportunity for collectors and investors owing to its deep rich blue colour and unmodified pear brilliant shape.
[See also: Rothschild treasures to be sold at Christie's in first-of-its-kind auction]
'It really ticked all the boxes, which is why we managed to excite collectors all around the world, all the way from the Far East, also to America,' said Max Fawcett, head of jewellery at Christie's Geneva, according to AP. 'We're extremely delighted with the result.'
Jewel in the crown
The sparkling Bleu Royal diamond was the highlight of the 'Magnificent Jewels' auction, which achieved just over $77.7 million.
It reflected a wider trend for interest in coloured stones, according to Fawcett. Driven by collector demand and an increasingly limited supply, prices for top-quality coloured diamonds have increased exponentially in recent years.
He continued: 'It's clear that the market is still very strong in certain areas… There's a great market out there for rare things, and there are still collectors looking for the very best.'
This is only the fourth time in Christie's 250 years that a fancy vivid blue diamond over 10 carats has been on sale.
---
In more than 250 years of auction history at Christie's, only three such stones have ever appeared for sale:

The Bulgari Blue 10.95 carats sold for $15,762,500 – New York, October 2010
The Winston Blue 13.22 carats sold for $23,795,372 – Geneva, May 2014
The Oppenheimer Blue 14.62 carats sold for $57,541,779 – Geneva May 2016
---