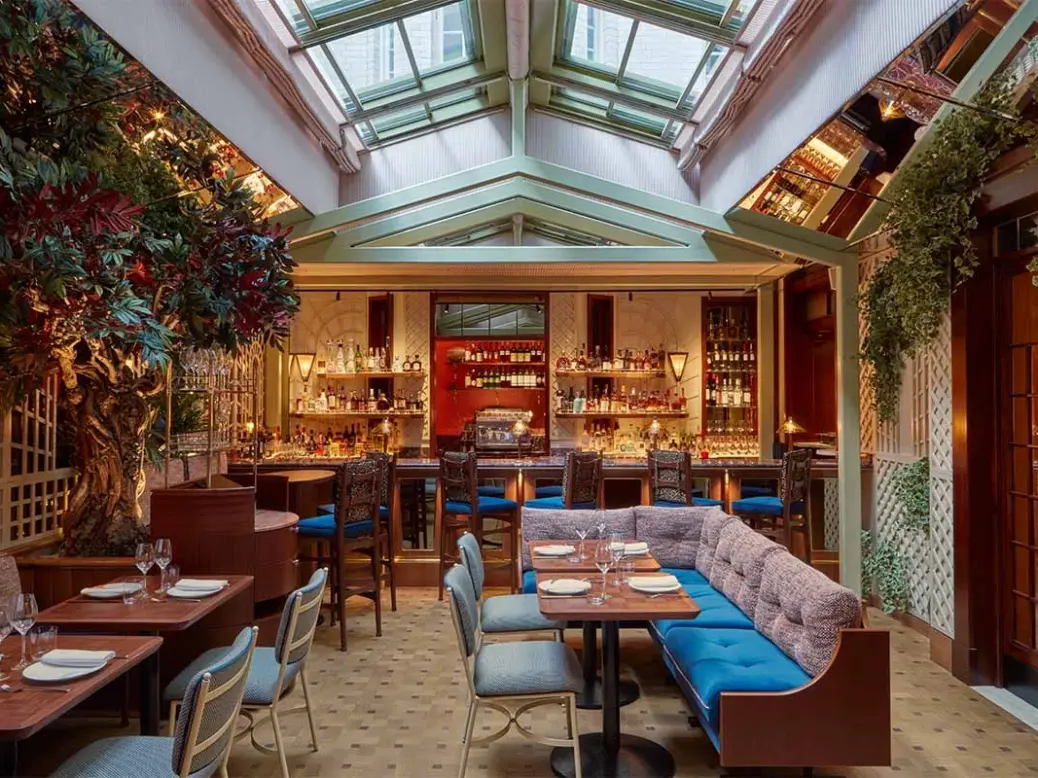 Located on the quieter end of Albermarle Street in Mayfair, Il Gattopardo is inspired by 1960s Italy and aims to 'embody the understated, refined luxury of the Italian riviera and honour a heyday of frivolity and seduction'. It first opened its doors in the autumn of 2023 and comes from the same stable as Zuma, Roka, Coya, Amazonico and Bar des Pres.
Design & Interiors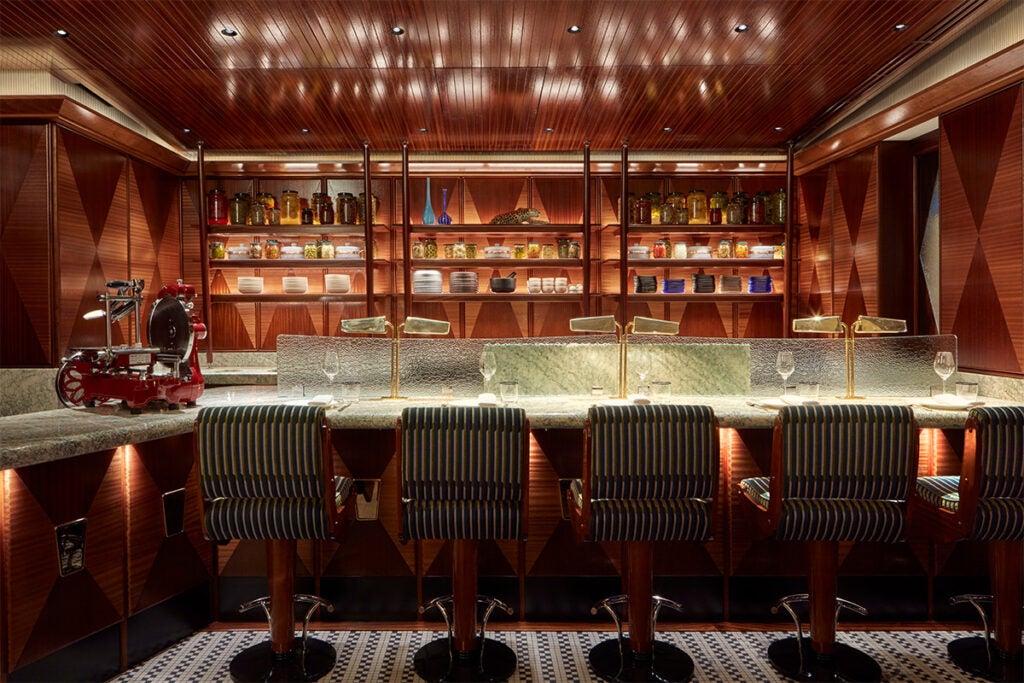 Step behind the tobacco coloured velvet curtain at the entrance and you enter a louche, moodily lit interior with polished marble tabletops, blue velvet banquettes, wood panelling and Art Deco-inspired mirrors. A ceramic leopard – Il Gattopardo himself, perhaps – looks out over the main dining room. The design is by the studio Dion & Arles, and is influenced by celebrated Italian architect and designer Gio Ponti.
[See also: Claridge's Restaurant celebrates the Art Deco glamour of this Mayfair grande dame]
Down the stairs, which are covered in blue leopard-print carpet, there's a private dining room that seats 16.
Food & Drink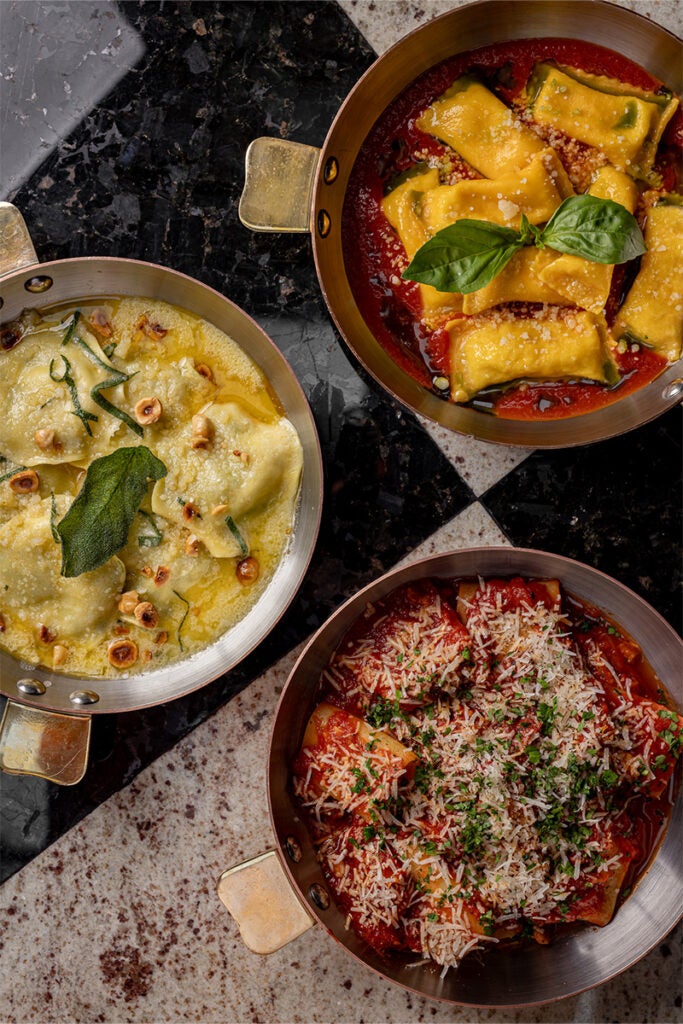 The menu is the work of executive chef Massimo Pasquarelli, who was born in the Abruzzo region of Italy and spent a decade working under Alain Ducasse. He was previously executive chef of the Ritz Carlton in Singapore.  
[See also: 'Now is only the beginning': Chef Alain Ducasse on how he went from living in a yard to gaining 21 Michelin stars]
The drinks menu has a number of unusual, thoughtful takes on the negroni. Spear's tried the light, zesty negroni bianco and the complex, smoky choco negroni, which has a long, pleasant, cocoa-powder finish. 
The food, meanwhile, comes from across Italy, but there is a particular focus on Sicily, Amalfi and the Southern Isles – with plenty of fish and seafood.
As one has come to expect these days, the dishes are conceived as sharing plates. They're divided into sections on the menu: insalate, crudo, affettati, antipasti, pizzette, pasta, padella, pesce, contorni, formaggi and pasticceria.
[See also: Ollie Dabbous, HIDE restaurant's co-founder and executive chef, on climbing the kitchen ladder]
One of the best is an octopus salad, with generous chunks of chargrilled polpo that are crispy, juicy and fresh. Another of the insalate, a ricotta and kale salad, combines the saltiness of the cheese with the sweetness of pomegranate seeds. The best thing that Spear's tried, however, may have been the meaty dover sole, which is also prepared partly on the char grill and served with mushrooms and a brown butter sauce. Despite looking impressive, the lobster gnocchi didn't quite live up to expectations; the gnocchi were overcooked.
Dishes are served on stylish crockery from Ginori and SchönhuberFranchi, some of which is bespoke to the restaurant and includes leopard motifs.
When it comes to dessert, many a diner's eye will be drawn by the tiramisu, which can be served in a large portion for sharing. But give due consideration to the chef's interpretation of maritozzo, a Roman classic – sweet delicate brioche buns filled with chantilly cream and just a little chocolate custard.
The Service
Attentive, skilled, knowledgeable and friendly – and excellent balance.
The Crowd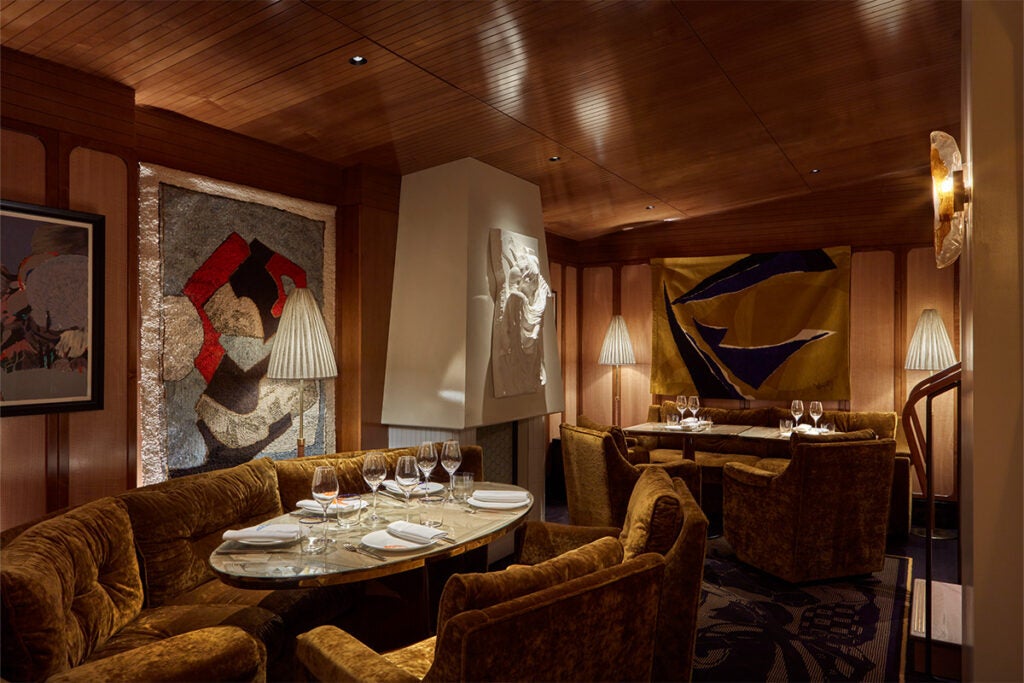 On a Wednesday evening the room was a nice mix: large-ish tables of gilet-wearing men who work in finance, a pair of glamorous women in their thirties, a youngish couple on a date, a stylish father-and-son duo, and a quartet of older diners who decided to eschew the sharing concept. 
Worth Knowing
The 85-cover restaurant also has a courtyard area, with a fully retractable roof, which plays host to a bar. From 10:30pm diners and those who have stopped by for a drink can enjoy a cigar in comfort, whatever the weather.
[See also: Taste of Tuscany arrives in London with limited-edition truffle menu at The Goring]
The Verdict
A stylish, luxurious and fun addition to Mayfair's dining scene.
Il Gattopardo, 27 Albemarle Street, Mayfair, London, W1S 4HZ, gattopardo.restaurant