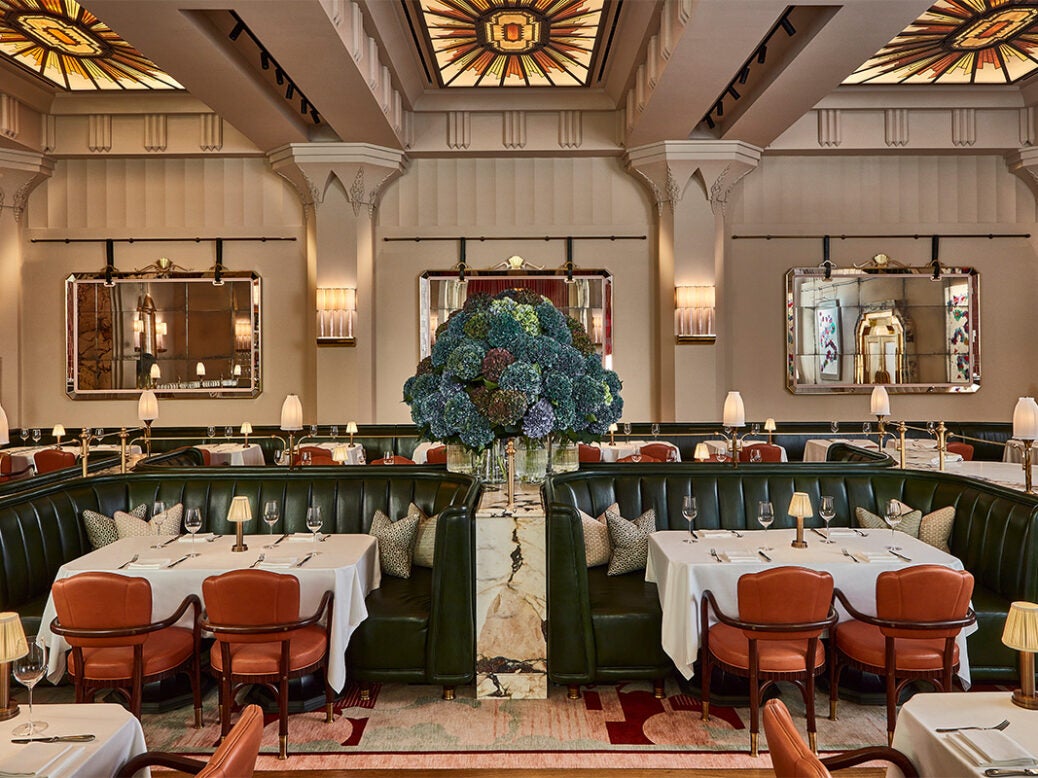 Claridge's Restaurant officially opened its doors last month, bringing Art Deco sophistication to one of London's grande dame hotels. Following a soft launch this summer, head chef Coalin Finn and his team have fine-tuned a menu that reimagines British classics – attracting well-heeled hotel guests and neighbourhood regulars alike. 
Location
Claridge's was opened in the 19th century by owners William and Marianne Claridge, who transformed their home into a hotel. By the middle of the century, the business had expanded to incorporate a number of nearby buildings. With the growth in square footage came a burgeoning reputation. Queen Victoria and Prince Albert were among the guests, and everyone from Sir Winston Churchill to Kate Moss has stayed in the decades since. 
[See also: Inside Brooklands at The Peninsula London: an essential pit-stop for fans of Concorde and classic cars]
The hotel's distinctive Art Deco sensibilities, now at the centre of the offering at Claridge's Restaurant, were introduced in the 1920s by Oswald Milne, a pioneer of the movement.
The restaurant can be accessed via Milne's spectacular lobby or via an entrance of Davies Street. It was last known as Claridge's Restaurant more than 20 years ago and has gone through a number of iterations since. Most recently, it was known as Davies and Brook, which closed its doors in 2021 after hotel management disagreed with chef Daniel Humm's plan to introduce an entirely plant-based menu. 
Interiors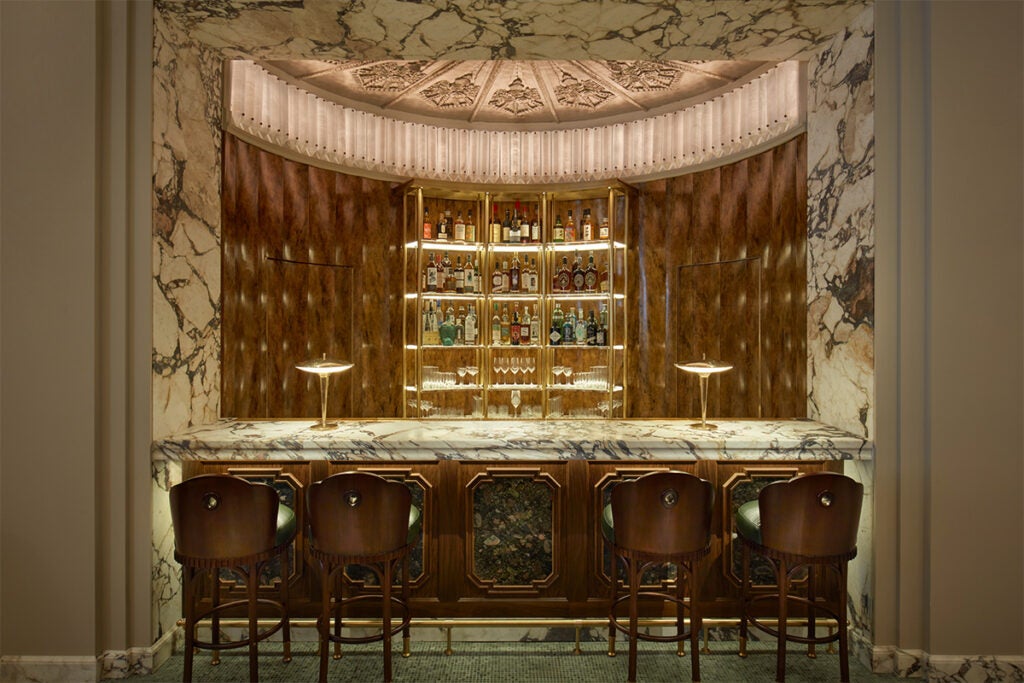 Interiors are the work of Bryan O'Sullivan Studio, the design powerhouse behind The Berkeley Bar & Terrace and The Connaught's Red Room, as well as impeccably put-together yachts and private residences in New York, Paris and London. 
[See also: Fortnum & Mason CEO Tom Athron on why extraordinary food and drink is top of the menu]
Claridge's Restaurant pays homage to the hotel's Art Deco design heritage with Calcutta Viola marble, double-height ceilings, mosaic flooring and dramatic pendant lamps inspired by Josef Hoffman. The plush green leather banquettes are set beneath starburst skylights by Guy Oliver. Artwork, including pieces by Sean Scully, Richard Gorman and Brian Clare, have been chosen from Claridge's extensive private collection. 
Dominating one end of the space is the highly Instagrammable, high-gloss tortoiseshell bar. At the other; marble doors open up onto the busy kitchen. 
Food & Drink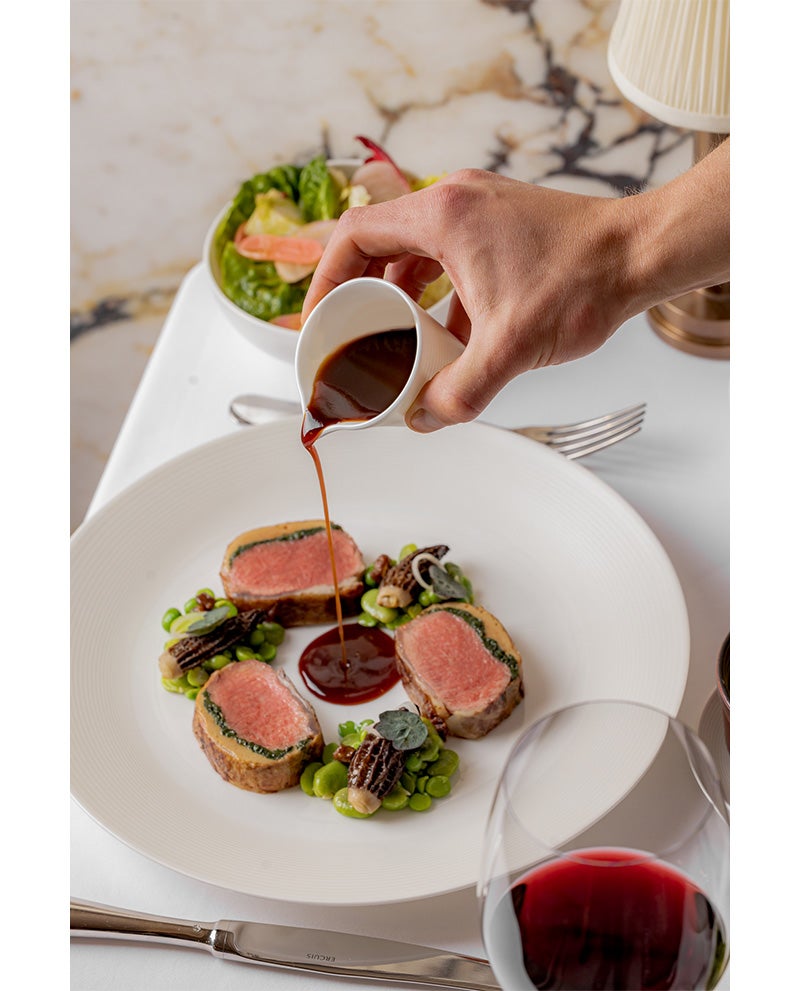 Finn, previously of Davies and Brook, Sketch and Inverlochy Castle, Fort William, has put together a menu of classically inspired dishes. 
The starters are particularly noteworthy and include a confit aubergine served with roast garlic yoghurt; goat cheese and pear salad topped with blackberry; buckwheat crumpets served with a soubise cream and truffle puree. Even the loaf, served with Claridge's butter, is sublime.
[See also: Sampling London's most expensive set menu: is Sushi Kanesaka worth the bill?]
Mains are a mix of standalone hero dishes – the whole turbot served with an original 'sauce Emeline' is a triumph – served with classic sides like mashed potatoes, fries and garden carrots. Vegetarians and vegans have fewer options, but the meat-free starters can all be served as larger portions. Desserts include chocolate souffle tart with cacao nib ice cream and a platter of all-British cheeses. 
Signature cocktails include the Ambre Highball – a white wine spritzer with notes of stone fruit – and the Peach Piquant, mixed with tequila and mezcal. The wine list is extensive and well-informed sommeliers are on hand to support diners in their selections. Highlights are showcased in a 'sommelier spotlight' shortlist which serves as a helpful signpost for those overwhelmed by the breadth of choice. 
Service 
As one expects from this bastion of British hospitality, the service at Claridge's Restaurant is exemplary. Unlike many flagship restaurants in similar hotels, however, the team is approachable and friendly rather than stuffy and aloof. It is clear that the desire is for diners to feel comfortable, even within the grand surroundings. 
[See also: House of the Year 2023: RIBA shortlist celebrates the best of British architecture]
Worth knowing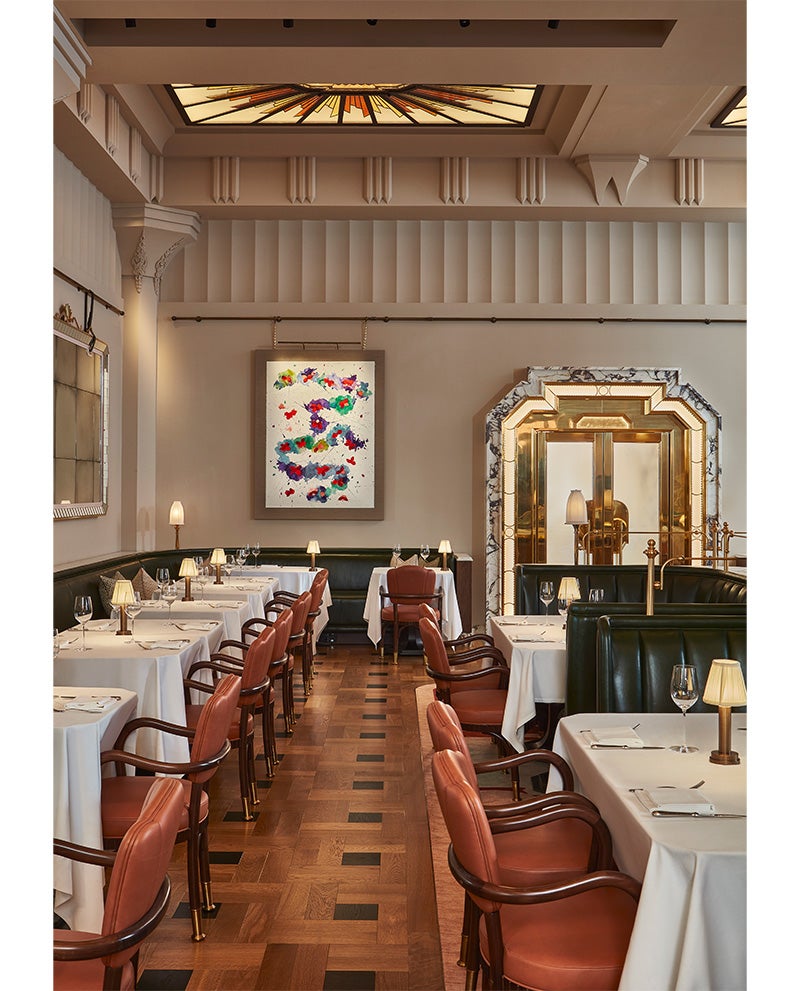 Ask for a corner table at the back of the room: they offer a full view of the restaurant and bar beyond. 
The verdict 
With its Art Deco glamour, flawless service and menu of elevated classics, Claridge's Restaurant succeeds in its mission to appeal to 'Londoners and visitors alike'. It is a five-star restaurant experience with (high-end) neighbourhood dining appeal. 
www.claridges.co.uk/restaurants-bars/claridges-restaurant/