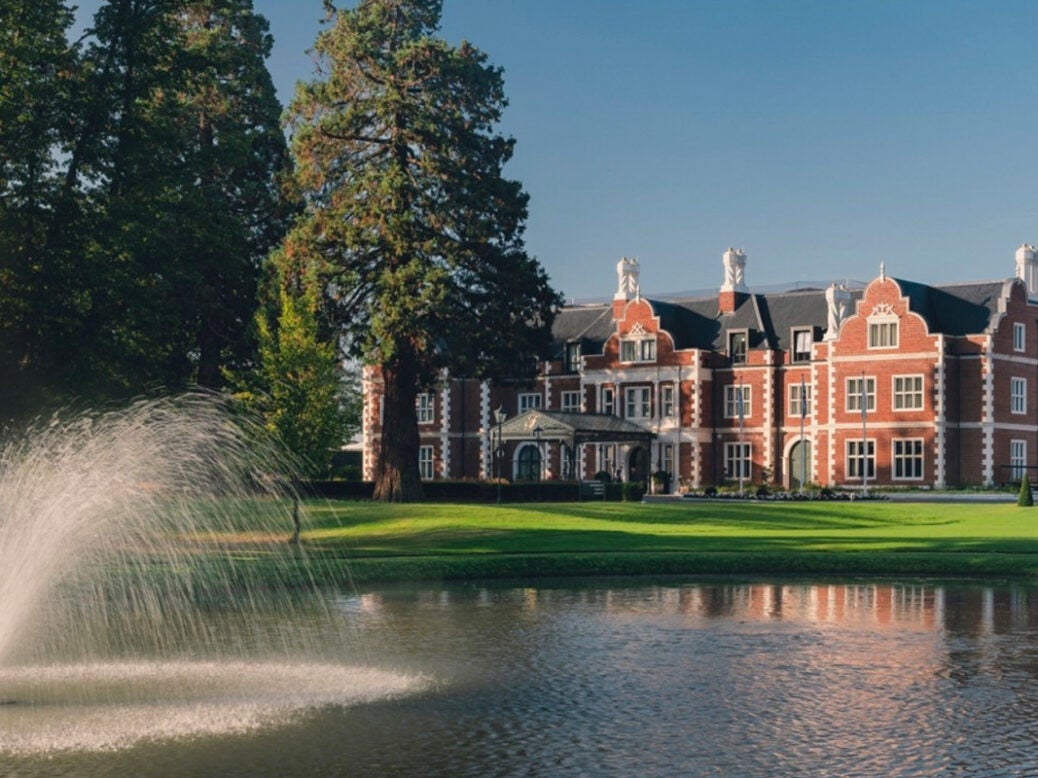 The potentially costly perils of breaching planning regulations have made headlines this week after a billionaire hotelier offered to demolish a £21 million mansion in order to avoid tearing down his five-star hotel. 
Surinder Arora, chairman of Arora Group, has come under fire over unauthorised additions made to the Fairmont Windsor Park Hotel, a 40-acre Surrey development which opened in 2022 and where Rishi Sunak and Ursula von der Leyen signed the Northern Ireland Brexit deal in February. 
[See also: The best property lawyers for high-net-worth individuals]
Runnymede Borough Council found the Fairmont had broken planning rules and ordered for it to be fully or partially torn down in order to meet the agreed design specifications.
Instead, Arora has offered an exchange: he will demolish the grand house on his neighbouring estate if it means the hotel can remain intact. Bulldozing the Fairmont would be 'inconceivable' and would 'bankrupt' the hotel, the company claims.
Yet while repercussions of this magnitude are 'rare', according to leading property lawyers, falling foul of planning regulations is not.
What happened at Fairmont Windsor Park Hotel? 
Arora Group, which operates a number of hotels that serve Heathrow and Gatwick, claims that 'commercial pressures' from franchise operator Fairmont Hotels led to the build spiralling. Extra facilities were 'considered essential' in order to meet the extremely high standards of guests expecting a four- or five-star hotel stay. These unauthorised additions included a three-storey extension, a VIP entrance and the addition of a royal suite. 
[See also: Inside Brooklands at The Peninsula London: an essential pit-stop for fans of Concorde and classic cars]
Arora previously acknowledged the error, saying in a statement: 'We are truly sorry for the mistakes made during the construction of the Fairmont Windsor Park. It was a highly challenging construction site being developed in the middle of the Covid-19 pandemic. We are now constructively engaging with Runnymede council and other local stakeholders to find mutually acceptable solutions to the planning concerns which have been raised.'
In a bid to avoid tearing down the hotel, the Arora Group this month submitted a revised planning application in which it offered to instead rip down the neighbouring Parkwood Estate.
Previously owned by the Candy brothers, Parkwood was bought by Arora last year. He has been granted permission to add value-enhancing features including a sauna, steam room and six-car garage. 
Documents claim the decision to knock down the mansion, which is currently derelict, and 'relinquish approved plans for redevelopment' would cost Arora 'tens of millions of pounds' in development value, as well as 2,981 sq m of floor space. The hope is that this compensates for the 2,868 sq m of floor space added to the hotel without planning approval. 
[See also: What are branded residences? Luxury openings attract UHNWs seeking five-star hotel service at home]
Arora Group said in a statement, according to The Telegraph: 'We can confirm that we have now submitted revised planning applications to Runnymede Council for the Fairmont Windsor Park site.
'Our objective is to resolve the current planning situation while maintaining operations at the world-class hotel we have built and which provides employment and wider economic benefits to the area. We want to be transparent with local residents about our plans and therefore are proactively informing people of our revised application.'
The council said the application would be considered at a later date.
Breaches of planning regulations are not uncommon
'Breach of a planning condition, particularly one of plans and project dimensions and specifications, is not uncommon,' notes Anna Fouracre, a partner of Keystone Law. 'Plenty will exist and go unnoticed by authorities and minor breaches can often be regularised through retrospective applications.'
What is remarkable about the Fairmont Windsor Park Hotel case – and why it has made headlines – is the scale and cost, both of the initial build and the proposed action, as well as the public profiles of the individual and property involved.
[See also: What is the state of the London property market in 2023?]
'Thankfully disputes this extreme are rare and usually a sign that something very seriously went wrong,' explains Daniel Farrand, Of Counsel in the Planning and Environment Group at Mishcon de Reya. 'More common are minor errors or deviations from approved plans, which may be acceptable with some give and take, or which may require much less drastic work to correct.'
However it should still serve as a warning for the potentially catastrophic consequences of planning breaches, particularly on expensive, large-scale builds.
Leave sufficient time
A successful build begins with thorough preparation, explains Laura Conduit, a partner at Farrer & Co. 'Timely professional advice is key,' she notes. 'Anybody embarking on a major project should bear in mind that it will take longer than they think (partly due to the planning process); cost more than they think; and they will have a falling out along the way.'
[See also: 'Exceptionally rare' Park Lane mansion with record-breaking potential comes to market for £42.5 million]
Allocating sufficient time for approval is particularly important if dealing with a listed building, notes fellow Farrer & Co. partner Karen Phull. 'Listed buildings can add a layer of complexity and add to planning delays. Any developments affecting heritage assets should be assessed by a reputable heritage consultant.'
Address changes to approved plans immediately
Once building is underway, rigorous project management is a must. It is critical to adhere precisely to the approved drawings as any adaptation opens the project to complaint. However, that's not to say the plans are set in stone. Instances when alterations need to be made are common, particularly with large-scale developments.
When this happens, it is important to take action early.
'If you wish to alter the approved scheme, speak to the planning officer as soon as possible to vary your planning permission (there are several ways to do this) and always consult your professional team first,' says Phull.
[See also: Fortnum & Mason CEO Tom Athron on why extraordinary food and drink is top of the menu]
Farrand agrees: 'Bigger developments generally will encounter more changes in design over time. Whether those chances need a change to the planning permission and whether those changes need a full variation permission or can use a streamlined nonmaterial amendment process is a detailed question for experts.'
It's not just alterations to the physical space that might need addressing. Changes of use or breach of the limits of permitted development rights can also be a less obvious source of planning regulation breaches.
Reduce fallout by acknowledging any planning regulation issues early
In some cases, changes to the original plan are made before planning permission has been changed. This can be both intentional and unintentional.
In both instances, developers should seek professional advice as quickly as possible. Getting ahead of the council's complaint provides lawyers with greater opportunity to pursue all possible avenues of action.
'Once a notice is served, as in this case, a formal timeline is started which requires fast responses and can close off options,' Farrand explains. 'The vast majority of planning breaches never reach the issue of formal notices and are resolved through agreement if caught early enough. 
[See also: The best landed estate lawyers for high-net-worth individuals]
'Knowing what the options and risks are can be essential to getting the best resolution. Even something as simple as prioritisation of what parts of the works are most important to you can be the key to your strategy in dealing with the council. That seems to be what Mr Arora is proposing with being prepared to surrender the luxury mansion on site.'
Fouracre notes that applications for retroactive planning permission can be submitted but 'this is a high-risk approach'.
Remember: no one is above reproach
The Fairmont case reflects the willingness of a local authority to take action against breaches, regardless of the financial, practical or social implications.
Fouracre observes this context means she would not be 'overly optimistic' about the success of the Arora case. 'The breach is significant. The additional floor space built is vast,' she observes. 'It is not surprising that it has drawn such media attention. It is an interesting case, though, as the hotel clearly brings huge social and economic benefits to the area and so a wider debate as to harm versus public benefit it brought to the fore.'
[See also: What's driving London's private investor property boom?]
This public benefit vs harm is at the centre of another planning regulation case unfolding in London. The Royal Borough of Greenwich has taken the decision to proceed with the demolition of Comer Homes Group's Mast Quay Phase II development, which will lead to the loss of 200 buy-to-rent flats. It claims the resulting build is so substantially different to the approved designs that it can't be allowed to stand.
Farrand adds: 'Decision-makers at councils across the country have encountered too many developers who follow the doctrine of "it's easier to ask forgiveness than to get permission" and they're not afraid to use the extensive tools in their armoury to prove that wrong.' He adds: 'The value of the development and the cost of putting it right are rarely factors which would stop enforcement.'
---
Discover more from Spear's: the fall of the mighty Canary Wharf