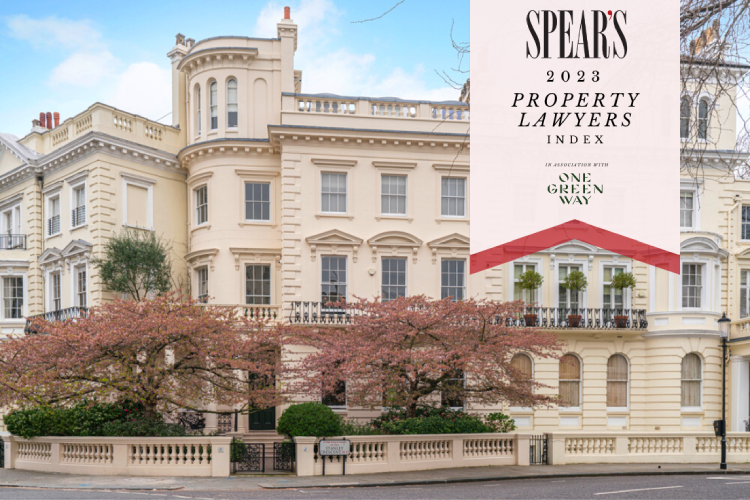 Welcome to the Spear's ranking of the best property lawyers, part of the Spear's Property Indices in association with One Green Way, for high-net-worth individuals
Part of the Spear's Legal Indices 
For high-net-worth individuals looking to buy and sell prime residential property, it's imperative to utilize the expertise provided by property lawyers to comb through the complexities in the fine print, tease out the knotty details and ease the legal processes involved in the transfer of high value property or major planning developments.
The highest calibre of property lawyers are best equipped to deal with a broad range of services from negotiating transactions and structuring bespoke arrangements to compiling important documentation.
A well-placed property lawyer will fight your corner, help solve (or dissolve) conflicts that might arise and tailor a specific approach to your unique situation.
This is particularly important when it comes to the complex and competitive prime property market.
In an effort to cut through the white noise, Spear's examines and publishes annual rankings of the top private client advisers and service-providers to HNWs. These are drawn up on the basis of peer nominations, client feedback, telephone and face-to-face interviews, data supplied by firms, as well as extensive information gathered by the Spear's editorial and research teams.
The property lawyers featured in the 2023 edition of the Spear's Property Advisers Indices are included in the table below, along with their Spear's ranking and 'focus'.
Click on the individual names to be directed to more detailed profiles of each adviser in the digital version of the Spear's 500.
To explore all the Spear's indices, and to use our find-an-adviser tool to identify the private client adviser who is right for your specific requirements, go to the Spear's 500 website.
To receive relevant research updates from Spear's – and thereby give you and your firm the best chance of being included in future Spear's indices – please register here.
If you are an adviser featured in the index and would like to update your profile or provide additional information, please email rasika.sittamparam@spearswms.com.
Image: Shutterstock