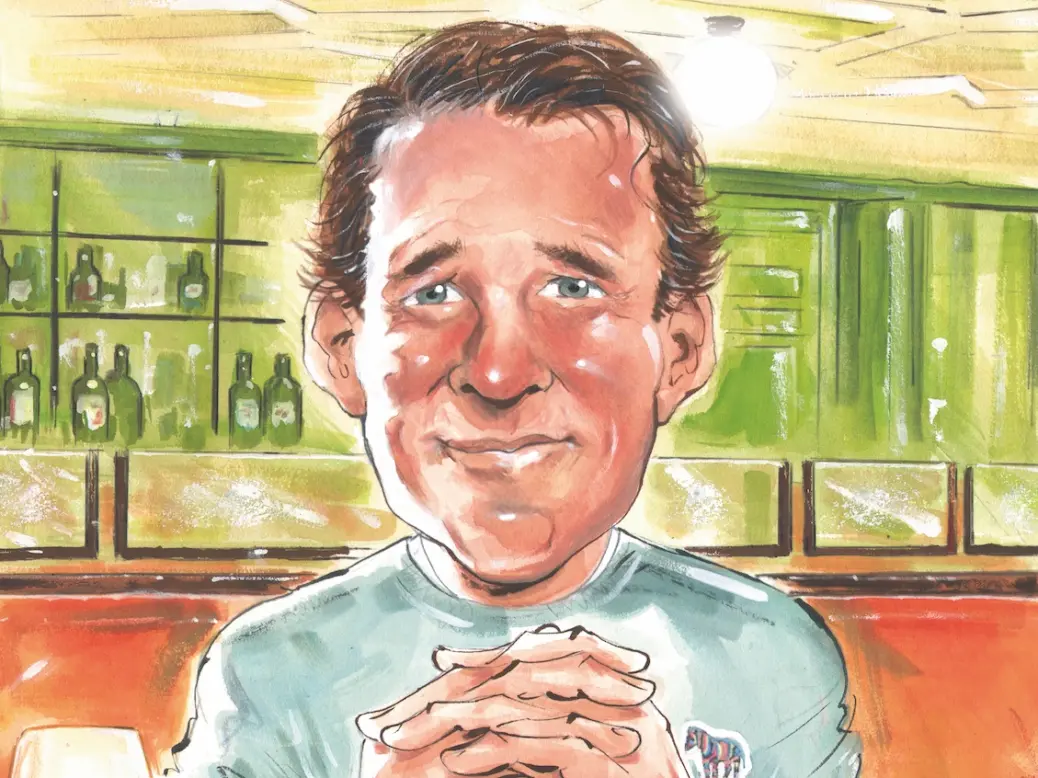 I arrive for our breakfast meeting at 45 Jermyn Street just a few seconds before Fortnum & Mason CEO Tom Athron comes through the revolving door behind me. After the usual greetings and introductions, we make our way to the table and sit down on the distinctive, bright orange leather seats. 
Having come up to London on the train from Sussex, Athron has a busy day ahead. After breakfast with Spear's, he will deliver a presentation to his bosses and then meet restaurateur Jeremy King for lunch. It has just been announced, Athron notes, that King is opening a new restaurant on the old site of Le Caprice. 
Athron and I had not previously agreed that our meeting would be 'an interview' as such. It was conceived more as a chance to get to know one another, but when I ask if he'd be game to go on the record, he is relaxed. 'I'm not prepared for that,' he says, barely breaking stride. 'But let's see how we go.' So we order – porridge with honey, accompanied by black coffee, for him; the kedgeree and a flat white for me – and settle down to chat. 
[See also: Annabel's at 60: charting the life of the legendary club]
Food fit for a queen
Fortnum & Mason was founded by William Fortnum, a footman to the court of Queen Anne who spotted an opportunity in the royal household's practice of using new candles every night; he would take the wax from the half-used candles and resell it. The entrepreneurial Fortnum later convinced his landlord, Hugh Mason, to go into business with him and they opened the first Fortnum & Mason store in St James's Market in 1707. There were further connections with the crown down the years, but it wasn't until 1910 that the company received its first royal warrant. (It currently holds two.) 
The business has impeccable pedigree, but the last thing Athron wants is for the brand to be a fusty British anachronism. 'What we're trying to do is something slightly different,' he says, pausing to thank the waiter as an entire cafetière of black coffee is set down in front of him. 'That's not because I didn't want it to be British; it will always be British. What I want to do is make it about extraordinary food and drink, which is actually in line with its heritage.' He says this strategy started six or seven years ago with his predecessor, Ewan Venters (who has since gone on to take the helm at Hauser & Wirth), with an effort to 'encourage people to think about Fortnum's not as a tourist business, but as a food business'. 
'The thing that I lose sleep over is if I don't think the quality of the food is good enough,' says Athron. 'I really worry about that, because we can trade on Britishness, we can trade on beautiful packaging and putting a Fortnum's label on things. But the reality is that is not the route to a sustainable business.'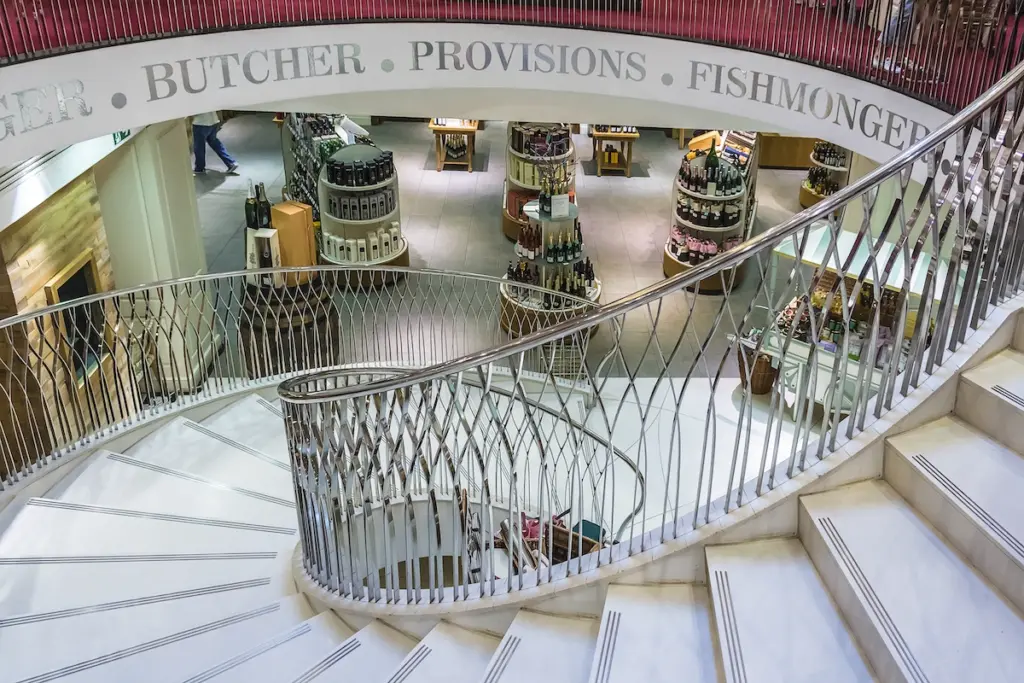 He rattles off facts and figures throughout our discussion; one he's particularly proud of is that sales have flipped from being 70 per cent international and 30 per cent domestic a few years ago to 30 per cent international and 70 per cent domestic today. (In addition to the historic premises on Piccadilly, there are three other locations in London, as well as one in Hong Kong. Two more – both in airports – in Dubai and Hong Kong are coming soon.) 
[See also: 'Owners should look for fun – not financial gain': the Hon Harry Herbert of Highclere Thoroughbred Racing offers advice to investors who fancy a flutter]
The new focus is appealing to 'a younger, affluent, more foodie audience', partly thanks to a series of 'supper clubs' with well-known chefs (he namechecks Tommy Heaney, Sabrina Ghayour and Romy Gill, among others) on the ground floor of the flagship department store, often to coincide with the release of a cookbook. 'One of the chefs did Korean chicken wings and we had 100 people all eating chicken with their fingers,' he says brightly. 'I remember thinking, "This is exactly where I want to take the brand."' 
Best but not the biggest
When he arrived as CEO in December 2020, Athron had a conflab with Fortnum's owners. 'The family just want the business to be beautiful, sustainable… they don't want it to be the biggest, but they do want it to be the best.' That said, he believes that growing and remaining profitable 'forces you to be relevant and up to date, and it introduces all the right pressures into the business'. The 'magic of compounding' means growth of 12–17 per cent per year would result in the business doubling in size in five years, while remaining at a rate that should allow its independent, artisan suppliers to keep pace. 
'The family' are the Westons, who sit in seventh place on the Sunday Times Rich List with a fortune estimated at £14.5 billion, thanks to a business empire that germinated from a Toronto bakery in 1882. Today they control Fortnum's, furniture retailer Heal's and Associated British Foods, which owns Primark. (The family previously owned Selfridges but sold it in 2021 for £4 billion.) 
[See also: Collagen, without the needles: La Prairie rivals 'tweakment' results with science-backed skincare mask exclusive to Harrods]
Fortnum's has a stellar board that includes figures such as Leon founder Henry Dimbleby; Marty Wikstrom, formerly of Harrods and Richemont; Tamara Lohan, co-founder of Mr and Mrs Smith; Simon Vincent, who runs Hilton Hotels in EMEA; and family member Garth Weston. The company's chair – to whom Athron will deliver a presentation later today – is Kate Hobhouse (née Weston). 
As well as making the numbers add up, Athron says it's his goal to make Fortnum's 'more relevant to more people'. So, how might he do that? Would he ever consider the type of eye-catching 'collab' that so many luxury brands have pursued in recent years? 
'Collaborations are something that we're looking at,' he says. 'But I'm going to remain coy on who and what. I have an underlying nervousness around collaborations. You can end up in a situation with someone who really benefits and someone who doesn't so much. And I don't want that to happen.' 
Fortnum's was the ideal job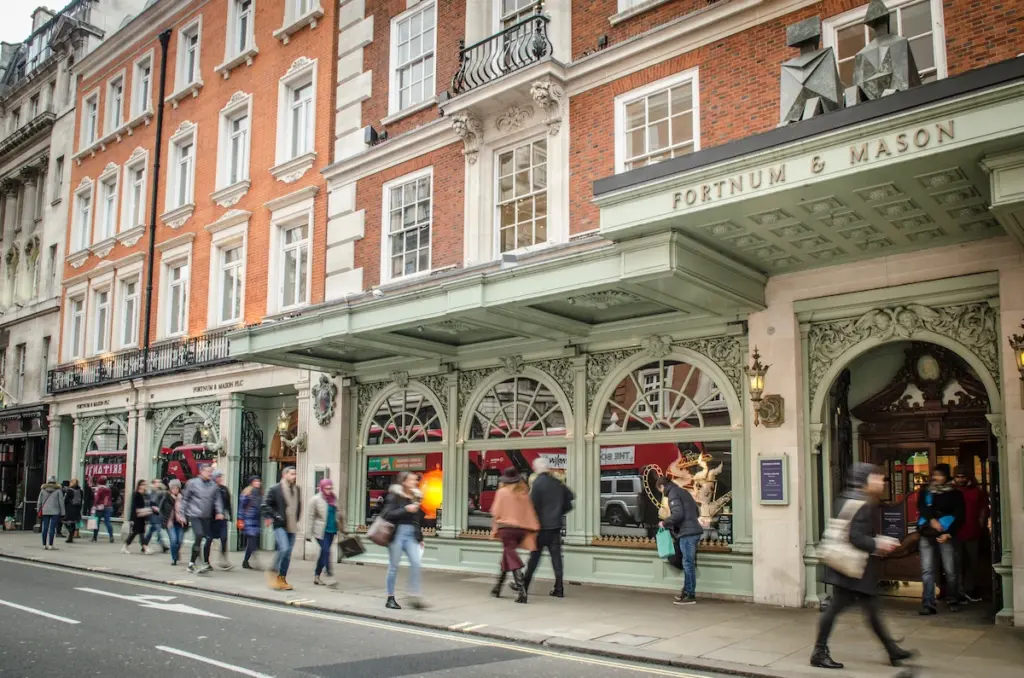 After a business studies degree at Newcastle, he began his career working as a junior investment banker at Hambros in the early Nineties. 'I loved it,' he says. 'I picked up a lot of technical accounting skills, but really what I learnt about was value.' After a few years he went to business school in Cape Town and then, as the dotcom bubble was inflating, took a job at a consultancy helping retailers develop online propositions. He stayed there until 2005, when he joined the John Lewis Partnership, which had been a client, taking a role as 'a sort of executive assistant to the group finance director', doing financial strategy for the group. 
'The brilliant thing about the John Lewis Partnership is that if you're up for it and if you have a degree of self-confidence, they will give you the most extraordinary, counterintuitive career that you would never get anywhere else,' he tells me. He was thrust into a buying role for the electrical and technology division, and was then asked by Mark (now Lord) Price, who was running Waitrose, to be his finance director. 
'I wasn't the only person they were doing this to. What the partnership was throwing out was very experienced, well-rounded general managers who could read a balance sheet, who could write a plan, lead a team, spot a commercial opportunity and negotiate it.' 
[See also: Sampling London's most expensive set menu: is Sushi Kanesaka worth the bill?]
In 2018 he became COO of the online luxury fashion retailer Matches, shortly after the business had been sold to a private equity firm for an estimated £400 million. 'I think I decided quite quickly I preferred food,' he says. 'I got rather fed up with people coming into the office and looking at me…' He mimes looking someone up and down in a rather snooty way. 'I know,' he says to the imaginary fashionista, 'it's Boden again.' 
Athron says he knew the Fortnum's gig was his ideal job as early as 2016, and even said as much to the recruiter who would eventually help to hire him four years later. It seems like a much better fit, but the Matches experience was valuable – not least in how it has informed the way Fortnum's now approaches its own 'tertiary packaging', the box that online orders arrive in. 'Matches taught me that cardboard never has to be boring,' he says. 'Actually it can be incredibly inspiring.' 
Keeping an ear the the ground
Online sales – initially driven by the pandemic but performing strongly ever since – have risen sharply to account for a third of all sales. But Athron is not just about numbers and logistics. 'Jeff Bezos always says that when the anecdotes are telling you something different to the data, you should always believe the anecdotes; you're measuring the wrong thing.' 
He tells a story about a customer who complained about one of Fortnum's flagship products, its piccalilli, saying it was too sweet and the chunks of fruit were too small. 'The buyers took it away and decided, actually, he was right.' They reformulated the recipe and sent the customer a jar of the new version to try (along with six scotch eggs). 'He could not believe that we took his feedback that seriously,' says Athron. 'But we're a small enough business that if people email me directly I will always respond.' 
The delicate challenge that Athron faces now is to balance the history of this 316-year-old brand and the expectations of its existing customers while realising a good chunk of as-yet-untapped potential. 'When I got the job, the thing people – including my mother – said to me more than anything else was: "For God's sake, don't change anything."' 
Of course, in reality, that's not an option. So, he says, 'I'm taking the challenge on, but basically changing everything – without anyone noticing. That's the plan.'