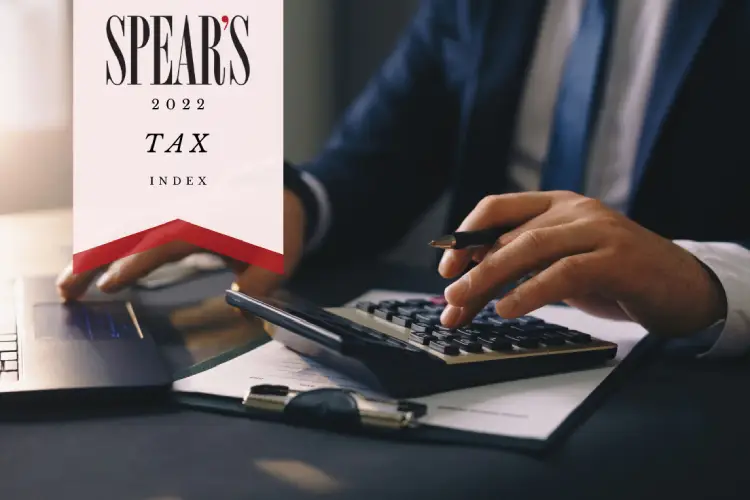 HNWs looking for the best tax lawyers and accountants to help them negotiate labyrinthine revenue regimes and cross-border issues, plan their estates or to set up sensible structures, need look no further than the Spear's Tax & Trust Advisers Index 2022
The 2022 edition of our guide to the finest tax advisers for private clients arrives at an interesting time, as the UK Government strives to boost the economy after the three-headed shock of leaving the European Union, war in Ukraine disrupting already-stretched global supply lines and two years of the Covid pandemic.
Every year the Spear's Research Unit raids its contacts book to put a set of questions to knowledgeable advisers on the general state of tax and the big questions their clients are most concerned with. This year a change of heart on wealth tax was uncovered, and growing fears over the coming recession. Readers might wish to jump straight to a particular section of the index, using the following links:
Top Accountants and Tax Advisers
Top US East Coast Tax Advisers
Promoted to the top rank this year are Nimesh Shah, CEO and tax partner at Blick Rothenberg, a growing firm that is increasingly essential to the tax affairs of HNWs, Andrew Goldstone of Mishcon de Reya, frequently to be found at the centre of the national conversation about tax and Piers Master, top international adviser at Charles Russell Speechlys. Congratulations to all three.
New faces include Sian Steele, Evelyn Partners' new head of private client tax services, Shaun Curtis, leader of Deloitte's private client tax service in Wales, RPC's Adam Craggs who joined the firm from HMRC itself, and Suzanna Harvey of Burges Salmon, a tax and trusts adviser with a globally dispersed clientele. We welcome everyone who joins us today.