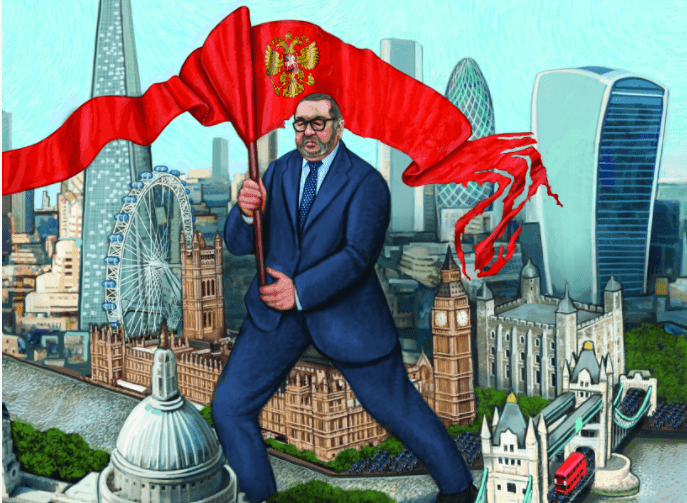 The latest edition of Spear's Magazine, issue 83, imagines London without Russian money, says Edwin Smith
The October Revolution of 1917 saw the Bolshevik Party of Vladimir Lenin rise up to pave the way for the Russian Revolution and, ultimately, the creation of the Soviet Union. In his painting, Bolshevik (below), Boris Kustodiev depicts a giant Bolshevik striding through St Petersburg (then Petrograd) with thousands of fellow revolutionaries at his feet.
The cover of the new edition of Spear's, illustrated by Bob Venables, is inspired by Kustodiev's work, but instead shows an oligarch, with his tattered standard, fleeing 'Londongrad' as fellow wealthy Russians stream through the streets below.
But what would it mean for London if this were to come to pass – if wealthy Russians really did leave London in their droves?
This is the question that Robert Jackman asks in our cover story. Robert's conversations with lawyers, property agents and Anglophile Russians paint a different kind of picture: a snapshot of how the city might change.
In keeping with this theme, I review Oliver Bullough's timely new polemic Butler to the World. The book's tagline – 'How Britain became the servant of tycoons, tax dodgers, kleptocrats and criminals' – reveals just why talk of sanctions and a new Economic Crime Bill in the UK has propelled it into the public consciousness.
Elsewhere in the magazine our regular columnist, the international lawyer and one-time adviser to Mikhail Khodorkovsky, Robert Amsterdam explains the challenges the crisis presents for the West – and where we go from here.
This all flows, of course, from Vladimir Putin's war. We hope no reader will think that by examining the possible economic and social consequences that may reach us here in London that we in any way discount the terrible human cost that has already been paid by the people of Ukraine. This is the most important consideration of all.
Away from Russia and Ukraine there is plenty else that has a bearing on the Spear's world. From Dubai, John Arlidge tells the story of the Emirate's emergence from the pandemic – and why it has become a favoured location for international events and gatherings.
Staff writer Rory Sachs takes a look inside what may very well be the most exclusive club on the planet (you must have $100 million to even apply to join) and gets to know some of the members. There's also a deep dive into the phenomenon of billionaires buying up football clubs, despite the fact ownership can become a 'money pit', in the words of one chastened investor.
The Briefing section focuses on wealth management while, finally, towards the back of the book, we have a lavish feature about an unprecedented boom in the luxury watch market.
As ever, I hope you enjoy the issue.
Image: Bob Venables
Book Review: 'Butler to the World' argues that Britain readily greases the wheels of kleptocracy
What less Russian money and oligarchs leaving would mean for London