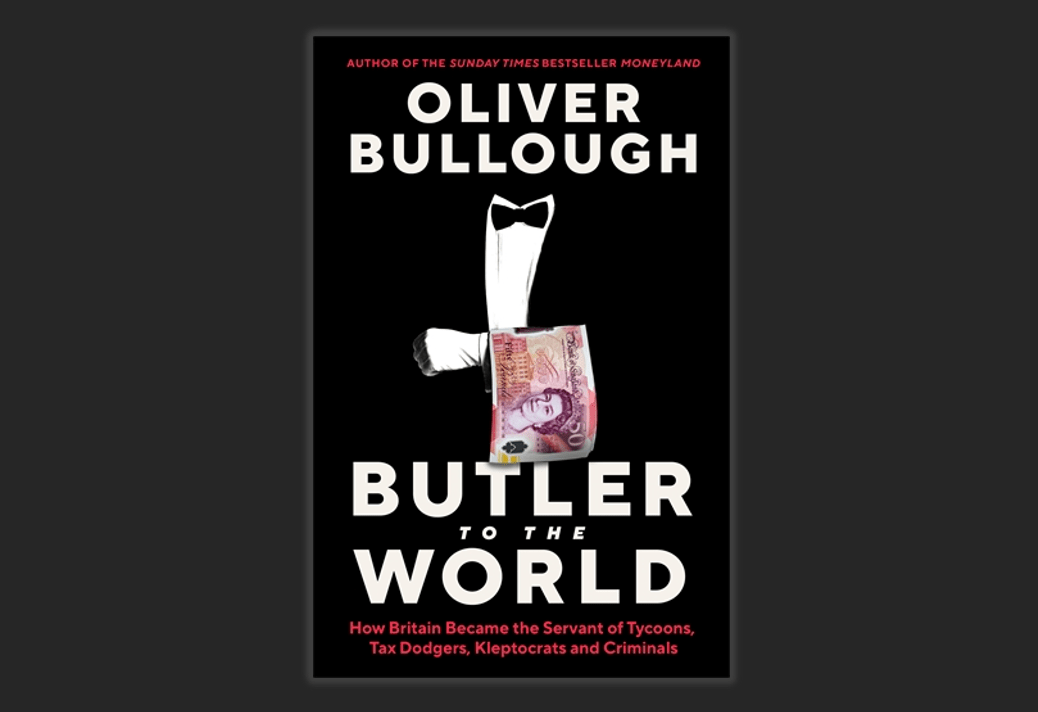 In Butler to the World, Oliver Bullough argues that Britain greases the wheels of kleptocracy and money laundering all too readily, says Edwin Smith
Butler to the World: How Britain Became the Servant of Tycoons, Tax Dodgers, Kleptocrats and Criminals
by Oliver Bullough
(Profile books, £20)
Oliver Bullough could not have timed his new book, Butler to the World, more perfectly. It reveals, his publishers say, 'how the UK took up its position at the elbow of the worst people on Earth: the oligarchs, kleptocrats and gangsters.' As such, it addresses a subject that has gripped the public imagination of late; some of those people have been placed under the glare of media attention like never before.
The book charts the development of what Bullough describes as 'Butler Britain' – from the Suez crisis of 1956 through to the modern day. Looking back on Suez from the vantage point of 1962, former US Secretary of State Dean Acheson opined that 'Britain has lost an empire and has not yet found a role.' But, Bullough argues, Acheson was wrong. Britain had already found a role: 'as an amoral servant of wealth wherever it could be found, using the skills it had built up over centuries of empire-building to help the owners of wealth avoid having to account to anyone but themselves.'
He likens the behaviour of Britain – or, at least, its politicians, the City of London, its wealth managers, lawyers and lobbyists – to Bertie Wooster's valet Jeeves in PG Wodehouse's Jeeves and Wooster stories. The novels are comic but, seen through a different lens, Jeeves is a questionable character. He may be educated, intelligent and smartly dressed but, as a butler, he has no qualms about subverting the course of justice (through bribery, blackmail and violence) or lying to aid and abet his paymaster – for no other reason than money.
The birth of the Eurodollar market is cited as one of the first stages in Butler Britain's development. Creative financial engineering in the City of London allowed banks and their clients from around the world to skirt restrictions on the use of the dollar that had been put in place by the US government. This paved the way for the international flows of capital that we have today and, crucially, for the birth of offshore financial centres.
Of these, Butler to the World focuses most keenly on the British Virgin Islands, a British overseas territory that in the 1970s began to allow companies based there to make use of double taxation treaties to lessen their tax burdens. This presaged the introduction in the BVI of the International Business Company (IBC), a stripped-down version of a corporation that was essentially tax-free.
The BVI was aided by the decline of Panama's status as an offshore financial centre (especially when Manuel Noriega was indicted on drug trafficking charges in Miami) and the waves of fear that would grip wealthy people in certain parts of the world when regimes looked like changing tack, or being able to reach further than they were previously able.
By the mid 1980s, when Britain agreed to transfer Hong Kong to Chinese control, the tiny Caribbean islands' reputation had grown large enough to attract Li Ka-shing, Hong Kong's richest man, who chose to move his shipping assets to a BVI-registered company.
Effectively, Bullough writes, the BVI was 'selling discreet and affordable asset protection services, all guaranteed by the pleasant and reassuringly solid presence of the British flag.' Thanks to the Panama Papers leak, among other things, we now know those services have been used by North Korean arms smugglers, crooked Afghan officials, American tax dodgers, South American drug cartels, Kremlin insiders, corrupt football administrators and criminals of all different stripes.
Also in Bullough's sights are the way that regulatory and fiscal arbitrage have allowed gambling to flourish (damaging so many lives in the process), the existence of companies that make it easier for criminals to do their dirty work (such as Scottish limited partnerships, SLPs) and the paucity of resources that the UK's enforcement agencies have to stamp out corruption.
It is worth noting that Butler to the World's author is a campaigner with the bit firmly between his teeth. His chief motivation is noble – to make life harder for people to commit acts of corruption and get away with them – but his zeal robs his work of some nuance.
The book is written in such a way as to tacitly conflate out-and-out kleptocrats (who steal from their own people) with oligarchs (who had largely been tolerated by Western governments and certainly by their own for the past 20 years or so) and anyone who happens to be wealthy. At one stage Bullough seems to acknowledge this: 'A butler does not only work for criminals, remember, but for anyone rich enough to be able to employ his services.' But even here the implication is not that most of the people he's talking about serve clients that are perfectly legitimate, but rather that providing services to legitimate parties who can afford to pay for them is somehow a moral failing.
Bullough seems to sneer at Li Ka-shing for wanting to put some of his assets beyond the reach of the Chinese Communist Party, but some readers may reflect that this a perfectly reasonable thing to do.
In Butler to the World, there is very little in the way of caveat or qualification – or acknowledgement of any concept that would cloud the writer's moral clarity. The idea that economic systems are inherently complicated networks and that politicians must make trade-offs when they consider laws, enforcement and the unintended consequences of their actions does not really feature. Neither does the notion that elected politicians might be right to favour the interests of their own constituents above those of people in other countries.
However, there is plenty here to give pause for thought for anyone, irrespective of their ideology. There is a striking account of the speed and alacrity with which the British Establishment welcomed a Ukrainian tycoon with ties to Putin, while, conversely, the American authorities were more interested in investigating his alleged corruption.
The story of the solicitor Khalid Mohammed Sharif is enlightening. Sharif failed to carry out sufficient checks on the daughters of Azerbaijan's president before agreeing to help them set up offshore structures to invest in London property – and filed a 'Suspicious Activity Report' (SAR) a month after the publication of a Guardian article about the transaction.
And there is a post-mortem of one of the National Crime Agency's attempts to enforce an Unexplained Wealth Order (Uwo), which was hamstrung by a serious lack of resources.
The danger is that the debate, framed in the way it is here, and now supercharged by the situation in Ukraine, becomes a new front in the culture war between left and right. That would be a shame, because the subject requires more serious and nuanced consideration than this would allow.
Image: Profile Books
More from Spear's 
What less Russian money and oligarchs leaving would mean for London
Demand and supply means hyped luxury watches are hard to find — but these gems are good alternatives