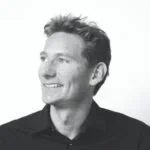 John Arlidge
John Arlidge has interviewed and profiled some of the world's most prominent business leaders, mainly for the Sunday Times Magazine.
It was John who revealed that Goldman Sachs' former boss, Lloyd Blankfein, thinks bankers 'do God's work'. It took 10 years but he finally persuaded Jony Ive, Apple's then chief designer, to do his first, full one-on-one interview. When Carlos Ghosn, the fugitive Nissan CEO, decided to reveal the details of his escape from Tokyo, a stowaway on a private jet, he chose to talk to John. Sir James Dyson first revealed his £500 million prototype electric car to John.
He lives in London with former BBC Economics Editor now global head of economics and government at Bloomberg, Stephanie Flanders, and their son and daughter.