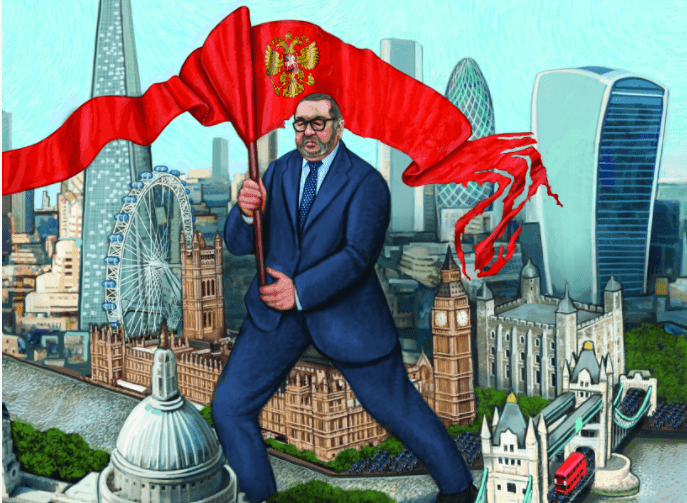 Will targeted sanctions and a more general hardening of attitudes spark an exodus of Russian money from the city many have called home for so long, asks Robert Jackman
The most obvious consequences of Vladimir Putin's invasion of Ukraine have been the terrible – and needless – suffering and loss of life. As refugees are scattered through Europe and attempt to reunite with loved ones, the true human cost of the Russian leader's misguided, vainglorious crusade will not be tallied for some time to come.
But this monumental event has had other consequences, too. Some of these began to arrive here in London even before the first Ukrainian refugee.
After a couple of decades in which the British establishment had appeared only too willing to welcome wealthy Russians into its midst, attitudes suddenly began to harden in late February this year as the Russian army's 40-mile-long military convoy began to make progress into Ukrainian territory.
Among Conservative politicians, Sajid Javid may have been the first to get serious, reportedly telling cabinet colleagues in the early days of the invasion that responding to the Kremlin's aggression would require a clampdown on the 'white-collar collaborators' who sold their services to some of Moscow's richest. Similar noises soon came from other senior ministers keen to ramp up the pressure on Putin by squeezing his circle of powerful oligarchs – many of whom had bought homes, businesses and much else besides in 'Londongrad'.
The Conservative backbencher Bob Seely went a step further than most, using a parliamentary speech to read out the names of four London-based lawyers who had represented some of Vladimir Putin's favoured oligarchs. 'How on earth have we allowed this to happen?' he asked. The prime minister, Boris Johnson, said in parliament: 'The legal profession and everybody involved in assisting those who wish to hide money in London and in assisting corrupt oligarchs have been set on notice that their actions are under scrutiny.'
Johnson reinforced his words with a stream of sanctions, including freezing the assets of several oligarchs with ties to London. The measures targeting Russian money would even reportedly prevent cleaners from attending to the home that Chelsea football club owner Roman Abramovich bought on London's 'Billionaires' Row' for £90 million in 2011. But not everyone was convinced. In the Guardian, Oliver Bullough (whose book Butler to the World is reviewed here) wrote that the government's new economic crime bill rushed through Parliament showed 'ingrained complacency towards dirty money that is so complete it begins to resemble complicity'.
Just how the rhetoric and regulation will mesh with reality remains to be seen. But there can be no doubt that the London-based industries and institutions that have served wealthy Russian customers over the last 20 years or more now face an uncertain future. What would happen if the relationship between London and the wealthy Russians that have become part of its fabric were to collapse? What would it mean if Londongrad as we know it were to fall?
***
From a family law perspective that would be pretty catastrophic,' says Ayesha Vardag, a leading divorce lawyer specialising in UHNW and international cases. 'Obviously we shouldn't be turning a blind eye to dirty money, but to lose all the Russian clients would leave a big hole in the market.'
Vardag, who lives in Dubai but does much of her work in London, pushes back on the idea that she or any of her peers in the UK have become overly dependent on Russian money and clients, however. Catering to the occasional oligarch is certainly lucrative, but any firm worth its salt will have cast its net wider.
It isn't just divorce lawyers who will be affected. In its annual report on London's commercial courts, the political consultancy firm Portland Communications has consistently found Russians to be among the most represented nationalities among UK litigants. Meanwhile the souring of relations between Russia and Ukraine since 2014 has seen a surge in commercial disputes between litigants from the two countries.
This has been profitable work for City partners and chancery barristers, but not uncontroversial. At the beginning of this year, a cross-party group of MPs issued a warning that Russian oligarchs and businesses were frequently using the courts to silence journalists and other critics, with the threat of costly litigation used to quash potential investigations (a technique known as a 'strategic lawsuit against public participation' – or Slapp).
The use of Slapps often makes headlines, but they are not always successful. In a timely decision coming just days after Russia's invasion, a London court dismissed claims from a Kazakh mining company against Financial Times journalist Tom Burgis for alleged claims made in his book Kleptopia. The company, Eurasian Natural Resources Corporation, was left saddled with Burgis's £50,000 legal costs.
However, last year, when Roman Abramovich brought a series of claims against publisher HarperCollins over some of the content of Putin's People, a book by the journalist Catherine Belton, the publisher was eventually forced to agree to issue corrections (including to claims about Ambramovich's purchase of Chelsea football club) and make a payment to charity 'in recognition of this error'. This was despite the case having become a focal point of anti-Slapp campaigners.
Days after the war began, the former supreme court justice Lord Sumption was quizzed on BBC radio about his decision to act for Roman Abramovich in the latter's 2012 dispute with the late Boris Berezovsky. Having initially defended the case on the grounds that both parties were entitled to a fair hearing (and that Berezovsky, sworn enemy of the Kremlin, couldn't get that in Moscow) Sumption was asked if he could take the case today. 'At the moment, probably not,' he admitted. Within 10 days, the UK had imposed sanctions on Abramovich – including asset freezes and travel bans.
However, in a letter to the Times, another of London's most eminent QCs, Lord Pannick, struck back at the demonisation of lawyers, saying that critics – including Bob Seely MP – had 'lost sight of one of the basic pillars of the rule of law'.
Perhaps unsurprisingly, many lawyers are more tight-lipped about what a future without Russian clients might mean for the industry. Anand Doobay, a partner with sanctions experts Boutique Law, says that London's courts remain a lifeline for exiled Putin critics who are unfairly targeted by the regime. Yet among the big City players, there are signs that law firms are expecting a deep freeze.
One Magic Circle firm (Allen & Overy) has already confirmed it will refuse future work from Russia-linked entities, while another (Linklaters) plans to close its Moscow office. After one legal website spotted that the full-service firm Mishcon de Reya had removed a page from its website touting special services for VIP Russian clients, the firm confirmed it was reviewing its current client book but would continue to provide Russian UHNW clients with services including immigration advice and wealth structuring.
Away from the courts, Russian money has been flowing into Londongrad's property market for years, but the scale of the phenomenon is not always well understood. From Mayfair to Highgate (where one agent estimates that around 40 per cent of buyers hail from Russia), the wealthy Russian buyer has become a familiar stereotype – and, for some, a useful political target.
'Russian buyers receive a disproportionate amount of media exposure,' says Mark Pollack, the co-founder of residential agency Aston Chase. 'I think that then leads people to overstate their importance to the overall market.' Pollack predicts that if Russian money vanished overnight, the most obvious absence would be in the super-prime market. 'Though we're talking about a handful of deals a year here,' he says.
As Pollack concedes, though, there is one big variable: working out just how many homes belong to Russians in the first place – a number obscured by the common use of offshore companies. This secrecy has often led to intrigue: such as the 2015 New Yorker story which delved into rumours that Witanhurst, a £300 million London mansion with a vast underground estate, was in fact owned by Vladimir Putin. Its author, Ed Caesar, was able to reveal that the house had been purchased by a shell company which was thought to be controlled by the family of Andrey Guryev, an oligarch once close to Putin.
Aston Chase's own survey estimates that around 150,000 Russians live in the capital and that Russian investors hold some £1.1 billion worth of London property. With the war in Ukraine giving Boris Johnson's government the impetus to bring forward its long promised register of beneficial ownership of UK properties, the days of relying on estimates may soon be over.
Despite the sums shelled out by Russian buyers, senior industry figures remain undaunted by the prospect of a Russian exodus.
Trevor Abrahamson – the self-styled 'billionaires' estate agent' of Bishops Avenue – says that, in his experience, Russian money represents just one third of today's ultra-prime market. 'We're also seeing a lot more Russian sellers than buyers at the moment,' he adds.
As they've snapped up London homes over the past two decades, Russian HNWs have made their presence felt beyond the property market. Data from the Independent Schools Council's 2021 Census shows that there are 2,327 Russian pupils in the 1,400 or so schools that the body represents. That's equivalent to just under 0.5 per cent of the total number of pupils. Add in linked nationalities, including former Soviet bloc countries, and the number doubles. And, in certain areas, the concentration is much greater. One Spear's 500-ranked adviser reports that their daughter attends a school in Notting Hill where there are 40 Russian students (and just one Ukrainian).
And what of London's cultural scene? St Petersburg-born Tatiana Fokina sees herself as indicative of a new generation of Russians who have made the city their home. As the 34-year-old chief executive of Mayfair's Hedonism Wines – and a critic of the Putin regime – she knows the importance of Russian wealth to London's high-end hospitality industry. 'They definitely make up a chunk of the big spenders,' she says.
Fokina rejects the idea that London's jet-setting Russians largely back the Kremlin, but notes that worsening relations between Putin and the West have been having an impact for some time.
'I think ever since the sanctions after Crimea in 2014, Russians are travelling and spending less,' she says. Further complicating matters, she says, is a heightened concern among Russians about how they will be received in the West.
'Ever since the war, I've heard people saying they're worried about speaking Russian in the streets,' she says. 'And I'm not someone who says these things to take away from what's happening in Ukraine.' The conversations Spear's had with a range of London businesses that have courted HNW Russian clients over the years – ranging from etiquette tutors to high-end concierge services – all tell a similar story: there is concern that Russians – and Russian money – with no discernible ties to Putin's regime could face negative consequences.
Some are already pushing back. Alexander Lazarev – Ukrainian-born founder of Belgravia's The Bath House, a traditional Russian banya – has expressed fears that outrage at the war could lead to mistargeted boycotts. Does he also worry what would happen if Russian nationals left London? 'We have lots of Russian speaking visitors, but we don't know their nationality,' he tells Spear's. 'They could easily be Ukrainian, Kazakh or Belarusian.'
'In any event,' he adds, 'we have a saying in Russia that there are no epaulettes – no class or other hierarchies – in the banya.' While visitors include numerous HNWs and celebrities, Lazarev insists that this ethos isn't lost on them. 'As someone wrote to me recently in an email,' he says, 'the Russia of the banya is not Putin's Russia.' Can the same be said of Londongrad? We may soon find out.
Image: Bob Venables
More from Spear's 
Book Review: 'Butler to the World' argues that Britain readily greases the wheels of kleptocracy
Demand and supply means hyped luxury watches are hard to find — but these gems are good alternatives