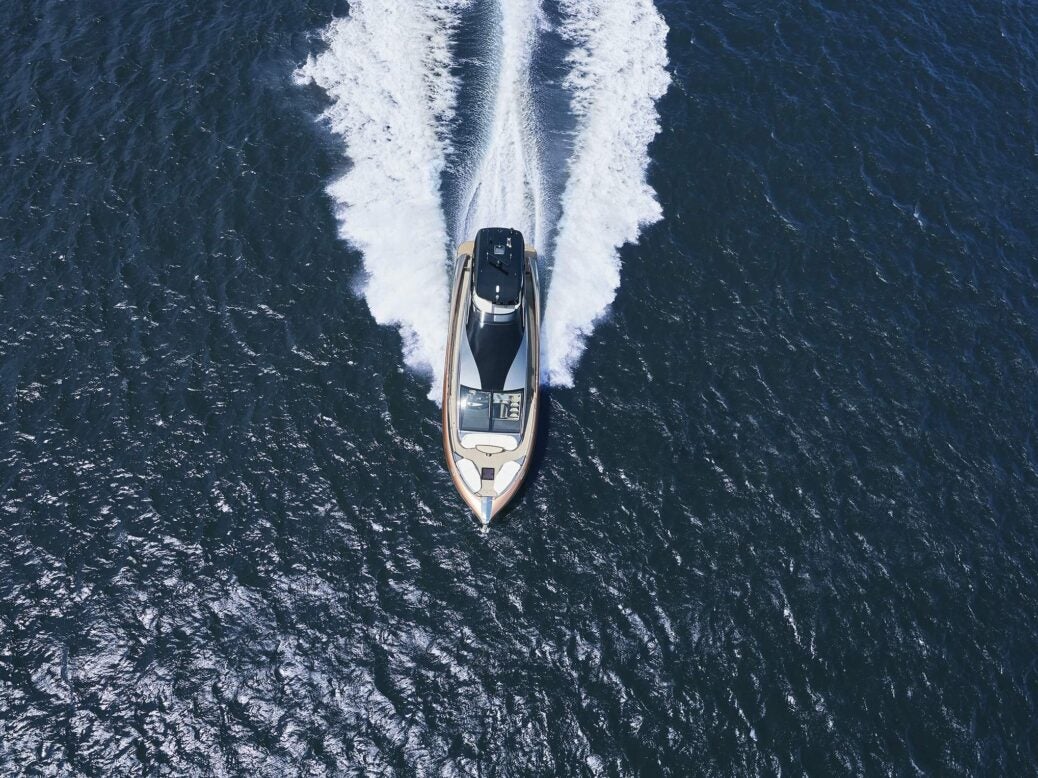 The car company's first luxury yacht is like nothing else on the high seas, writes Gareth Herincx
It could be said that when critics dubbed Lexus cars 'boring' in 2011, a chain of events was triggered that led to the launch of the stunning new LY 650 yacht.
Lexus is the luxury division of the giant Toyota Motor Corporation, and so stung was the charismatic Toyota president Akio Toyoda by this attack that he personally pushed his designers to take more risks. 'From then on I was determined the word "boring" and the word "Lexus" would never be used in the same sentence again,' explained Mr Toyoda, whose grandfather set up the company in 1933. 'Toyoda may be my last name, but Lexus is my middle name.'
Just as the distinctively styled Lexus range has gone from strength to strength, so the brand's aspirations have reached beyond the road. The result – in its 30th anniversary year – is a successful, innovative range of cars and the first Lexus yacht. A collaboration between Lexus, American boat builder Marquis Yachts and Italian nautical design house Nuvolari Lenard, it is priced from £3 million and can sleep six people and accommodate up to 15.
Smooth operator
Embracing the 'L-finesse' Lexus design language, the elegant LY 650 is a 65ft flybridge cruiser, with an unusually wide 19ft beam. There's a strong, pronounced bow, curved deck accents, accentuated aft hips and a flowing roofline. It has three levels: the hull deck offers three double bedrooms, each with ample headroom and en suite facilities; the upper cabin contains a kitchen, additional seating area and forward helm; and up above there's an additional, open-air helm.
Other features include two-tone bronze paint, stainless-steel exterior design details and Lexus 'L' theme window frames. Powered by twin Volvo Penta engines, with outputs ranging from 1,050-1,350hp per unit, the 40-tonne yacht is capable of speeds up to 31.4 knots.
The project wasn't without its issues, as the boat builders and designers grappled with Lexus's nautical dream. The result is unique.
'Lexus influenced and challenged us to accomplish things in this project that had never been done on a production yacht,' says Josh Delforge, vice president of design engineering at Marquis Yachts. 'In the end, the product has this flowing, organic feel that really felt critical to the Lexus image. Nothing is a square, nothing is a box – everything has some sort of movement.'
The attention to detail is astonishing, from the curves to the clever packaging that sees appliances such as fridges and washing machines hidden inside cupboards and under real wood surfaces. There's extensive use of carbon fibre for its strength and lightness both above and below the waterline, as opposed to fibreglass, which is widely used traditionally.
Lexus production philosophies were also applied to the construction process in order to smooth areas such as workflow, machining and parts supply. Compared to vessels previously developed by Marquis, construction time of the first yacht was reduced by 20 per cent. The LY 650 also features fresh technology such as a 'virtual anchor', a system that automatically maintains the vessel's position and heading, even during strong currents or windy conditions.
Lexus reckons buyers will be split between those who will skipper the yacht themselves and those who hire a captain. The vessel can be operated in a variety of ways, including a wheel, a joystick and a new LY-Link smartphone wireless connectivity system that controls the boat's functions and uses real-time information to assist navigation.
The LY 650's sound-deadening materials mean it is a quiet cruiser, while the advanced hull has resulted in a calm ride, enhancing stability and manoeuvrability and lowering fuel consumption.
With orders flooding in, the future looks bright for Lexus as a luxury brand. However, as Mr Toyoda announced recently, Toyota itself is 'trying to transform from an automotive company to a mobility company', and to enhance the value of the Lexus brand 'we need to cover land, sea and also air' – so could there be a Lexus plane next?
Read more…
Licensed to thrill: Aston Martin's DBS Superleggera reviewed
The new Land Rover is a class act