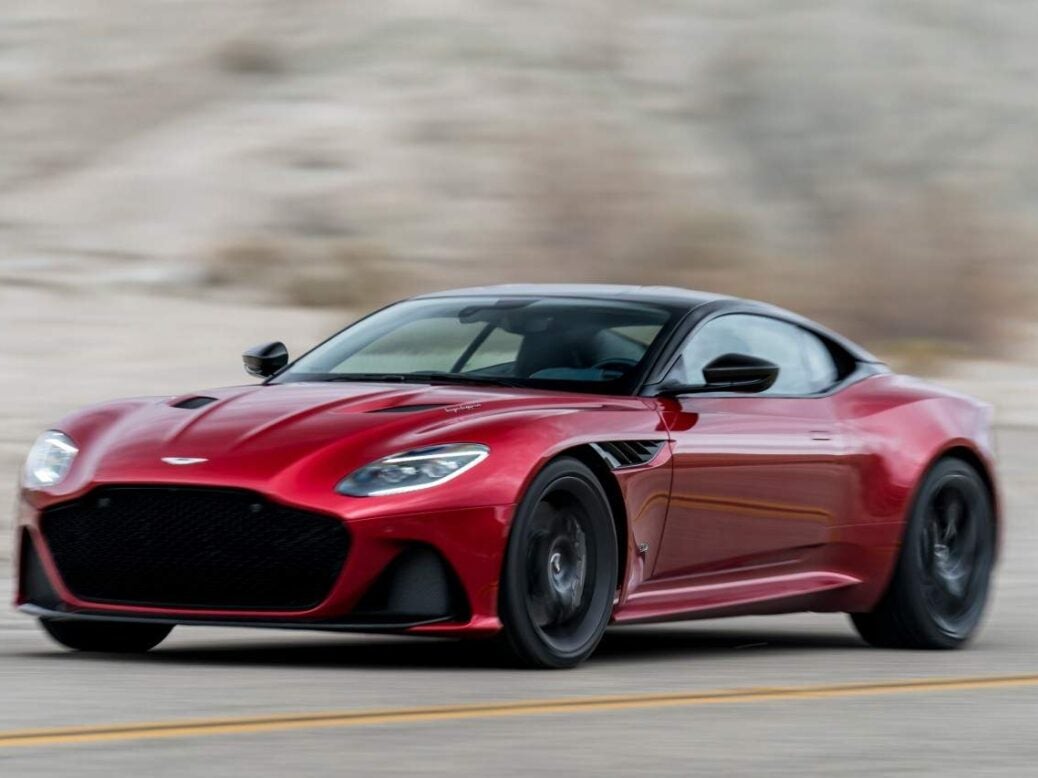 The DBS Superleggera is a Super GT you could use as a daily driver, writes Gareth Herincx
The Aston Martin DBS Superleggera sits at the pinnacle of the Aston Martin range. A blisteringly quick British grand tourer blending beauty, brute force and technical wizardry.
Powered by a mighty twin-turbo 5.2-litre V12 engine developing 715hp and 900Nm of torque, this automotive ballistic missile can hit 0-62mph in 3.4 seconds, 100mph three seconds later and a top speed of 211mph.
Stunning performance isn't just about raw power – carbon fibre panels, a lightweight aluminium structure and more downforce than any of the brand's previous series production models have ever generated, add to the mix.
Its name alone is a nod to Aston Martin illustrious past.'Superleggera' (or 'Super lightweight') pays homage to the innovative lightweight construction methods pioneered by Italian coachbuilder Touring with classic DB models of the 1960s, while the DBS badge was introduced in 1967 and last used in 2007.
Taking on Ferrari's 812 Superfast, no less, it's been dubbed the best car Aston Martin has ever made.
Sadly, my time in the DBS Superleggera was restricted to the road, which is frustrating when you can only experience a fraction of its performance.
The good news is that even within the legal limits, it's clearly a special car – not just because of its speed and handling, but those looks. Muscular and handsome, it's a perfectly proportioned 2+2.
Inside, the DBS Superleggera is not dissimilar to its DB11 and Vantage siblings, sporting a flat-bottom steering wheel, driver-centric console, supportive sports seats and acres of leather trim. The only disappointment is the 8.0-inch infotainment screen which looks distinctly ordinary.
When you're ready to go, it's just a case of awakening that awesome V12, selecting Drive and you're off.
It will waft away as smoothly as you like. A vision of calmness and precision. Dip the accelerator pedal and you get more than a hint of the power on tap. Naturally, the burble of the V12 up front gets more vocal the faster you go. Switch the drive mode from GT to Sport or Sport+ and it gets angrier and angrier. Nothing short of a war cry from those quad pipes.
These settings also sharpen up the suspension and drivetrain, but we'd say Sport is probably the best balance for entertaining B-roads.
Floor your right foot and it's seriously fast. The response is immediate, yet it feels totally planted. Featuring an eight-speed automatic gearbox driving the rear wheels only (through a limited-slip differential) it still has to be treated with caution in slippery conditions.
At first it seems wide, but you soon adjust and after a while it doesn't feel cumbersome at all. In fact, quite the opposite because it's athletic and well-mannered for such as brute.
Accurate, light steering helps to create a delicious all-round driving experience that's hard to match and will leave you with a massive smile on your face.
But I guess the remarkable thing about the DBS Superleggera is just how driveable it is – in traffic, cruising motorways or stretching its legs in the countryside.
In practical terms, the two rear seats could accommodate small children, but that's about it, while the 270-litre boot is good for a weekend away.
Starting at £225,000, and also available as a Volante (Aston Martin speak for a convertible) it's an investment. Running costs are hefty too. Fuel economy of around 20mpg is possible, if you can restrain yourself, while CO2 emissions are 295g/km. But then this car harks back to a golden age when fuel economy was way down the list of priorities and CO2 emissions were Tomorrow's World stuff.
The Aston Martin DBS Superlegerra is the ultimate old-school Super GT. Dynamic and thrilling, yet surprisingly relaxed and easy to drive, few cars can match it for intimidating road presence and legendary British badge appeal. And in this age of electrification, this may well be the last hurrah for Aston's venerable V12.
There, a whole review of an Aston Martin, and no mention of James Bond.
Read more: