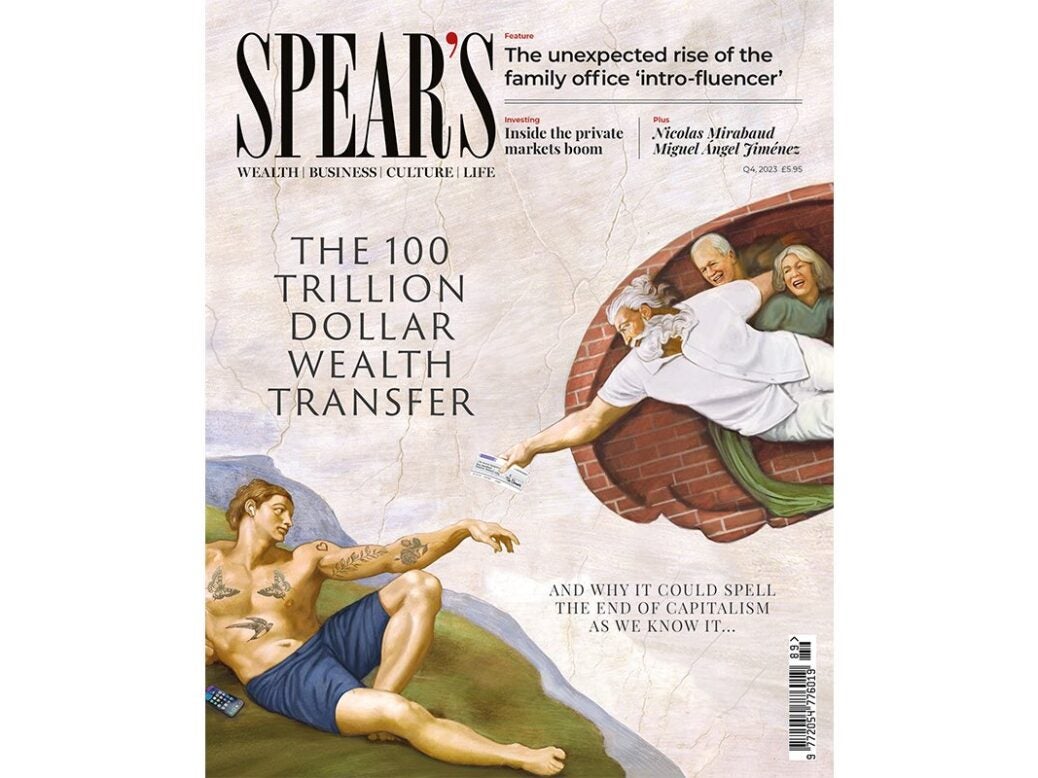 When $100 trillion changes hands, it's a big deal. According to Ken Costa, the veteran banker who has worked alongside figures such as Sir Siegmund Warburg and advised Mohamed Al-Fayed on the sale of Harrods, it could also be a threat to the very future of capitalism.
In his new book, The 100 Trillion Dollar Wealth Transfer, Costa explains why a deep division between the generation of Baby Boomers and what he calls 'Zennials' (an amalgamation of millennials and Gen Z), as well as their starkly different values, could bring radical – and unwelcome – change. As Alec Marsh discovered when he visited Costa at home in Holland Park to interview him for our cover story, this shift has major implications for anyone who holds wealth or allocates capital. Costa doesn't paint a pretty picture, but there is some good news: there's still time to do something about it, so long as we act fast.
[See also: Monaco Yacht Show: Meet SP80, the boat set to break the world sailing speed record ]
Another theme that investors and wealth holders should be watching closely is the shifting face of the private markets. Estimates vary widely, but some well-placed judges reckon the value of the industry – already at $10 trillion – could double in the next decade. One of the key drivers of this will be a 'democratisation' of private markets investing, as the asset class becomes accessible to more people. Of course, private equity trusts and 'semi-liquid' or 'evergreen' funds have been around for a while, but, as we hear from some of the people behind this trend, we ain't seen nothing yet.
[See also: How much money would Labour's proposed VAT levy on private schools raise? ]
In this issue we also have a story about LinkedIn. If you're anything like me, that sentence will have made your heart sink, but stay with us. Here at Spear's we began to notice an increasing amount of activity on social media that was connected to the world of family offices. Much of it was driven by a small number of social media influencers, who set out to boost their follower numbers and engagement through selfies, clickbait and, in some cases, by promising to share details about family offices themselves. It is all anathema to the values and behaviours that real-life family offices are known for and, frankly, it had started to smell a bit fishy. So we sent Robert Jackman to investigate.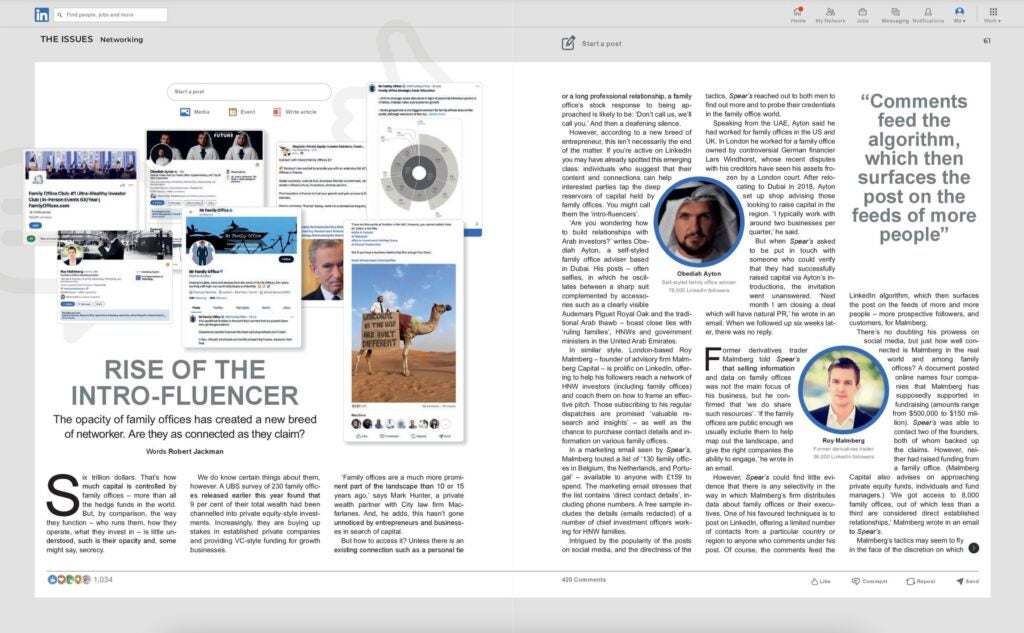 Our Briefing section is on tax – a pressing concern for many readers as we approach a general election next year. Labour leader Sir Keir Starmer and his chancellor-in-waiting Rachel Reeves are widely expected to claim the keys to 10 and 11 Downing Street. But what will they do once they're there – and should international HNWs with businesses, properties and investments be making pre-emptive plans to protect themselves and their assets? Read the full story here.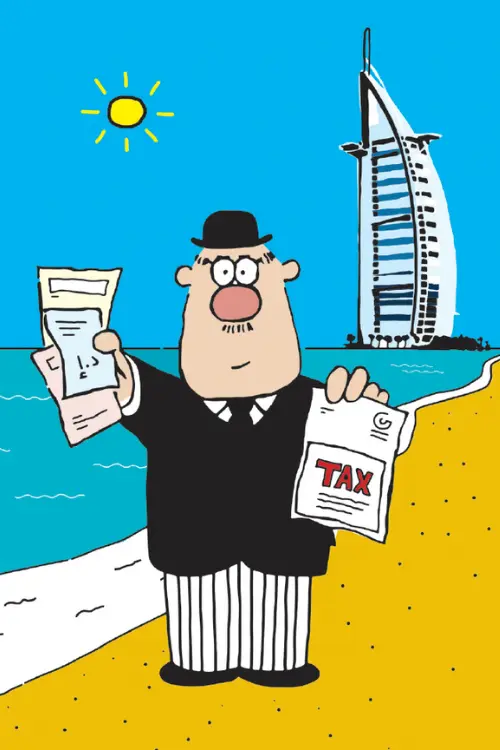 Sticking with tax but switching jurisdictions, we head to the Middle East to understand how the UAE is slowly introducing direct taxes. Will it be a slippery slope? And we have the results of the new Spear's Tax Survey, which charts experts' view of a wealth tax and includes recommendations for reforming the UK tax system.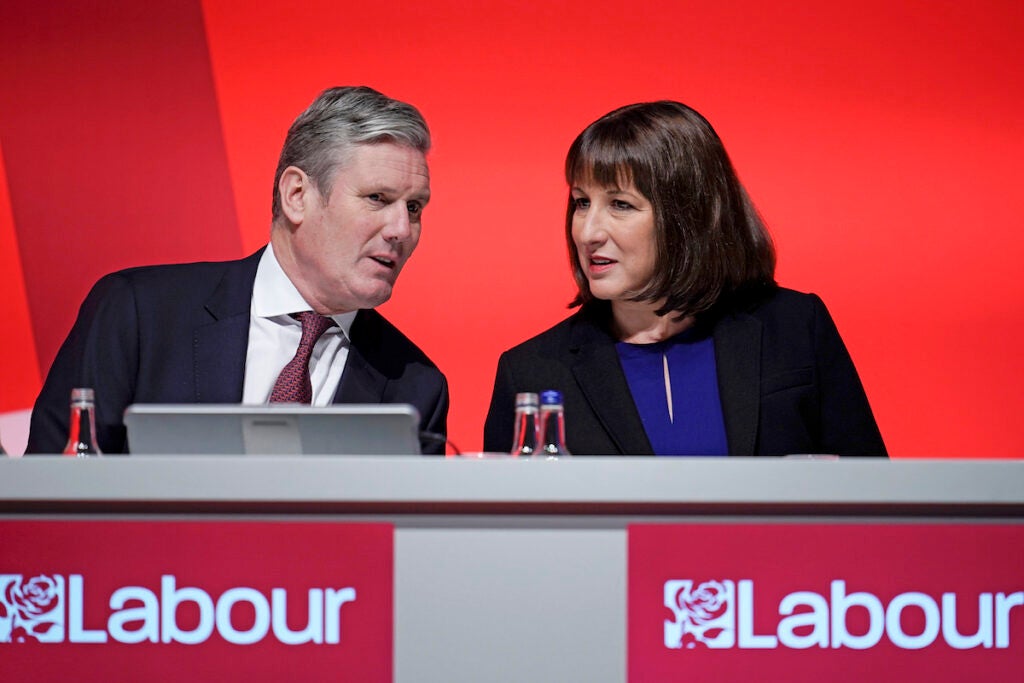 In the Good Life section, the Telegraph's Ed Cumming makes a welcome return to the pages of Spear's, where he bids a fond farewell to Le Gavroche. The Mayfair fine dining institution will close its doors early next year and, as Ed discovers, the news has sparked a stampede, as well-heeled gourmands try everything in their power to bag one of the final tables.
Meanwhile, John Arlidge drives the all-new, all-electric Rolls- Royce Spectre, Timothy Barber celebrates the odd couples of the luxury watch world, Sarah Royce-Greensill explains the new rules of diamonds, Chris Madigan unearths a special dram, Jane Church boards the Orient Express and I report back from the private jet set's favourite party island, Mykonos.
[See also: Chef Alain Ducasse on how he went from living in a yard to gaining 21 Michelin stars ]
As well as outstanding contributions from other Spear's stalwarts, we also have several edifying and exclusive interviews, with golf legend Miguel Ángel Jiménez, star chef Ollie Dabbous, Fortnum & Mason CEO Tom Athron, investor Petros Stathis and Nicolas Mirabaud, seventh-generation scion of the Swiss banking dynasty Mirabaud.
I hope you enjoy.
The Editor's Letter first appeared in issue 89 of Spear's, available now. Click here to buy a copy and subscribe