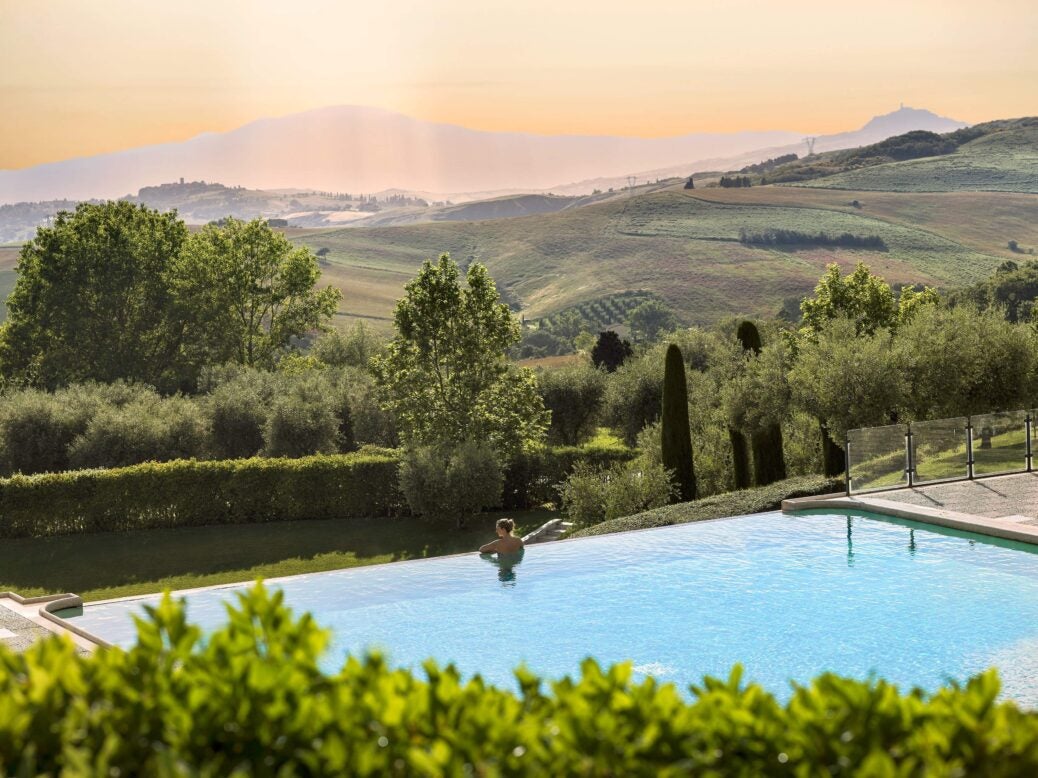 The Romans, the Medicis and Ann Coulter have all been drawn to Fonteverde for the healing properties of the 42C water that flows from the springs through its luxury spa, writes Edwin Smith
'Don't look now,' I tell the Brunette, 'but I think the blonde lady at the table behind you ̶  ' She immediately turns around.
'Don't look,' I hiss, leaning in and lowering my voice, 'but I think the blonde lady at the table behind you is Ann Coulter.'
'Who?'
'You know, the very right-wing American TV pundit? The Trump-cheerleading blonde bombshell and best-selling author?'
'Oh,' she says, totally nonplussed.
You can't blame her for being uninterested, I suppose. There's a more inspiring view in the other direction: of the red Etruscan sun dipping below rolling hills and casting shades of pink and blue across the canvass of the evening sky.
We're eating dinner on the terrace at Fonteverde, the site of 42 natural springs that have attracted visitors to this bucolic corner of Tuscany since Roman times and, in the 16th Century, saw the construction of a grand villa by Ferdinando I de' Medici. (He is considered one of the better behaved of the clan despite, probably, ordering the killing of his own brother — which, if nothing else, helps to put your own family squabbles in perspective.) Some of the remains of the villa he built have been incorporated into the five-star hotel that stands here today.
The Romans, the Medicis and, now, famous members of the right-wing commentariat and I, have all been drawn to Fonteverde by the same thing: the reputed health-giving properties of the 42C water that flows from its springs. Rich in calcium bicarbonate, fluoride, sulphur and magnesium, the water fills several of the pools that are connected to the hotel: there are warm pools, cool pools, pools with jets, pools with waterfalls and, most impressive of all, pools with spectacular views of the unmistakable Etruscan landscape, which seems to change colour and shape as the sun tracks across the sky during the course of the day.
At the beginning of their stay, guests here have the chance to sit down with a doctor who will make recommendations for treatments. One option is the 'Equilibrium' programme, which lasts for a minimum of seven days and is designed to help bring body and mind into balance. Anyone undergoing the full programme is first asked to complete a questionnaire, which records details about both their physical and mental health, with other specific treatments recommended based on the results. Adherents stick to a strict low-calorie diet that includes lots of vegetables and minimal meat.
Since we were only staying for a few days, the Brunette and I instead elected to float about in the pools, relaxing, reading and admiring that view. We did try a few of the standalone treatments, though, including a blissful visit to the 'thalaquam', a purpose-built low-lit room in which heavily salted water supports your weight as you float on your back to the sound of wind chimes.
I was also encouraged to book myself in for a 'jet massage'. It was administered by the 'Indian Master Dipu', who invited me to strip absolutely naked and lie a huge, tiled bathtub filled with warm spring water before running high-powered jets of water along the 'meridians' of my body. Thanks to the combination of one's weight being suspended by the water and the use of the jets, the process is, apparently, many times more effective than a conventional massage. However, that fact was scant consolation when my back felt as if it was being scoured with the type of high-pressure hose that's used to clean dirt from the front of buildings on busy roads. I was glad Dipu waited until afterwards to tell me that the power of the water jets could be turned up high enough to 'make a hole in you,' if he were to get something wrong.
But I have to admit, afterwards, I felt like a million bucks: relaxed, supple and somehow walking taller.
Not committing to the calorie-limiting Equilibrium programme felt like a good decision when it came to choosing from the menu at the hotel's beautiful terrace restaurant. If I close my eyes, I can still just about taste the divine pistachio crackers and liver pate that were served with candied fruits. Pasta dishes such as homemade pici with duck ragout and earthy Etruscan secondi like lamb chop with citrus cabbage have lived long in the memory too.
When dessert arrived — of crème brûlée and an almond ice cream concoction — one of Ann Coulter's dining party saw the plates on their way and convivially pronounced them both to be excellent choices. But, by this time, Ms Coulter herself was gone.
As the Brunette and I walked through the lobby, we spotted her: sitting on a couch in the lobby, distinctive long face and even longer blonde hair illuminated by a glowing phone screen. When we retired to our room, I logged onto Twitter and saw why: she had been catching up on her social media, keeping her 2 million followers – 2 million! – updated with posts in support of Piers Morgan, former English Defence League leader Tommy Robinson (now cause celebre of the international alt-right) and other such unsavoury characters.
A shame to spend the precious time here waging a social media war that could have been fought from anywhere. Much better, surely, to make use of it by doing what Fonteverde has helped visitors do for a millennium or so — and just relax. Ah well. You can lead a horse to water, I suppose.
Edwin Smith is a freelance writer for Spear's
Nightly rates at Fonteverde start from €192 (£173*) per person per night in a Queen room on a B&B basis. Rates also include wi-fi, access to spa and fitness facilities. For further information or to book please email info@fonteverdespa.com or call +39 0578 57241.
Related
Review: The Grand Salon, the Baccarat, New York