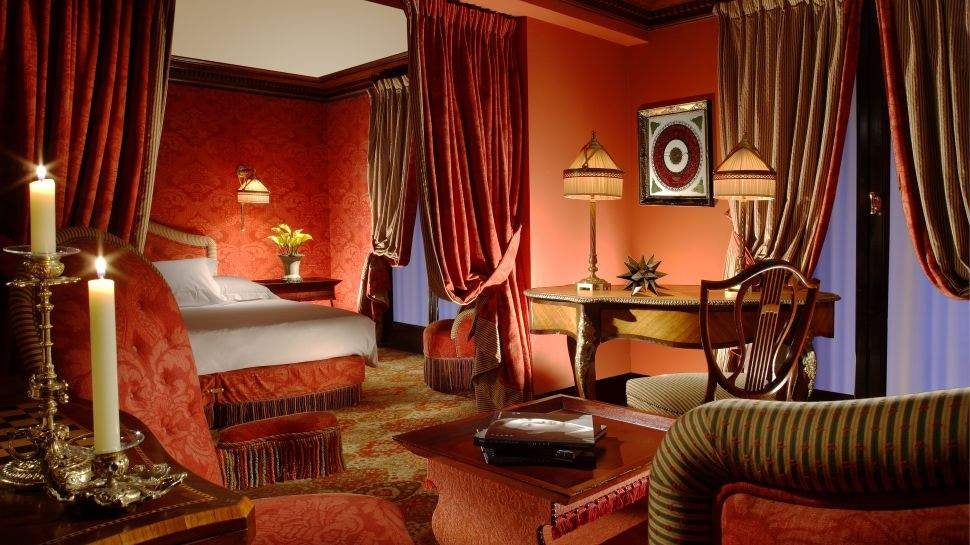 The hospitality of a Palace hotel near the Champs-Élysées leaves one with hauntingly beautiful memories of Paris, writes Rasika Sittamparam
I couldn't remember a time I yearned to be surrounded by the plush goose-down pillows in the warm and soporific 5th floor suite more, than when we were summoned to a 'special' guest activity in the 7th Arrondissement – on a rainy day. As we were escorted out with huge umbrellas thoughtfully packed into the group tour bag, my mind was further afloat in my lush room at La Reserve, Paris. I mentally cosied up in the silver-sided bathtub with the covert TV screen disguised as a bathroom mirror on, a glass of Michel Reybier's champagne in hand.
The driver's sudden brakes broke my reverie, and I curiously peered out of the raindrop-stained window onto the Boulevard de la Tour-Maubourg, a quiet street with the Eiffel Tower a stone's throw away. We were at the front of Julian's, an award-winning boutique florist that is not only a favourite of La Reserve's, but also of palaces, ministries and discerning HNWs desiring a contemporary floral touch to their home decor. Donning an apron with my initials on, I nervously glanced at the mound of loose flowers and leaves on a wooden table when I realised we were booked in for a flower-arrangement class, something I thought I would be hopeless at. There were some who were clearly overjoyed by this uniquely Parisian experience – one journalist even mentioned it was what she'd always wanted to try. However, it was oddly comforting to see the bewildered expression of the sole male participant in our class. I wasn't the only one, I thought.
A silent but stressful hour of trimming, balancing, and awkwardly fiddling with the delicate blooms commenced. I hyperventilated as I tried to twist my bunch of peonies and foliage into a helix with one hand, adding more stalks as the bunch almost doubled in size – all while desperately muffling a line-up of sneezes. But my hard work (and expertly suppressed involuntary reactions) paid off. We made our personal bouquets to bring home to our loved ones, with the humble and personable Julian's stamp of approval.
The sweet-smelling experience had the same lingering fragrance as Reybier's (the multi-millionaire owner of the La Reserve conglomerate) myriad other carefully thought-out features that gestured his romanticism in the Palace hotel. Whether it's the silk-lined walls of the 26 suites and 14 rooms, gilted cornicing, parquet-flooring, Cordova leather walls, or the warm culinary embrace of Le Gabriel (recently awarded two-Michelin stars), there was something delightfully charming about these carefully devised details.
But at the very same time, there was also something sombre about its ambience, with flashes of stylish crimson in places and Oriental black furniture reminiscent of Romeo's yearning for Juliet. While the establishment's calm grandeur gave it a bright atmosphere for the mornings, the evenings were made deliberately dark indoors, the obscured visuals adding a profound sensual depth. I chose to dwell in this pleasing dusk melancholy by sampling a cuban cigar with cognac in the warmth of an indoor garden-style smoking terrace, giving the Haussman-era building a semi-contemporary private club feel.
If one misses Reybier's ornate decorations (an array of handpicked paintings and furniture that include a set of drawers from his mothers') in a hurry, he or she is sure to be mystically drawn (or ushered) to the startlingly crimson spa in the basement to sample yet another dimension of Reybier's magic – products and therapy from his chain of Swiss anti-aging clinics. I was pampered with a rejuvenating facial treatment that left my skin feeling taut and slightly sticky. 
I imagined that this must be what it feels to be born – in the most frank and slightly disconcerting sense – freshly out of the womb covered in amniotic fluid, or the stuff that Keanu Reeves emerges from in The Matrix. What struck me more as soon as I stepped out of the mystic masseuse's lair is that I could not think straight, with my body physically active but my mind still awakening from sub-conscious slumber. Thankfully, I was gently escorted to the indoor private swimming pool to regain my grasp on my immediate surroundings, the zing and aroma of the hot honey-ginger drink truly bringing out my inner zen, as well as alerting me that it was almost time to pack up and check out.
I left La Reserve's new Parisian address with a heavy feeling from not having met the enigmatic Reybier, whose noble and benevolent presence was felt, even if not seen. It felt even more surreal when I clutched at the aromatic bouquet I nervously crafted at Julian's while entering Gare du Nord to catch the Eurostar back to London. Although self-made, I still regarded it as one of Reybier's tokens, a 'thank you' gift for the visit. Maybe this was why I felt slightly pensive during my last evening at La Reserve, I remembered, before I was hit with an arresting thought. Maybe he is the Jay Gatsby (without the dark connotations) of Paris, for the memories of the wine, flowers, chocolates and views of the Eiffel Tower he left me with.
Rasika Sittamparam is a writer and senior researcher at Spear's
London to Paris Business Premier fares are £245 one way, based on a return journey. Visit eurostar.com