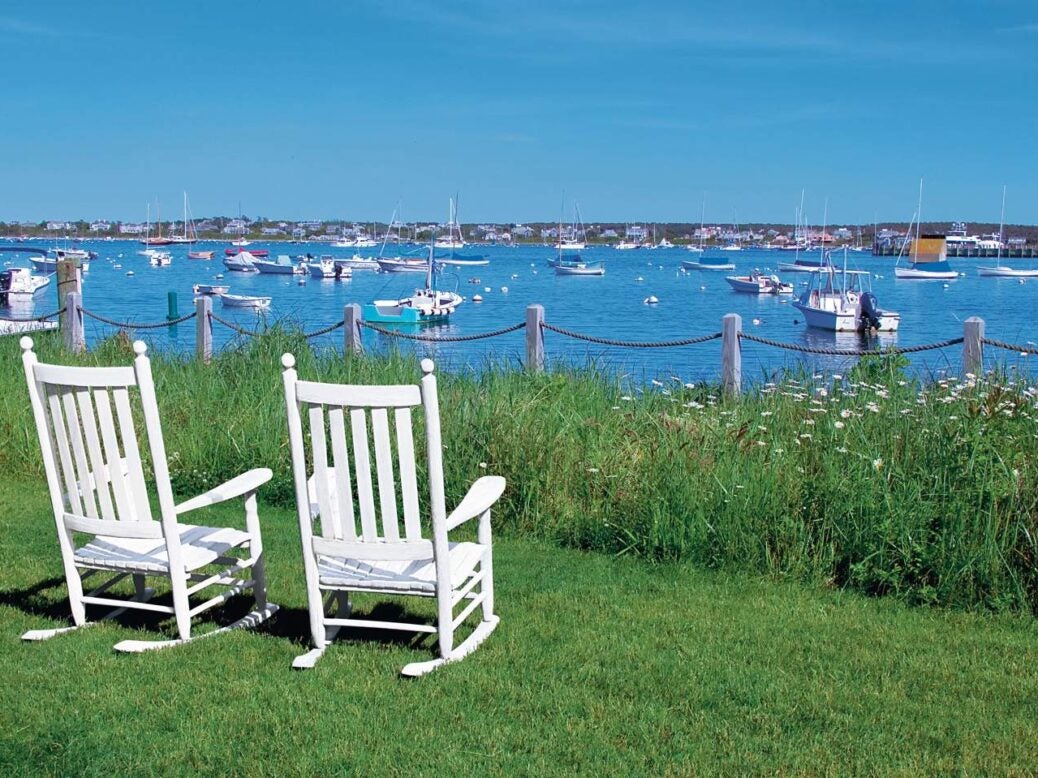 With its rich history and luscious cuisine, New England's sparkling low-key gem Nantucket is anything but dreary, writes Andrew Harris
As one might expect, there's something about New England that makes people from old England feel quite at home. Nowhere does this apply more than on Nantucket, that speck of land off the coast of Massachusetts, boasting both an illustrious past and present. It's a piece of Cornwall ceded to the National Trust in perpetuity. It's heritage heaven, a conservationist's dream, a historian's permanently open book, and as the array of private jets on the little airport's tarmac readily attests, an old friend to the rich and famous.
It's also grey. Relentlessly, uniformly, seriously grey. The hue — Nantucket is affectionately known as 'the little grey lady' — comes from the white cedar wood used to build everything, which gradually weathers from blond beginnings into pale slate. The ubiquity of all this greyness, as so many things here, is a mark of the ministrations of the Nantucket District Commission: their oversight of conservationist strictures is impossible to avoid, and advisable not to fall foul of. You can pore over 50 shades of grey until you're blue in the face, but only one will do. However, even with this sternly-enforced standard of sturdy colourlessness, Nantucket's grey days are invariably, breathtakingly beautiful — come rain or shine.
Unlike its larger neighbour Martha's Vineyard, which has several towns, Nantucket is basically one town with a big rural backyard, where the ecology is just as fiercely monitored. Within all of that carefully curated greenness lie picture-perfect properties and Atlantic-lapped beaches.
Any yearnings to grab a piece of this New England nirvana should probably begin with a short drive north, and end at a spot where vehicles are no longer allowed. At this point you'll find yourself in front of the ludicrously quaint Wauwinet, whose unassuming little grey swinging sign announces it as 'An Inn By The Sea'. It's a somewhat understated assessment of this low-key, high-end, Relais & Chateaux property. It's as stylishly cool and self-confident as Nantucket itself.
Time gradually subsumes here into a concept that only people on the mainland concern themselves with. Out in the Atlantic Ocean, checked into a luxurious lodge, you find life's priorities and preoccupations are languidly arranged as they should be: Will that beautiful big black seal swimming just ten feet off the Wauwinet's private beach yesterday still be there today? If I take that 4×4 trip into the reserve, will I be back in time for the cheese and wine? Should I skip that anyway, and leave a bit of room for whatever Kyle has in store? These become the big questions.
Kyle Zachary is executive chef at Toppers, the Wauwinet's highly-regarded restaurant, and presides over an outpost of gastronomic excellence that stands apart, even among Nantucket's remarkably high incidence of quality restaurants. If the list of constituent ingredients for carnaroli risotto, one of his signature dishes, implies a tendency toward pretention (Judith Point squid and beurre noisette, indeed?), try telling that to your taste buds.
The setting for Kyle's culinary showcase couldn't be more complimentary to his skill set, looking out over the bay, right next to the beds that produce the delicious retsyo oysters. Sommelier Igor reliably appears out of nowhere to facilitate their way down with some perfect wine pairings.
The Wauwinet, sitting in splendid sea-sprayed isolation under its present ownership since 1986, deftly balances a laid-back informality with some faultless service. The style — essentially pastel-coloured, beach vacation chic — could just as easily have breezed across from Cape Cod as it might have blown in on a high wind from Jamaica. This little outpost of bucolic bliss, however, calmly sets its own parameters of discernment.
But man cannot live by rural recreation alone: at least not on Nantucket, where the extraordinary and unique film location/open-air museum, somehow masquerading as a normal town, must not be passed by. For such a tiny part of such a huge and influential nation, Nantucket town has always made its presence felt. Colonised by Quakers in the 17th century, it rapidly attained global domination of the whaling industry. In spite of Quakers supposedly being prohibited from displays of ostentation, a lot of large houses began to appear, and greyness didn't seem to compromise their desirability.
Nantucket started to stretch out in all directions. In an age before petroleum, the streets of London were lit by the whale oil from this 14-by-six-mile island. Some of the ships involved in the Boston Tea Party were Nantucket ships, while Rowland Macy, a former Nantucket whaler, went on to found a certain shop in Manhattan (if you've ever wondered where that big red Macy's star came from, it began as a tattoo from Roland's seafaring days). And one of the greatest works from the canon of American literature has its genesis in the real-life saga of cannibalism aboard Nantucket whaling ship the Essex, a story absorbed by Herman Melville and used to build his masterpiece  Moby Dick.
Come the mid-19th century,  whaling declined and the gold rush took hold. Nantucket's once-grand mansions were left in a Miss Havisham-like limbo. There they stayed until the island eventually woke up to the money-making opportunity staring it in the face. This is America after all. Nantucket's second golden age, that of a well-managed, heritage-oriented, upscale haven of leisure, was ushered in.
Today, the island boasts an impressive array of stylishly understated hotels and guest houses. The Wauwinet's sister property in town, the White Elephant, benefits from an ideal position on the harbour front that still affords easy access to the centre. There are 67 bright, contemporary and elegant suites, rooms and cottages, many with terraces and balconies with views of the harbourside panorama across the hotel's landscaped gardens.
While its urban setting inevitably makes for a contrasting atmosphere to the whispering tranquillity of the Wauwinet, one senses the same management hand on the tiller, and the same exemplary standards of service. No more so than at its restaurant, the Brand Point Grill, which on summer's evenings assumes a magical quality as it spills out onto the lawns adjacent to the bobbing boats. It's clearly one of the more coveted dining destinations in town.
After spotting more than a few famous faces from big and small screens among fellow diners, it suddenly dawned that the Nantucket Film Festival was in play. An event with which Ben Stiller has a long-standing association, it's typical of the kind of cultured, cerebral direction that the island's guardians are constantly following.
But if I could give out awards for the world's best walking tour around a film set that isn't really a film set, or the most mesmerising recital of a story that's better than the film, then Karen and Linda of the Nantucket Historical Association (NHA) would be guaranteed Oscar winners. Linda's rendition of the Essex's encounter with the huge whale that charged and disabled the ship is not to be missed.
Karen, meanwhile, stands in front of the Atheneum, an enormous white-porticoed library amid the warren of historical houses, explaining the enlightened thinking that led to its construction: not least the fervent encouragement of education for female members of the Quaker community, who seemed to run the place while the men were at sea. With such programmes, the NHA produces a kind of East Coast riposte to the Hollywood studio tour. Every bit as polished, just with real whales instead of pretend sharks, and no need to build a studio lot either.
To many, Nantucket is the finest example of an 18th- and 19th-century town in the US. With that extraordinary architectural heritage allied to the refined reputation of retreats like the Wauwinet, the little grey lady holds a proud place in the American story.
Related
How Chuck Royce revived Rhode Island's Ocean House
The new Six Senses Duxton gives Singapore a 'retro' refresh