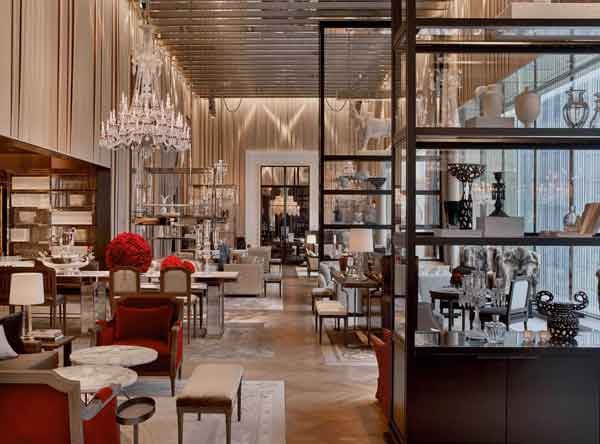 Christopher Jackson enjoys a memorable evening of caviar and champagne at the Baccarat in New York
Located just opposite MoMA, the Baccarat impresses itself as soon as you walk through the lobby: compared with some of the other top hotels in New York – one thinks of the Pierre, the Lowell, or the Carlyle – it doesn't seem as though it's trying to imitate Victorian England. Instead it's seeking to reconstruct Louis XIV's France, and exudes the sort of opulence one normally associates with imminent revolution.
You access the Grand Salon in a lift, which disgorges you into a place of brightness and silver – somewhere between an ice cave and a glass museum. Inside is a young and achingly trendy crowd: it feels not so much a place of inherited money, and wealth accumulated in the professions, as a haunt for tech billionaires – and perhaps wealth about-to-be-inherited.
Either way, in a place where afternoon tea costs $600, it's a good idea to make sure one isn't broke before pitching up. The chandeliers hang like stalactites from the high ceilings; and in among the seating are white porcelain sculptures of various animals and vases that look like they belong in the David Collection at the British Museum. The pervasive white is offset by the occasional ecstatic carnation on the tables, all of which are enormous.
We sat on tall stools and watched people fiddle with their iPads, before a New Yorker descended on us with the menu. Rightaway we were in receipt of champagne which was circulating in bright silver vasques: this – a Cristal, Louis Roederer, Brut Reims, 2006 – bubbled along the tongue to make one feel briefly equal to the sheer moneyed trendiness of the place.
Already my mind was elsewhere: specifically, I had noted with anticipation the presence of caviar on the menu. This came in the shape of 30 grams worth of Petrossian Tsar Imperial Ossetra and a mixture of accoutrements: chives, egg yolks and whites, red onions, and crème fraiche – all presented on a tiered stand. We ordered it, and discussed our good luck as we diligently ladled and constructed each mouthful.
If the goal is to make one feel indulgent, then the Baccarat succeeds: it makes you feel like Marie Antoinette at her thirtieth birthday party. I ordered the burger afterwards, a decision I now slightly regret – not because it was bad, but because it showed a lack of imagination on the part of this burger-eater to order something predictable amid rare surroundings. Even so, my regret was mitigated to some extent: it came with black truffle paté, pickled shallots and paprika emulsion as well as reassuringly chunky fries.
We finished with gateaux caramelises which came with warm spiced apple, biscuit brûlée and Madagascar vanilla ice cream.
As our coffees arrived, our waiter showed us a group of white books – at times the Baccarat really does have an Elysian feel – which turned out to be a place for visitors to write a little message. I cannot quite remember what I wrote, since I knew I would be writing this. But it will have been complimentary.
Christopher Jackson is deputy editor of Spear's
Related stories
Review: 67 Pall Mall, St James's
Review: Coin Laundry, Clerkenwell
Review: The Pierre, Fifth Avenue