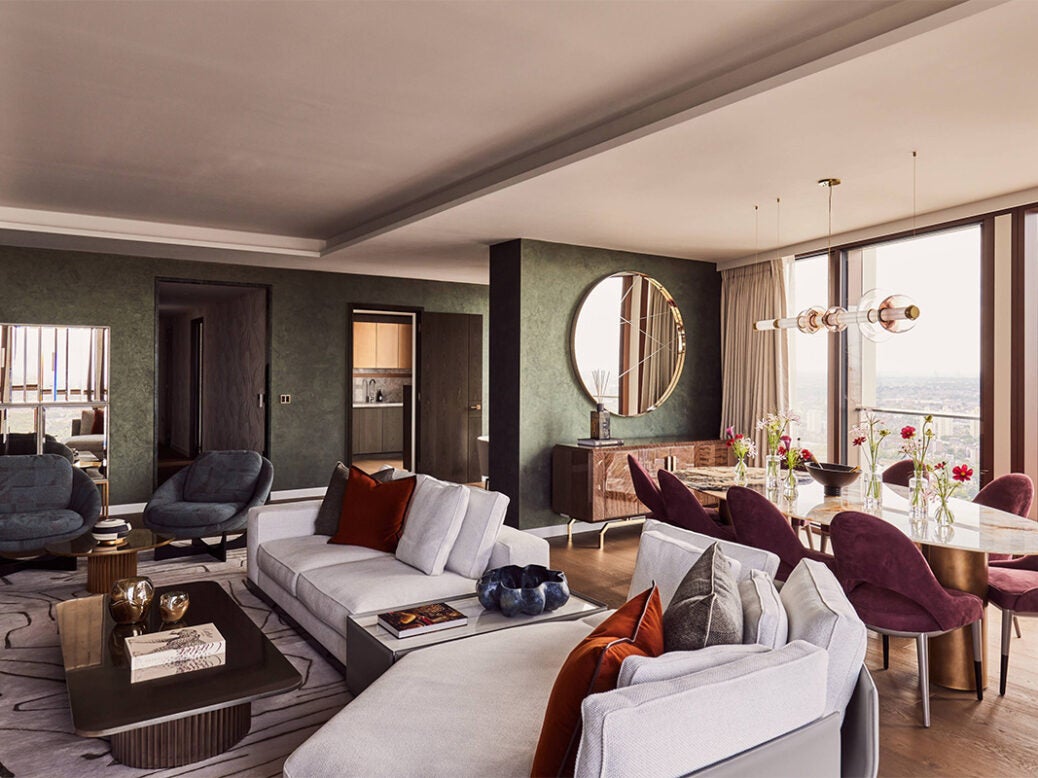 Harrods Interior Design has launched a fruitful partnership with luxury residential development Thames City.
The design studio, helmed by Letitia Fitzgibbon, was enlisted to decorate a furnish a number of show apartments for the Sky Collection – a select number of premium units on the uppermost floors of one of the Nine Elms buildings, with prices starting from £6.95 million.
[See also: The 2023 Spear's Home and Design Index]
It has proven popular: the show apartments, adorned with treasures from brands like Baccarat and furniture by Prada, are being bought as-seen by buyers.
'As soon as we decorate them, we sell them,' a source tells Spear's. 'One buyer walked into one show apartment and said "I want one like this", so we made a copy for him upstairs.' 
Keeping up with the branded residences boom
The partnership with Harrods Interior Design is part of Thames City's positioning as a competitor to the branded residences boom – only without the big-name hotel attached.
The amenities, which include the largest private residential pool in London, a full kids' club and multiple private dining and meeting options, are akin to those offered by the giants of the industry.
[See also: One of Britain's finest Victorian Gothic mansions comes to market for £7.95 million]
According to BNP Paribas International Real Estate, a branded residence project 'gives buyers the opportunity to own a property… [where they] have a private home offering a luxurious way of living that encompasses hotel-quality services with convenience and security.'
This desire for a hotel-quality experience at home is what Thames City, the expansive project by R&F Properties and C C Land, hopes to satisfy with its 12-building development. (Two are currently completed).
Like other such London prime property offerings, Thames City has proven popular with international buyers.
Around 50 per cent of apartments in the first two Thames City buildings – designed by architects Skidmore, Owings & Merrill, notably famed for the Burj Khalifa – are owned by HWNs from the US, Middle East, Hong Kong, China, Nigeria and South Africa. British buyers account for the remaining 50 per cent of sales.
Furnished with style
Show homes have long been a key element of 'selling the dream'. A partnership with an internationally recognised name like Harrods Interior Design brings additional cachet, particularly when it comes to overseas buyers.
HNWs are able to breeze in and enjoy the assurance that every piece in the apartment is of the highest quality, whether that is a bedside table or desk chair.
'Bringing international craftsmanship, with a quintessentially British flair, Harrods Interior Design has beautifully curated a home that resonates with our clientele and their creative expressions,' says Enna Luo, sales and marketing director at Thames City.
[See also: Ex-RBC Wealth Management duo aim to shake-up industry with 'value-driven' advice firm for HNWs]
'The iconic brand is steeped in significant history and heritage, yet – much like our truly unique and growing riverside location – is perfectly adapting to new generational demands of luxury, quality and inquisitive artistic energy. It has been incredible to see Harrods Interior Design apply layers of cultural inspiration alongside meticulous attention to detail to the first unveiling of our Sky Collection homes.'
The partnership has benefits for Harrods, too. The company, which is launching its first private members' club, The Residence, in Shanghai, gains an introduction to Thames City's significant Chinese client base.