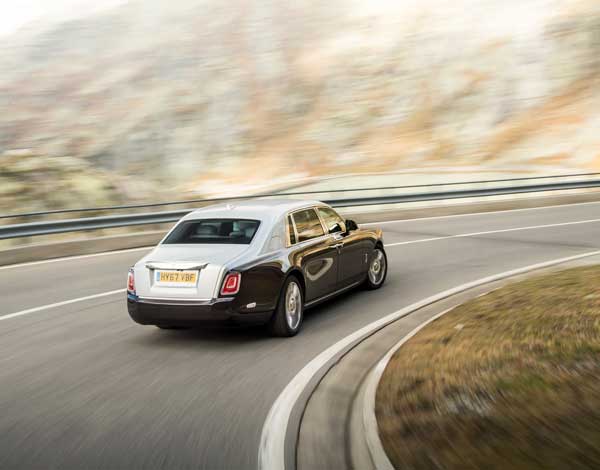 Rolls-Royce's new flagship, the Phantom VIII, is quite simply the best car in the world, writes Gareth Herincx
There was a time when Rolls-Royce Phantom owners preferred to sit back and enjoy the ride, rather than getting behind the wheel. Apparently, all that has changed with the eighth-generation car. Based on the response so far, it would seem that as many as three-quarters of Phantom customers now drive themselves – a testament to the drivability of this majestic newcomer.
Back in the golden age of motoring, you didn't so much pilot a Phantom as skipper one. A plot was set and you wafted effortlessly to your destination. The new car is a different story. Yes, it's still a sublime experience as a passenger – an impressive combination of sheer splendour, stunning craftsmanship and acres of space. That famed magic carpet ride. Now the Phantom is more of a driver's car too.
Naturally, there's a commanding driving position and the seats are like armchairs, while the instrumentation and infotainment system manage to be both state-of-the-art and traditional. But it's when you fire up the new 6.75-litre twin-turbo under the bonnet and set off that you realise that this is a Phantom like no other.
Of course, 'fire up' is totally the wrong term, because when you awaken this V12 monster it's barely perceptible, so the only evidence that it's primed to go is that the big dial ahead of you has pinged into life. This is no rev counter. That would be vulgar. It's a power reserve meter, which indicates how much of the engine's 563bhp is available.
Big and beautiful
Once you've adjusted to its mammoth proportions (it's nearly 5.8m long, 2m wide and weighs more than 2.5 tonnes), you can begin to savour the driving experience. Rolls-Royces aren't really about performance at all, but for the record, the Phantom will accelerate from 0-62mph in just 5.1 seconds and it will go on to an electronically restricted to 155mph.
However, it's not so much what it's capable of – it's how it does it. As well as the whisper-quiet engine, ZF's silken eight-speed automatic gearbox silently works its magic. In fact, the overall refinement of this car is nothing short of remarkable. Each Phantom contains more than 130kg of sound insulation, including 6mm double glazing all around. There's even a foam layer inside the giant 22in Continental run-flat tyres to restrict road noise.
Driving the Phantom is a serene experience and it's in its element gliding along with the minimum of fuss. It's no sports saloon, but should you want to hurry it along it will happily draw on its huge reserves of power, whisking you away at an indecent speed for such a large car. Of course, there's some body roll on fast corners if pushed, but there's more grip than you might think, while the steering is light and responsive.
A clever four-wheel steering system discreetly adjusts the angle of the rear wheels to improve manoeuvrability at low speeds and add stability at high speeds. In time, the Phantom casts its spell on you, becoming more engaging and enjoyable as the minutes silently tick away.
Extra special
Most Phantoms are bespoke. The list of options is endless, ranging from the starlight headliner, which can be designed to a specific constellation, to a choice of metals for the iconic Spirit of Ecstasy bonnet mascot. Needless to say, any combination of body colour, leather trim, wood veneer and carpeting can also be specified.
The starting price of £362,000 can easily end up north of £500,000. Meanwhile, the new fixed rear centre console now incorporates a drinks cabinet with whisky glasses and decanter, champagne flutes and coolbox. Effortless conversation is aided with careful angling of the rear seats, ensuring passengers are able to talk to each other without straining their necks.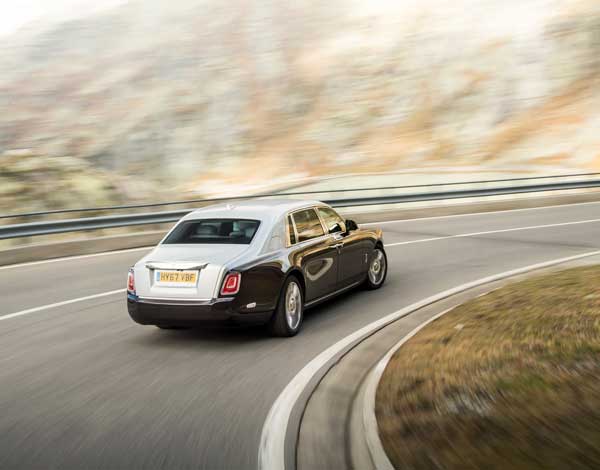 If you need more legroom, there's a more expensive Phantom Extended Wheelbase, which adds 220mm to the rear compartment. Both versions boast a generous 548-litre boot, so there's plenty of space for your Grand Tour suitcases. No other car can cocoon you from the outside world like a Phantom. No other car can offer this kind of opulence, advanced engineering, sublime build quality and attention to detail. At first sight, it may not look radically different from its predecessor.
The basic profile is much the same, as are the trademark rear-hinged coach doors – but believe me, the Phantom's exterior styling is slightly softer. For instance, the famous 'Pantheon' radiator grille now blends in with the surrounding bodywork. One thing is for sure: it's still just as imposing on the road.
The Rolls-Royce Phantom VIII is the epitome of luxury with an unsurpassed aristocratic air. Combine that with high technology and unexpected dynamism and you have a very special car – a true successor to the first model in the long-running series, the Phantom I of 1925.